Soaring 886m into the Welsh skies, Pen y Fan is the highest point in South Wales and the most iconic peak in Bannau Brycheiniog, known in English as the Brecon Beacons National Park. Climbing to its summit is a challenge taken on by 120,000 enthusiastic hikers every year. As those numbers suggest, hiking Pen y Fan is not particularly difficult, but you do definitely need to be properly prepared.
As with all of the best
walks in the Brecon Beacons
National Park (Bannau Brycheiniog), remember that these mountains are subject to highly changeable weather—so hiking Pen y Fan shouldn't be undertaken lightly. Here's everything you need to know about climbing Pen y Fan, including comprehensive details of the three best Pen y Fan walking routes: the classic Pen y Fan horseshoe, the Beacons Horseshoe and the Cwm Llwch Horseshoe.
Where is Pen y Fan and how do I get there? 
Pen y Fan is a mountain in the Bannau Brycheiniog (previously known as the Brecon Beacons National Park) – a range of rounded, grassy hills that stretch across 520 square miles in South Wales. Pen y Fan is located 8km to the south of the town of Brecon and 19km to the north of Merthyr Tydfil. It is a one hour drive to the north-east from Swansea, and a similar distance drive to the north-north-west from Cardiff.
Travelling to Pen y Fan by public transport is possible. By bus the best option is the TrawsCymru T4 Newtown-Cardiff via Brecon bus, which will drop you off at the Storey Arms right at the start of the Pen y Fan Horseshoe route. By rail, take a train to Abergavenny (only 2 hours 30 minutes from London, via Newport), hop on the X43 bus to Brecon and finally change to the T4 to the trail head. Alternatively, from Brecon you can walk an extra 5km to the Cwm Gwdi car park and the start of the Cwm Llwch Horseshoe route.
If you're driving, getting to Pen y Fan is more straight-forward. From London you'll take the M4 and several A-roads including the A449, A40, A479 and A470, travelling via Abergavenny and Brecon. From Manchester and the North access is via the A483. The best places to park depend on which route you're hiking.
For the classic Pen y Fan Horseshoe you can park at the Storey Arms car park or the Pont ar Daf car park, both located off the A470 at LD3 8NL. For the Beacons Horseshoe you'll start from the south at the Taf Fechan Forest car park at grid reference SO036170, and for the Cwm Llwch Horseshoe you'll need to park in the north at the Cwm Gwdi car park at grid reference SO024248.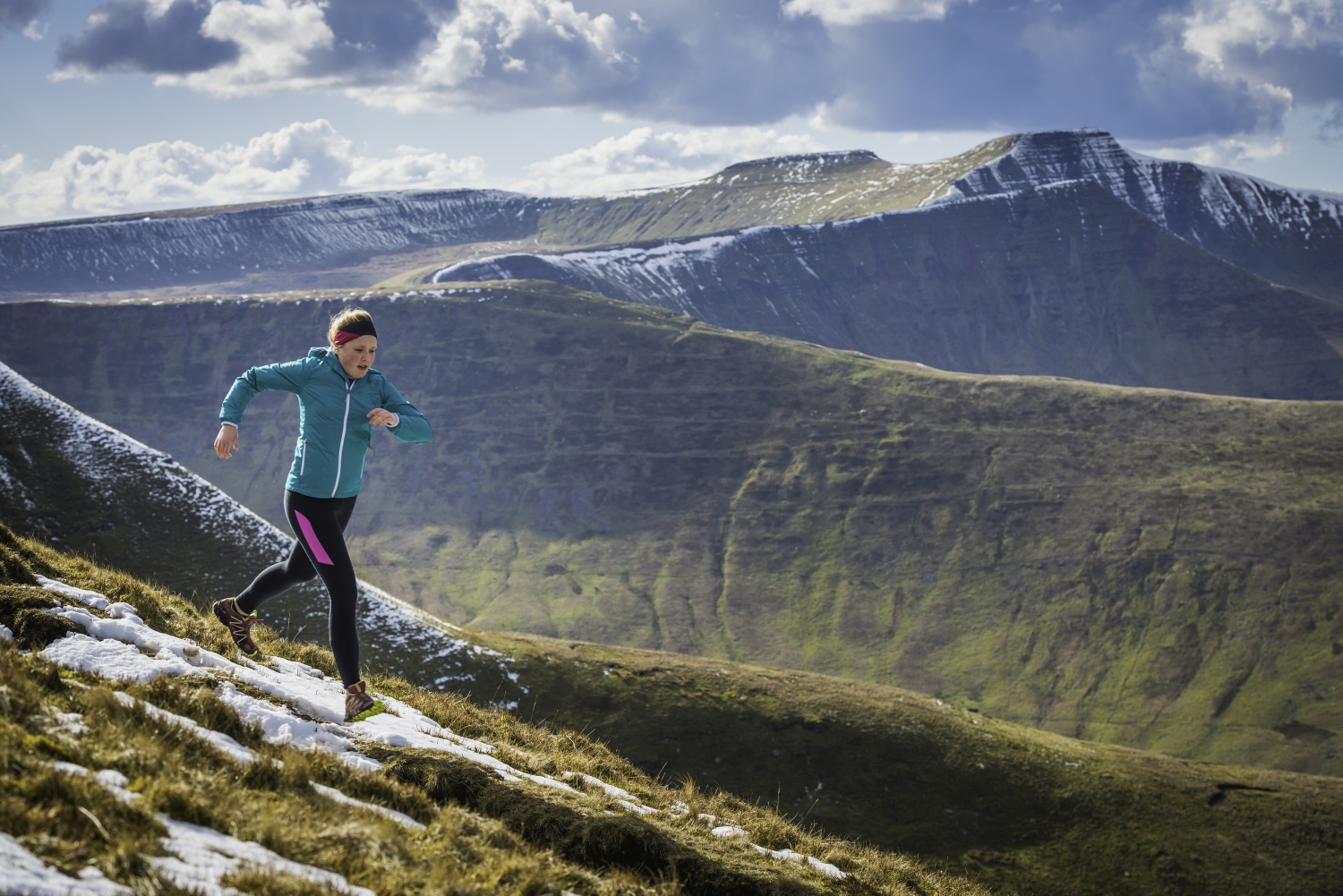 What clothing and equipment do I need for hiking Pen y Fan?
This is quite simple. You will need clothing to keep you dry and warm, good quality walking boots for the lumpy-bumpy terrain, and a hiking backpack full of food, drinks and safety items. You'll also want a good waterproof jacket for hiking, in case it rains (always a possibility in South Wales, even in summer). If the temperature stays warm, you could consider lightweight walking boots. 
In terms of clothing, you will probably want to wear a technical t-shirt or base-layer, mid-layer fleece and hiking trousers  – and in your backpack you'll need a waterproof jacket, waterproof trousers and a warm down jacket in case of cold or wet conditions. On your feet, hiking shoes or boots that are comfortable, grippy, supportive and cushioned will be ideal – and make sure you've worn them several times before heading to Pen y Fan. In your backpack, don't forget food, water, map, compass, phone (with navigation app and downloaded route), powerbank, spare clothing, first aid kit, hat, gloves, neck warmer, sun cream, cap, sunglasses, head-torch and safety whistle.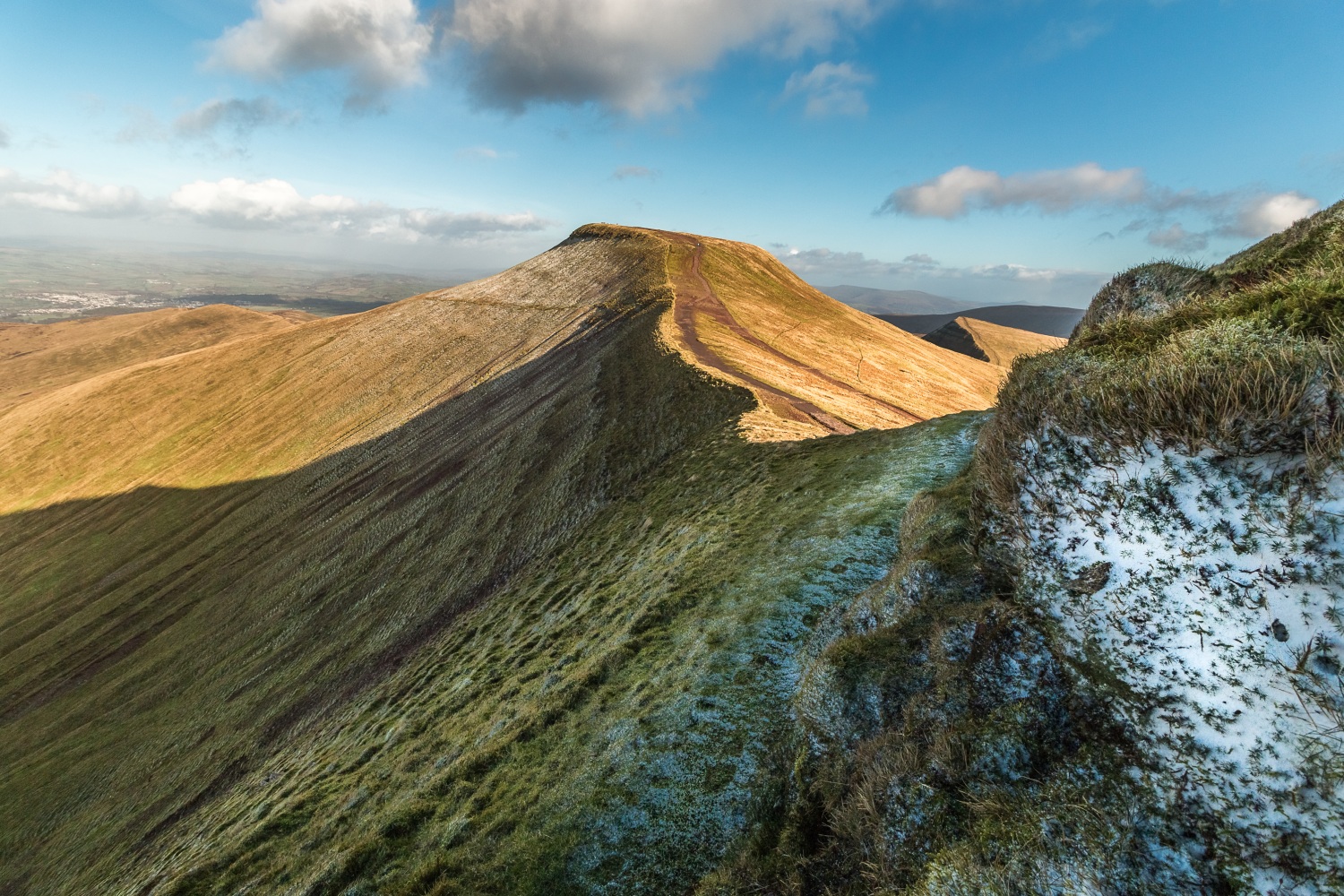 How hard is it to climb Pen y Fan?
Climbing Pen y Fan is neither a doddle nor is it an unachievable expedition – and, of course, how difficult you find it will depend on your physical fitness and hillwalking experience. For some it'll be a simple hike with no difficulty whatsoever; for others it may prove a significant challenge.
As a general rule, good levels of fitness will be required to cope with the distance covered, height gained and rugged terrain, and a touch of mental toughness will be needed to cope with the challenge. Visit Wales says that the main tourist route up Pen y Fan is "gentle" and even suitable for "active children", whereas some of the others routes are more difficult and should only be tackled by "seasoned hikers". 
Before you decide to climb Pen y Fan, remember to check the weather forecast. The MWIS (Mountain Weather Information Service) offers the most bespoke and accurate forecast for mountainous regions. Alternatively you can check the BBC or Met Office.
When is the best time to climb Pen y Fan? Most people take on the hike between April and October. This means you're likely to avoid any dangerous snowy or wintry conditions, and – if you're lucky – may even get sunny, dry and still conditions on the mountain. But remember that poor conditions can be encountered at any time of year on Pen y Fan. The National Trust warns hikers that the "weather is very changeable in these mountains". 
On rare occasions accidents and emergencies do happen in the mountains. In the unlikely event that you encounter problems on Pen y Fan, here is the process for calling help. If you have mobile phone signal, ring 999 and ask for the police and then mountain rescue. Be prepared to provide your location (including grid reference), mobile number, number of people in your party, and the name, gender and age of the casualty and the nature of their injuries. In the total absence of mobile phone signal, the internationally-recognised distress signal is six long blasts of a whistle (or flashes of a torch) in a minute. Stop for one minute and then repeat the process.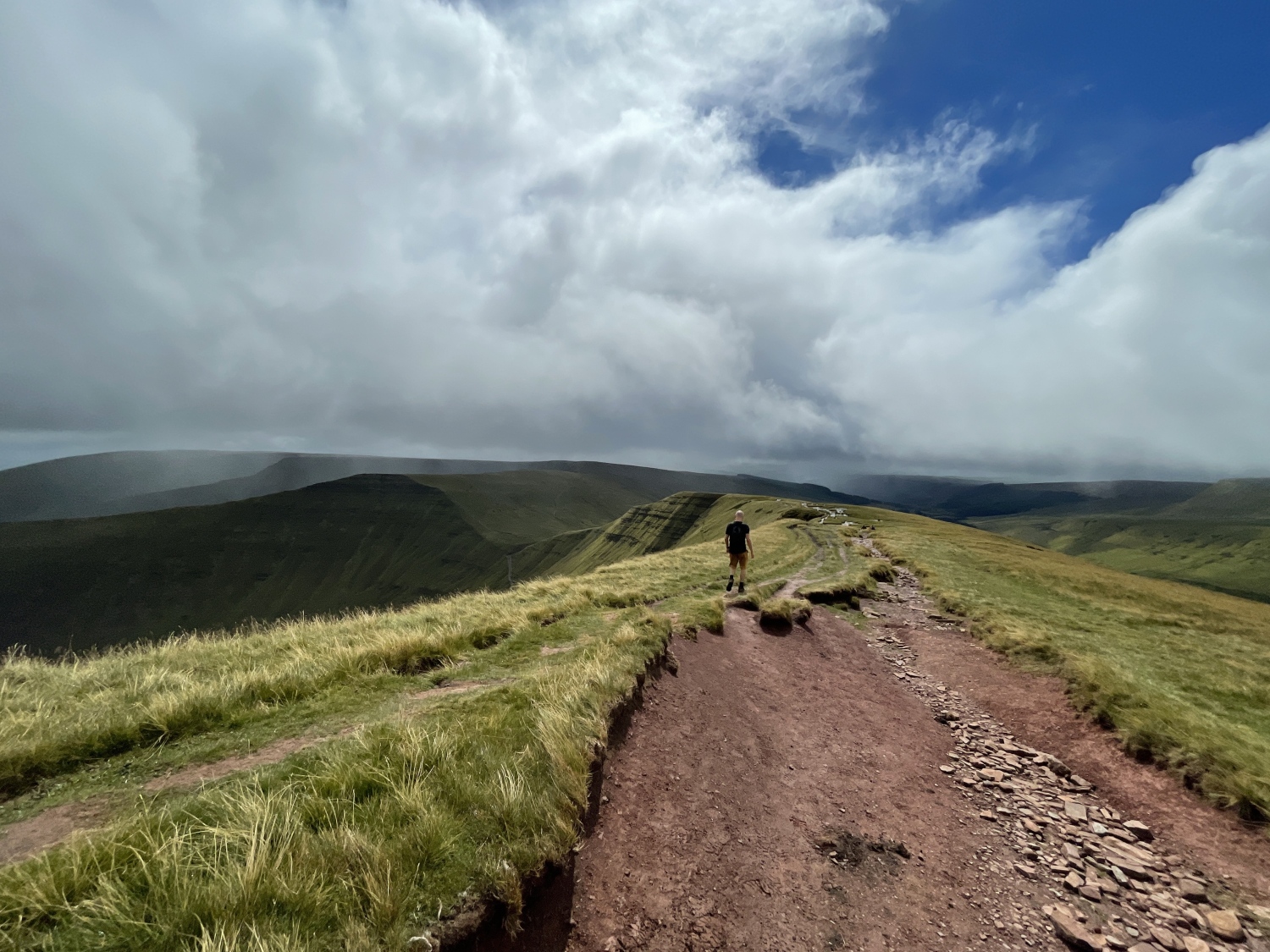 The 3 Main Pen y Fan Walking Routes
1. The Classic Pen y Fan Horseshoe – The Easy One
7.5km / 550m ascent / 4 hours
This circular route is the most popular, shortest and easiest way to walk up Pen y Fan – and a perfect adventurous outing for active children, intrepid grandparents and everyone else in-between. The distance of just 7.5km is more than achievable for most beginners and, due to the high altitude of the road and car parks, you only have to ascend 550m to climb an 886m mountain – a nice leg-up on your way. The footpaths underfoot are well-maintained and easy to follow too.
Starting at the Storey Arms car park (note this is not a pub but an outdoor education centre), the route climbs north-east up a sandstone footpath, which is part of the Cambrian Way long-distance trail. After a slight dip at Blaen Taf Fawr, annoyingly losing some of the height you've gained, you'll ascend to the summit of Corn Du (873m), before a final, short push to the top of Pen y Fan. To complete the classic loop you'll descend south-west on the Beacons Way path via Bwlch Duwynt and the Pont ar Daf car park, and turn right alongside the A470 back to the Storey Arms. This route can also be walked anti-clockwise, starting and finishing at Pont ar Daf.  
2. The Beacons Horseshoe – The Peak-Bagging Epic 
14.5km / 850m ascent / 6 hours
From the south of the Pen y, you can enjoy a long but rewarding horseshoe ridge walk, completing a clockwise, high-level loop of a humongous valley. The route, which ticks off the four iconic summits of Corn Du (873m), Pen y Fan (886m), Cribyn (795m) and Fan y Big (717m), is quite possibly the biggest and best day hike in the whole of the Brecon Beacons National Park. Due to the distance and ascent – and rugged terrain along the way – this route is better suited to experienced and confident hillwalkers with good navigation skills.
The Beacons Horseshoe starts at the most north-westerly Forestry Commission car park of Taf Fechan Forest, located directly to the south of Pen y Fan. You start with a little walk north towards the Upper Neuadd Reservoir before veering west across the Taf Fechan stream and climbing up open fellside to gain the Graig Fan Ddu and Rhiw yr Ysgyfarnog ridge. This is where the real action starts. Ahead is some glorious, airy ridge walking, bagging four big peaks and completing a high-level loop of the Blaen Taf Fechan, a huge amphitheatre-like valley. The usual descent is via the wide Roman Road to Tor Glas and beyond.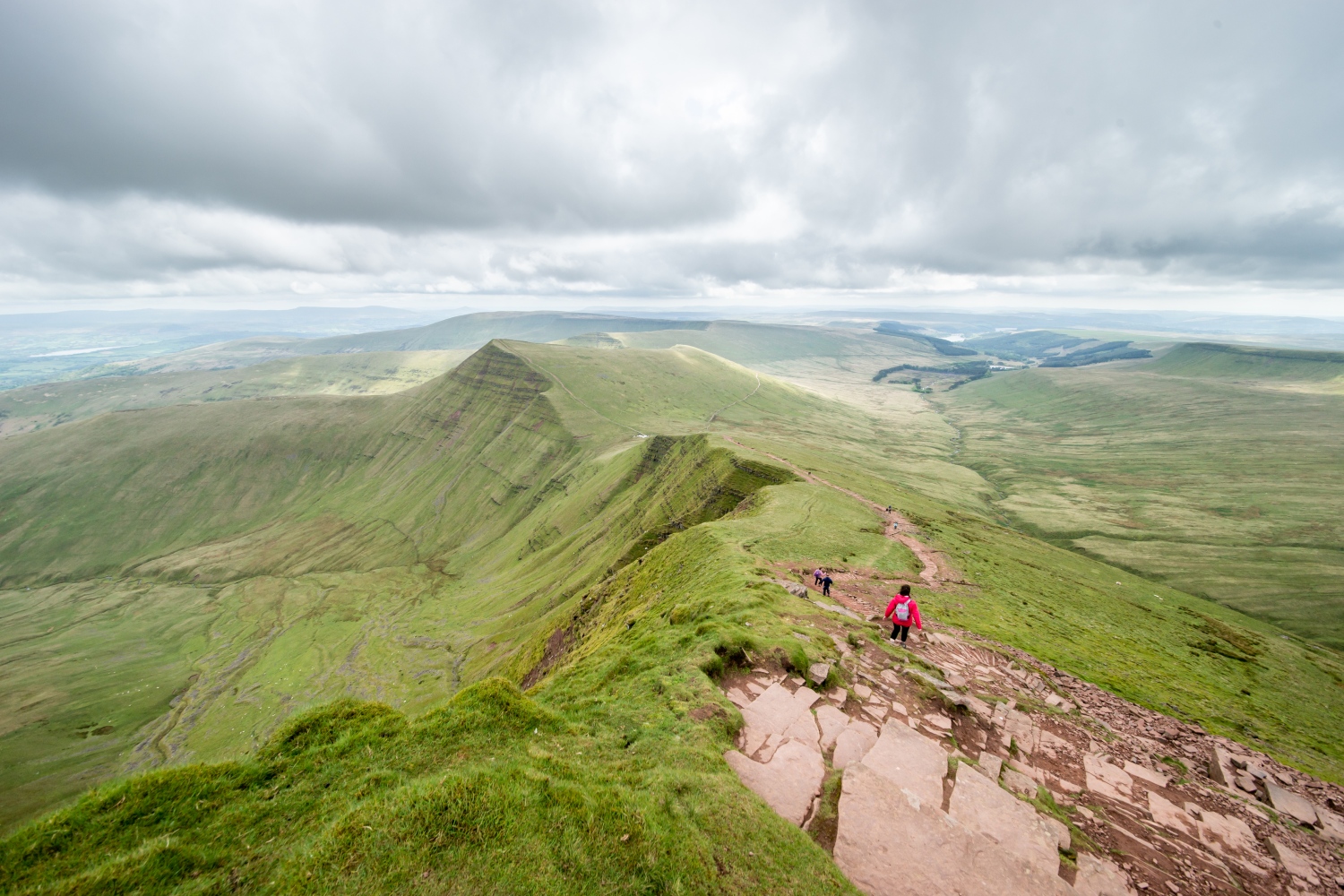 3. The Cwm Llwch Horseshoe – The Quiet Way
11km / 700m ascent / 5 hours
This walking route from the north of Pen y Fan has a reputation as a more remote and tranquil approach to the mountain. Visit Wales labels it the "quiet one", waxing lyrical about the peaceful walk's "stunning views east over the River Nant Sere and west over Llyn Cwm Llwch". We'd argue that Pen y Fan can be busy on any route at any time of year, but this approach is certainly less-frequented than the Storey Arms-Pont ar Daf car park circular and – if you're lucky – you might get quiet trails and a little dose of Brecon Beacons solitude and wilderness. 
Starting at the Cwm Gwdi car park, it's a long and steady climb south up the Cefn Cwm Llwch ridge, which tops out as straight as an arrow directly to the summit of Pen y Fan. Next you'll turn right, summit Corn Du and descend the shapely Craig Cwm Llwch ridge, before looping around the picturesque mountain tarn at Llyn Cwm Llwch. All that's left is a descent down Cwm Llwch and a gentle road walk back to the car park.