Mrs Hai Taoung offers me her hand and helps me board her little wooden boat. I hadn't expected that today's cycle route would include a river crossing in a rickety old vessel, but our group of nine cyclists happily clamber on board, thrilled at the prospect of an adventure by water.
We are on the Thu Bon river near Hoi An, the ancient Vietnamese city where the river flows into the South China Sea, and heading for the ancient temples at My Son.
Once on board, I watch as Mrs Taoung manoeuvres our bikes on the narrow deck, deftly packing them together for the five-minute crossing. She is barefoot, with jet black hair, strong white teeth and a warm smile. It's hard to believe that she's all of 71 years old.
As we putter across the water, Mrs Taoung tells us that this is a journey she has made countless times. When she was just 14, she rowed members of the Viet Cong across the river, no matter the weather.
It's a memorable encounter – and one that we would not have made had we been packed onto a coach, like many of the other travellers we encounter in Vietnam. Accessing places that large tour buses can't is one of the many advantages of exploring a new country by bike.
I'm on a guided bike tour of Vietnam with active holiday specialists BSpoke Tours. The six-night trip – run in partnership with Spice Roads – takes you pedalling between 19 and 41 miles per day from the ancient capital of Hue to Hoi An, via some of central Vietnam's most beautiful landscapes and cultural highlights along the way.
Biking through history
A good guide is a big help on a trip requiring so much navigation (and translation), and we're in good hands. Anh Co and Tibo are from Da Nang and Hue respectively, and they know our route like the back of their cycling gloves.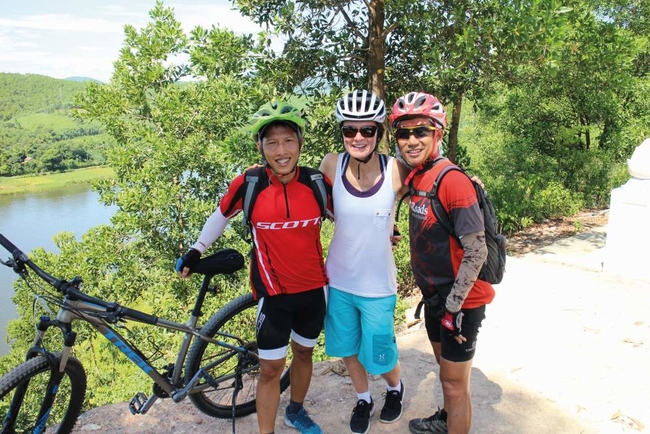 When we meet on the first day at Emm Hotel Hue, Anh Co gives our group his most important tip for safe cycling in Vietnam: "use your eyes, then your brakes." I see what he means moments later, when we set off for an orientation ride around Hue, pedalling through the city's cacophonous, chaotic mass of traffic. You really have to keep your wits about you on the roads here.
We cross a bridge over the evocatively-named Perfume River and cycle towards the Citadel. Hue was the ancient capital of the Nguyen emperors from 1802 until 1945 and the Citadel – with its Imperial Enclosure, royal tombs, temples and pagodas – is proof of this legacy.
It also bears testament to the country's fascinating, though often devastating, history. Vietnam has had a near-endless influx of invaders from both the East and the West. The country has seen millenniums of struggle against the Chinese, French colonials and – most recently – the Americans during the Vietnam War. As we walk through the Citadel, I see crumbled walls and bullet marks peppering the 19th-century dynastic bronze urns.
But there's a place of peace around the corner. Back on our bikes, Anh Co leads us away from the Citadel and moments later we are bumping down narrow tracks beside the Perfume River with no other tourists in sight.
As we ride, we pass schoolchildren, also on bikes, and they wave enthusiastically at us. Locals sip cafe sua da (iced coffee made with deliciously sweet condensed milk) in little cafes or snooze on hammocks slung between trees. Anh Co and Tibo are navigating effortlessly – so we can simply cycle and take everything in.
We reach Thuy Bieu village, on the outskirts of Hue, along winding lanes. Here we duck beneath trees hanging heavy with grapefruit-like pomelo fruit, once reserved for royal family members of the Nguyen Dynasty but now sold in the markets for just 10,000 Vietnamese dong (around 33p).
We park our bikes and walk around the thick brick walls of the Tiger Arena, which was constructed by King Minh Mang in 1830. Anh Co explains that tiger fights were a highly-esteemed form of entertainment for royals, and that this arena held bloody fights between big cats and elephants until as late as 1904.
"The elephants were a symbol of royal power and the tigers represented cruelty and rebellion," Anh Co explains. "So the tigers would be declawed and have their teeth removed to ensure a royal victory every time."
Pressing on, we cycle over a floating bridge and reach the tomb of Minh Mang – the king who had built the tiger arena. We prop the bikes up outside and walk through the sublime forest setting. It's quiet and peaceful – and so different to how the nearby battle arena would have been just over a century ago.
Feast for the senses
We spend three days exploring Hue and its surrounding countryside, swathed in verdant rice paddies. On our bikes we are in tune with our senses. We smell the incense burning outside temples and rice drying in the sun; we hear tapioca trees rustle in the breeze; we feel the humid midday heat and the cooling shade when we stop beneath the banana trees.
When we need to refuel, we munch on juicy mangosteen, watermelon and fuschia-skinned dragon fruit. We sip sweet cafe sua da and gulp down refreshing sugarcane juice squeezed on the roadside in front of us.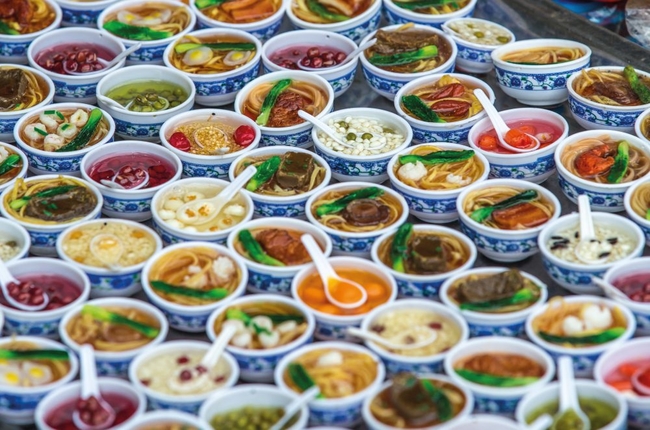 On day four, we depart for the beach resort of Lang Co, 40 miles south of Hue. The surroundings change as we pedal towards the coast. Roads are lined with fish drying out in the sun and fishermen repair boats in dockyards. We pass shrimp lagoons and villagers wearing conical hats, casting their nets from tiny wooden boats. At lunch, we sit on the beach and devour just-caught prawns and grilled calamari.
The road to Hoi An
When we reach the wooden bungalows and gold sand of Lang Co Beach Resort, I wade into the sea, feeling the sweat and dirt wash away in the gently-lapping waves. Floating on my back, I let my eyes gaze towards the horizon of mountains and valleys that we'll be cycling through tomorrow. The rising hills in front of me leave no doubt that we'll be in for some challenging riding.
The following day we discover just how challenging as we embark on our toughest day yet, a 35-mile stretch from Lang Co to Hoi An that includes a seven-mile climb to the top of the Hai Van Pass. This is one of the country's most famous roads, and its name translates as "sea cloud pass", referring to the mists that rise from the ocean and enclose the road.
Ticking off the 496 metre-high ascent by bicycle is no mean feat. It's 38°C and there's 60 percent humidity – and I'm feeling it. Sweat pours from beneath my helmet and my legs rotate on the pedals painfully slowly as I inch my way uphill.
Just when I think my thighs can't take another revolution, I round the final hairpin, reaching the summit. I'm exhausted but exhilarated, and the views of the jungle-clad cliffs sloping to the East Sea below are made all the more spectacular since I've worked for them.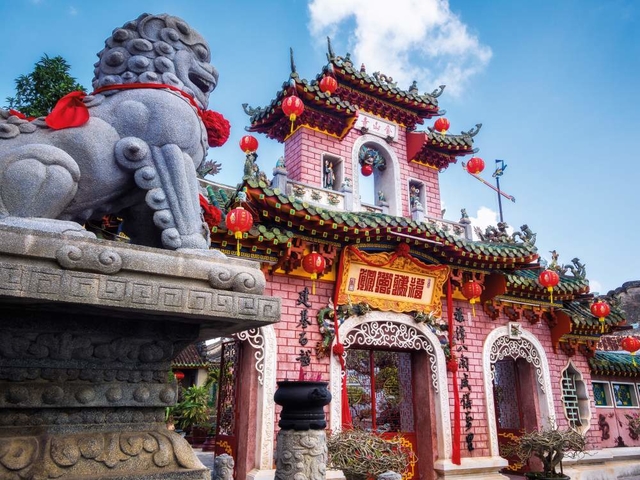 One of the best things about travelling through Vietnam by bicycle is that you can work up an appetite for the country's wonderful cuisine. Everywhere we go, the food is delicious. Whenever there is a market to explore, we hop off our bikes and wander past the covered stalls, smelling the just-picked coriander and watching women make delicate rice paper rolls.
I try as many local specialities as I can, including banh xeo (crispy, folded pancakes crammed with pork, shrimp, bean sprouts and mung beans) and bowls of pho bo (beef noodle soup). At Lien Hoa, a vegan restaurant in Hue, the crispy fried jackfruit and aubergine with ginger are spectacular.
My favourite meal comes just before reaching the Champa remains at My Son, after leaving Mrs Taoung and her boat. Before visiting the site, we have lunch at Mr Nha's house. His wife has cooked dishes including bamboo shoot salad, marinated tofu, stir-fried morning glory (also known as water spinach) and fish beautifully flavoured with turmeric and dill. Many of the vegetables are grown in the family's garden.
Our final stop is Hoi An, one of Vietnam's most atmospheric cities. Once a major port, it has preserved its heritage of Chinese temples and Japanese merchants houses, many of them now converted into restaurants, bars and shops. There's a small-town feel here that is a relaxed contrast to Hue's streets, which buzz with scooters and university students.
We've arrived at Hoi An just in time for the Full Moon Festival, which takes place on the 14th day of each lunar month. As night falls, traffic is blocked off and street lights are put out, illuminating the city with the glow of thousands of brightly-coloured lanterns.
I watch as locals release colourful lanterns onto the river for good luck. It seems like a fitting end to a journey through a country with a past that has been ravaged by conflict – but with a future that is as bright as these lanterns burn.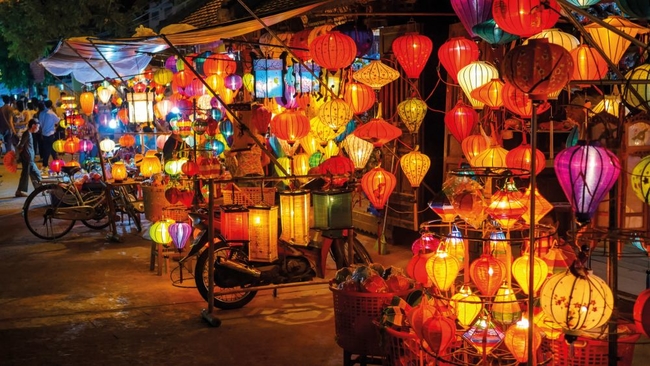 Travel info
Health & safety
Don't travel without valid travel insurance. The only vaccination required by international regulations for entry into Vietnam is yellow fever, but ensure you seek medical advice and check your vaccinations are up to date before you travel.
What to pack
Pack your helmet, padded cycling shorts, cycling gloves, sweat-wicking tops, a light waterproof jacket, day pack, good sun cream and insect repellent.
Our trip
Ellie Ross was hosted by BSpoke Tours, which offers a six-night Vietnam Heritage by Bicycle guided group cycling tour from £1,738 per person, based on two people sharing (single supplement from £200), including return flights from London, accommodation, selected meals, bicycle hire, support vehicle and guides. Departures from March to August in 2019.
Getting there
Airlines including China Southern, Air China and Swiss fly to Vietnam daily to the UK, from £304 return.
Getting around
Besides cycling, hopping on a train is an easy and convenient way to get around in Vietnam. The Reunification Express runs the entire length of Vietnam's coast from Ho Chi Minh to Hanoi, and bikes are permitted.
Food and drink
Try banh mi, baguettes stuffed with pate and fresh vegetables - they make a great pitstop snack.
Where to stay
Stay at Vinh Hung Riverside Resort in Hoi An. Set beside the Thu Bon River, the hotel's palm-shaded gardens are an oasis of calm, despite being five minutes from the pedestrianised Old Town. Bed and breakfast double rooms from £40 per night.