Spring in Cyprus after a British winter of dark, cold, grey days is a bit like winning the lottery – it takes a day or so to believe that it's real, but then you can't help but soak it up and let it change your life, albeit temporarily.
It's mid-April and stepping off the plane at Paphos Airport the sunshine hits me, making me reach for my sunglasses, and instantly dissolving any urban stress. I'm headed for Latchi, a small fishing village on the island's western tip and the gateway to the wild, rugged Akamas Peninsula.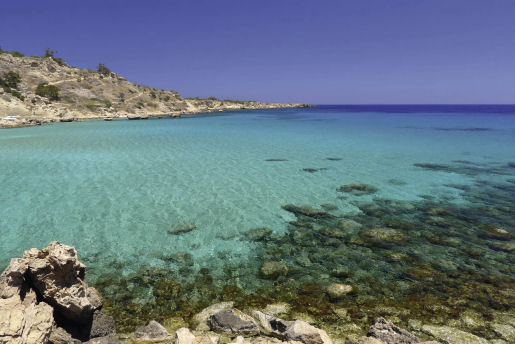 A day later and as the sun arcs higher and higher into an intense blue sky I'm meandering along a dusty track high above the sea. Pine woodland and gorse bushes line the steep hillsides that fall away into the aqua-blue expanse below. Pockets of wildflowers punctuate the mass of green, adding splashes of yellow and orange. It's a far cry from my only other experience of Cyprus – a week of sun, sea and partying in Ayia Napa around 15 years ago.
Revered as the jewel in the crown of Southern Cyprus, the Akamas Peninsula is one of the last coastal regions on the island to remain untouched by mass tourism and development. The peninsula, a narrow range of hills stretching into the Mediterranean, is the most westerly tip of the island. Designated as a National Park and conservation area in 2007, it's a stunning sweep of forests, hidden bays and dramatic limestone gorges. Its diverse ecosystem is home to 39 of Cyprus's 128 endemic plant species, and to bats, migrating birds, snakes and chameleons. If you've got a keen eye you might even spot a wild mouflon, the goat-like creature that adorns the Cypriot flag.
Today we're on foot but the peninsula can also be explored either by bike, by 4x4 or by ATV (all terrain vehicle) or quad bike. Either way, it's a wild, rugged, lonely place to be. Standing on my own halfway along the Smigies Trail, just west of the traditional hamlet of Neo Chorio, it's eerily silent. The view is dominated on both sides by plunging hillsides, and distant breaking waves. To the north is Turkey, far to the south is Israel and somewhere in the west is Crete.
There's not much sign of civilisation here and until we come across a herd of skittish goats being pursued by a red-faced farmer in wellies, (very short) shorts and a wife-beater vest, I've seen only a handful of ramblers during the two-hour walk. As the goats scramble down a tractor-wide track the frenzy starts to fade and the silence returns. We're on our own again
In Greek Mythology the Akamas Peninsula is where Aphrodite, the Greek goddess of love and beauty, met her lover, Adonis. And many of the natural landmarks are named after the amorous couple. There are four main marked walking trails on the peninsula, although the area is criss-crossed with paths and tracks. The dusty, gravel tracks of the Akamas Peninsula, Aphrodite Trail, Adonis Trail and Smigies Trail reward hikers with breathtaking views of cavernous gorges, limestone outcrops and a sculpted coastline. After completing the circular route, a taster of what the peninsula has to offer, I return past Ayios Minas, a charming little 15th-century church and on through Neo Chorio, where men play backgammon in the coffee shops and scores of oranges sit on tables bagged and ready for the taking.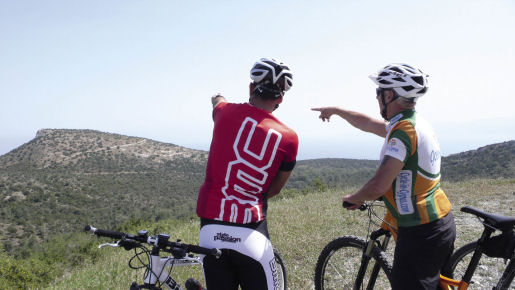 The next day we explore by mountain bike, rather than by foot. Cycling west from Latchi around Chrysochou Bay, the first stop is the Baths of Aphrodite. This pool and natural cave, surrounded by fig trees, is the area's biggest tourist attraction. But don't expect a theme park; there's a modest fish tavern and car park but that's all. Legend has it that Aphrodite used to take her baths in the pools of the natural cave and it's believed that by bathing in the pools your natural fertility will be restored. Today, however, the pool is a UNESCO World Heritage Site and swimming or bathing isn't allowed.
Leaving the baths to the tourists we start out on the Akamas Peninsula trail. By foot this 16km route takes around three and a half hours. By bike it's an easy 90 minutes. Mostly flat, save for a few short sharp hills, it's not super technical but neither is the trail a Sunday ride. There's loose gravel, ruts, and sand and there are places where I have to get off my bike.
By 10am the sun is high in the sky and I'm starting to overheat. The scent of carob and juniper trees perfumes the air. After a few dusty kilometres our cycling guide, Börje, a Swede who escapes the Scandinavian winter each year, leads me off the path and onto a small sandy beach protected by a circle of rocks. To the left is the legendary picture-postcard Blue Lagoon, a crystal clear pool accessible only by boat or from the trail. Sensing the once-in-a-lifetime opportunity, my shoes and cycling helmet come off and I dive straight in (cycling shorts and all) for a very brief dip – the sea temperature in April is still only around 18 degrees.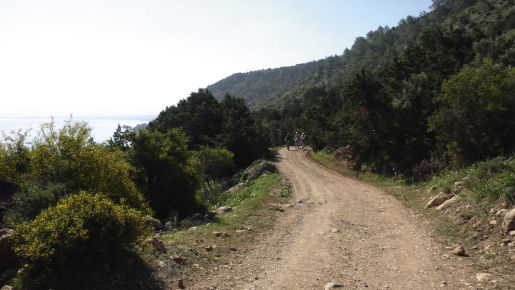 Cooled and keen to get warm, we continue towards Cape Arnauti at the end of the peninsula. Cycling past fields of wheat and alongside fruit trees, we meander along the coast soaking up the scenery. After another couple of kilometres we arrive at Fontana Amorosa (the fountain of love), a creek with a small natural spring leading into a sweeping sandy bay, where Aphrodite is said to have brought her lovers to hide them from prying eyes. Popular with divers under the water are the remains of terracotta pots and the seabed is littered with pottery fragments. Then, after a tricky last section of hard, rutted rock it's back, at speed, to Latchi before the sun gets too high and too hot.
Having only a long weekend to explore the peninsula, I've concentrated myself in the east but I'm keen to learn what else Akamas has to offer and how to get there. My local guide Kypros says that the two biggest draws in the west are Avakas Gorge and Lara Bay. I learn that entering the deep, narrow gorge, that is at times 80 metres deep and only three metres wide, is like opening the door to a unique environment. Wild flowers, such as cyclamen and the rare Cyprus tulip, line the floor, and whilst a visit might require some scrambling and climbing over boulders, it's certainly worthwhile.
Also west is the stunning Lara Bay. Stamina and a 4x4 are required to get there but the payback is a long, sweeping, and often deserted beach, which is a nesting ground for loggerhead and green turtles. Monk seals also live in the sea caves around the peninsula.
But with time running out what remains of Akamas will have to wait. I leave Cyprus sun-kissed, in awe of the 'other side' of the island, and sure that next time I won't leave it so long to come back.
www.susannahosbornephotography.com
Getting there
Europe/World: British Airways (www.ba.com) flies from London Gatwick to Paphos three times a week.
When to go
Spring (March and April) and Autumn (October and November) are the best times to visit the Akamas Peninsula. During these periods temperatures are between 20 and 25ºC and there is very little rainfall. During high summer temperatures reach 40ºC.
Where to stay
Latchi Hotel. Doubles from €58 per room per night, B&B. www.latchihotel.com
Elia Latchi Holiday Village. Studio apartments from €62 per night, room only. www.eliavillage.com
Anassa Hotel. Doubles from €120 per room per night, full-board, based on two sharing. www.anassa.com.cy
Tour Operators
Budget: First Choice www.firstchoice.co.uk
Mid-range: Olympic Holidays www.olympicholidays.com
Blow the budget: Inspired Luxury Escapes www.inspiredluxuryescapes.com
Useful contacts
Cyprus Tourist Board www.visitcyprus.com
Pafos Regional Tourist Board www.visitpafos.org.cy
Top tips
Even in spring temperatures can soar to the high 20s, or even 30s. Make sure you're fully protected against sunburn by using a sun block or at least factor SPF30 sun lotion.
Must do
Swim in the crystal clear waters of The Blue Lagoon. Accessible only by boat, or by hiking or biking from the Baths of Aphrodite north along the track called the Road to Fontana Amorosa towards Cape Arnauti.