Nivice Cayon
Nivice Village in the Kurvelesh region of Southern Albania is relatively unknown even by experienced Albanian hikers.  The group I met in my overnight guesthouse had years of hiking experience throughout Albania and were therefore somewhat miffed, that I, an English hiker on my first visit to the country had also somehow stumbled upon this unspoiled, stunning area, far from the madding crowd.   
I'd been taken here by Drive Albania, a company that offers tours with a difference taking travellers to the less visited regions, combining culture with off-roading in brand new Lada Niva 4 x 4s. The reason for a previous lack of visitors was mainly inaccessibility but with a new paved road to the village, things are set to change.  
Life in the village follows a slow pace that reflects the importance of agriculture and old traditions but what you're really here for is to hike down deep into the striking canyon. I've hiked in the Grand, Colca, Copper and Fish River canyons and Nivice although not as big or as deep can easily match them for grandeur and ruggedness and there's of course the appealing lack of crowds. There are also hidden caves and waterfalls to discover along with a challenging hike to the top of 2,121 metre mount Kenrevica.  
Being limited for time, having only a day and night in the village, I settled for a relatively easy short but rewarding hike down into the canyon. It was the overnight at the aptly named "House on the Canyon" that was the undoubted highlight.
A Rolls Royce of a guesthouse expertly and efficiently run by Petrit and his family.  With tourism still relatively new and anxious to please, I was blown away by the warmth of the welcome (Albanians have been called the friendliest people in Europe), the clean and cosy room, spotless bathroom and 4 course dinner and I haven't even mentioned the magnificent view just a few steps away. If you're lucky you might even spot an Egyptian vulture, one of their few resting places in Europe.  
Dinner gave a whole new meaning to slow food with everything picked, baked, grown or reared in the locality and plenty of it, no scrimping on portions here.  Soup bowls brimming over, huge plates of lamb and chips, fresh salads all washed down with unlimited raki.
Valbona to Theth
The trek from Valbona to Theth, in the Albanian Alps, "The Accursed Mountains" in Northern Albania has been on the travel radar for a while now and justifiably so.  If it's a moderate, scenic walking holiday, encountering a traditional way of village life you're after, then this still little-visited region ticks all the boxes.   
To get to Valbona most people take the 3-hour ferry ride across Lake Koman and one of Albania's undisputed highlights.  Rather than hiking up, here you'll cruise instead through spectacular mountain scenery, like the Norwegian fjords, the mountains dipping into the mirror calm, deep blue water. All incredibly photogenic.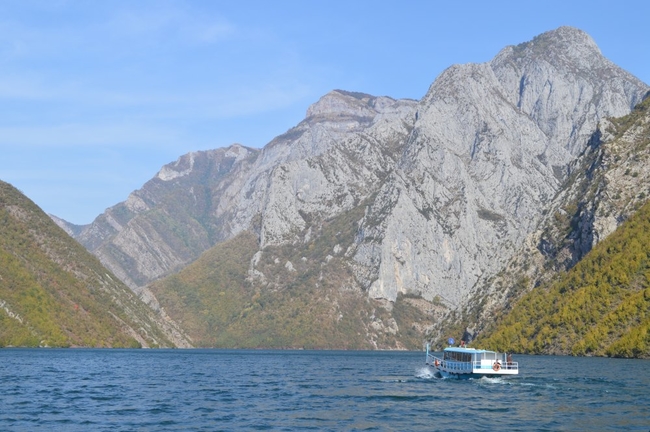 The easiest way is to join a tour starting in Shkodra (a couple of hours away from the capital Tirana and the gateway to the north) who'll arrange the classic 3-day, 2-night loop.  A day from Shkodra to Valbona including the ferry journey, a day hiking over the pass from Valbona to Theth and then back to Shkodra.  However, it's easily possible to extend your stay with some gorgeous day walks from Valbona (to the beautiful meadows of Grykat e Hapta) along with various circular walks from Theth.  
My guesthouse in Valbona was another pleasant surprise, I'm not sure what I was expecting but certainly not en suite bathrooms with showers with water pressure so strong that even Americans would baulk at, vast quantities of home-made food, excellent English speaking hosts and again enough raki to pickle yourself in.  
Getting up early my luggage was strapped to a hardy pony, capable of carrying 20 kg.  The pony along with its smartly dressed owner (I was amused to see that many locals and shepherds wore suits) would set of ahead of us to deliver my luggage to Theth and return the same day, all of course without breaking into a sweat.  The Valbona pass has for centuries connected the glacial valleys of Valbona to Theth and is only accessible during the summer months due to heavy snowfall.  
It's an easy start walking along the flat valley floor for about 6 km until you reach Rrogam, the last village from where the trail steepens towards a large bowl of alpine meadows, framed by rocky slopes and swatches of autumn gold and rust coloured leaves.  The various shades of red, yellow, magenta and brown were set against a vast and virtually cloudless blue sky, this was the sort of trekking I love.    
The route, a simple shepherd's path was easy to navigate, although there were plenty of signs, along with the ubiquitous red and white markers to follow. I also had a guide and therefore not a care in the world.   
There was no need to carry huge amounts of water as just as I was about to get thirsty, at 1450 m Bar Simoni conveniently located by the cascading spring of Valbona was an ideal spot to fill up my water bottle and buy a diet coke, any benefits of the latter negated by a couple of freshly made mountain doughnuts, too delicious to resist.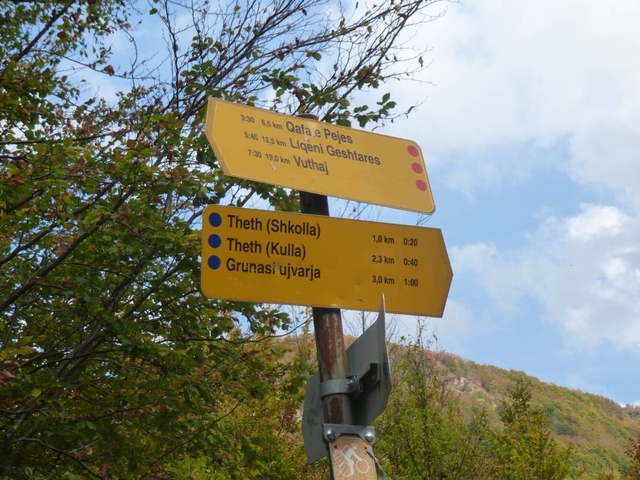 The walk now leaves the woods and zig zags more steeply into the rockier Alpine zone that peaks at the Pass of Valbona.  The spectacular location of the pass (approx 1800m) offers stunning views of the Lugu i Valit on the Valbona side and the Shala river valley to the Sheep and Diagonal Passes and Radohima peaks above Theth.   
It was a perfect spot for lunch.  It's common practice at trekking guesthouses in Albania to make your own picnic lunch which I rather liked.  Homemade bread and cheese, along with tomatoes, cucumbers and hard-boiled eggs would be laid out after breakfast for you to assemble your own sandwich with silver foil to wrap it in. 
The top of the pass was also the place for more daring travellers to hike up to a precipitous, rocky peak and with their drones take the ultimate selfie. I opted to merely observe but could have done without the annoying buzz of the drone disturbing my peace and reflection.  
After lunch we enjoyed a leisurely descent towards the village of Theth (859-900m), walking in and out of woodland, first fir and then birch trees. Conveniently there's another mountain bar to fill up your water bottle from the nearby stream and perhaps indulge in the local delicacy, Fli a traditional Albanian pie consisting of layers of pastry, butter and milk cream. 
You're not going to lose much weight on this kind of trek, especially if like me, what you think is  tzatziki is in fact a massively popular but also highly fattening dish of whipped thick cream with pickled peppers. I wondered why everybody else just gently dipped their bread into it when I on the other hand layered it on thickly.  
From the bar you are back into meadows and a chance to stop every now and then to pick juniper berries and wild sour cherries as you take in the amazing views. 
Theth
Theth is the best-preserved Alpine village in Albania, home to the much photographed stone-built Catholic church, originally built in the 1700s and only recently renovated.  
There's no doubting Theth's stunning location; the traditional houses with their wooden tiled roofs surrounded by impressive limestone peaks such as the Radohima and Harapi. It's worth staying here for an additional day's trekking to see The Blood Feud Tower, the Grunas waterfall and The Blue Eye before heading back to Shkodra. The Blood-feud tower was used in the past by men as a refuge against ongoing blood feuds, when someone committed a murder, he was locked in the tower for 15 days, waiting for the victim's family to decide on their revenge through necessary mediations by the village elderly. The Blue Eye is a refreshing 8 degrees celsius clear blue pool in an in an idyllic location surrounded by a dense forest at the end of the Grunas Canyon.
Mine was a whirlwind insight into the kind of trekking Albania has to offer. I visited between September and October, ideal months for warm weather, fewer crowds and lower prices. With pristine beaches and emerald waters, there's also a 476km coastline for some post trek R and R.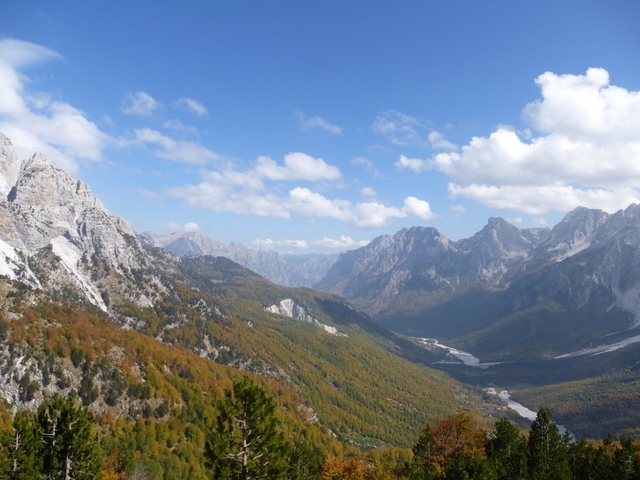 They've had over a decade of stability in the region and I can't imagine Albania's unspoiled beauty will remain undiscovered by others for much longer.  It's currently very popular with German and Swiss travellers who return every year, so make your plans sooner rather than later.
For even more of a challenge, Albania with neighbouring Kosovo and Macedonia are united by the 192 km "Peaks of the Balkans hiking trail which winds its way through the 'Accursed Mountains". This trail is also linked with others across the region from Slovenia to Albania to create the 1,000 mile Via Dinarica. Something for the more adventurous active traveller and now that I have had a small taste of the spectacular walking in the region, it's also one to add to my every-growing bucket list of epic walks.
Go There
Petra trekked between Valbona and Theth with Outdoor Albania. Take a look at their website for more info!
Petra also took a driving tour to the beautiful Nivice Canyon with Drive Albania. They also offer other great itineraries through Albania, as well as self-drive routes and wild camping trips. Head over to their website for all the details.