Soaring 1,345m up into the Highland skies, Ben Nevis is the tallest mountain in Scotland and the whole of the UK – and perhaps Britain's most legendary peak. Reaching its summit is a challenge 130,000 enthusiastic hikers take on every year.
Do you want to join them? Here's everything you need to know about climbing 'The Ben', including full descriptions of the three main Ben Nevis routes: the Tourist Track, the CMD Arête and the Ledge Route.
Where is Ben Nevis and how do I get there? 
Ben Nevis is a mighty peak in the Grampian Mountain range, in the Lochaber region of the north-west Scottish Highlands. It is located a few miles to the south-east of the town of Fort William.
Getting to Ben Nevis by car is simple. From Glasgow you'll take the A82 to Fort William before veering right on the Glen Nevis road to the foot of the mountain. 
The best place to park for the Tourist Path is the Ben Nevis Visitor Centre at PH33 6ST. For the CMD Arête and Ledge Route, you can park at the North Face Car Park at PH33 6SW.
Connections to Ben Nevis by public transport are easy too. A direct ScotRail train from Glasgow Queen Street to Fort William takes 3 hours and 45 minutes, or a CityLink coach from Glasgow's Buchanan Bus Station to Fort William takes 3 hours and 15 minutes. From Fort William it's a 3km walk to the Glen Nevis Visitor Centre, or a short ride on the Shiel Buses N41 route to the North Face Car Park.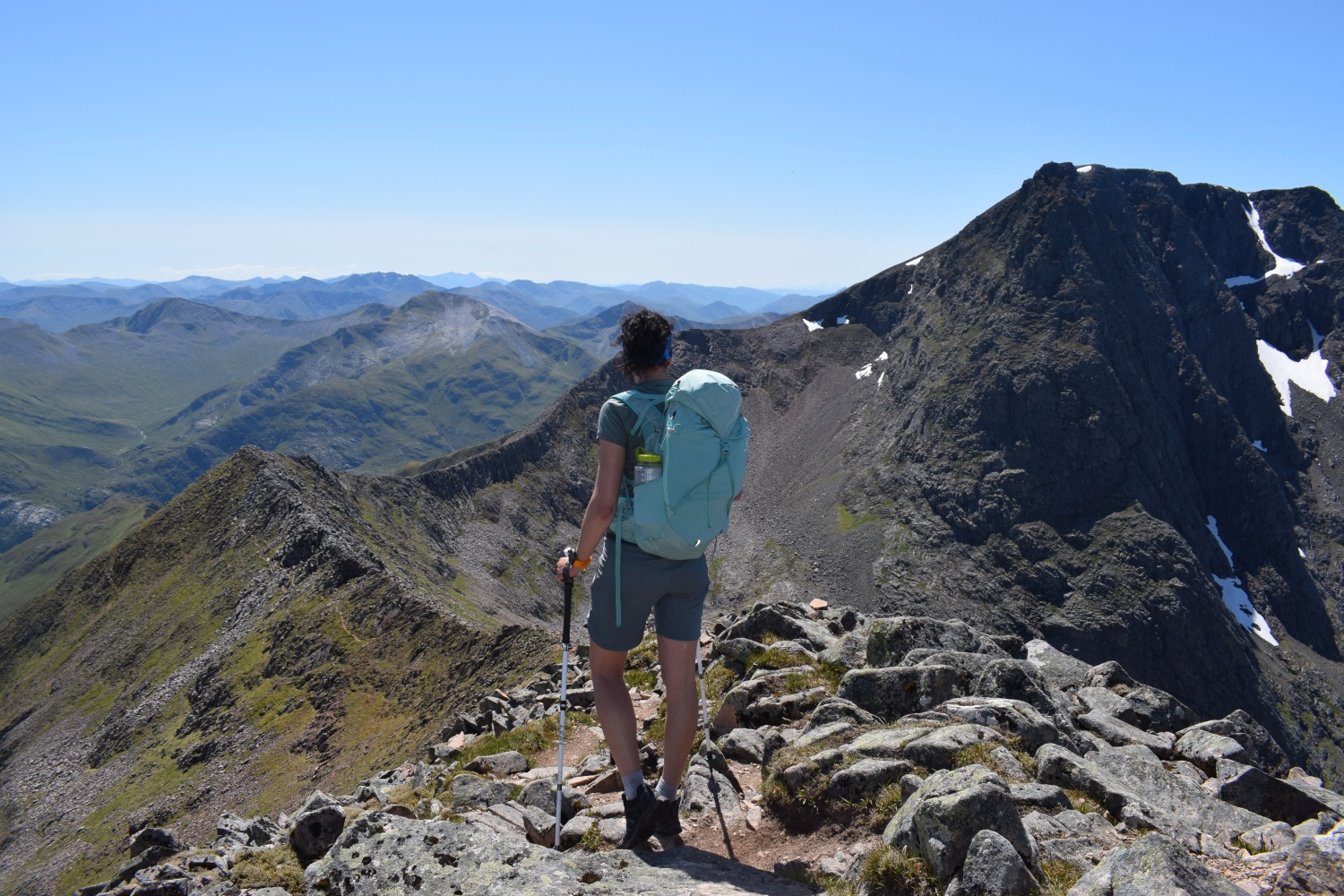 What gear do I need to climb Ben Nevis?
Ben Nevis is a venomous mountain, notorious for its changeable and often brutal weather conditions, so you'll need clothing that will keep you warm and dry. Try and think of your clothing as a system of layers that can be adapted as the weather changes and the intensity of exercise varies.  
Next to the skin, do not wear a cotton t-shirt – it'll become sweaty and uncomfortable in no time. Instead wear a lightweight, technical baselayer (or a fast-wicking t-shirt) made from merino or synthetic polyester. 
On top of your technical tee, you'll need an insulating mid-layer for warmth such as a lightweight fleece jacket, softshell or down jacket. A sensible approach is to carry a minimum of two mid-layers, so you can react to fluctuating temperatures. In a light breeze your micro-fleece will take off the chill; on the bitterly cold summit it's time to pull on your cosy insulated down jacket. 
For your outer layers, a high-quality waterproof jacket and trousers – featuring Gore-Tex or a similar waterproof membrane technology – will prove essential. They will protect you against rain and wind, and help ensure your safety in the mountains. 
In terms of the best footwear for climb Ben Nevis, being comfortable is the key – if your feet hurt, you'll hate your Ben Nevis experience. Traditional wisdom suggests sturdy, walking boots are needed on big walks, but such boots can be stiff, rigid and blister-inducing. A more modern approach is to wear lightweight walking boots, or trainer-like walking shoes that are more flexible and forgiving, but still sufficiently grippy and supportive. Whatever you do, make sure you break-in your footwear on several walks before climbing Ben Nevis.
In your hiking backpack, you'll need ample food and water to fuel your adventure. It's worth investing in a decent reusable water bottle.
For navigation you'll want to carry a 1:25k map and compass (and know how to use them), as well as download your route to a reputable navigation app such as OS Maps, Komoot or Outdooractive. A smart watch designed for walking, cycling and trekking can be a real help to help you with real time route checking, and carrying a power bank is sensible too – it'll ensure your phone or GPS never runs out of battery. 
Other things to pack in your daypack include spare clothing, first aid kit, hat, gloves, neck warmer, sun cream, cap, sunglasses, head torch, walking poles, safety whistle, water filter and emergency rations.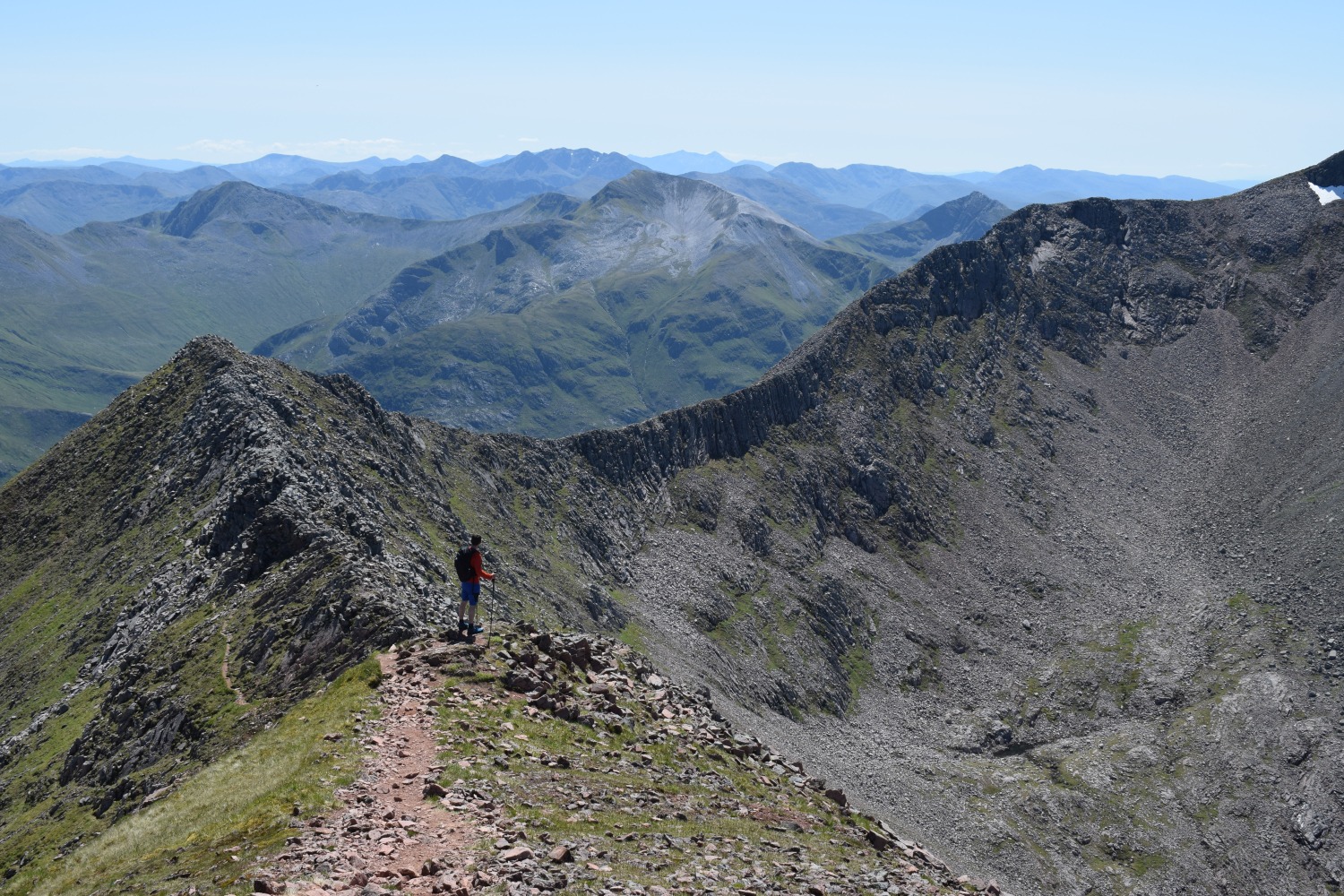 How hard is climbing Ben Nevis?
This is no easy challenge. Good levels of fitness are required to cope with the distance and ascent involved, and mental toughness is needed to overcome poor weather and fatigue. But, having said that, climbing Ben Nevis is well within the grasp of anyone who is determined and dedicated, even if you don't have much mountain experience.
Beginners should only consider the Tourist Track walking route, while experienced hikers with a good head for heights and technical scrambling skills may prefer the more difficult CMD Arête or Ledge Route.  
Remember to check the weather forecast before you head off. The Met Office and MWIS (Mountain Weather Information Service) offer the most reliable predictions, while staff at the Ben Nevis Visitor Centre will advise you on weather, ground conditions and all-round safety considerations. 
When is the best time of year to climb Ben Nevis? For safety reasons, it's sensible to evade snowy ground conditions and the coldest of temperatures, so avoid the height of winter from late October to early April. The shoulder seasons of May-June or September-October will hopefully offer the most settled weather, or you could opt for the warmest (and busiest) months of July and August.
In the unlikely event that you encounter problems on Ben Nevis, this is what to do. If you have mobile phone signal, ring 999 and ask for the police and then mountain rescue. Be prepared to provide your location (including grid reference – the OS Locate app will help with this), mobile number, number of people in your party, and the name, gender and age of the casualty and the nature of their injuries. 
In the total absence of mobile phone signal, the internationally-recognised distress signal is six long blasts of a whistle (or flashes of a torch) in a minute. Stop for one minute and then repeat the process, continuing until someone reaches you.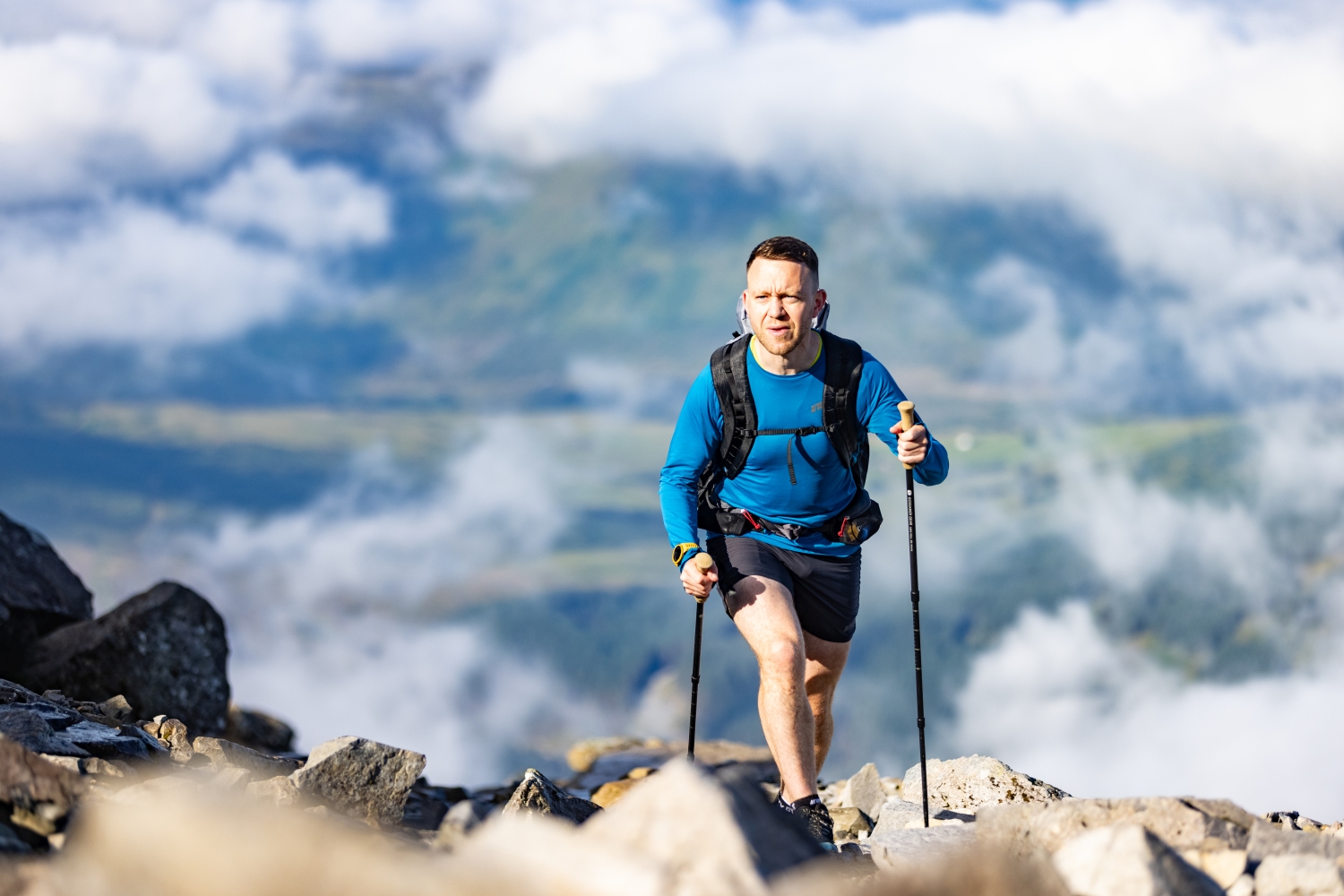 The 3 Main Routes Up Ben Nevis
The Tourist Track 
16km / 1,350m ascent / 7 hours+
This popular route has a lot of different names. Whether you prefer to call it the Tourist Track, the Mountain Path, the Mountain Track, the Pony Track or anything else, it is undoubtedly the easiest and most popular way to climb Ben Nevis.
That's not to say it's a doddle, however. This is a serious mountain day, starting at sea level and climbing steeply over a vertical kilometre into the Highland skies. The going is relentlessly steep, the rough terrain is rocky, and the weather can be utterly atrocious – so be prepared. But the paths are very well maintained, navigating is relatively simple and there will always be lots of fellow Ben Nevis pilgrims around to share words of encouragement (and Jelly Babies, if you're lucky).  
Starting at the Ben Nevis Visitor Centre car park in Glen Nevis, the route crosses a footbridge over the River Nevis and climbs to the right of Achintee House before veering south-east. This main path is well-maintained and easy to follow, climbing ever upwards to arrive above Lochan Meall an t-Suidhe – a good spot for a break.
At a junction, turn right and head south before completing a series of switchbacks bearing eastwards over steep, rocky ground to finally emerge at Ben Nevis's summit. This is not a circular walk, but instead an up-and-down, so re-trace your steps back the same way down to Glen Nevis. Selecting the right way off the summit is absolutely essential, as the mountain's north face is a death trap. 
The CMD Arête 
19km / 1,500m ascent / 9 hours+
Often billed as one of the best mountain routes in the UK, an ascent of Ben Nevis via the CMD (Càrn Mòr Dearg) Arête is a rip-roaring ridge walk featuring some incredible rock scenery. The arête itself – a sweeping, curving, sharp spine of rock with dizzying drops – is a grade one scramble. This means there'll be exposure, steep ground and you'll have to use your hands to negotiate some rocky steps and obstacles.
For those of a nervous disposition, the CMD Arête is not the place to be. But for others it'll deliver an amazing dose of adrenaline and adventure, and a truly memorable Ben Nevis experience.
Starting at the North Face Car Park on the north side of Ben Nevis, the route follows forestry tracks to the Allt a' Mhuilinn river before striking left and off-piste to climb the nose of Càrn Beag Dearg. Next come the summits of Càrn Dearg Meadhonach and Càrn Mòr Dearg, the latter marking the start of the scrambling.
The arête descends initially before rock climbing over rough, wild terrain to the summit of Ben Nevis. For your descent, take the Tourist Track to Lochan Meall an t-Suidhe, loop east towards the CIC hut and then north-west to re-trace your steps along the Allt a' Mhuilinn river back to the North Face Car Park.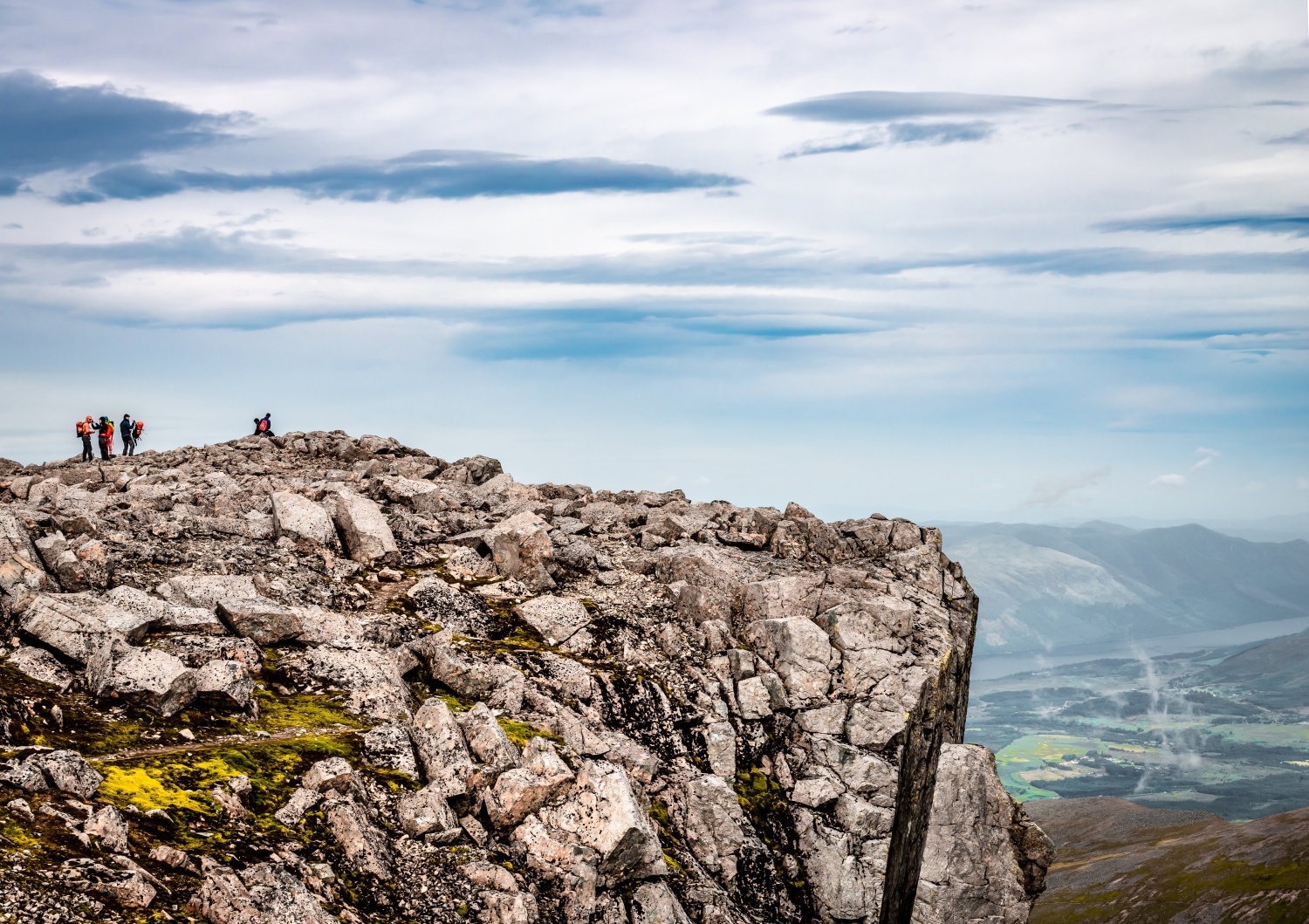 The Ledge Route
18km / 1,400m ascent / 8 hours+
The shattered crags and cliffs of Ben Nevis's domineering north face are usually the preserve of expert climbers, but confident scramblers can explore this rocky world via the iconic Ledge Route – an ingenious way up the seemingly unconquerable buttress via a series of interlinked, zig-zagging ledges.
Officially classed as a grade one scramble, this route is a far more serious undertaking than the CMD Arête. Why? Well, it's a far less-trodden ascent, so navigation can be tricky – and if you accidentally veer off the route, you'll find yourself in the middle of very steep and technical ground.
Commonly started from the North Face Car Park near Torlundy, the Ledge Route takes the main walking path to the CIC climbing hut and then completes a looping semi-circular ascent up Ben Nevis via the Càrn Dearg buttress.
We won't attempt to describe this labyrinth-like route here and instead would recommend scramblers to carry a reputable guidebook with them. Scotland's Mountain Ridges by Dan Bailey (published by Cicerone) has precise and detailed instructions for the Ledge Route, for example. 
The Ledge Route is only ever completed as an ascent – attempting to go down it would be very perilous. Most hikers will descend the Tourist Track to Lochan Meall an t-Suidhe and then veer right back to the North Face Car Park; or for a humongous day in the mountains, complete an epic horseshoe by descending the CMD Arête.