MY MOTHER LIKES SEAWEED BUNS. She's a natural at sand-yachting and enjoys letting sea anemones grip onto her fingers with their long, sticky tentacles. These are just some of the things I discovered about her during a long weekend in Jersey.

We share a passion for the sea and a surname that has its roots in the Channel Islands, so we decided to explore the island together. Measuring just 14km by 8km, Jersey is the southernmost island of the British Isles, located 160km south of mainland Britain and only 22km from the coast of France. Flights from London take just one hour and when you arrive, you find yourself on an island where the primary language is English but the feel, climate and landscape are distinctly Mediterranean.

Before arriving in Jersey, I had researched the island's numerous hot spots for climbing, cycling and kayaking, while my mother had pored over information about guided walks, food festivals and tax-free shopping. Fortunately, we were able to indulge all these passions individually and learn some new activities together.

Jersey is home to some of the world's most extreme tidal infl uences and the tides continue to shape the coastline and play a key role in how life on the island isled. Local guide Derek Hairon and his colleagues lead 'moonwalks' from La Roque beach to the Seymour or Icho Towers, built in 1782 to prevent a repeat of the French invasion of Jersey the year before. They're called moonwalks because of the lunar appearance of the exposed tidal fl ats, and because they take place at times when the infl uence of the moon on the island's coastal waters is at its height.

If you plan your holiday ahead, you can book a night-time moonwalk to coincide with the full moon, even staying overnight in Seymour Tower. However, we chose to join a small group of daytime walkers. Over the course of three hours, we waded through knee-deep salt-water rivers and inter-tidal rock pools and strolled over exposed sand bars, reefs and tidal fl ats in the warm afternoon sun. We learned to spot the difference between male and female crabs, how to introduce different types of seaweed (or 'vraic' as locals call it) into our cooking, and about the way the tide engulfs the island in a pincer movement, coming from two directions.

The 'twelfths tide rule' was also explained, to highlight the speed with which the tide comes galloping over the flat beach – for a 12-metre tide, there's a vertical change in the water level of nearly 5cm per minute during the third and fourth hours of the tidal sequence. This certainly clarified the need for the so-called 'point of no return' – a 12-metre high metal platform located 30 minutes' walk from the beach, which people trapped by the tide can be rescued from.

The following morning I was keen to fulfill my adrenaline needs, while Mum luxuriated in the spa at our hotel, The Grand Jersey in St Helier, and explored the local boutiques. My first activity was climbing – Jersey boasts some of Europe's best, with more than a thousand challenging cliff climbs in some spectacular locations – and I was very keen to fine-tune my skills.

I first began to doubt the wisdom of making claims about prior climbing experiences as I followed my instructor, Dave, along a narrow path to a deserted cliff arching out over the sea. Once he'd explained all the kit, knots and techniques, Dave shimmied up the face like a lizard. Half an hour later, as the mid-morning sun beat down and the sound of the waves breaking on the rocks below got louder and louder, I was still attached to the cliff.

Thanks to Dave, I did eventually reach the top, where we rested a while, watching the cobalt sea stretch into the horizon and letting the breeze cool my tired arms. Dave also explained the sport of 'coasteering' to me, something he enjoys when not instructing tourists like me. It involves exploring the coastline by caving, tunnelling, climbing, swimming and cliff-jumping, while wearing a wetsuit, buoyancy aid, helmet and a pair of old trainers. Maybe next time.

In the afternoon I explored the coastline from the water, by kayak. As with most seabased activities in Jersey, the tide determines where you can go and when, so I headed for Bouley Bay to meet our instructor, Alan. Interestingly, all my fellow paddlers were Jersey locals, including a father and daughter, a mother and her two daughters, and Brenda, a recent convert to kayaking in her sixties.

Once on the water, I could fully appreciate Brenda's new found passion for the sport. The only sounds were the gentle slop of the paddle dipping in and out of the sea and the calling of a wide variety of birds – oystercatchers, herring gulls, black-backed gulls, ringed plovers and shags.

We progressed at a leisurely pace, paddling right up to the cliffs and into coves. Alan's passion for Jersey and kayaking proved highly infectious and most of us were planning a second trip with him as the sun dropped into the ocean behind us on our way back to the Bay.

Mum and I swapped tales of our day's adventures that evening, over a delicious dinner at the Boathouse restaurant in St Aubin, one of many excellent restaurants on the island.

Early the following morning, we joined one of Jersey's accredited Blue Badge guides, Remi Couriard, for a brisk walk. A former 'Iron Man' competitor, Remi's enthusiasm and knowledge knew no bounds. The walk proved to be a highlight of the trip, meandering along dramatic coastal paths, winding through woodland and exploring small villages.
After several hours of walking, Mum took a rest at a café in a converted windmill in St Peter, which also houses local jeweller Catherine Best's collection, while Remi and I continued walking. Picking up a well-rested (and bejewelled) mother an hour later, we drove to St Ouen's Bay for our fi nal activity. Sand-yachting involves streaking across a wide beach strapped into a lightweight, wind-powered, go-kart at speeds of up to 100kph. A steering wheel gives you control over direction, while the sheet rope, attached to the sail, controls your speed. It didn't take long to master the basics, after which it was just a case of plucking up courage to go faster and faster!

After watching me for a while, mum flagged me down. I thought she was going to suggest I slow down – she actually wanted a go herself and proceeded to take both me and our guide by surprise by taking to it like a duck to water – all we could see through the blur of sand flying off the wheels of the kart were her white teeth as she hurtled along the flat beach past us, grinning wildly.

As I flew home that night and cast my mind back over all we'd done, I could barely believe we'd only been away for three days. Jersey may be a pint-sized island but it certainly packs a punch, with many more outdoor activities to try out than a long weekend permits.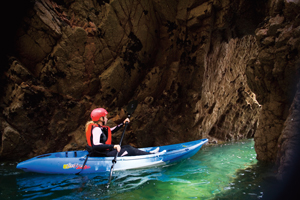 Five things you probably didn't know about Jersey

1. Jersey is a parliamentary democracy that is a dependency of the British Crown. It is a British island, but is not part of the United Kingdom, nor is it a colony.

2. Jersey is home to some of the world's largest tidal influences – the island doubles in size twice a day with the tides.

3. Jèrriais is the native language of the Island and is a blend of Norse and Norman French. It's still spoken in country districts.

4. French was the official language of Jersey until the 1960s and is still used in courts of law and by the legal profession. Most street names in Jersey are French.

5. The Durrell Wildlife Conservation Trust maintains a world-famous breeding zoo founded by the late Gerald Durrell, which includes a 'snailarium' for endangered snails. Animals at the zoo, including the snails, can be adopted by members of the public in return for a fi nancial donation for their welfare.

All the Info...

Getting there 

Flybe flies to Jersey from Birmingham, Bristol, Edinburgh, Exeter, London Gatwick, Manchester, Norwich and Southampton. From £19.99 one-way.

Getting around

A three-day MyExplorer ticket allows a family unlimited travel on the island's buses for £41.50

Accommodation
 
The Grand Jersey Hotel, St Helier, is offering a short luxury break which includes two nights' accommodation, breakfast, dinner and a glass of champagne on arrival, for only £199 per person,

Activities 
Sand-yachting, rock climbing, sea kayaking and many other activities. Pure Adventure. From £35 per session.
www.purejersey.com
01534 769165

Jersey Moonwalks must be booked in advance with Derek Hairon at Jersey Kayak Adventures
Email: This email address is being protected from spambots. You need JavaScript enabled to view it.
01534 853138

Remi Couriard runs Gourmet Walks on the Island

More info
01534 448800