Swooping down a widening grassy couloir, the noise of the rushing air roaring around my ears, I will myself to hold off the brakes for a few more seconds. Ahead of me, further down the almost tyre-width dirt trail cut into the alpine grass, is French mountain bike and trials legend Simon Masi, and he's getting away.
Even if our bike handling skills weren't in different leagues already, I start to drop back, my attention split between Simon, the narrow, rocky ribbon of a trail and the breath-taking views across the mile-deep Isère valley.
Suddenly, an ill-advised glimpse at the Mont Blanc massif peeking out of the clouds some 20 miles to the north makes me miss a kink in the trail, and a rush of adrenaline flushes through me. Crashing is not an option at this speed… Not just because it would hurt (a lot) but because the bike that's helping me keep up with Simon – at least on the ascents and flats – is worth a whopping £5,000. And it's not mine. This incredible Pedelec e-MTB (electronic mountain bike) is one of about 80 – including smaller children's e-MTBs – that you can hire from 10 sites across La Plagne.
Taking the components of a competent, full-suspension enduro mountain bike, this Haibike e-MTB adds an electric motor that automatically gives pedalling assistance when it senses that you need it. Which for me and my weekend rider fitness means all the time.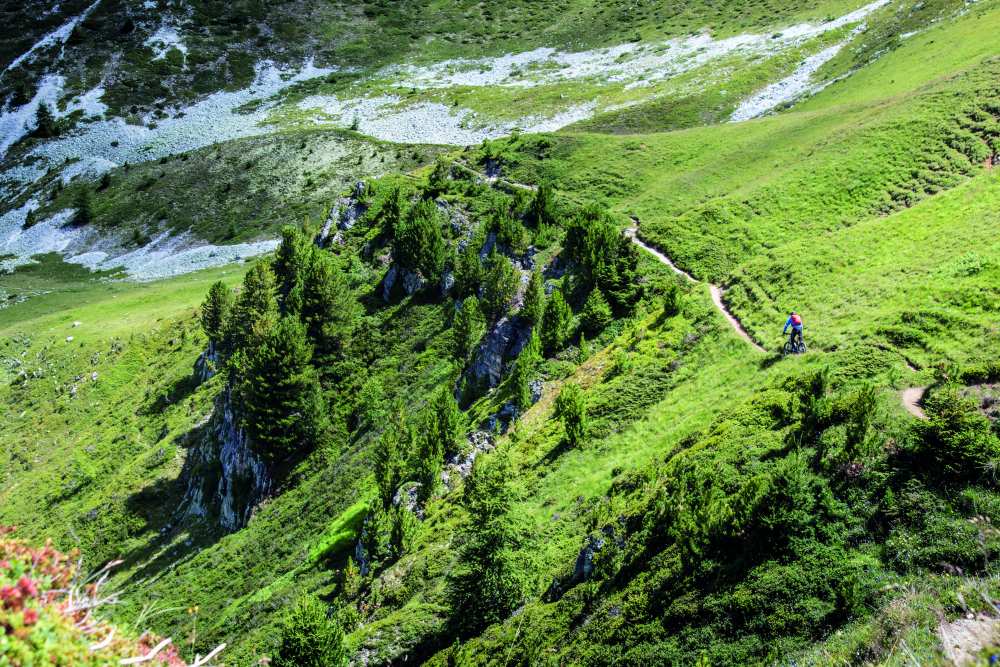 There's no throttle, so you really do have to pedal, but point the bike up even the whiff of an incline and the mid-frame Yamaha motor will start feeding in extra torque to help you turn the pedals. Push harder or turn up the assistance level and it will give you even more, up to a maximum speed of 15mph, and 320% of your own power input.
The assisted speed limit is actually a great leveller. Two riders of different fitness and strength will effectively 'max out' at the same speed on the flat or climbing. The weaker rider might have to run a higher assistance level and will have a shorter range but they will be able to keep up. As I am finding out.
The wind beneath my wheels
It's for this reason alone that for the 40 minutes immediately preceding my near miss I am able to ride alongside Simon, sitting in the saddle and easily spinning the pedals as we chat despite climbing up an ever-steepening scree slope to the top of the 2,340 metre Col de l'Arpette. Even the deliciously heavy Savoyard lunch that we'd enjoyed in Belle Plagne couldn't slow down our electrically-assisted pedalling.
Ordinarily at this altitude and after half a mile of steep gravel ascent I'd be wallowing in a physiological morass of lactic acid, pumping blood and gasping lungs. It wouldn't be long before I was walking alongside my bike and pushing.
This time, the almost surreal lack of real effort means I can look around and fully appreciate my surroundings. The slope we are climbing so easily, draped in a thin covering of summer grass, is in fact the back of the giant natural amphitheatre that towers above La Plagne's 11 scattered villages.
Happily for us, although many of the ski lifts are still running, the throngs usually associated with the world's most popular ski resort are nowhere to be seen.
Dropping!
At the top of the Col de L'Arpette we don jackets in the cool, thinning air and enjoy a slightly guilty short rest, soaking up panoramic views from above the col's towering guardian angel sculpture made of old ski lift parts. Time to descend.Mounting up, we contour around the conical Tête de l'Arpette summit and launch into the descent. The following hour of riding is some of the most spectacular, challenging but rewarding singletrack that I've ever ridden.
It starts with a breath-taking ride around the north-western side of the mountain, the trees on the steep slopes that drop from the trail side almost within touching distance. Apart from the vertiginous drops,
the intimidating nature of this incredible trail is heightened by the depth and narrowness of the eroded rut that we are riding along. Not for the first time, I wish I'd brought some flat pedals instead of the clipless SPDs that won't let me stick out a foot to try to catch my regular wobbles.
The trail dives and climbs, often squeezing between elephant-sized boulders where just a few inches separate my bar ends from the bright pale rock, until eventually we drop into the trees under the unseen Pierres Blanches lift. In my case almost literally, when a series of excruciatingly tight and steep downhill hairpins catch me unprepared.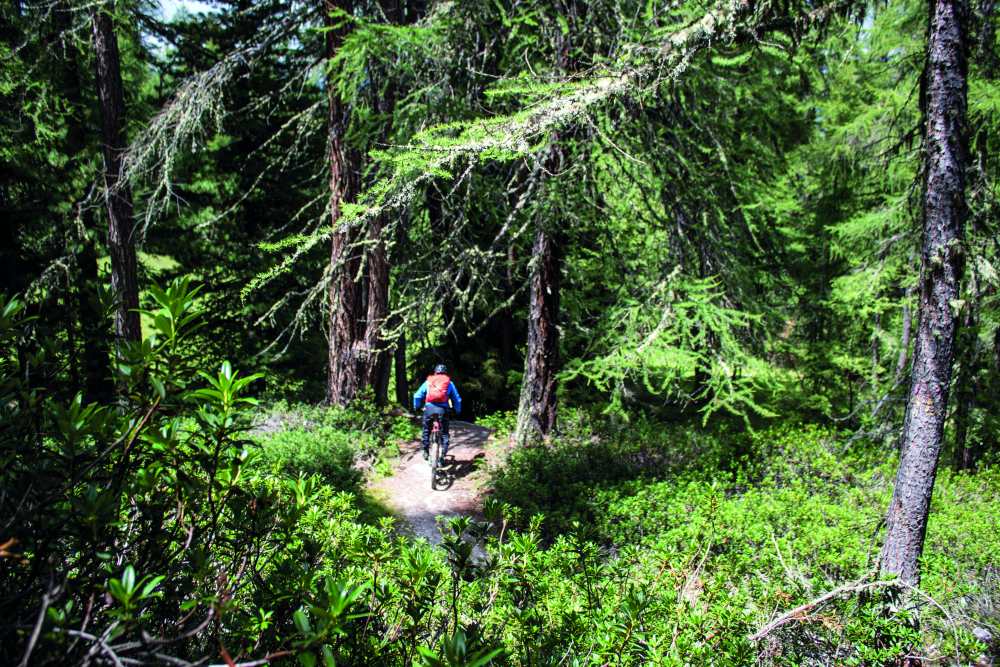 The rest of the descent through the woods to the Ruisseuau de la Salle stream is a rollercoaster of fairground proportions that has my confidence restored and an ear-to-ear grin back in place as we turn south-west for our steady climb back towards the chalet. But 'steady' doesn't do the fun of the climb justice.
On normal bikes this would be a slow grind up and along the wooded contours, but on our powerful e-MTBs we ride it 'flat out' at 15mph. This is uphill carving.
Even the final few miles on fire roads are entertaining, as we half-wheel each other and relive the near misses of the (my) descent.
Wash and go
After a quick detour via the free bike wash at Plagne Bellecôte we head for the chalet, where I check the day's riding on my GPS over a well-earned Danish and a restorative espresso. Suffice to say, the impressive distance and altitude we've covered – both up and down – are hard to believe considering how good my legs still feel. On regular mountain bikes the afternoon's fast-paced, high-altitude ride and punishing climbs would have been enough to finish me off.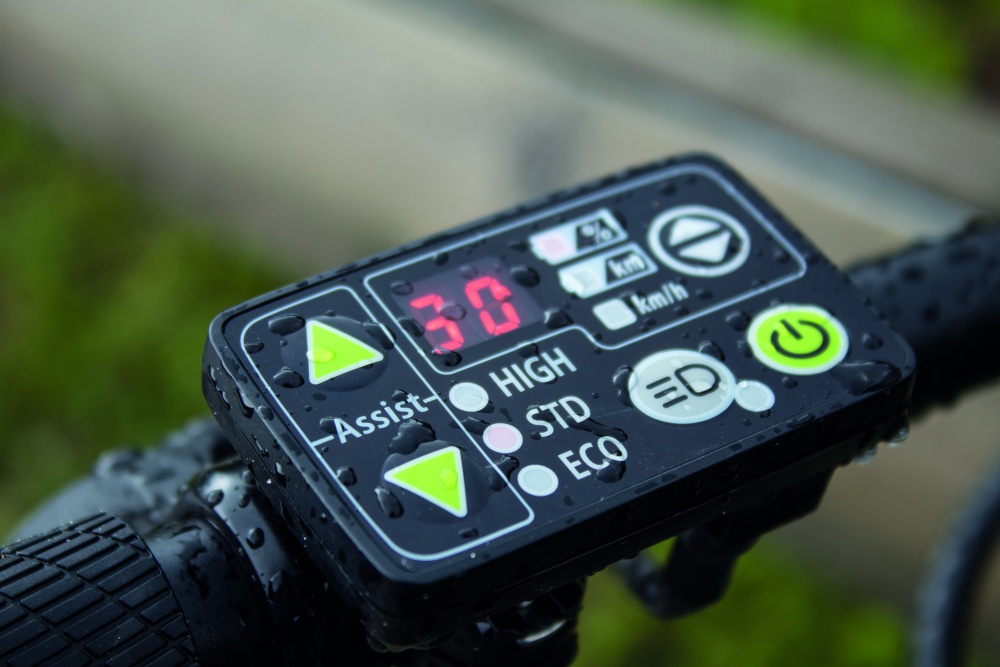 But we have ridden all morning too, carving glorious forest singletrack from Plagne Bellecôte at 1,933 metres to Aimé, 1,300 metres down below at the bottom of the verdant Isère valley.
For the most part, we follow La Plagne's signed Dré Val route. Graded red, on a grading system from green to black in the style of skiing pistes, this enduro trail twists. turns, climbs and carves through the towering, silent pines of the forest nestled between La Plagne's valley villages and on-mountain resort bases.
The main challenge to this gloriously quiet trail, still glistening from the early morning dew, is negotiating the many slippery tree roots across our off-camber path. Predominantly damp and shady, every now and then the trail spit us out of the shadows and into the bright sunlight of an alpine meadow with high definition views across the valley.
Close to two hours later, with the sun almost overhead, we spin out of the trees and into the quiet Savoyard streets of Macot-La Plagne, pulling up at the bus stop by the River Isère.
With lunch booked back up the mountain and still another half day of trails to bag, we decide to take the bus, loading our bikes onto its trailer. Between July and mid-September, La Plagne's chair lifts and gondolas continue running for bikers and walkers, including the Vanoise Express, which links riders to Les Arcs and the rest of the Paradiski area. But during three days of riding this was the only one of the resort's 'mechanical uplifts' we took, our personal electrical uplifts massively boosting out total riding time.
The future's 'E'
The next morning we join a group of cyclists for a final, more sedate taster of La Plagne's new e-bike-specific trails. The plan is to ride a few easy, family-friendly sections of the 93 miles of newly opened routes, sticking to the wide gravel paths and fire roads that link up and explore the resort…
Until, that is, our gentle tour route cuts across one of the bike park downhill trails and Simon and I can't resist a detour into its white-knuckle berms and bumps. Hopelessly trying to follow Simon's flowing lines is a fitting educational finale to my electrically assisted La Plagne trail blazing. I'll certainly be back to carve out some more routes. But my advice is to get yourself here soon, before word gets out…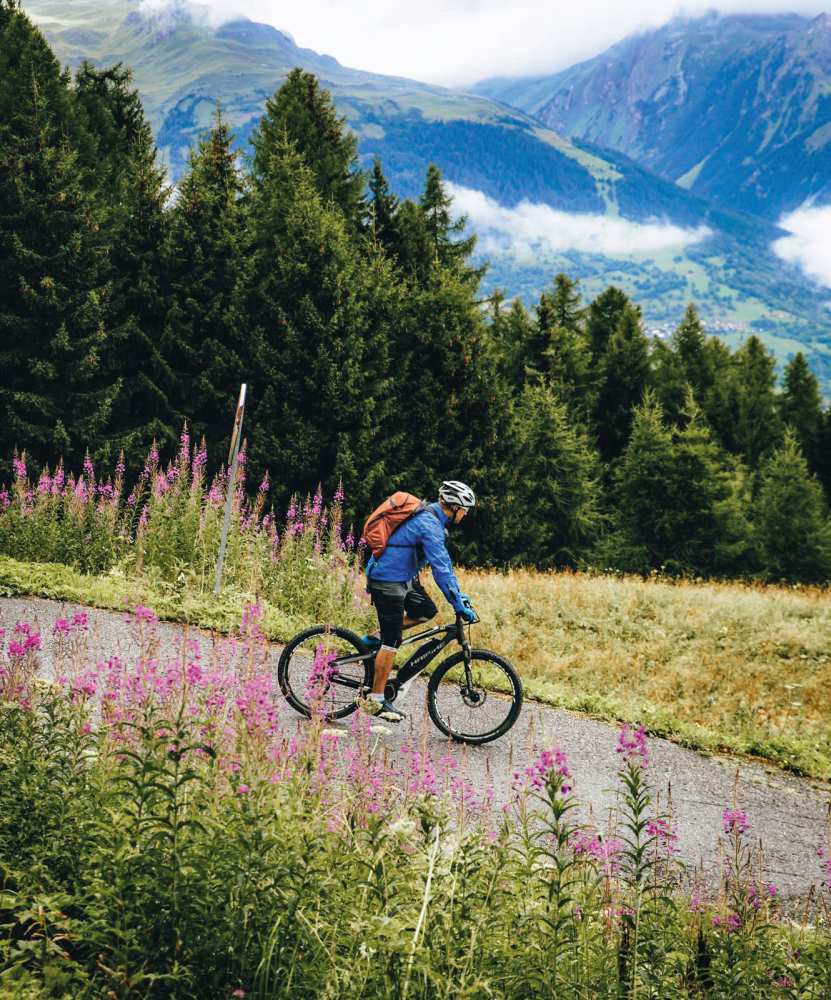 Travel info
Health & safety
Mountain biking is not without its risks. Take a good helmet - some body armour is also advisable for the bike park. Specialist insurance for you and your bike is recommended.
What to pack
A hydration pack is ideal for carrying water. Pack a puncture kit, pump, snacks, wallet, extra layers and waterproofs. Arm and leg warmers and snoods are highly versatile layers for mountain riding. Protective eyewear is a must.
Our trip
Neil was hosted by the La Plagne tourist office.
Bike guiding provided by Simon Masi with ELPRO.
Getting there
We travelled with easyJet from London Gatwick to Geneva, flights from £24 each way.
Getting around
Shared airport transfers cost from about £80 per person return. Find a list of approved transfer companies on
Food and drink
La Spatule, Belle Plagne is a family-run institution tucked away in Belle Plagne opposite the lifts. Its cosy wooden décor and Savoyard ambience makes it perfect for long lunches. Don't miss the fantastic crêpes prepared by the master crêpier, Philippe.
Where to stay
Hotel Le Cocoon,
a wooden four-star boutique hotel just below Plagne 1800. High timbered ceilings and animal skin throws upstairs contrast with bright white minimalism in the dining room, where you'll find excellently presented traditional French cuisine. Don't miss the outdoor sauna and hot tub with views of Mont Blanc.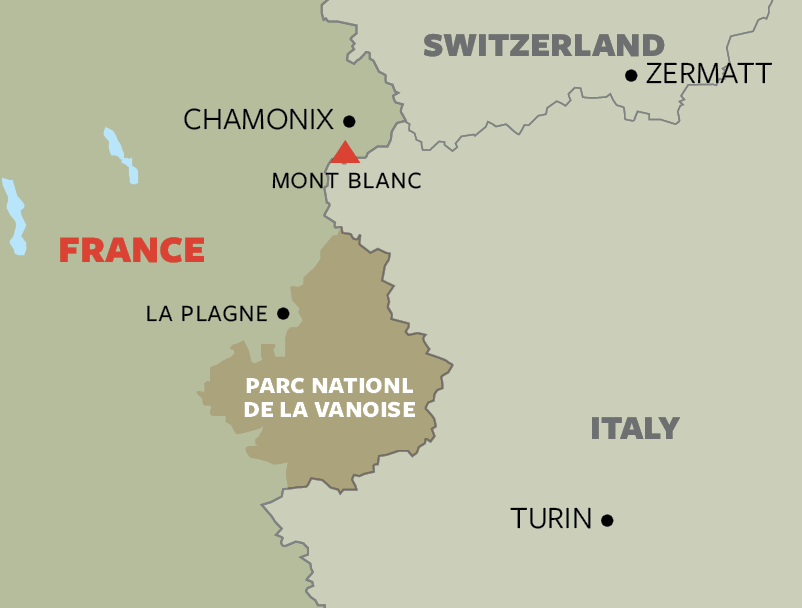 What we rode: Haibike sDuro Nduro 7
The 2017 Haibike sDuro NDURO 7.0 that Neil rode in France is the German brand's mid-range enduro electric mountain bike.
Featuring Magura disc brakes, a 'dropper' seat post with bar-mounted control and 180mm of suspension travel in front and rear, this is a tough and capable all-mountain bike ideal for trail centres, free-riding and downhill fun.
Electric pedalling assistance comes from a Yamaha PW-X electric bike system mid-mounted at the cranks for optimal weight distribution. This powerful 250w motor offers up to 320% assistance as soon as you touch the pedals, and peaks at 80Nm of torque. Experienced cyclists will appreciate that it also supports higher cadences of up to an impressive 120 rpm, with levels marked 'Eco+', 'Eco', 'Standard', 'High' and 'EXPW' (extra power).
Supplying the juice is a large capacity 500Wh battery with a claimed assisted range of up to 110 miles in the Eco+ assistance mode. The Yamaha eBike battery can be quickly recharged in a matter of hours and the integrated LCD display shows not just how much capacity the battery holds but also its predicted range in assisted miles.
Neil found that after five hours of chasing a pro rider up and down alpine singletrack on high power the battery was still showing half full.