As a regular visitor to Scotland, it never ceases to amaze me how easy it is to access some of the most jaw-dropping scenery in only a short drive from Glasgow and Edinburgh. A commonly held belief in England is that you have to drive for hours before you can appreciate the full majesty of Scotland's countryside, but the canny Scot knows that only an hour from Glasgow lie beautiful lochs, glens and Munros that can hold their own against the more celebrated parts.
Take the Trossachs, an area of lochs and hills to the east of Ben Lomond. It may be only 14 miles from Stirling, yet it feels like another world. My family and I were taking the opportunity to combine a family visit to Glasgow with a trip to the Trossachs National Park, staying in a timber and glass cabin – complete with Jacuzzi! – in a Forest Holiday resort. Located on the banks of Loch Lubnaig in the shadow of Ben Ledi and surrounded by forest, we felt suitably remote even though we were only four miles from the town of Callander.
The cabin accommodation was fantastic – our Golden Oak cabin had three bedrooms, a wood-burning stove, fully integrated kitchen and huge glass sliding doors from which we could view the loch and keep an eye out for the resident pine martens that frequent the cabin balconies in search of tasty treats. The cherry on the cake had to be the hot tub on the balcony, which the kids (two boys aged ten and seven) instantly jumped into – it's a great idea, average temperatures in the evening are pretty low but a steaming hot tub makes for an alternative Scottish experience.
Upon arrival, and after a quick splash in the tub, we headed back to the visitor centre to take part in the centre's mini Highland Games – a fitting idea, as the Trossachs is known locally as a mini Highlands. The centre acts as reception area, bike hire and fishing rod pick-up, and its friendly staff went out of their way to help us. If I use Center Parcs as a benchmark, then the accommodation at Forest Holidays is far better and the staff friendlier, but it has fewer facilities and is more about getting out and enjoying the walks. Don't come here looking for an abundance of facilities, but do come here for the views, the walks, the accommodation and a friendly welcome.
It does disappoint in one area – we expected there to be more watersports available on site but, in fact, to go kayaking and canoeing you have to go elsewhere to activity centres at Aberfoyle (15 miles away) or Lochearnhead (18 miles away). For one day a week, there's canoeing, archery and kayaking available, but unfortunately the day didn't coincide with our visit. That said, as we were there for only three nights, we felt we had plenty to do and our days were full.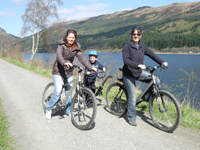 But back to the Highland Games. After a quick briefing, I found myself tossing a caber. In fact, we all found ourselves tossing cabers of various sizes – including the kids. With scores recorded, we waited with bated breath to hear the results of the event later in the evening.
We hired bikes in preparation for the next day (a total of £95 for five people for three days), and then went for a quick walk alongside Loch Lubnaig, only a minute away from our cabin. Lubnaig means crooked in Gaelic but we wouldn't find out until the next day's ride just how crooked this loch was.
Returning back to our cabin, three family members were rewarded with a chocolate egg, lolly and a haggis as rewards for their success in the Highland Games – Jack, aged ten, Daniel, seven, and my wife, Carmelina, had succeeded where myself and niece Anna had failed, and consequently they had bragging rights for the rest of the weekend!
The following day we were up early, taking our hired rods (£5 per rod per day) down to the loch banks. Our targets were salmon, sea trout, perch and char, all of which are resident in Loch Lubnaig. I'm no fisherman and I probably could have done with some tuition, but we slowly got the hang of it – that is until Jack decided to take a splash in the loch. With the fish scared away and the rest of the family creased up in laughter, we decided to call it a day.
After a quick bite to eat out on the balcony (and an even quicker bath for Jack), we decided to head for the village of Strathyre by bike. It's a five-mile trip north through Strathyre Forest to this pretty village, which has a couple of pubs and is sometimes described as the 'first village of the Highlands'. The cycle route is in great condition and provides wonderful views over the loch, which truly is 'crooked' – every time you think you're at the end, it seems to bend even further west. The trip is not too arduous for children (particularly if they convince you to hire a tag-along!) and the route takes you past Highland cattle, freshwater streams and banks of moss-covered woodland. When we arrived at the village, the pastoral scene was somewhat torn apart by the sound of 200 motorbikes cruising through the village en route to goodness knows where – fortunately they didn't all stop at the village inn, which provided a suitable resting spot before our return leg.
Our last couple of days in the Trossachs were spent cycling, fishing and walking in the lower stretches of Ben Ledi. This is one of the most popular walks in the Trossachs and the highest peak in the main part of the region. At 2,884 feet (892m) it comes close but does not quite qualify as a Munro (see box), but nevertheless is an impressive mountain.
Forest Holidays also has several park rangers on site, who provide guided walks in the local area. We took part in two of these walks, the first being the Forest Survival walk. It's perfect for children and families, giving lots of Ray Mears-type advice on what plants can be eaten and what shouldn't. (For example, avoid eating berries or leaves growing below waist height, which are in the range of urinating dogs and humans!) This walk took us up into the forest, where we built shelters, drank pine needle tea (better than I expected) and started fires through friction – real caveman stuff. Our ranger showed us the signs of a healthy ecosystem by drawing attention to the lichen on the trees and the abundant woodland mosses.
Our final evening was spent at the Harbour Inn outside Callander, watching the sun set over the banks of Loch Venachar. This amazing little café would be a incredibly popular if it were in the southeast of England, but we had no problems getting a table, and two courses for a fiver just can't be beaten. On top of that, the weather was beautiful – Scotland in drizzle is good enough, but in sun, it's fantastic!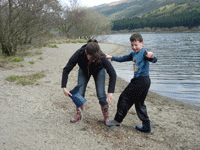 Unfortunately, we didn't have time to hang around as we had to rush back for our final walk – a dusk/night-time stroll which was ultimately worth the rush. Starting from the visitor centre, where we viewed red and roe deer through binoculars, we made our way up Ben Ledi with the rangers again stopping to point out edible plants and those with medicinal properties. As we approached Stank Burn waterfall (another wonderful view), we saw the white behind of a wild roe deer, before picking up the sounds of common pipistrelle bats on some handheld radios – the bat's sonar (or echolocation) operates at a frequency of 45khz. As the mountains got darker and the kids more excited, our ranger used her whistle to respond to the call of a tawny owl.
The evening finished with a test to see how good our night vision was. Having not used torches all night, all of us covered one of our eyes and then looked at a torchlight for two minutes. Switching off the light we then opened each of our eyes in turn. The contrast was startling – the eye that had looked at the torch could see only darkness, while the other eye was almost seeing in infrared. Like the rest of this trip, it had made me see Scotland in a different light.
Wild, wild woods
Our guide to making the most of plants and trees:
Silver birch tree – the bark makes a great tile for your shelter, or a bowl for food. The sap can be used for medicines and even makes a wine. A word of warning – destroy the bark and you kill the tree.
Gorse shrub leaves – these yellow leaves can be used in salads
Broom shrub – the leaves can be eaten and the sticks make a useful brush or broom
Polypore fungus – excellent kindling for starting fires
Sphagnum moss – has medicinal properties, used in First World War to dress wounds and in ancient times as a form of nappy lining for a baby's papoose
NOTE: If in doubt, please do not eat or handle wild plants
What's in a name?
Scottish mountains have a number of names. Depending on how high they are, they are loosely placed into three categories:
• A Munro is a Scottish mountain over 3,000ft (914m). They are named after Sir Hugh T Munro, who in 1891 surveyed all of Scotland's mountains above 3,000 feet. There are currently 284 Munros.
• A Corbett is a mountain between 2,500ft (762m) and 2,999ft (914m). The Corbetts are named after John Rooke Corbett, who in 1930 became the first person to climb all the 2,000-ft-high peaks in Scotland. There are currently 221 Corbetts in Scotland.
• A Graham is a mountain between 2,000ft (610m) and 2,499ft (762m). The Grahams are named in memory of Fiona Graham, who published a list of these peaks in the early Nineties. There are 224 Grahams in Scotland.
Accomodation
Forest Holidays
Tel: 0845 130 8223 www.forestholidays.co.uk
Other Forest Holiday locations include Argyll, Cropton, Deerpark and Keldy.
Images: Paul Critcher, Carmelina Critcher, Anna McLellan