When I asked my boyfriend Chris if he'd like to join me on a family holiday, he was keen. Particularly when he heard that the destination was the west of Ireland – Connemara, a landscape of lofty mountains, white-sand beaches and villages with more pubs than houses. It's true that I wasn't very specific about which relatives exactly would be coming along, but to be fair, we hadn't quite finalised numbers. Once the flights had been booked, I confessed that he would be spending his precious holiday time with more than 60 of my nearest and dearest. Yes darling, welcome to the Lyons Family Reunion (this was my mum's maiden name and it was her side of the family).
He needn't have worried and, in fact, he came into his own during the trip – but more of that later. We'd had two of these clan gatherings:  Scotland, 1992 and USA, 2002. This time around, the four-person organising committee (a cousin from each branch of the family) travelled out on a recce the year before. We had a huge range of ages and abilities to consider, from my soon-to-turn-80 Aunt Jo, to a cousin with a 14-week-old baby called Kit, and from sports junkies to seven-year-old nephew Rory, who uses a wheelchair.We looked initially at the areas of Kerry and Cork, where the family is originally from, but couldn't find anywhere suitable. I had fabulous memories of summer holidays in Connemara when I was small, so we started looking around there.
When the four of us saw the Petersburg Outdoor Education Centre in Clonbur, County Galway, we knew we'd found our spot.A former stately home looking out across Lough Mask to the north, and over to the Maumturk mountains to the west, the setting ticked all our boxes. But it was the centre's mix of comfy en-suite rooms and bunk-style dorms, and the variety of entertainment options – with instructors to take the activity hounds canoeing and caving, and further afield a huge choice of castles and geological wonders to keep the more sedentary happy – that made it perfect.
Continued...
---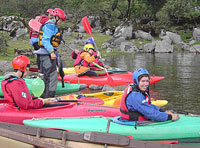 It was a beautiful day as our group started to gather on the terrace outside the big house. Most had come from the UK but there was a fairly large US contingent, a few from Australia and even a Fijian or two. The Yanks were delighted to discover that John Wayne had been a local here during the filming of John Ford's 1952 classic, The Quiet Man. Indeed, tourists flock to the area to follow in Wayne's footsteps, but we were after a very different kind of thrill.
We organised our own programme of activities in conjunction with the Petersburg director, Trisha, and her team of instructors. We particularly wanted kids and adults to be able to enjoy doing things together. So a leisurely stroll following woodland paths on centre's seven hectares might reveal a couple of dozen mixed-age canoeists pushing off from the shore to paddle to the seven-hectare Red Island, which the centre also owns. Or you might see a smaller group enjoying one-to-one sailing instruction in an adjacent bay.
Meanwhile, over by the stables, others would be squeezing into wetsuits and wellies for a caving adventure. There was plenty going on, and later the dining room buzzed with stories from the day. Gorge-walking? Not as tame as it sounds when you're being instructed to jump five metres off a rock into the river pool below. Caving? Something of a challenge when you're wading through the dark, in water up to your waist, carrying an eight-year-old. Canoeing? Hard work making it out to that island when you're paddling into a howling gale.
Of course, there was nothing to stop anyone doing their own thing. My sister Moira and I took off one day to climb a few of the Twelve Pins, a local mountain range. My boyfriend drove off with a couple of my cousins to see the Burren, a spooky geological formation about two hours to the south. My uncles visited Kylemore Abbey, a gothic pile on the edge of the Connemara National Park. We had two fabulous beach days, at Roundstone and near Letterfrack – swimming in the sea, collecting shells to make jewellery, and building a chain of sandcastles a mile long. Some even found time to go shopping.
But the most fun was to be had together, and one thing we excel at in the family is making our own entertainment. There was a silent auction to raise money for booze, someone organised a 'Guess the Baby'  competition, we hired an accordion player and a dance teacher and had ourselves a ceilidh. There were pub outings to Burke's Bar in Clonbur, and one night we lost the young American cousins to some colleens and a nightclub in Ballinrobe.
Continued...
---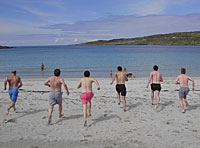 However, no one was allowed to miss the grand finale. Held on the final Saturday, our version of the Iron Man event ('Lyons Man') was masterminded by my cousin Joe, a coach at Tottenham Hotspur FC. He split us into teams to compete in events ranging from the egg-and-spoon race to building a raft and paddling it out to a marker on the lough. The day finished with a bonfire on the shore, where we were invited to read out limericks and songs composed during the week. There was a prize, too, a sort of Bardic Crown, to be awarded to the person who could write the best song.
And blow me if my boyfriend didn't win it, with a song that summed up our family as hilariously as only an 'in-law' could. There was a faint ripple of surprise around the campfire that someone from outside the family should win this prestigious accolade. My boyfriend? He's already asked about Reunion 2012. 
Thoughts on the Trip...
'I loved the caving. I was a bit frightened at first because it was cold and really wet. It was quite low, I had to bend over a little bit. We fell in the water, which was scary, as my Aunt Cate fell on top of me, but I was okay. It was great when the instructor pointed out the fossils, and I loved the stalagtites that came down like curtains, and the rock slide that we went down at the end. The day on the beach was really fun, too, when Jim made the smoking sand volcano, and we made a row of sandcastles across the whole beach.' Nula Langmuir, 8, from Nethybridge, near Inverness, Scotland
'I really enjoyed the incredible views on a Sky Drive I did with my brother and daughter around the coast of Connemara, and I liked walking down to the lough through the woods. But the number one thing that made it special for me was family, being connected to everybody, and watching parents with their children. The kids were never in the way and it was lovely how they were all part of it and there was real inclusiveness of the ones who couldn't get around so well. I have to give all the parents a big pat on the back.' Josephine Pannell, 79 from Massachusetts, USA
Trip Notes
Petersburg Outdoor Education Centre is around 33 miles north of Galway City
By air: Ryanair to Knock or Galway from London Stansted
By car: via Larne or Dun Laoghaire
The Centre: www.petersburg.ie