The chance to go away for a few days was not to be sniffed at, but where to go? After a family conference, we managed to reduce our various contrasting demands down to a few essential requirements: Child One (Jack, aged nine) wanted to go climbing; Child Two (Daniel, aged six) wanted to see animals; Wife One (and only!, Carmelina) wanted something relatively close in a rural setting; and finally, yours truly, wanted no traffic, a little bit of excitement and a drop or two of vin rouge.
The Limousin region seemed to tick all of our boxes. Part of the Massif Central, Limousin is one of the most rural regions in France and is undeniably beautiful, combining parts of Correze, Creuse and Haute Vienne, and the Natural Regional Park of Millevaches.
After taking the Eurostar and a connecting train, we picked up our hire car in the regional capital of Limoges, a town famous for its porcelain, and headed south down the A20 to our gîte in the village of St Bonnet de Briance. Greeted at the gîte by owner Jean-Claude Sabourad, we enjoyed a welcome meal of various French delicacies (when the French are on form, nobody can beat them for being the perfect hosts) before settling into the huge gîte and planning the next few days' activities.
The great thing about this region is that there is very little traffic, the road network is extremely good and well maintained (the legacy of former French president Francois Mitterand, who spent a lot of time holidaying in the area and his government invested considerably in the road network during his premiership) and the fact that there are loads of activities to do all well within an hour's drive of our gîte.
The activities are well organised with plenty of choice, few queues, reasonable prices and the chance that someone will speak English – although a little broken French goes a long way. Get a map and a list of activities from the tourist office and away you go – it really is that simple. Read on to find out about some of the attractions that took our fancy.
Continued...
---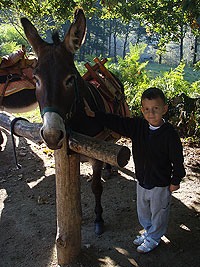 Daniel wanted to see animals, so that was what he was going to do. An hour and 20 minutes' drive from our base in Saint Bonnet to the Chabrières Forest just south of Gueret, brought us to the Parc aux Loups de Chabrières. This large wildlife park in the heart of the woods gives visitors the chance to see various breeds of wolves in semi captivity. A viewing platform overlooks the wolves' main habitat, but the most fascinating aspect is when you take the trail around the forest. In parts you are only separated from the packs of wolves by a chain fence. In fact, when Daniel ran away from us, the wolves on the other side of the fence started chasing him as if they were hunting. Fortunately there are no breaks in the fence! There are European grey wolves and Canadian white wolves, but by far the most impressive were the Canadian black wolves – straight out of Red Riding Hood, these are scary-looking animals.
About 40km east of Limoges is Peyrat le Château, a hilly area near the Vassivière Lake that's perfect for family walks. In the foothills you can join guided walks around the valleys and hills. Starting off from a small campsite providing Mongolian yurt accommodation, there are walks of various lengths amid the stunning countryside. What makes it special is that you are accompanied by donkeys, and the kids get to ride. It's great fun, in beautiful surroundings, and if your kids are prone to getting bored or tired on your average walk (as are mine), you'll have no problems here – the donkey rides will make their day and it's definitely a step up from Blackpool Beach.
So Daniel had his animal fix, but what about Jack's climbing adventure? Next stop was the Parc Acrobois de Bussière Galant. Thirty kilometres southwest of Limoges, this adventure park has a series of high-trees assault courses of progressively more difficult levels, a bit like the Go Ape courses found in the UK. Suitable for all ages from five years upwards, you follow a roped course and clip on using carabiners attached to a harness. Following a ten-minute briefing you're on your way, and if your kids are like mine you'll have to be quick, because the children loved it and streaked ahead. The courses are graded like ski slopes – green, blue, red and black. Even if you skip the tougher parts of the course you can still take the 400m-long zip wire across the lake – it gives the kids a real sense of achievement and gets the heart pumping!
Okay, so the children had got their adrenaline fix, but Carmelina and I wanted to push the envelope. A trip to the tourist office in Limoges got us thinking about paragliding (or parapente, as it is known in France). We headed to Treignac in the heart of the Natural Regional Park of Millevaches, where we met our parapente instructor. There are various courses that you can choose to do, but as time was limited we chose to try tandem flights. The views from the hills at nearby Monédières are undoubtedly beautiful but we didn't have much time or inclination (nerves were kicking in) to appreciate them as we kitted up. The next thing I knew, I was connected to a parapente with my instructor behind running madly down a hillside, and then… lift-off! Once you're in the air, it's incredibly exhilarating and you get time to enjoy the views. I've tried bungee jumping in the past, which was awful, but this was a world apart – fantastic!
Continued...
---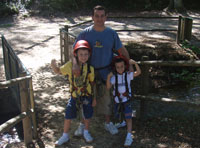 After all that adventure, we felt that a couple of more sedate activities would be appropriate, so we stayed local to our gîte in St Bonnet de Briance (the Briance being the local river). Most town halls in this part of France will provide basic maps of local walking routes and now armed with our newly acquired map, we headed off-road. A gentle stroll around local farmland gave us the opportunity to see the famous Limousin cows (the beef of this area is renowned), a reddish brown breed that you'll see all over the countryside. However, laziness and boredom were setting in and the kids were playing up. Plan B was to go off-map and take a short cut home. An hour later into what was meant to be a 45-minute walk and we were thoroughly lost. The kids, however, found it thrilling as we traversed slippery logs, jumped over streams and crawled through barbed wire fences. Just as the sun went down we caught sight of the church spire in the distance – our adventure, fortunately, was over.
A return trip to the Parc Acrobois (back by popular demand) gave us the opportunity to try out the Vélo Rail. The Vélo Rail is an old railway track that stretches for 6km and is situated right next to the park. On the track are small carts that are pedal powered. Two people cycle while two take in the view. Departures of each cart are kept apart by a few minutes – if you like a challenge try to catch up with the cart in front, but the wise among you will conserve energy for the return leg, which is mostly uphill! 
Trip Notes
How to get there:
We elected to take the Eurostar (approx £450 for two adults and two children eurostar.com) from London to Paris and then the Metro before taking a three-hour train to Limoges and hiring a car. Although the journey by train was enjoyable, it is a long trip and you might prefer to take a plane to Limoges from London Stansted, Liverpool or Nottingham with Ryanair (ryanair.com) or from Southampton or Manchester with Flybe (flybe.com). Alternatively, drive all the way there (about 700km from Calais). The roads are very good and the A20 cuts right through the Limousin with easy access to all the main attractions. Whichever way you go, you will definitely need a car once there, as this is a very rural setting, with a low population and hence limited public transport in the more rural areas.
All images: Paul Critcher