Look at a map, and it's obvious that Brittany is part of France. Stand on the ground, however, and it often feels like you're in a separate country completely. With its wild coastline, forested interior, and unique language and culture to discover, this Celtic province—known to the French as Bretagne, and the locals as Breizh—is perfect for adventure.
Surfing, hiking, and kayaking are all on the menu here, alongside local culinary favourites like crêpes and cidre. With several days here, I'm hoping to try all of the above, but I'm not entirely sure what to expect. This region is famously full of surprises. 
With cliffs and capes facing both northwards, towards the English Channel, and southwards, towards the Atlantic, Brittany accounts for fully one third of the total French seafront. Unsurprisingly, its fishing industry and sea-going culture date back to ancient times, and the fishing ports around its coastline are still among the busiest in the country.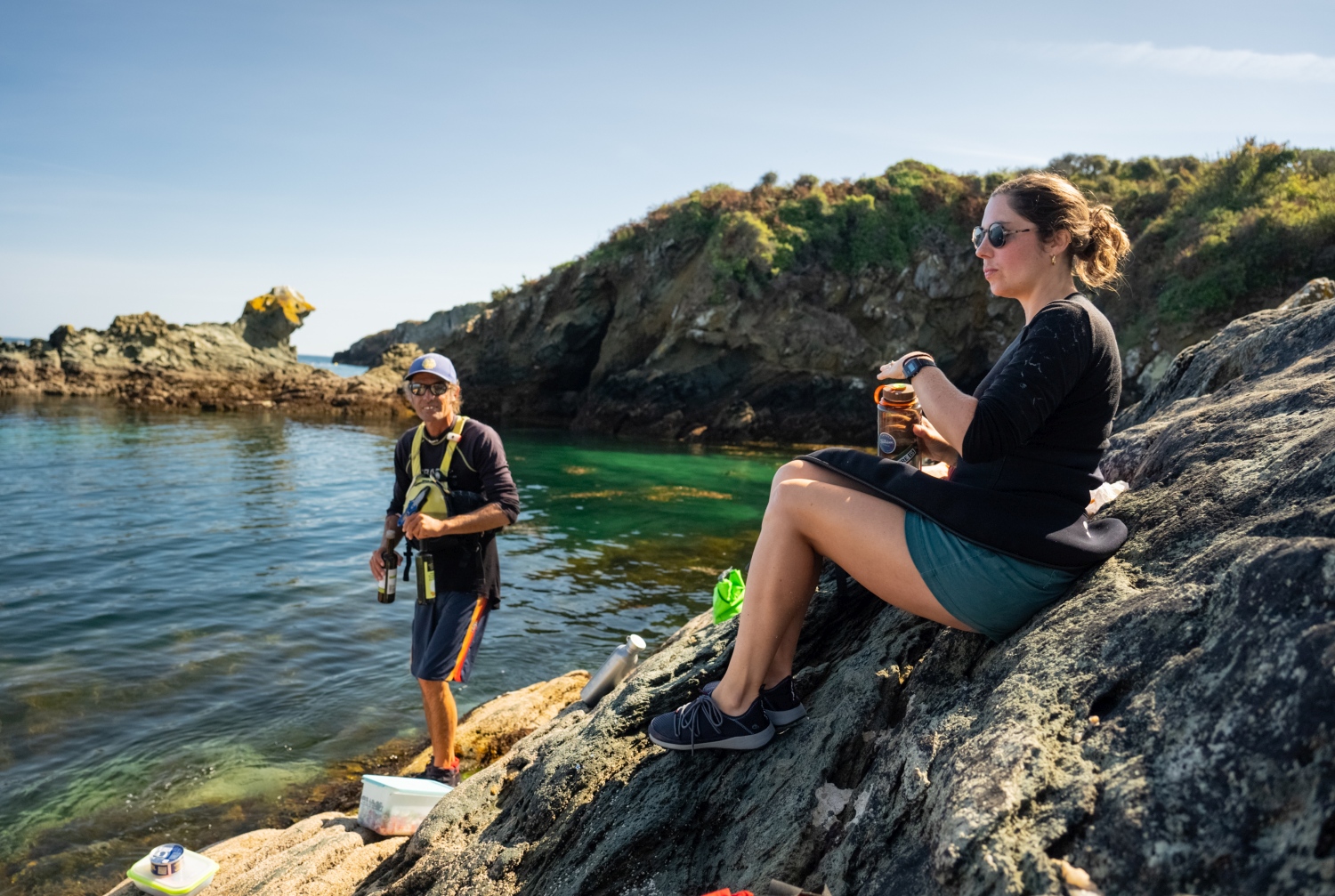 These days this centuries-old industry is topped up by tourism, and the region's tourist infrastructure is impressive—starting with the 1,700-kilometre-long walking trail that links all of Brittany's white sand beaches, 800 islands and fishing villages. 
"French customs officials used to tramp along this trail in search of Breton smugglers"
Technically, this coastal path is known as GR34 (GR stands for Grande Randonée, or long-distance trek). But its more romantic name is the Sentier des Douaniers, or Customs Agents' Trail—so named because French officials would tramp along its length in search of smugglers.
It follows Brittany's Emerald Coast from top to tail, beginning in style at the fairytale tidal island of Mont Saint-Michel and passing sand dunes, secret coves and windswept cape of Finistère (literally, the end of the land) before finally ending a thousand miles later at Pont Saint-Nazaire. Distinctive red and white markers and the ever-present sea make it an easy path to navigate, and it's simple to dip into for a day. My adventure starts with walking a section around the Pénestin headland.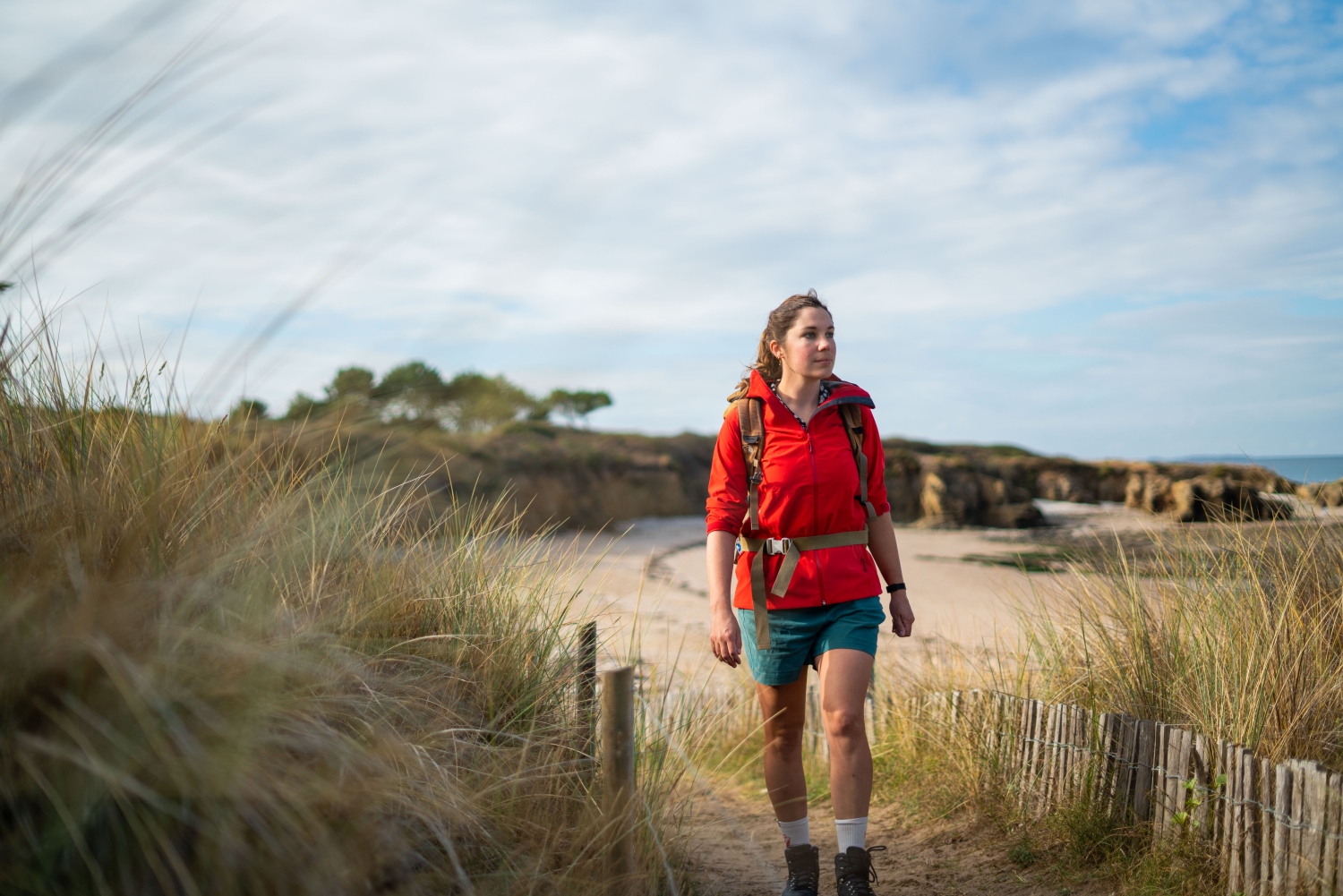 The laidback hike serves as a reminder of how much the Bretons still rely on the sea. I spot locals out searching for oysters in the shallows, armed with large traditional nets, and see lots of the brightly-painted boats that collect seaweed at low tide. Finishing up back in the village of Pénestin, I find that it's market day in the centre of town.
Stalls set among the narrow fisherman's cottages are selling olives, local cheeses and more fish varieties than I could ever identify, and the air is scented with the intoxicating smell of the rotisserie chickens that villagers are queuing up to buy for their Sunday lunch.
While you won't hear Breton spoken too often in the streets (the Celtic language of Brittany is only used by five percent of the population), street signs are bilingual, and notices and dishes alike are peppered with its lyrical words, which have a closer connection with Cornish and Welsh than they do with French.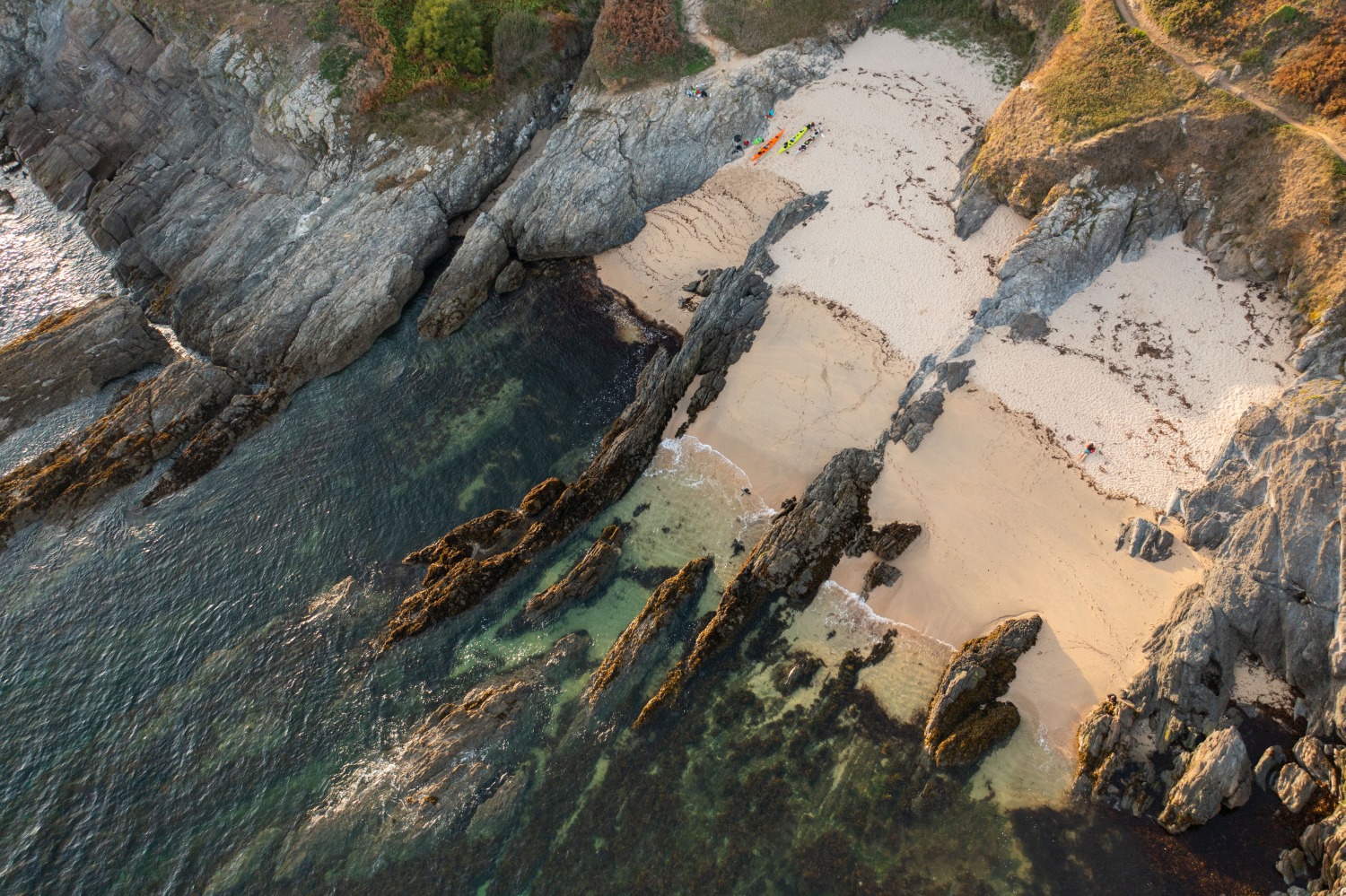 Paddle power
Of all the hundreds of islands peppered around Brittany's coast, perhaps the most adventurous is Île de Groix, which you can reach by kayak from the mainland. I meet my kayaking guide Vincent on Anse du Stole beach, where he's busy stuffing an astonishing amount of camping kit into the bellies of two kayaks.
Soon, we're paddling out of the calm waters of the harbour and into the open seas off the Finistère coast. Once a hub for tuna fishing, Île de Groix still has an active fishing fleet, but most people now come here for the peace of its sleepy coastal villages or to hike the dramatic coastline, which is guarded by two lighthouses that sweep warnings back towards the mainland. 
It's an easy hop by ferry to this green island, but putting in the elbow grease to kayak the 12km is more challenging. There's a local proverb, "Whoever sees Groix sees joy," and it feels fitting when we finally beach the kayaks in a hidden cove. My aching arms are happy indeed as we perch ourselves on rocks for lunch in the sunshine.
From here it's an anti-clockwise paddle around the island's savage-looking cliffs to our campsite for the night. The waves lift my kayak up alarmingly and then continue onwards to dash themselves against the sharp rocks. At one point I spot a strange beast breaking the surface of the water—then realise it's a wetsuited local spearfisher, who waves at me before diving back into the depths.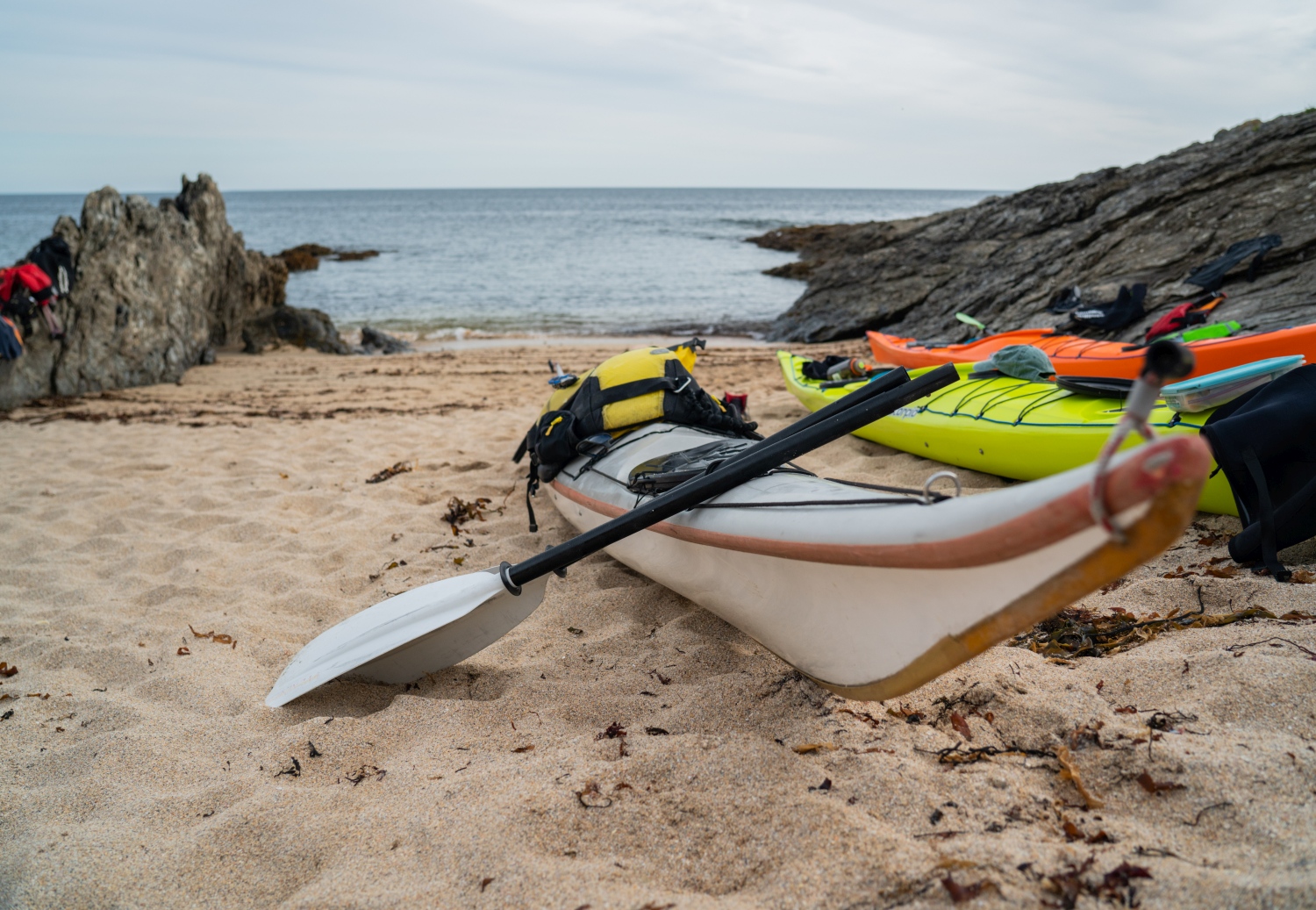 When we round the western corner of the island, the wind drops and the coast becomes gentler. It's not far to a little sandy cove where we come ashore, drag the kayaks above the tideline and set up our tents.
Vincent makes a lentil and saucisson stew with ingredients he casually pulls from the kayak, as if it's Mary Poppins' carry-all. No instant camping noodles here—there's even a bottle of local wine and proper Breton bread and butter. I fall asleep snug in my tent, to the sound of the waves lapping against the beach. 
The next morning we launch the kayaks early from the cold sand, shaking seaweed off the skegs, and stop for a cup of coffee on Grands Sables beach, the jewel in Groix's crown. You'd be forgiven for thinking this slice of pure white sand lapped by clear waters was in the Caribbean, not Northern France.
This is the only beach in Europe that is convex, carved into the shape of a waning crescent moon by ocean currents. The sand is studded with jewels of sea glass, and there's no-one else here this morning. We have paradise to ourselves for a little while before we turn our kayaks back towards the mainland for the journey home.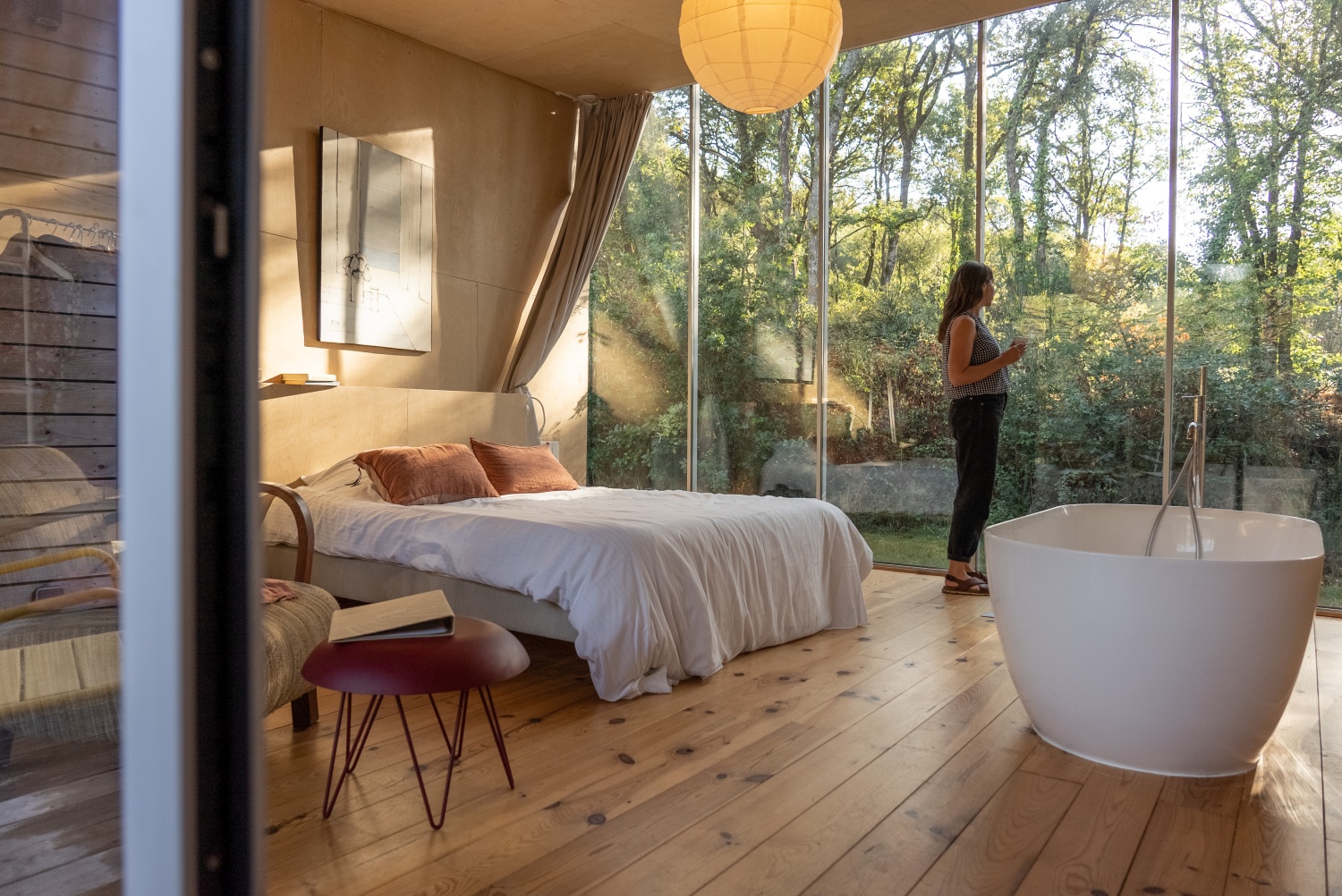 Head to the trees
Brittany's coastline is spectacular, but the region also has some secrets up its sleeve if you head further inland. Leave the busier beaches behind and you'll find miles of hiking trails through thick woodland, as well as some rather unusual places to sleep. I go hunting in tall trees near Ploemel for La Belle Folie.
"The coastline is spectacular, but there are more secrets to uncover if you head further inland" 
This is glamping, but not as you know it—tucked away in the woods are strange and wonderful structures, each designed by a different architecture student. A caravan sits teetering on top of a tall rock. There's a double-decker tent, and even a series of tiny camping huts shaped like chickens. I stay in Tissée, a cabin strung with rope webbing, like a jungle gym, which has huge windows looking out at the surrounding trees. It's a sort of Spiderman-meets-glamping delight. 
Further into the heart of Brittany, I stop in La Gacilly, a picturesque stone village in the heart of the Morbihan département beloved of artists and artisans. Painters, engravers, glassmakers, weavers, wood turners, sculptors and potters all flock here, and in summer, La Gacilly's walls turn into photo galleries dedicated to street art.
Between June and September, France's biggest outdoor festival of photography presents the work of international photographers in the open air. The streets are bright with colour, and even the air smells sweeter—the village is also famous for its perfumeries and botanical gardens.
La Gacilly is also a wonderful place to sample another Breton classic – the crêpe. Pancakes are part of Brittany's identity, and at the Mouchoir de Poche restaurant there's no messing about. The menu is a dizzying array of temptation, with crêpes stuffed with belt-busting local ingredients such as potatoes, cream and cured ham. Doorstopper-sized pancakes like these are traditionally washed down with another Breton staple: cidre. There are 600 varieties of apple in the region, and the intoxicatingly sharp local cider is made to ancient recipes.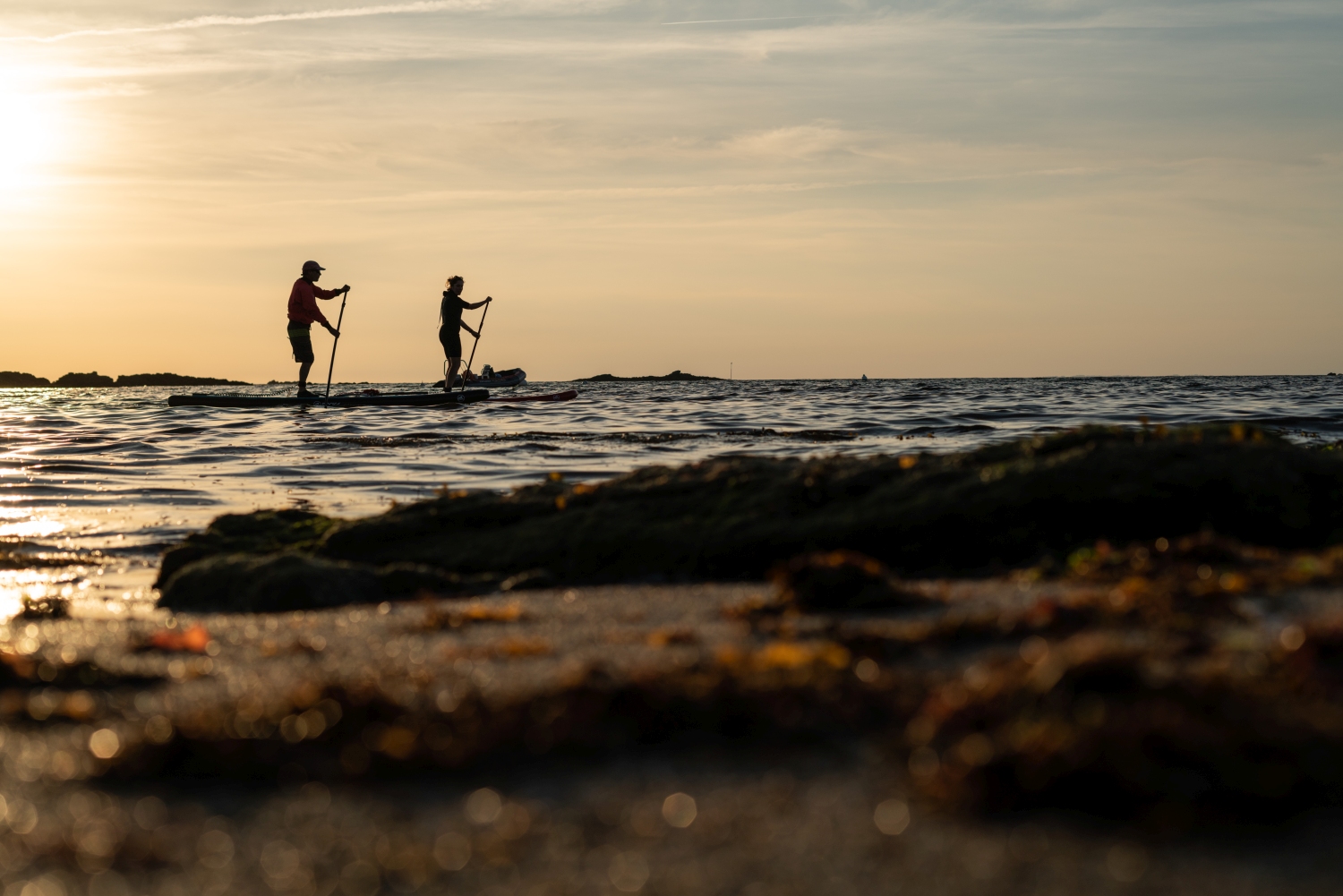 On my last evening I get to spot another treat Brittany is famous for—its spectacular sunsets. Stand-up paddleboarding guide Eric Marion and I venture out from the Bay of Quiberon as evening draws in, with the water as calm and translucent as glass.
In the bay, white fishing boats bob and oyster catchers squeak their way along the shore, their bright orange beaks the same colour as the setting sun. The sea is stained pink and gold and the only noise is the clamour of the seabirds. For an adventure activity, it's incredibly restful, and provides a timeless last look at this proudly different corner of France, shaped by the sea.
"On my last evening I'm treated to one of Brittany's spectacular ocean sunsets"
Brittany's Surfing culture
From the wild edge of Finistère to in the shadow of Mont-Saint-Michel, Brittany's coast is world-renowned for consistent swell and beaches that suit all levels of surfer. Surfing is a way of life in Bretagne's coastal communities—as one local observed, "in the rest of France the teenagers are obsessed with football. Here, they're all would-be surfers".
Surfer-friendly beach lodges and home-grown Breton brands have added to the growing culture. La Torche is one of the best-known spots, attracting both locals and visitors. The powerful reef break at La pointe des Kaolin is ideal for experienced surfers, while Sainte-Barbe-Plouharnel's gentler waves are a good spot for beginners to practise the basics. 
Knowhow
Health & safety
Brittany is a safe and welcoming place. Ocean conditions can be changeable on the Atlantic coast – swim at lifeguarded beaches and book a local guide for SUP or kayak adventures. 
What to pack
Pack waterproofs for hiking, comfy trainers and a wetsuit for kayaking and a swimsuit for a seaside dip.      
Getting there    
For Nantes, take the Eurostar from London via Paris (5hrs 20 min), or hop on a Brittany Ferry from Portsmouth, Plymouth and Poole (around 10 hours).
For Rennes, the Eurostar via Paris will take approx. 6hrs 30 min, or you can take the Portsmouth ferry to St Malo and reach Rennes via train or car in about an hour.
Food and drink
It doesn't get more Breton than a supper of traditional buckwheat crêpes washed down with local cider. There are plenty of options for fillings to try, but the classic - egg, ham and guyère cheese - is hard to beat. 
Where to stay    
Hotel des Deux Mers, Saint-Pierre-Quiberon
An impressive family house by the seaside turned hotel on the narrow Quiberon peninsula. A grand old building, the Deux Mers is just steps from the ocean in either direction, with cosy bedrooms looking out to sea.
La Belle Folie, Ploemel
Fancy sleeping in a caravan suspended in the air? Each quirky cabin or treetop tent at La Belle Folie has been designed by a different architecture student. There are also tiny pods, safari tents and even hammocks to rent. Eat at the pop-up restaurant in the huge warehouse-like hangout space, or explore a local market on Thursdays. 
Rives Nature Cottages and Camping, La Gacilly
A spic-and-span riverside campsite with simple cabins to rent. Run by the beautiful Yves Rocher Botanical Gardens next door, where there are 1,500 species of plant to explore. La Gacilly is a short walk away.