In winter, I love finding my way down steep mountain gullies on skis. In summer, I love swimming through labyrinths of rocks. Canyoning gives you the buzz of both – albeit without two planks strapped to your feet.

Canyoning is swimming and sliding on your backside down a gorge; it's scrambling across baking rock and jumping into dark, limpid pools. I gave it a go seven years ago when the concept was in its infancy and have longed to do it again.

Now that the sport is taking off, a trip to Italy's Lake Garda seemed the perfect moment to revisit the experience. The leaflet was reassuring. The first half of our 'Easy & Fun' tour was, it gushed, 'an ideal canyon for kids (minimum age 12) and for those who just want to taste the canyoning feeling.'

That sounded do-able. Not normally known for his thrill-seeking, my partner Anthony was far more concerned about his footwear. 'You expect me to wear these down a canyon,' he railed, pointing at his best trainers. In fact, the staff at Canyon Adventures, in Torbole, on the lake's north shore, lent us neoprene boots – which was just as well as they would not have been his best trainers afterwards! This is not a sport for fair-weather footwear!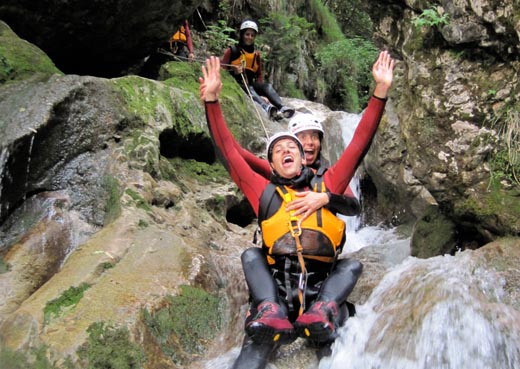 We had come to Lake Garda with the tour operator Crystal Summer, which offers travellers a mix of chill-out activities, such as lounging by the pool, wine-tasting tours and excursions to Verona and Venice, alongside high-adrenalin activities, such as wind-surfing, kite surfing or sailing catamarans on the azure water of the lake; or via ferrata and mountain biking where the steep slopes of the Dolomites are sliced in two by the lake.

Soon after passing the stunningly aquamarine Lake Ledro, our minibus stopped in a layby, where our guides busily handed out safety equipment, such as helmets and harnesses, as well as wetsuits with a rather unflattering giant nappy affair to save us snagging them on the bum slides. And with that we unceremoniously climbed over a barrier by the side of the road, clambering down the bank to sit in the eddies of a small pool in the Palvico river for our briefing.

Diego, our guide, explained in English to the half of us who were not Italian – eight or so Swedes and Germans plus the two of us – how in shallow water we would do bum-first jumps, in deeper water, shallow dives, and in the deepest pools, feet-first jumps. This was clearly going to be an adrenalin-fuelled experience. Anthony was unfazed – his gung-ho alter-ego was kicking in.

Conditions were perfect: it was a beautiful late August day, and soon we were being carried along by the water, with the dappled light of the sun burning through a forest canopy buzzing with insect and bird life. The swimming was serene: front crawl or breaststroke through the shallows, backcrawl in the darker, deeper water so we could admire the majestic walls of rock rising up either side. At a small drop Diego encouraged us to try a bum-first jump. We lined up like nursery school kids, landing with a delicious cry of 'whee' then splash, as our oversized nappies slapped the water.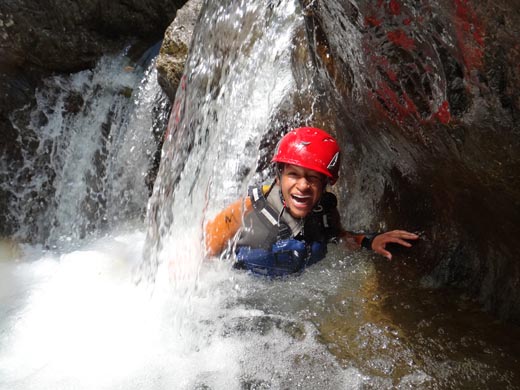 You might think that canyoning is dangerous, and it is true that you'd be crazy to do it without a guide. But the greatest risk is from flash floods, and here again good guides will monitor the weather to check it is safe to go out. After a month-long heatwave, there was little risk of a flood, although the melting snow from the Dolomites guaranteed a steady flow of clear water. At a small waterfall, Diego jokily tripped Anthony up to get him to do the shallow dive. But he needed no encouragement, doing an elegant swallow dive into the pool, while I, from a sitting start, managed something akin to a belly flop.

I had tactically positioned myself in the middle of the group – to avoid the pressure of being first or the ignominy of being last. However, by the time we came to our next test Anthony was already far ahead. All I could hear of it was the regular diminuendo of a scream followed by a splat. And I was conscious that we had passed the point of no return.

Anthony called back to me: 'Don't worry, you'll be fine.'

Fine? Why? What were they up to?

And then I saw it. All the water in the river was throwing itself down the steep entrance to a cave towards a small circle of light at the end.

Above me there was only sheer rock. Aside from this waterslide of stone, which over centuries had been polished smooth by the torrent, there was no way out. My heart started pounding. I felt my face flush. Just a short length of cord at the top hung like an executioner's noose flapping in the waves. Holding on to the rope tightly, I inched forward, until, with my grip giving on its last frayed thread, I surrendered myself to the torrent and found myself hurtling down this watery helterskelter.

Only this wasn't the sanitised world of swimming pool slides, with red and green stop-start lights, gaudily-coloured plastic tubes and the all-pervasive smell of chlorine. It was a hole. In the rock. And I was plunging down it at a speed that was both terrifying and incredibly exhilarating.

Arms flailing, legs akimbo, I saw a flash of light before I entered the water mid-scream, with an 'aaargh… glug' and a delicious sense of success enveloped my body as surely as it plunged into the cooling water.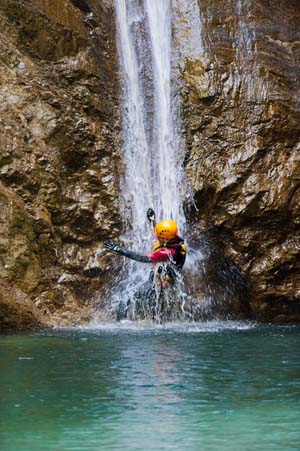 I splashed along happily to join the others, convinced I could do anything now. But our Easy & Fun course had another surprise in store for me. A seven-metre jump into a rock pool. This, I realised, is the sort of situation protective parents warn their reckless teenagers about, especially when your target area is surrounded by barely submerged rocks. But the course is well tested and the more trusting in the group jumped first, their screams turning into whoops of delight as they resurfaced.

'You've just got to go for it,' grinned Anthony joyfully, before throwing himself off the rock like a mad man. So there I stood, stone last, contemplating the drop as I saw bobbing in the water the 20 or so heads of the rest of the group swimming eagerly off to the next challenge.

I realised this leap was going to prove bigger than me.

However the guides will lower anyone down who is not prepared to do a jump. So Diego, with a slight sigh, slung his sack to the ground and threw a rope down into the pool.

'Relax,' said Diego, as he set about lowering me on the rope, then: 'Are you sure you don't want me to let you go?'. Overcome by a feeling that I shouldn't let the side down, I nodded quickly and let gravity do what gravity does best. Once again I felt the powerful rush as the smell of fresh H20 hit my nostrils and my body broke the surface with a satisfying plunge into the depths.

I resurfaced with a silly grin of triumph, mingling with a pinkish shame that I had so nearly let my fear get the better of me.

This was the point at which you had the choice of hopping off or continuing the 'Integral' route. In fact the next bit proved not so hard – from a courage angle at least. We were all lowered down a waterfall as a torrent crashed on to our helmets, with the more dextrous abseiling, hopping down the watery wall, and the most daring doing it as a bumslide.

Here it felt more like we had now gone from mountaineers to potholers. Navigating the dark riverbed, with its smooth marbled walls, we might have been in a cathedral with just faint rays of light filtering down from on high. Further and further we went, lost in the heart of the rock, knowing that only the river could show us the exit. And what an exit it was.

When we reached the bright light at the end of our tunnel, we peeked out. I imagined we looked like chicks pondering their first flight, our yellow helmets turning left, right, up and down.

Our 'nest' was a small opening halfway up a 60-metre sheer cliff. Below us the water cascaded into an idyllic mountain pool.

Surely, I thought, they're not going to make us jump this one?

They didn't, happily, and lowered all of us down. Though Diego and Alessio did subsequently make us jump over a dam wall without letting us see the size of the 5-6m drop on the other side. When I finally caught up with Anthony he was beaming – he'd loved every minute of it. I had found the experience amazing too, but I'll admit that none of its liquid delights quite equalled the pleasure of discovering that my packed lunch included a carton of wine. I hurriedly downed that, and for good measure knocked back Anthony's too, to slow my racing pulse.

As Anthony, now a total, fanatical convert, jabbered on excitedly about where we should go for our next canyoning experience – 'can you do it in the UK?' – I felt my courage (Dutch, of course) surge through my veins again.

Bring it on, Britain...

 
Go canyoning in Italy
Canyon Adventures in Torbole, offers the 90-minute Easy & Fun descent for €59 and the two-hour 'Integral' descent for €69. More advanced descents take from two to four hours and cost from €69 to €125. For more details go to www.canyonadv.com or call +39 0464 505 406 (or +39 334 869 8666 to a mobile.)

Crystal Summer (www.crystalsummer.co.uk; 0871 230 8180) offers a week full-board at the four-star Hotel Continental just outside Torbole, including flights, transfers, bike hire, wine with dinner, day trip to Venice, Lake Garda tour, Dolomites tour and wine tour, from £606 per person (based on two sharing).

 
Try canyoning in the UK
You don't have to go abroad to go canyoning. With the sport gaining popularity in the UK, there are several companies that will take you down British canyons, principally in Wales, Scotland, the North-West and South-West. However, to make sure that the experience isn't a damp squib, check with providers that the activity does involve going down – rather than up – the gorge, and includes jumps (and how high they are), slides and abseiling. Some providers, particularly those offering surprisingly low rates, use the term canyoning to describe what would better be called gorge walking or scrambling.

Call Of The Wild (www.adventurebritain.com, 01639 700 388) offers three- to five-hour genuine canyoning sessions in the Brecon Beacons from £55 per person for Saturday trips. Minimum group size six.

The most places popular for canyoning in the rest of Europe are the Italian Dolomites, Austrian, Swiss and French Alps, but you can also do it in the Pyrenees, Madeira and Mallorca.