It is an ethereal landscape, like something conjured up by Tolkien. A waterfall bursts out of the side of a mountain, plunging vertically over a cliff edge with eternal ferocity. Razor-sharp ridges fracture the skyline with brooding blue-black silhouettes, while the still waters of Lac de Mauvoisin shimmer with a milky-turquoise tone, beautifully painted by the 'rock flour' of glacial erosion.
Skittish marmots whistle a sharp cry of danger as I cycle past their burrows, and distant chamois stare intensely, as if utterly bemused by my presence. This is the Swiss Alps in all their vastness and vibrancy – and I'm but a stone's throw away from the cosmopolitan alpine town of Verbier.
This is the start of  my three-day bike'n'hike expedition under the shadow of the Combin Massif. Alongside filmmaker and photographer Dave MacFarlane, I'll spend two nights in remote alpine huts, cycle 30km on battery-assisted e-bikes, and then hike for 15km, with 1,250m of ascent (including the iconic Sentiers des Chamois path), to complete a shallow loop of the land to the south-east of Verbier. It is a simple itinerary, promising a stark contrast to the previous 36 hours.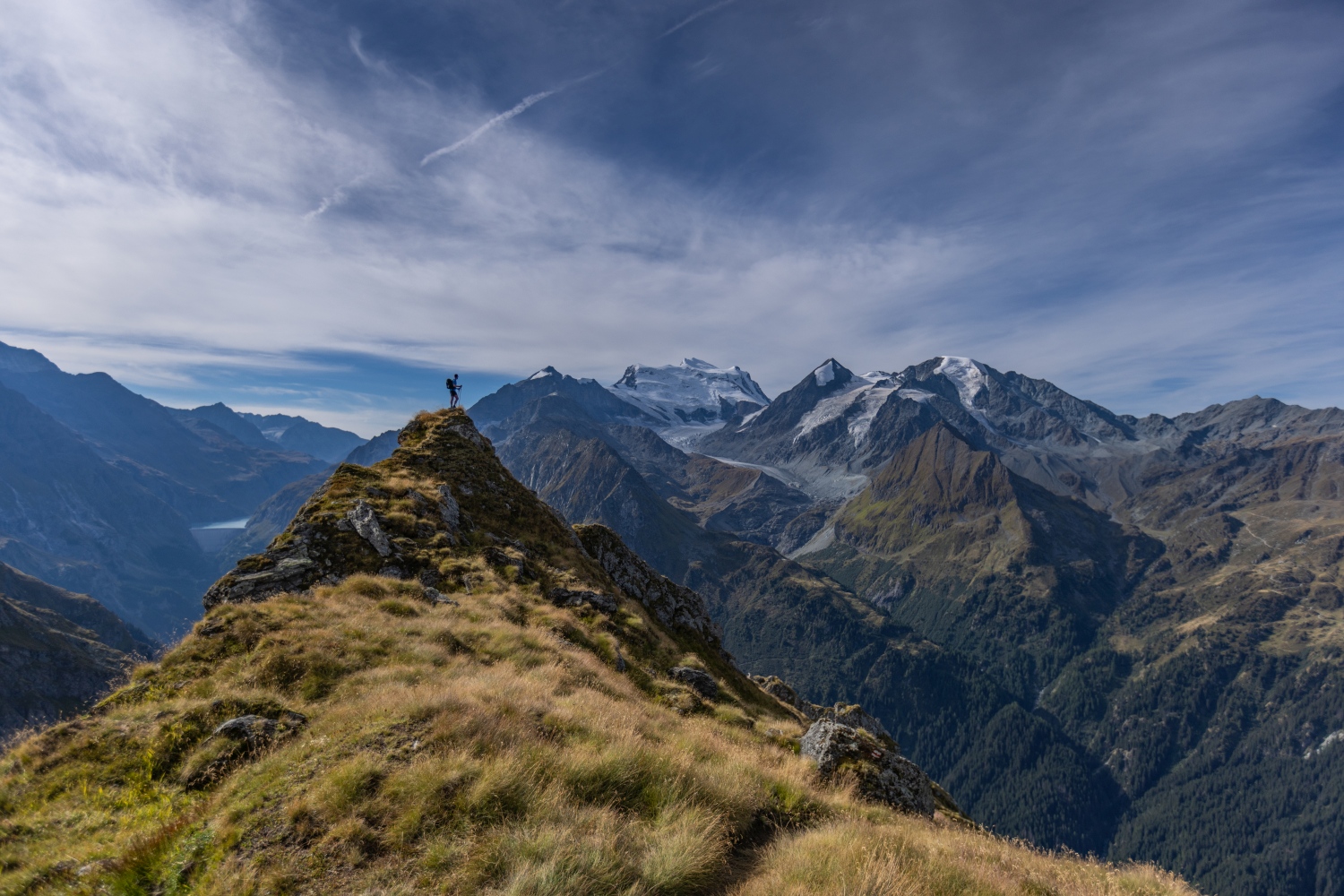 In at the deep end
The past day and a half has been a whirlwind of high-octane activities – an impetuous head-first dive into the deep end of Verbier's adrenaline scene. Strapped to Yael Margelisch, the paragliding world champion in 2021, I soared into the skies above Les Ruinettes in the morning. We floated around in a blissful dream of weightlessness, before spiralling like an out-of-control rollercoaster in a 1,400m descent of wing acrobatics and dizzying g-forces. 
Before I could catch my breath, I found myself strapped into mountain biking body armour, poised for action at the entrance to a downhill course. "You've got this, don't over-think it", said Mike, our floppy-haired guide. I hurtled along, weaving left and right, kicking up dust, flying over humped jumps, and – despite my beginner's technique and nervy mentality – feeling like the next Danny MacAskill.
Then, just hours later I'd ditched the bike pro persona and was doing my best Alex Honnold impression on a via ferrata gorge course, scrambling up sheer cliff-faces and perching nonchalantly on little iron ledges, as if impervious to the vertigo-inducing drops below.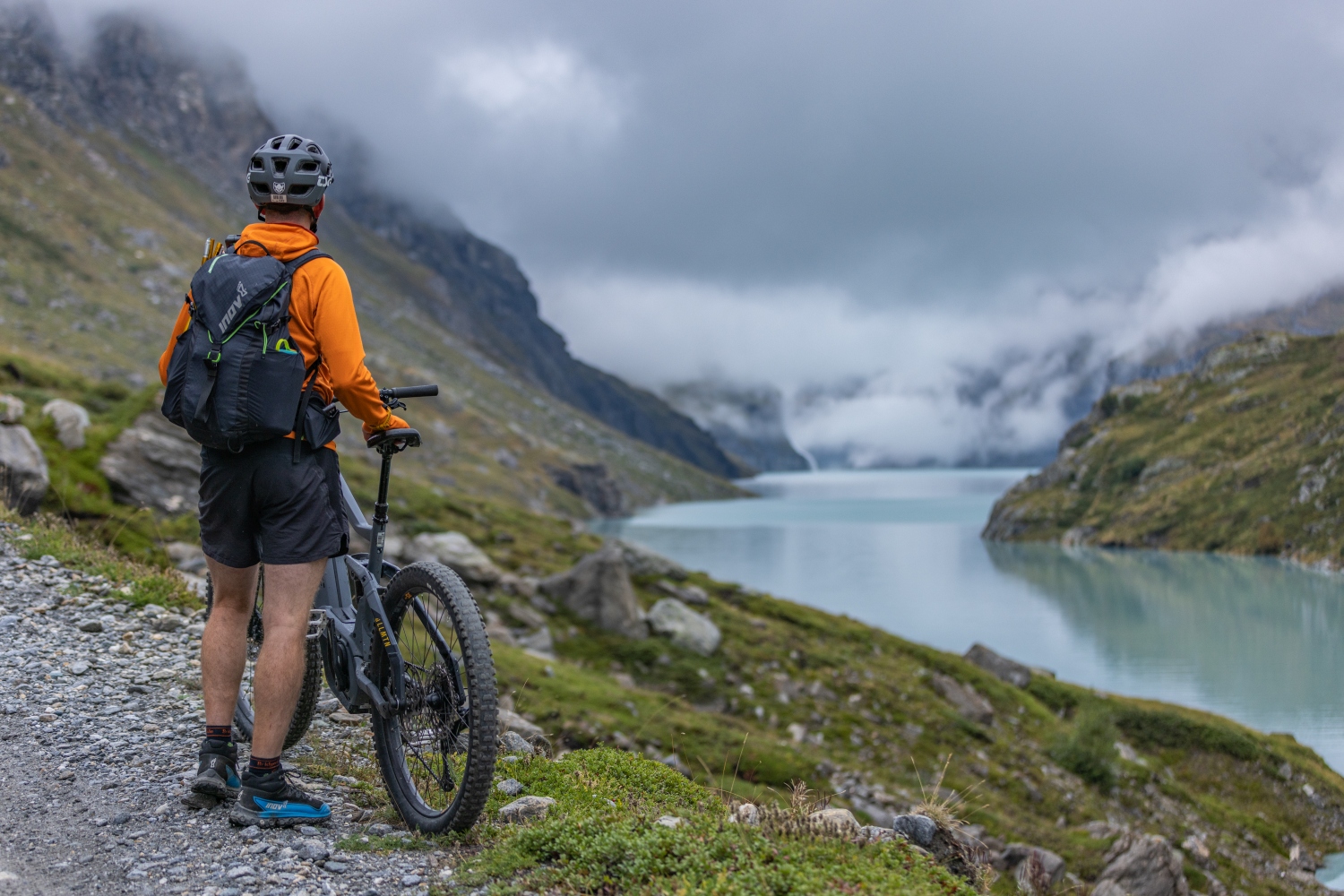 But now, here on the shores of Lac de Mauvoisin, I feel a universe apart from that energetic adventure playground – and it's precisely this versatility that draws me to the canton of Valais. Fluid and dynamic, Verbier is the chameleon of alpine resorts: a place of dichotomy and contrast, ever-changing with the seasons and trends, and forever-moulding to your mood or current penchant.
One minute it's a sophisticated hub of champagne bars and swanky restaurants; the next it's a lively playground for fast-paced outdoor sports. One day you're vibing to the cacophony of the village's adventure-y crowd; the next you're drowning in silence, indulging in the solitude of a backcountry mountain trail.
In other words, Verbier can be whatever you want it to be. Today I want tranquillity, and that's exactly what I'm getting. With turbo mode engaged, even the uphill cycling is a breeze, and I let the calmness and quiet of the landscape wash over me.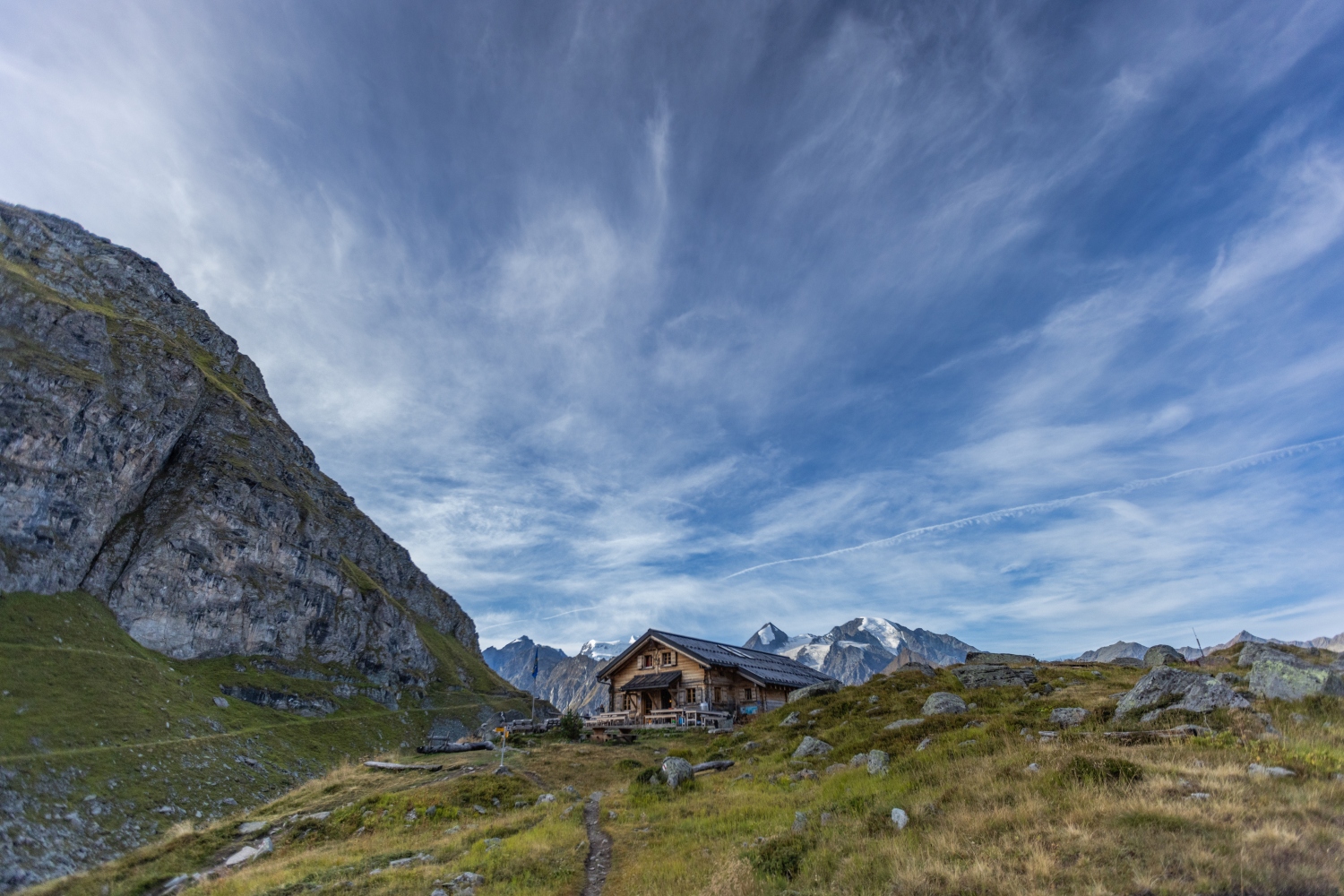 The Mauvoisin Dam perhaps a strange place to feel this way. Built in 1958, it's a manmade hulk: a 520m-long concrete arch concealing a labyrinth of hydro-electric wizardry beneath—hardly Mother Nature's purity on show. But, as I gaze over the reservoir from its southern tip, the scene doesn't feel industrial or sterile.
Glaciers spill off snowy peaks, held by the mountains in a maternal embrace, as fluffy cumulus clouds cast shadows on the pearly waters of Lac de Mauvoisin. Butterflies flutter around the undergrowth to the edge of the track and a meltwater river plays a backing track of soothing white noise. Even when the Swiss scenery has been irrevocably altered by the ambitions of man, it still retains a therapeutic power.   
"We walked up here – a battery did all the work for you – so you don't deserve a second helping," jokes a Dutch hiker that evening, as we tuck in to venison casserole with polenta and honey-coated chestnuts.
Cabane de Chanrion, our home for the night, is alive with the camaraderie of new friends and the buzz of adventure tales shared. Dave and I are at a table with three Dutch couples, all hiking the Tour des Combins, a six-day, 100km loop around the Combin Massif, and the playful banter is flowing. "You don't need to eat much now, you'll be in an Italian hut tomorrow, feasting on artisan pizzas and delicious pasta – don't be so selfish," I reply. 
Owned by the Swiss Alpine Club, and located at 2,462m, the 70-person hut is an exemplary symbol of Swiss organisational flair and engineering precision. There are several free e-bike charging stations, even at almost twice the height of Ben Nevis, while the newly-renovated wing – which resembles a gigantic and futuristic shed made from corrugated, silvery metal – is an architectural revelation. Its pièce de résistance is the floor-to-ceiling glass in the communal dining room, blurring the lines between outside and inside, and displaying an alpine scene of aiguille, couloir, moraine and summit in rugged harmony.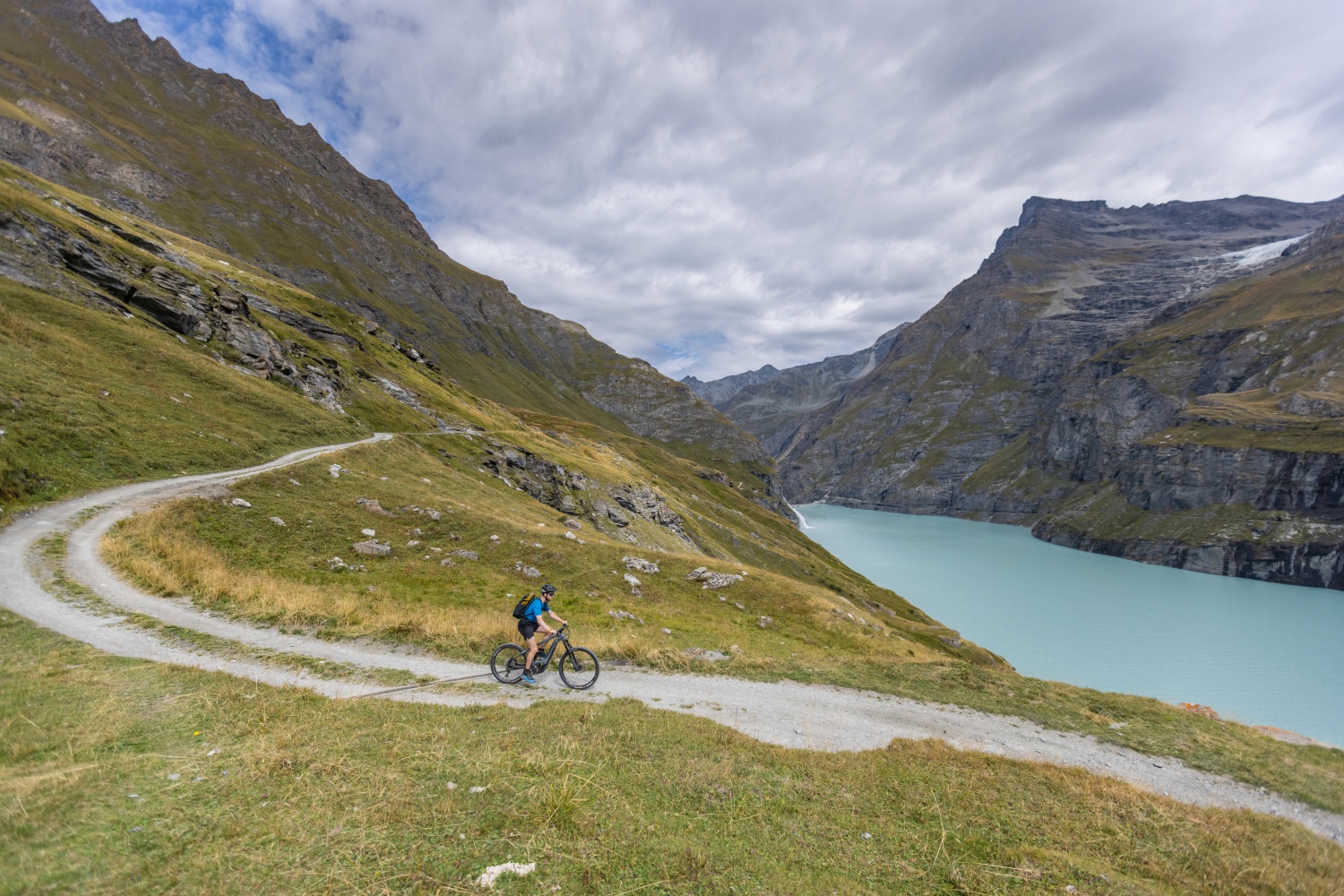 Reaching new heights
At just after 7am the following day, after a breakfast of muesli, rye bread with jam, and filter coffee, Dave and I cycle back along the reservoir to Mauvoisin village. It's a moody morning, with low-lying mist eddying up the gullies of the craggy buttresses lining the lakeshore.
Our batteries are virtually redundant as we free-wheel downhill, first on meandering tracks and then smooth asphalt, and the speedy descent alongside the Dranse de Bagnes river – with a cold wind in my hair and the scenery flashing by – enlivens my drowsy body after the shock of an alpine-early start.
We make it to Fionnay, a village adjacent to two glacier-blue pools, and quickly transition from bike mode to hike mode, exchanging our steeds for hiking boots. Ahead of us is a brutally-steep, zig-zagging path, bearing north for Cabane de Louvie – our next overnight alpine refuge.
"I've never seen anything like this before – I can't quite believe it", I say to an American backpacker three hours later, as I arrive at the northern tip of Lac de Louvie.
A herd of wild Ibex, usually elusive and heedful, graze passively in the tall, white-flowered grasses. Beautifully-curved and distinctively-ridged, their over-sized horns are as dramatic as the surrounding scenery. Lac de Louvie has a teal-hued stillness that belies the roughness of its amphitheatre-like cirque of mountains, while on the horizon - beyond the cabane - the Combin Massif soars with a regal power. 
To the left Grand Combin (4,314m), a monstrous colossus of ice, snow and black rock towering over 14,000ft into the alpine skies, asserts its status as overlord of this part of Valais canton. To the right, the brutally-built pyramid of Combin de Corbassière (3,716m) and the flatter-topped Petit Combin (3,663m) protect several glaciers in their upper corries, as if shielding them from 2022's unprecedented summer heat. And in the foreground the triangular fin of Becca de Sery (2,863m) and the weathered, knobbly backbone Becca de Corbassière (2,749m) complete the masterpiece. 
But, remarkably, this isn't the best view I get of the massif. That comes the following morning, as Dave and I hike the Sentier des Chamois – a terrace-like path par excellence, the kind where every corner unveils a new wonder, and every turn sets your pulse racing to new heights.
The traversing path is as narrow as a high-wire, teetering almost 2,000m above Val de Bagnes, weaving left and right, and rolling up and down grassy humps. I perch atop one such dome, underneath marbled blue skies, and fix my eyes on the mountain. It is vast and vibrant and voiceless – and the perfect contrast to the frenetic spirit of adventurous Verbier.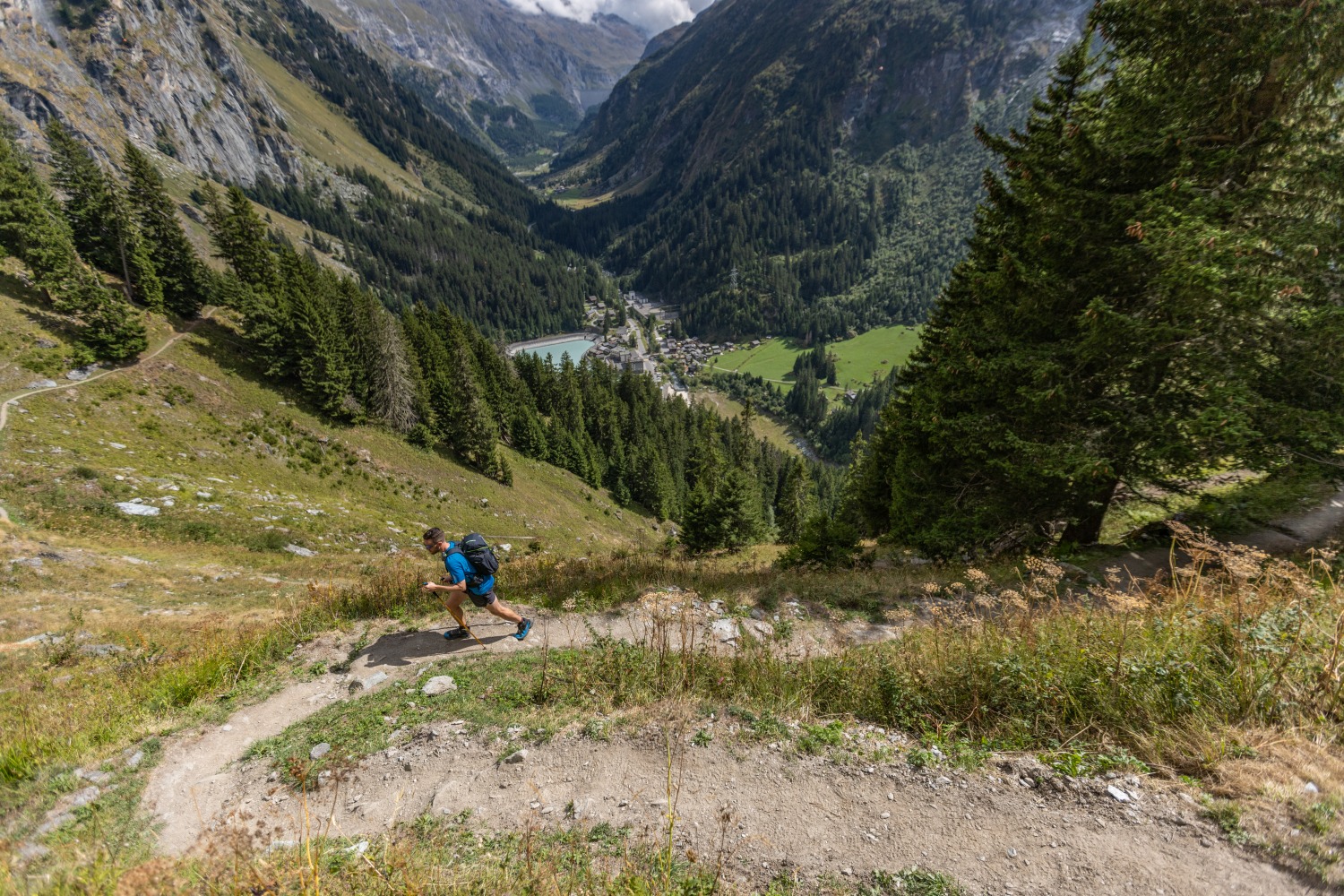 Verbier's Best adventure sports
Paragliding
It's the ultimate way to experience the majesty of the valley. Take to the skies with a tandem paragliding flight (verbier-summits.com) and you'll experience two wonders: the weightless calm of soaring like a bird, before the dizzying excitement of a plunge into the valley.
Via ferrata
Carved out by the Dranse river, Mauvoisin Gorge is the setting for an epic via ferrata adventure (verbier.ch/via-ferrata). You can go it solo or hire a guide from Les Guides de Verbier – either way you'll be climbing vertical rockfaces and edging along tightrope bridges with fearless enthusiasm. 
Downhill mountain biking
Now arguably the mountain bike capital of Switzerland, Verbier's bike park (verbierbikepark.ch) has nine adrenaline-inducing downhill trails. The new-for-2022 green trail ideal for novices, while pros can send it on the gnarly steeps of the contest-level blacks. 
Trail Running
From icy glaciers to lush alpine meadows, and from jagged summits to green pastures of grazing Hérens cattle, the Verbier region is a trail running paradise. With 21 marked routes (verbier.ch/trail-running), as well as an annual calendar organised races.
E-biking
Fancy some battery-powered assistance? Verbier is the place to come, with an unrivalled network of e-bike charging stations. There are 23 enduro itineraries and 211km of trails in total, including easy, intermediate and difficult routes. 
Downhill scootering
Forget that it's a little quirky and not exactly a 'real' sport – this might just be the most fun you can have in Verbier. Hire one of the all-terrain, high-tech push scooters (verbier.ch/scooters) and you'll be hurtling downhill, whooping and laughing like a little kid.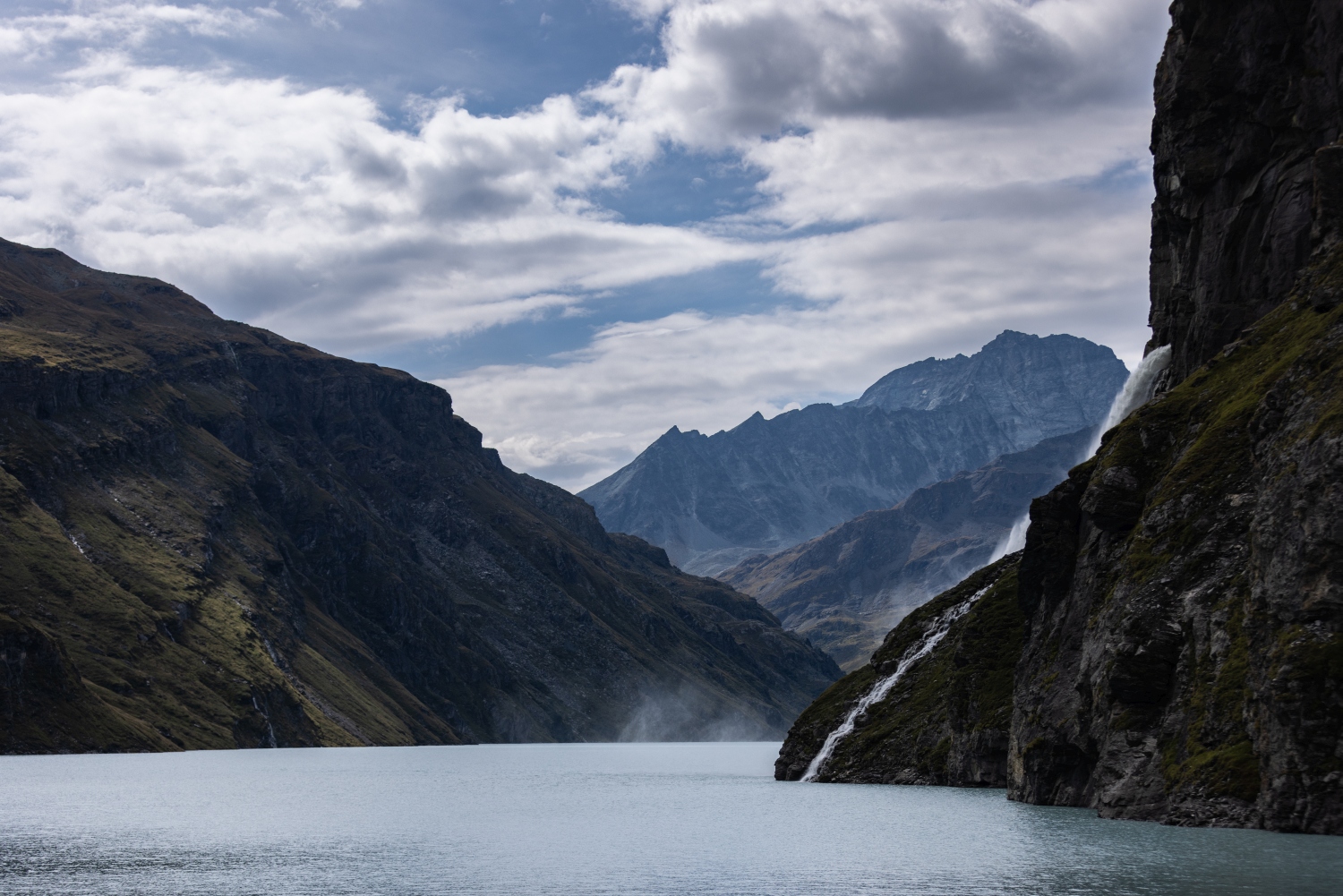 Know how
Our trip
James' trip was supported by Verbier Tourism, who provide adventure inspiration, information and booking links on their website. 
Getting there
Various airlines, including SWISS, operate regular services from the UK to Geneva. Alternatively catch a Eurostar, and with a change of trains in Paris, you can be in Geneva in six and a half hours. From there, it's a train to Le Châble via Martigny, followed by the cable car to Verbier. The brilliant Swiss trains website will sell you one ticket to cover the entire journey. 

Where to stay
James stayed at Hôtel Ermitage in central Verbier, close to local amenities. In the mountains, he stayed at Cabane de Chanrion above Lac de Mauvoisin, and at Cabane de Louvie to the north of Fionnay. 
Food and drink
Try the melted cheese delights of a traditional Swiss raclette dinner at Le Caveau or the Valais specialities of fondue or potato rösti at Le Carrefour, washed down with a glass of Rivella, a fizzy drink made from milk whey.