The Austrian Alps' reputation was forged on snow, and for over 125 years Kitzbühel's extensive network of pistes has earned it a reputation as one of the best areas to ski on the planet. But in the summer months, when the white stuff has melted away, this medieval valley town still has more than its fair share of attractions to tempt the outdoors-loving traveller.
When the phone rings and 'Active Traveller Magazine' fills the screen, there's only one question. "What adventure awaits this time?!"
"Kitzbühel" is the answer, a name more familiar to me for its appearances on Ski Sunday than as an adventure mecca. But these days, with knees that tremble at the thought of an aggressive mogul field, the idea of venturing into the Alps in summertime is far more appealing.
My answer, naturally, was "Yes!"
The train glides along the valley floor, pausing at village stations to allow mountain bikers and hikers on and off before continuing seamlessly into Kitzbühel, where church towers peek above the town's colourful cobbled streets.
Our basecamp for three days is the cosy Rasmushof chalet hotel. I stare up the green slopes of iconic Mount Hahnenkamm right above it and even without snow, I recognise the lower stretches of the The Streif, one of the most dangerous downhill ski races around. I can't wait to get up in the mountains.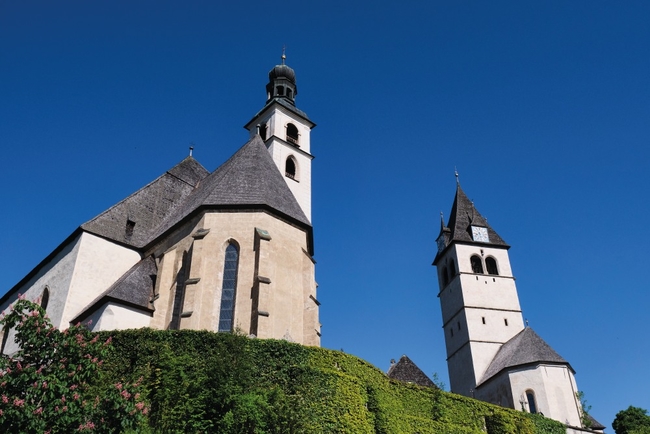 If you enjoy a good summit view, but not necessarily the process of hiking to the top, this is your dream adventure playground - the peaks that dominate the skyline directly above Kitzbühel are accessible by cable car.
On the morning we arrive there are groups of excited hikers gathering in the town centre to join a very famous Austrian for a hike. Gerlinde Kaltenbrunner is a National Geographic Explorer of the Year and the first woman to climb the world's fourteen eight-thousander mountains without the use of supplementary oxygen or high altitude porters. On this Friday morning, she's joining a group of hikers to walk to the 1,712-metre summit of the Hahnenkamm.
Also eager for wide open spaces, I decide to head up on the telecabin with photographer Dan. At the top, though, the weather has quickly closed in, and we dive hastily into a mountain restaurant for a coffee. This turns out to be a great move, as we've stumbled into the Hahnenkammstüberl restaurant, a traditional mountain lodge with 360 degree views of the surrounding peaks.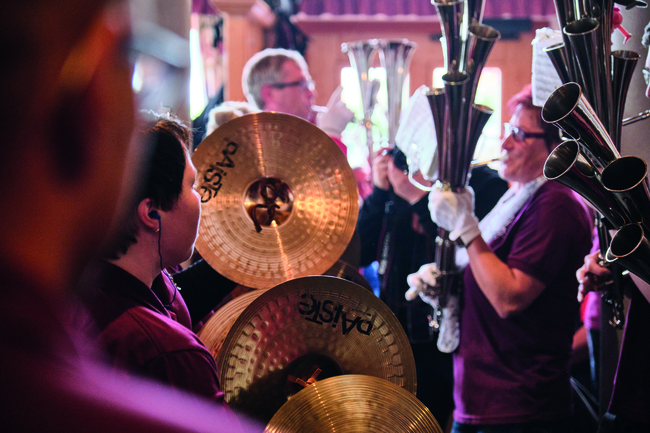 Inside owner Lizzie, a true force of nature with an infectious laugh, pours us coffee and regales us with stories of the local area, including the time in the 1930s when her dad wore one of the first ever wing suits and flew down the final 300 metres of the Hahnenkammrace ski race. "He broke the course record, but it didn't count, they didn't like him flying!" she roars, holding her belly with laughter.
"There are 160 guests coming for lunch," Lizzie presently tells us, but omits to mention that that includes three different brass bands, who in a matter of minutes turn our quiet mountain coffee stop into a dancing, clapping, beer-clinking sing-song. When Dan and I finally escape the brilliant sound of a thirty-piece band playing The Lion Sleeps Tonight, the mountain tops are still shrouded in cloud, and we have two options available for our descent back into Kitzbühel: cable car or paraglider…
Bird's-eye view
Just fifteen minutes after meeting our tanned, white-toothed paragliding pilots we find ourselves strapped to parachutes and sprinting down an impossibly steep hill before taking flight. We burst out of the cloud and float blissfully over the town, whooping with joy as our pilots throw a few stunts into the mix. I feel pretty sure the wing isn't supposed to be between us and the ground, but before I can worry we're landing on our bums in a flower-filled meadow in the valley.
At breakfast the next morning we're joined by our next celebrity guest of the weekend. Stephan Eberharter is a skier with World Championships, Olympic golds and Super-G (that's Giant Slalom) medals to his name. Fifteen years on from his last victory, he still looks like he could best anyone on skis as he sits with us, chatting about the merits of Liverpool v Tottenham in tonight's Champions League final.
We spend the morning exploring the hills beyond the Hahnenkamm by foot, venturing along wooded trails, soaking up fresh mountain air laced with the scent of conifers and enjoying the panoramic views. The skies are clear, the sun beams down brightly and to the north, the jagged cliffs of the Wilder Kaiser mountain range rise dramatically, fields of snow lingering among the peaks.
There's a festive atmosphere on the mountain today, and we browse outdoor gear in a temporary market that's sprung up on the hillside before refuelling with other hikers at a community BBQ. Then it's down the mountain for our next activity: E-mountain biking.
Two wheels good
"We're about to go mountain biking with an electric motor. It's just cycling for lazy people!" I shout to Dan as we set off on our E-mtbs, but three hours later the conversion is complete - I am totally sold on E-biking.
Our guide, Hansé, leads us to the Schwarzsee lake, a jet-black mirror of water a ten-minute ride north of Kitzbühel that also happens to be one of the warmest lakes in the Alps. "People come here to swim for a lot of the year," Hansé says, "and they dig the mud from the lake bed and cover themselves in it for medicinal purposes." We spot no mud monsters today, and continue along raised wooden walkaways, leaving the lake behind and winding along country roads and cycling paths with effortless ease.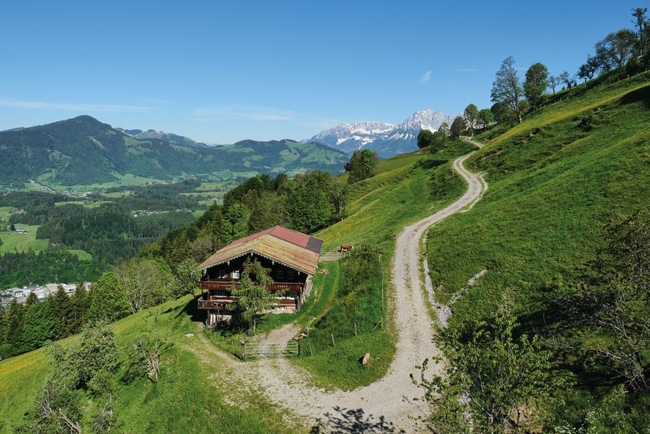 If you're not yet familiar with the growing trend of attaching an electric motor to a bicycle, prepare for your mind to be blown. Chunky batteries with a range of speeds up to 56 miles per hour add some weight to the bike frame, but the results are stupendous - you still need to pedal an E-bike, but the assisting power boost is addictive, and with each additional level of power, the kick from my pedal strokes is blisteringly marvellous.
The sheer pleasure of whizzing past a lycra-clad speed racer without breaking a sweat is now one of my favourite life moments. Taking on a 7% gravel slope at 25mph was once the domain of downhill riders, but I'm going uphill that fast with an enormous grin on my face.
There are over 745 miles of mapped road cycling tours and 500 miles of mountain biking trails in the Kitzbühel area, and we cover as much as we possibly can. With no sense of time we fly up a grassy track and past a herd of surprised cows, emerging onto the top of a knoll and revealing the now much closer Wilder Kaiser mountain range and a 360 degree panorama of alpine eye-luxury. I could definitely get used to this.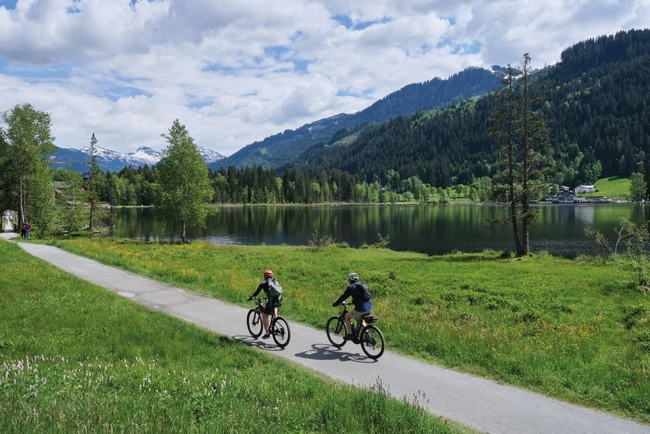 After a brief celebratory beer and a slightly longer shower, we venture into Kitzbühel town centre and pick a welcoming-looking restaurant spilling out onto the street. Evening sun glimmers off the surrounding buildings and conversations in multiple languages fill the air before we join the locals and venture inside as the clock strikes nine, hopeful that the final football game of the season will be as entertaining as our days exploring in the mountains have been.
Wilder walks
Our final day is again bathed in sunshine, and its levels of enjoyment are best marked by the fact that Dan doesn't even mention Liverpool's victory until well into the afternoon. We venture up the opposite mountain to the Kitzbühler Horn, a 1,996-metre peak offering views across to the Wilder Kaiser. To the south, there's an endless vista of peaks rising close to two miles above sea level.
Dan reminisces that as a kid he experienced his first solo chair lift ride up this very mountain, the sight of surrounding ranges cementing the love for the mountains that has led him to his career as an adventure photojournalist. I totally get it - there is a magnetism to these endless views that burrows into the soul of a person and refuses to let go.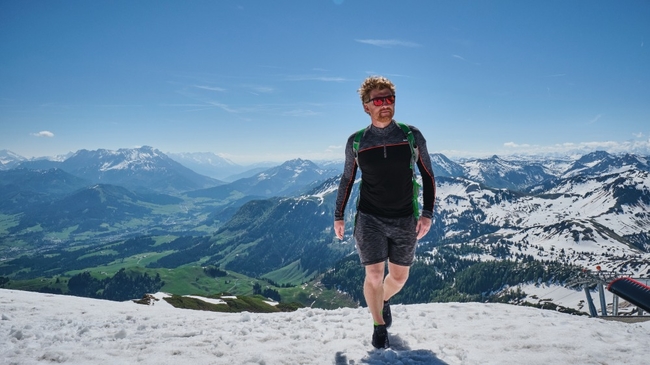 Considering I'm exploring a region best known for winter sports, I haven't once thought about snow. With year-round cable cars, thousands of miles of cycling and hiking trails and peaks, ranges, lakes and forests to explore, Kitzbühel is a breath of fresh air in summer.
Six great routes to try in Kitzbühel
ON FOOT
Schwarzsee Lake
1 hour – 2.7 miles
A relaxed ramble that makes for the perfect introduction to Kitzbühel. A walk to the green waters of Schwarzee Lake is also great for a spot of wild swimming.
Karstweg
2.5 hours – 2.7 miles
An easy and family-friendly trail along a wooden boardwalk from Trattalmmulde that takes you into the foothills of the Kitzbüheler Horn – and 450 million years back in time – as you pass ancient cave-like structures known as karst holes.
Hike the Streif
3.5 hours – 2.3 miles
Once the snow melts in summer you can hike up the tracks of the iconic Streif ski race, ending close to the summit of the Hahnenkamm. It takes 3.5 hours to make the climb, despite the fact that ski racers only need two minutes to speed down the other way…
BY BIKE
Kitzbüheler Horn
1.3 hours – 12.8 miles
This hefty climb is punishingly steep with a continuous gradient of 10 to 22 percent, and is subsequently revered by road cyclists, but can also be tackled by tough mountain bikers (or even breezed up on an E-bike).
Bichlach Loop
2.3 hours – 8 miles
Ideal for E-bikes, this undulating ride takes in the winding Reither Ache and Kitzbüheler Ache rivers as well as open moorlands and Schwarzee lake. Refuel with hearty fare at the Steuerberg Inn.
Labalm Loop
4 hours – 25 miles
A great intermediate road cycling route through the mountains, this loop makes for a stiff ride for an afternoon or a lazier all-day jaunt with stops at the plentiful mountain restaurants that line the way.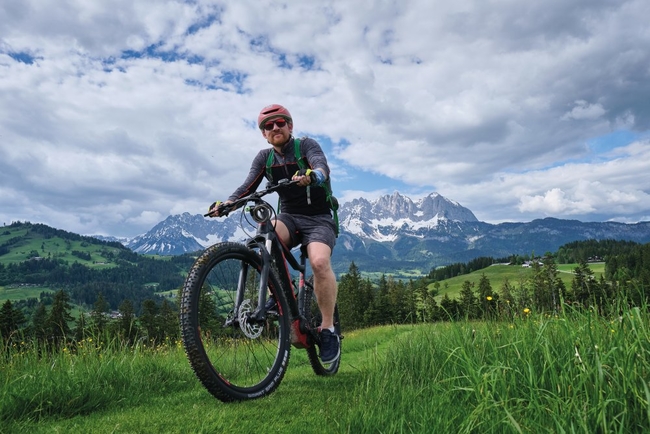 Travel info
What to pack
Pack waterproofs, layers, sturdy hiking boots and cycling gear.
Our trip
Dave was hosted by Kitzbühel Tourism. Visit the website for information to plan your own trip including accommodation ideas
Element3 Adventure Centre offer tandem paragliding on Mount Hahnenkamm for £110 per person
Kitzbühel-based Mountain Edge rent E-mountain bikes for £35 per day and offer private guiding for £172 per day.
Getting there
Easyjet fly to Innsbruck from £54 return.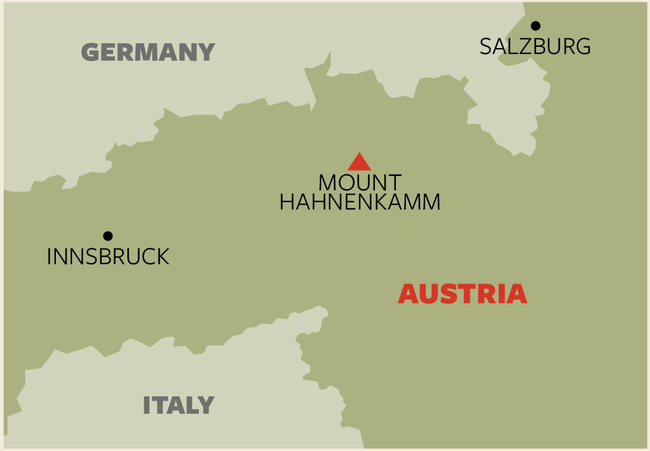 Getting around
Kitzbühel is easy to reach from Innsbruck by train, from £28 return.
Food and drink
Head to Hahnenkammstüberl restaurant for kaiserschmarrn (sweet shredded pancake) and gröstl
(pan-fried beef strips, onion and potato), served with a side of panoramic views.
Where to stay
Dave stayed at Rasmushof, a traditional wooden chalet-style hotel at the foot of Hahnenkamm
Mountain. Doubles from £138 per night.