The air is as still as a windmill with leaden sails, and there's barely a cloud in the sky; just a couple of wisps of silky cotton wool peeling gently off the horizon. The sky itself is such a deep ultramarine blue Titian might have painted it. Close by us a mountain raven comes in to land on a small outcrop near the summit. With a yellow beak, and orange legs, it's probably an Alpine chough. Swooping down low on the static air it lands, squawking and flapping at us, its antics breaking the spell of my enraptured gaze over the mass of limestone spires surrounding our summit peak in all directions.
We're in Slovenia, in the Julian Alps, whose lower peaks are less well known than those of its western neighbours; its potential as a fantastic Alpine trekking destination all too often overlooked. But heading east of France, Switzerland and Italy has its advantages - Slovenia is both quieter and cheaper, and offers some 7,500 kilometres of hiking trails, most of which are in the craggy limestone Julian Alps, bordering Italy and Austria. Imagine Goredale Scar about ten times larger, and you'll get some idea.
Our chance to visit Slovenia came out of the blue, with a last-minute work cancellation opened a gap. So we grabbed it and went! With no time to research or plan, we opted for a self-guided tour, where local knowledge would aid our route choice. Online, only Slotrips, run by Miha Gantar, could accommodate us at such short notice.
His suggestion was a challenging linear route with some via ferrata. Starting from Planica, near Kranjska Gora, in the north and crossing the Alps to Lake Bohinj in the south. A transfer would get us to the start from Ljubljana and he suggested either Bohinj or Bled - both lakeside settlements - as pleasant places to relax after the trek.
Two weeks later we're sitting at one of the many bars on the riverside promenade of Slovenia's capital city of Ljubljana, with its population of just 280,000, revelling in the warm, sunny evening air. Watching both river and people go by over a glass of rich-hued and velvety local cabernet sauvignon is the perfect way to unwind after the day's early airport start.
After dinner we catch up with Miha in a quiet bar to discuss the week's plans. He has several options for us, which he summarises in detailed trip notes and on a 1:25k map, wowing us with photos of some of the toughest via ferratas we'll face.
By the time we leave the bar my head is buzzing with excitement and I am now determined to rise to the challenging options, even though I've done little scrambling and no climbing in recent months. But I do have a shiny new set of via ferrata gear with me, which is itching to see some action! The days look long and challenging, but they should be within our abilities - and there are easier alternatives should we need them.
Start walking
The next morning, a long, gentle gravel track through tall pine woodland takes us to an intermediate hut. Sadly Reuben points out that we've only ascended 50m so far, so "We've not earned a beer yet!" Such thoughts soon recede as we wind our way up to the start of a steep and somewhat improbable looking gully, followed by a path which continues on zig-zags up steep but easier slopes to a saddle.
"Is there such a thing as a silver sunflower?" I ask Reuben. "It looks so metallic". "Dunno," he replies. "But whatever it is, it's more sensible than us," he continues. "It likes the shade." Realising how thirsty we are, we stop under some pine trees for a drink, and contemplate the route ahead.
We could take an easy route on a gentle contouring path around the steep limestone spires of Mala Mojstrovka, then down to the Vršič pass and finish sensibly early. But if we want the summit, it's a tough route with 500m of via ferrata and scrambling ascent instead. It's the first day of the trip, so fresh enthusiasm wins the day, and we tell ourselves we can do the summit quickly enough not to miss dinner.
The scree slopes below Mala Mojstrovka don't put up much of a fight, but as we put our harnesses and helmets on and clip into the lowest cable of the via ferrata on the Hanzover Pot (Hanz Path) we see lengthening shadows creeping across the valley floor. Privately we both hope we've made the right choice.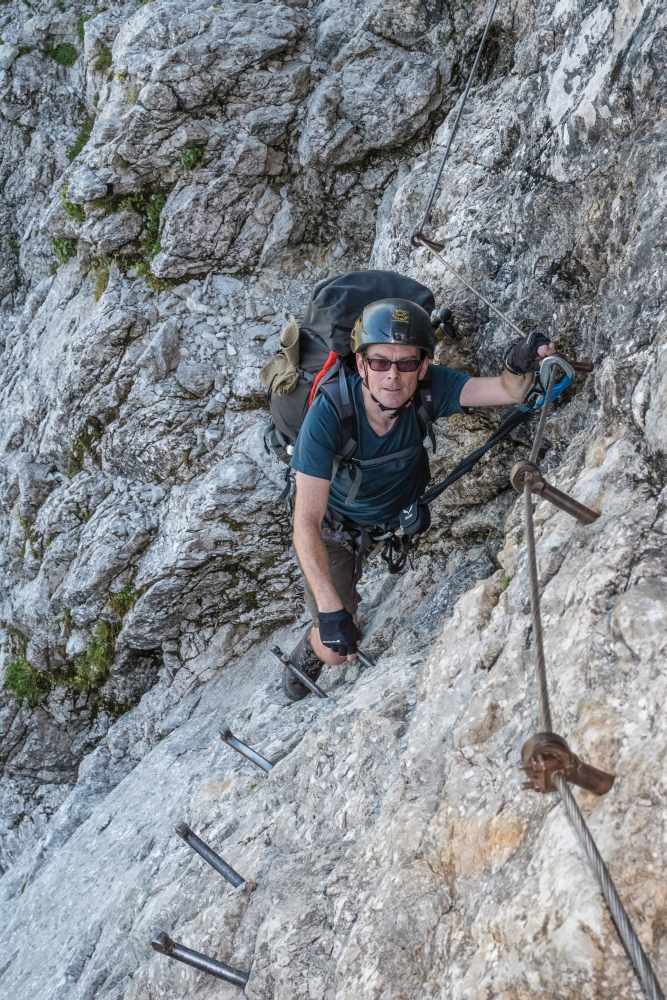 Hand on metal peg, foot following via cracks, crevices and ledges in the rock, all the time at least one clip attached to the metal line, we inch our way up the near-vertical slope. At first there's a degree of nervousness as our muscles and heads try to remember rusty via ferratas techniques.
But soon enough we're moving smoothly as scrambling skills kick in and the steepness and narrowness of the start relents just enough to make our rucksacks less awkward against the walls. Now the hunt for the next hand or foothold becomes an enjoyable and pleasant challenge; a puzzle to solve with the application of brain and body.
The via ferrata is only part of the ascent, as above it the slope barely relents at all. Steep blocky rocks stacked on each other like a giant game of Jenga rocks guard the summit, and they're hard work. It feels like someone has stolen the oxygen from the air as I haul myself up each awkward step, and finally reach the summit.
After a minute to let my lungs recover, I start to look around, drinking in the views of late afternoon sunlight hitting the surrounding limestone peaks and spires. We stay longer than we should, despite the imminent sunset. The views are awesome and we've done the hard bit, so the descent from the summit to the hut should be quick and easy. 'It's an hour and a half,' our guide notes remind us rather sombrely. Ooops! Still, it's 6:30 p.m. now so we should reach the hut by 8 p.m. They won't stop serving early surely?
Unfortunately for us, dinner at the hut is officially over by the time we arrive. But the hut wardens are very welcoming and instantly rustle up a tall glass of local beer and a bowl of the Slovenian speciality Ričet, a kind of barley stew with local Carniola sausage.
Between a rock and a hard place
The next morning we have a choice of hard or very hard routes, crossing from the north of the national park to the south. We choose the less strenuous route, as yesterday's was tougher than we'd expected. As we set out, I notice an almost perfect natural outline of a woman's face on the rocks below Prisank. She's known as the Pagan Girl, and we hope that the part of local folklore saying she helped travellers cross the mountains would hold true for us.
As we contour the flanks of Prisank, we find a few awkward sections across slabby, water-worn rocks. In wet months, streams flow down the hillside with little care for the crossing path, but in the dry of summer the path is well secured with useful metal spikes for hand and footholds.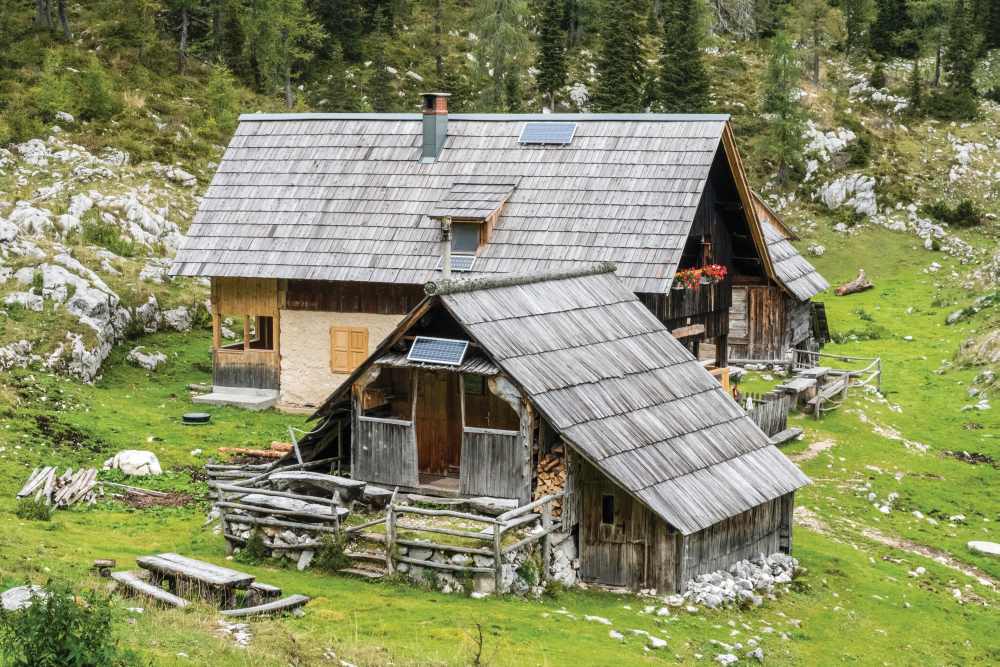 All too soon the Planja saddle beckons, and it has a surprising sting in its tail. Five metre-high dusty sloping boulders require scrambling down, while eroding scree and some narrow, exposed sections erode our confidence. Twists and turns head towards highly improbable sections, then relent and offer an easier way through. By the time we get to the saddle we're exhausted from micro-navigation as well as vertical effort.
But it's worth it for the views! Looking back across to Prisank, the steepness and sheer verticality of the crags surrounding the pyramidal summit guard it from all but the most determined of mountaineers. Gazing upon the impenetrable massif, we're awed by the skill of those first climbers who found a viable route through 'a window of rock' and across the summit. But for now, a scree slope leads to the Pogačnikov dom mountain hut, where we spend the night.
Over breakfast we discuss plans. Today is meant to be the ultimate summit day. Unfortunately an incoming storm is moving faster than expected, although its arrival time is uncertain - it could be today; it might be tomorrow. But we need perfect conditions to attempt Triglav via the technical Čez Plemenice route.
So it's time for Plan B. If we head to the Dolič hut instead of the Planika, we can use an old military way up the valley from Luknja. This gives a straightforward route if the storm and heavy rain arrives in the afternoon and puts off the final decision to take the bail out option.
But before we reach Luknja, we enjoy a lovely bit of scrambling on the narrow and exposed ridge going up Bovški Gamsovec, from the summit of which we can already see the clouds are beginning to move in.
The choice at the Luknja col is hard. The sun is shedding its clouds, suggesting the storm might be holding off. But the via ferrata looks scarily steep, hard and long. With an unpredictable weather forecast, caution dictates the easier, safer way.
Of course, as soon as we descend a reasonable distance from the col, the sun begins to shine more determinedly. But our decision is made and we no longer have time to do the Plemenice route, even if we turn back now. Pushing on, the old military way proves to be a delightful, gently angled ascent towards the slowly growing outline of the Dolič hut on the horizon.
This time it's only 4 p.m. when we arrive - what luxury! Except that we're so early the hut's not even open yet. That explains why so many people are sitting around outside it, and not simply that it's now a surprisingly sunny afternoon.
By the time we head inside, the hut is nearly full, and no small rooms are available. We end up in an attic dorm, with every square inch of floor taken up with a trekker on a two-inch thick mattress. It's noisy and hot, and inevitably the person nearest the window wants it shut, while everyone else wants it open!
Going down
The next day, the forecast storm is finally brewing and we're glad to be heading down now. Via ferrata and steep, narrow and exposed paths might be exciting in dry conditions but they can rapidly turn dangerous in thundery rain. Instead, the gentler well-walked paths to the south of Triglav are much more forgiving of damp conditions.
Our onward way climbs steeply up from the hut, with plenty of energy sapping loose scree to tire the legs. But the via ferrata is now behind us, with just a few short metres of iron spikes to enliven this ascent. We hope for a view of Triglav at the summit, but it's already hiding in the cloud.
As we descend from the rocky Hribarice plateau, we reach a large overhanging boulder, which becomes our "Where's the waterproofs?" shelter, as the cloud, which has been thickening throughout our descent now bursts. As we descend, the terrain becomes more and more green and lush, as if soaking up the rain instantly! By the time we near the Koča Pri Triglavskih Jezerih hut most of the ground has a soil cover - the purple Crimped Zois' bellflowers of the rocky Hribarice plateau having given way to grasses, blueberries, and now woodlands.
Descending further from the hut, the terrain becomes undulating through typical Alp-like meadows, with our final ascent to a viewpoint called Pršivec. It's one of the ridges high above Lake Bohinj and provides a fantastic bird's-eye view over the lake.
That evening we have a well-earned treat of home-cooked stew and homemade strudel at a local farmstead, eating at a sturdy wooden picnic table in the farmyard, while soft downy chickens run around between the table legs.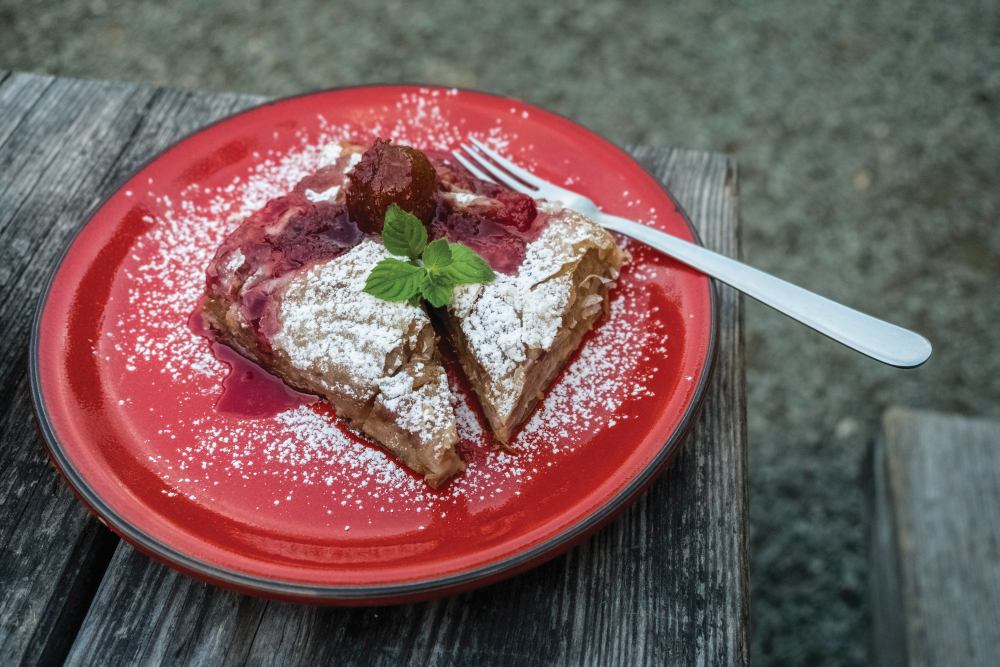 In the morning we walk the last few kilometres back to Bohinj. As it's still raining, a half-day detour to the Mostnica Slap waterfall well worth it while the water is still flowing well.
At Bohinj, we discover that like its larger neighbour Bled, it has a postcard pretty lake with a mountain backdrop. It's quieter than Bled though, with a decided slant towards adventure tourists like us.
It's the perfect place to book end our Slovenian adventure, kick back, enjoy a trip across the lake on a tourist boat, try some of the locally produced blueberry gin, and reward our adventures with chocolate crepes and strong coffee in lakeside cafés.