"You now have two choices," said Ben, our Swiss mountain bike guide, as we reached the ridge. "There is one more climb, really steep and technical, or we could ride a few miles around the hill."
"We have turbo mode, let's go steep," I said, grinning. As photographer Dan Wildey and I had explored the Morgins valley with Ben that morning, I'd come to think of the e-bike boost as all-powerful. A tool that could help me conquer any summit. Our motors had made mincemeat of the climbs all morning, and when Ben ran into a friend on the trails, introducing him as Didier Defago, winner of the 2010 Olympic downhill skiing gold medal, I felt like we were talking to the tanned, athletic ex-Olympian almost as equals.
Halfway up the hill, however, when we reached the "really steep and technical" bit, I stopped smiling. I'd careered happily past a hiker on the way up, but once I found myself having to get off and push, I realised the downside of all that turbo power - at 30kg, an e-bike is not light. Looking over my shoulder, I could see the hiker I'd passed so breezily slowly gaining on me, and I made it my sad mission to beat her to the top. I did, but by the time she caught up I was flat on my back, panting. She looked down with a knowing grin: "You had electricity for breakfast. I took a croissant."
"She looked down with a knowing grin: 'You had electricity for breakfast. I took a croissant"
It wasn't the first time that reaching new heights would put me on my back in Switzerland. In fact, over the course of four, activity-packed days exploring the French-speaking Valais region, I experienced multiple highs and lows - both literal and metaphorical - that would have me "pardoning my French" on more than one occasion. But then that's why you come to the mountains for, right?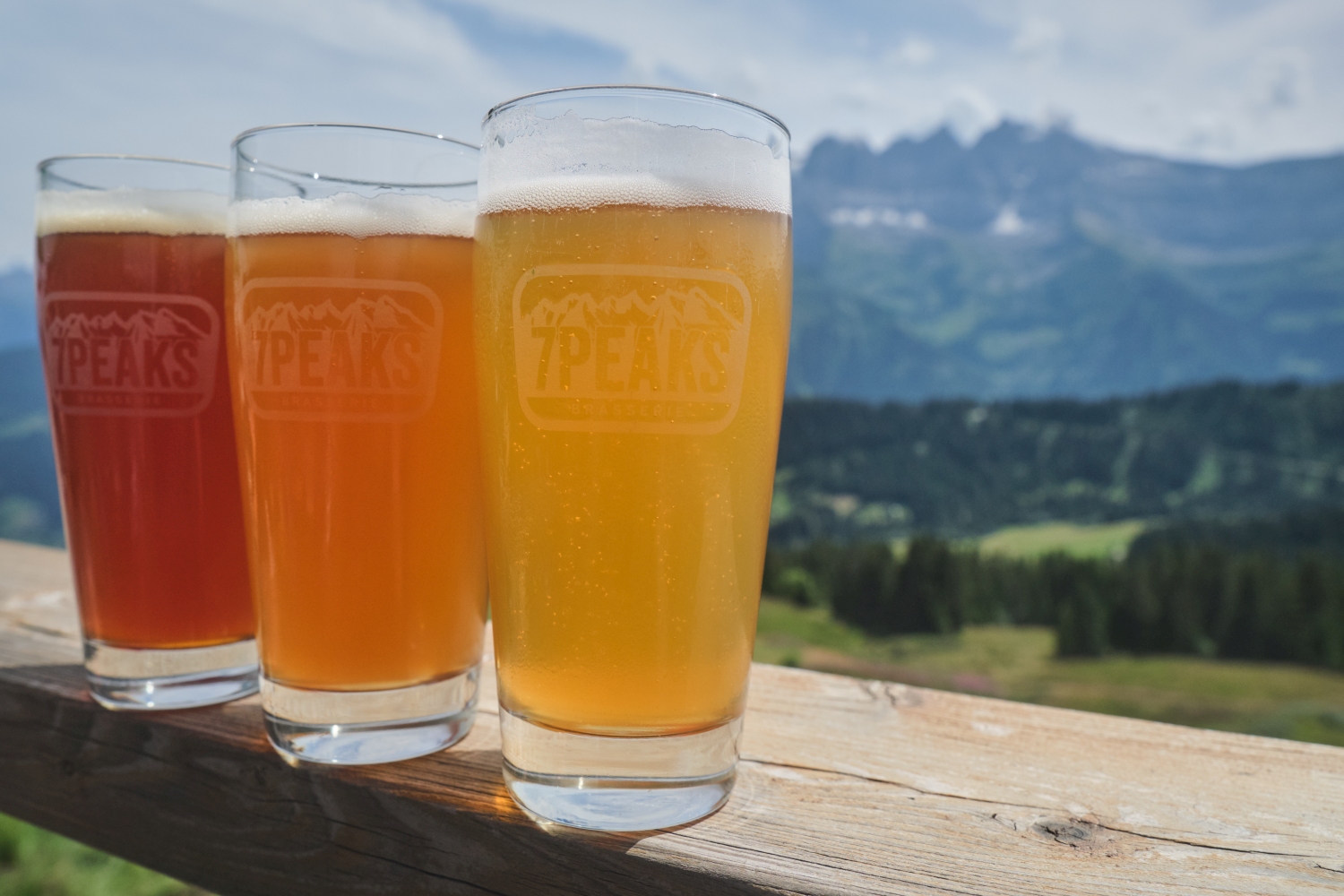 Get More in Morgins
The highs started early. We travelled towards the end of Summer 2020, when flying was still something of a novelty after the slow lifting of lockdowns across the continent. That perhaps went some way to explaining why the Swiss air passengers applauded like they'd won the World Cup as we landed. But whatever the reason, it was hard not to feel elated as we drove out of Geneva past the Jet d'Eau, lit up like a mainsail in the twilight, with an inviting mountainscape silhouetted beyond.
It wasn't long before we'd found ourselves among those same mountains, admiring them up close. Lunch after our first morning's bike ride was a sizeable raclette at Les Bochasses Restaurant with a side of IPA from the local 7 Peaks Brewery. Each of their beers is named after a peak from the Dents du Midi, which rose handsomely to our South. The IPA was so good I ordered a second, and almost regretted it an hour later when we came to the next challenge on our action-packed itinerary - one of Switzerland's longest zip wires.
"Jumping into nothingness from a 30 metre platform did nothing to settle the stomach"
As someone who's spent a fair amount of time in the mountains, it may surprise you to know that I often suffer from vertigo. Certainly, jumping into nothingness from a 30 metre platform did nothing to settle the stomach, and at the bottom I collapsed into my second heap of the day. Looking up however, I at least got an interesting perspective on the adventure park around me. Like a scene straight out of Robin Hood: Prince of Thieves, the canopy above was filled with platforms, rope bridges and Tarzan swings.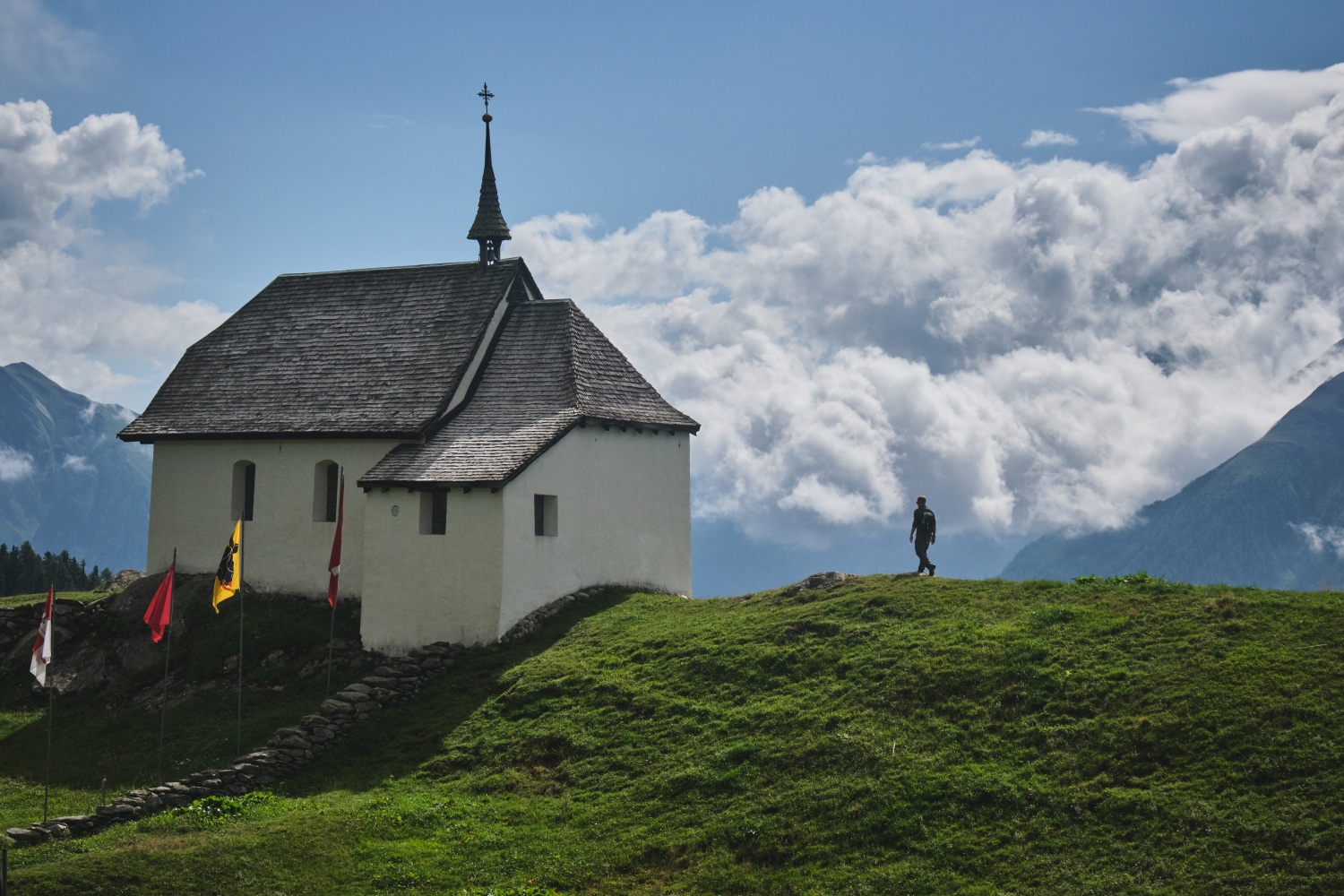 The next day's activities, described as "a gourmet hike", thankfully involved keeping our feet more firmly on the ground - although we did have to catch a cable car to get to the starting point. From there, we headed off down an eight kilometre mountain track, punctuated by no fewer than three restaurants. That might sound like a lot in such a short distance, but after climbing 500 vertical metres, they each felt like a welcome break.
Ignoring the Valais website's advice ("it is not recommended for those suffering from dizziness or a fear of heights") Dan and I decided to follow the Bisse de Chervé, a historic irrigation channel, which meanders down from the peaks to water pastures and vineyards. Although they were built hundreds of years ago, many bisses are still in use today, and continue to provide a welcome, gurgling soundtrack to many of the walking trails throughout Valais.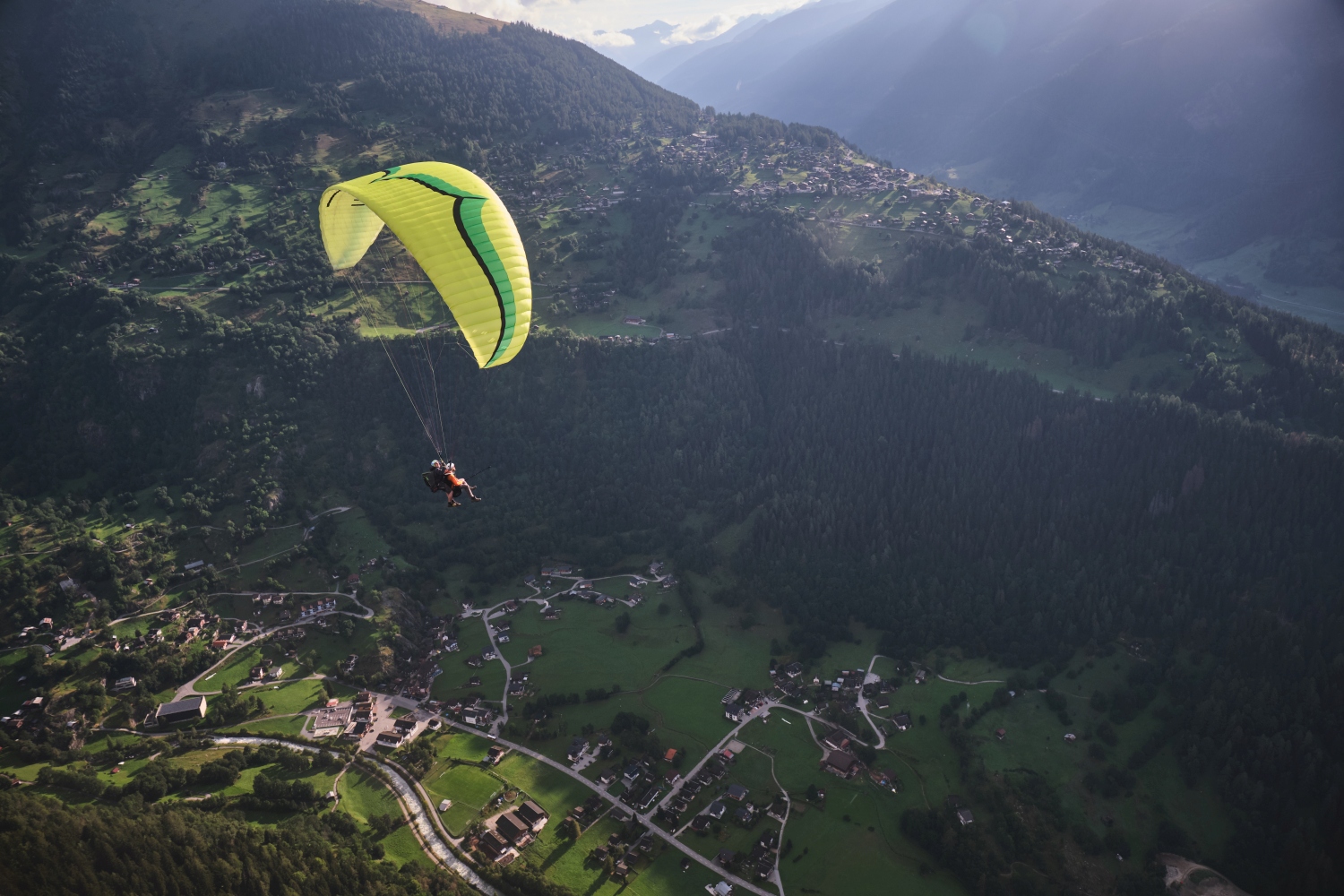 A lot of Aletsch
Once down in the valley, we set off by car for the Aletsch Arena, home of Riederalp (1,925m), Bettmeralp (1,950m) and (Fiescheralp 2,212m), and then promptly ditched the wheels in order to explore the trio of car-free villages in which make up the Arena. Young children scooted unaccompanied down steep roads, and cow bells rang across the plateau as we made our way to our accommodation.
We had hoped to eat and stay at the Gletscherstube Hut, known as the Million Stars Hotel, but heavy rain meant the double bed which awaited us, literally under the stars, was not available. Instead we rested up at the Hotel Alpina in Fiescheralp. The mountain village's name roughly translates as "ground of the cow," which went some way to explaining the numerous, colourful bovine statues scattered around town.
Fiesch is known as a paragliding Mecca, and even though the weather was slightly overcast, it wasn't enough to stop us flying. Our flugtaxi pilots were Alex and his son Adrian, who, he told us cheerfully, had passed his tandem pilot exam just two months earlier. To celebrate, I let him take Dan while I kitted up with Alex.
We took off into cloud but it wasn't long before the sun poked through, and the valley below opened up below us. The descent was warm and decidedly swoopy - Dan had mentioned to Alex that I was a little ropey when it came to heights, so he casually obliged by embarking on some acrobatics. Looking down, I couldn't help thinking that the campers waving up at me from the meadow were lucky not to have received an unwelcome gift.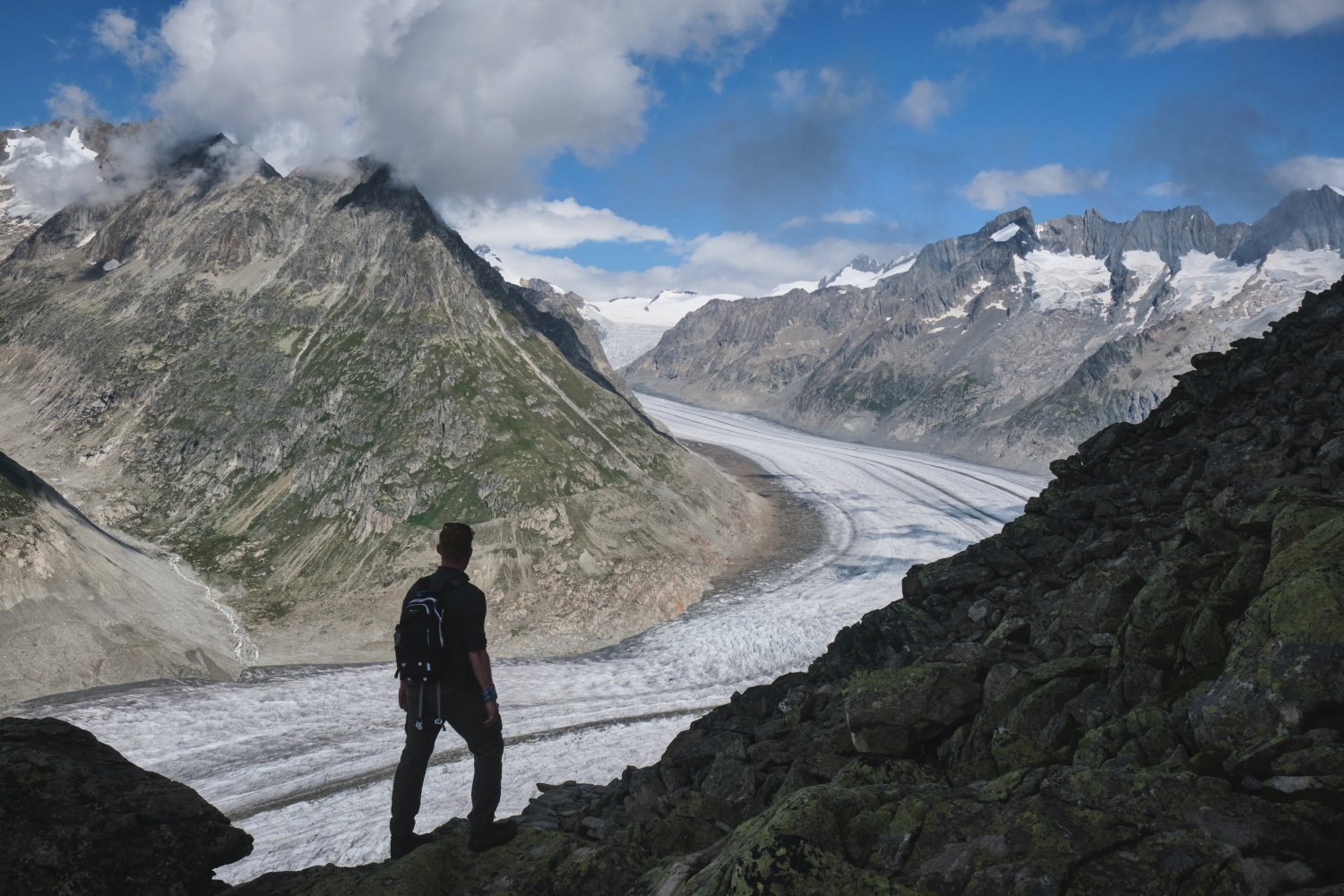 Once my stomach had settled, we headed for the Aletsch Glacier. The longest in Europe, the Aletsch's tongue stretches for 23km, and it contains enough water to keep the world's population alive for 4.5 years if everyone drunk a litre a day. Seeing this majestic river of ice in the flesh was remarkable, yet the enjoyment was partially overshadowed, for me, by the spectre of its gradual retreat due to climate change. We descended slowly by telecabin via Bettmeralp, saddened by the scale of nature's loss.
Sustainable Saas Fee
If you're looking for signs that humanity might be able to get a grip on the climate crisis, then Saas Fee provides a glimmer of hope. Here, in the fourth car-free village of our trip, they've been proving that electric vehicles can replace cars ever since motor vehicles were banned in 1951. The milk floats and electric busses that ferry people around emit no pollution, and like the rest of the village, they're powered by zero emissions, hydroelectric energy. Saas Fee is rightly proud of its status as one of the first carbon neutral municipalities in the world.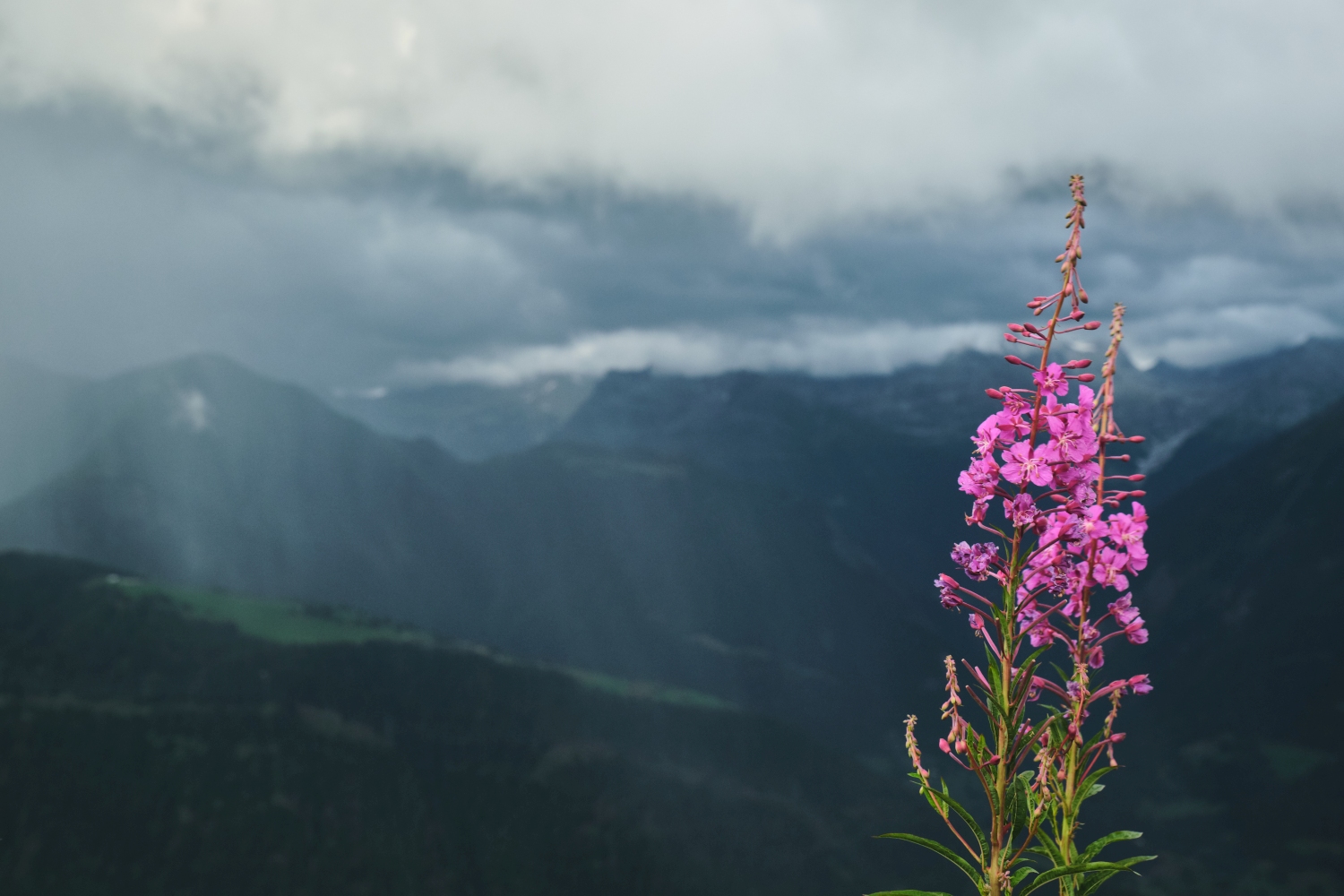 "Saas Fee is rightly proud of its status as one of the first carbon neutral municipalities in the world"
Our accommodation, the Sunstar Hotel in the centre of town, boasted panoramic views of the surrounding 4,000m peaks from the balcony, and pillow-top chocolates which made me want to stay forever. I walked around my suite for ten minutes before finding the door.
Arriving mid-afternoon, we relished the slowness of our penultimate day. We'd been going non-stop, and taking a few hours to simply sit and enjoy the remarkably fresh air was just the ticket, especially given the last activity listed on our itinerary: two words that, I now know, should strike fear into those with vertigo - Via Ferrata.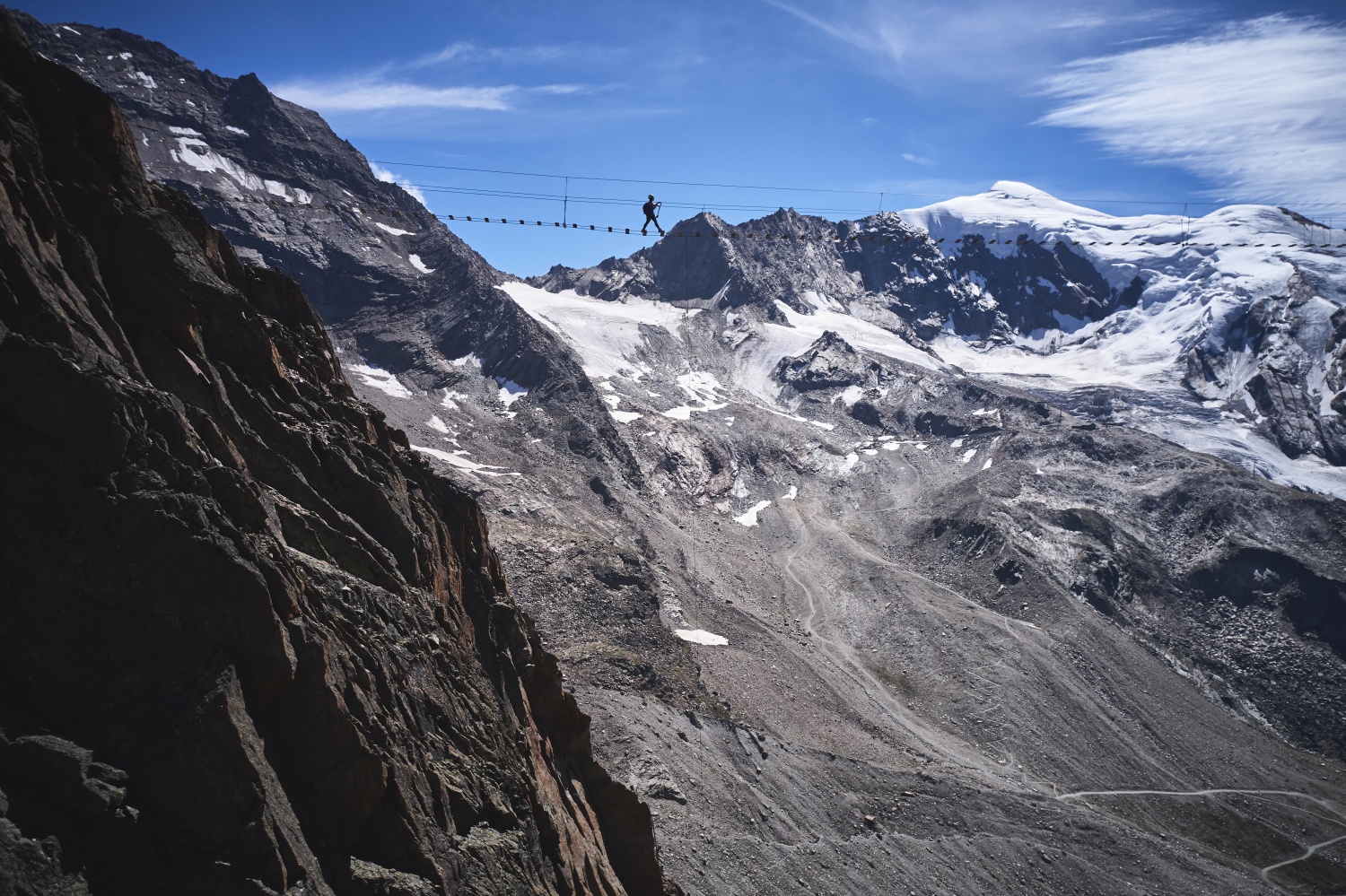 I love an adventure as much as the next soul, and am rarely beaten, but I don't mind admitting that the via ferrata up to the Jegihorn really wasn't for me. I have the upper body strength of a baby kangaroo, I had exacerbated an old back injury during the first Covid lockdown and, did I mention? Heights are not my bag.
We started early, meeting our guide Phillipe, a mountain man, wiry and toughened by high altitude sun, at the cable car. From the top, we hiked for 90 minutes to the base of the Via Ferrata and began climbing.
The next four hours were a challenge, to put it mildly. Vertical ladders and narrow ledges. Stunning views, for sure, but not necessarily ones I could appreciate at the time. The steel safety rope that you clip in and out of felt like an emotional lifeline as much as a physical one, and by the time we reached the top of the Jegihorn at 3,206 metres, I'm not ashamed to admit that I had a little cry. It was at that precise moment that Phillipe's phone began to ring. The tone? Knocking on Heaven's Door.
Although it felt to me like I'd come all too close to the edge, it's worth noting that there were perhaps 50 other people on the mountain that day, and they were all absolutely loving it. There are Via Ferrata of different grades all over Valais, and while I wouldn't recommend a 'K3' one for a beginner, I'd jump at a lower grade anytime.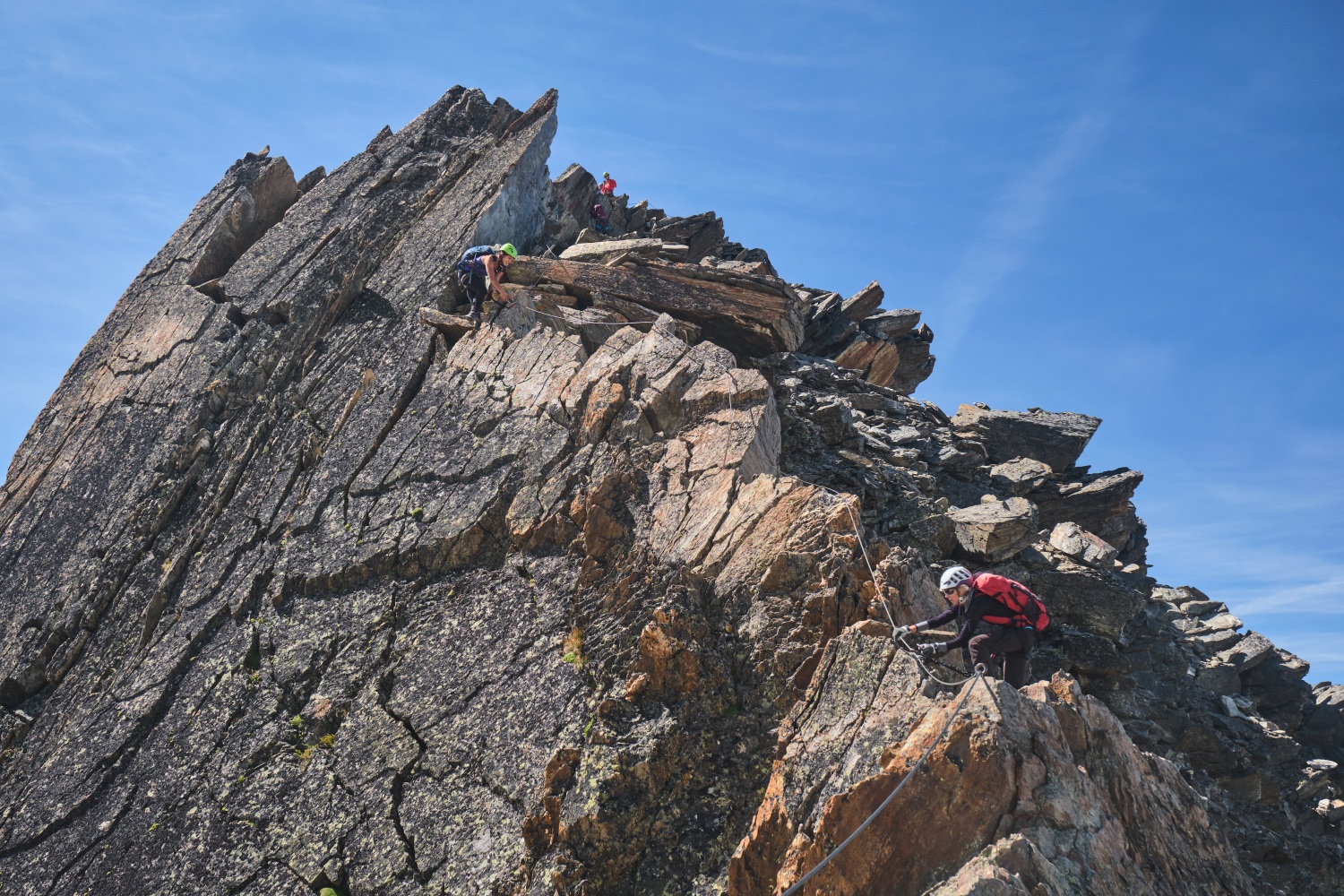 Thankfully, Valais had one last pick me up in store, in the shape of our final meal of the trip. A glorious feast in an old shepherd's hut, now converted into a restaurant called the Schäferstube, and run by a young couple, Simone and Daniel. We laughed, drank, and ate happily.
Perhaps it was the see-sawing between highs and lows, that emotional rollercoaster of extreme exhilaration, followed by blissful relaxation, but I felt like I'd learned a lot - about myself, about my limits and of course about the wonderful region of Valais. If it was hard to accept that we were leaving, it was even hard to believe that we'd packed so much into just four days.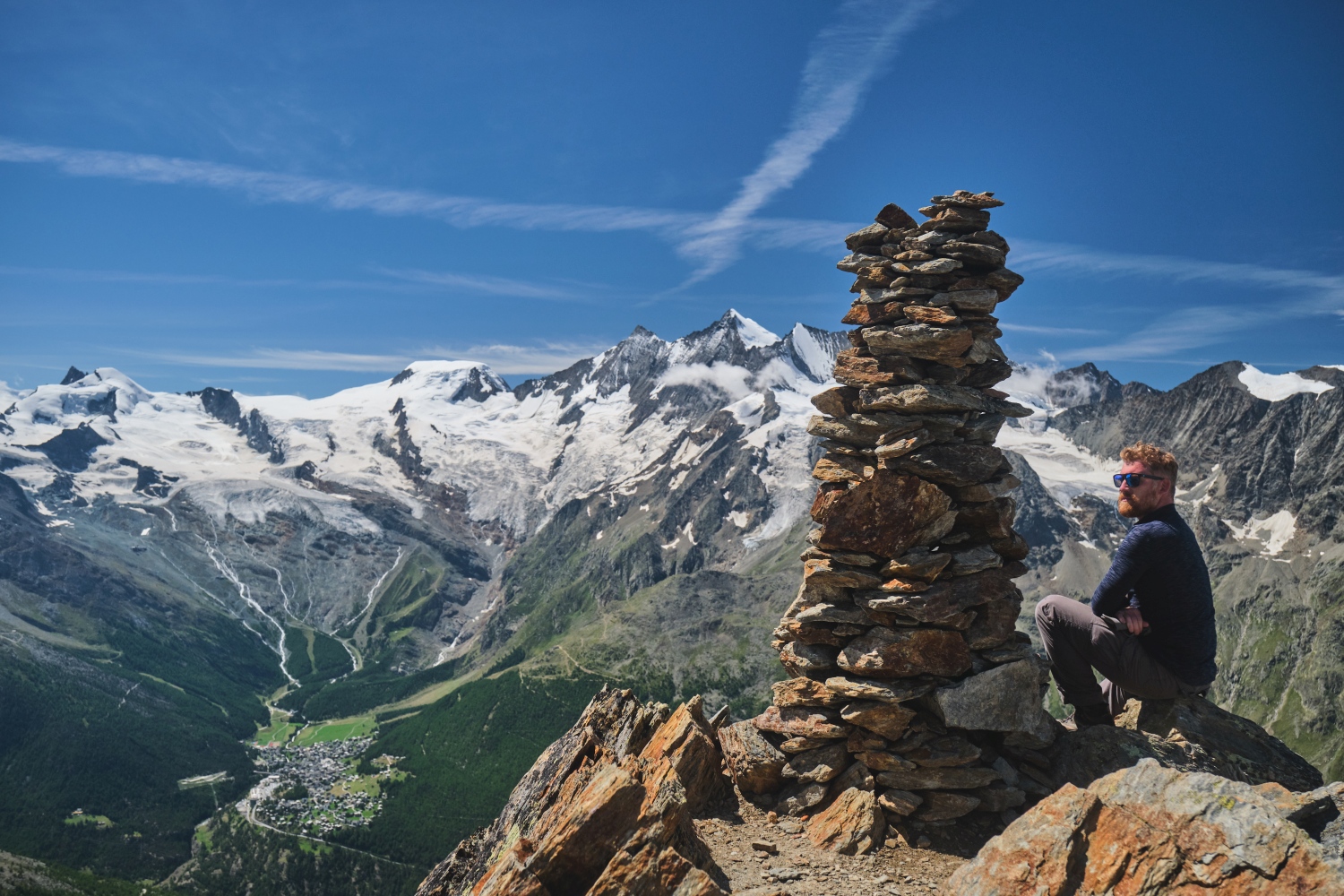 Travel info
Dave and Dan's trip was supported by Valais-Matterhorn Region and Switzerland Tourism.
Getting there
SWISS fly from London City and London Heathrow to Geneva several times a week, from £51 one way.
Where to stay
In Morgins, Dave and Dan stayed in the cosy, chalet-chic Hotel Helvetia, and in Nendaz, they stayed in the modern, high altitude Hotel Les Etagnes.
Unfortunately bad weather ruled out their night in the Gletscherstube Hut, but the comfy Hotel Alpina in Fiescheralp provided an excellent alternative.
Their final night was spent in Saas Fee's Hotel Sunstar.
Thinking of following in Dave and Dan's footsteps? Head to Valais' online shop to organise your perfect trip.