All around me, dark shadows are changing to 1,000 shades of red, as the sun breaks the horizon and casts its rays onto cold rock. It's only 26 hours since I crawled from my bed in London, and I'm now standing on the roof of North Africa. Jebel Toubkal is not only a very achievable non-technical summit - it's also doable in an exhausting weekend.

After an early flight from Gatwick, I landed in Marrakesh mid-morning. Jamal, from ToubkalGuide, was at the airport to meet me and my friends, and we were whisked off to our waiting minibus. We skirted the high red walls of Marrakesh before driving to the village of Imlil. An hour later, having narrowly missed a few donkeys and a cow, we were eating a traditional tagine lunch in the shade of a walnut tree.

'This is Mohamed, he's your guide - please be kind to him as he's fasting for Ramadan.'

Mohamed had not eaten any food or fluid while the sun was up for the last few weeks, and would not be able to do so while leading our trek. In all honesty, an experienced hiker doesn't really need a guide to climb Toubkal, but there are several reasons why you should: it creates jobs in a poor country, it's not expensive and it takes out a lot of the hassle of organisation, especially if you're on a tight schedule.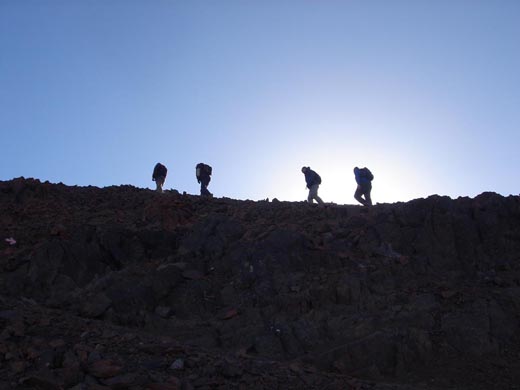 We were a group of five - myself, three Glaswegians and a Frenchman - so our bags and food were loaded onto the backs of two mules. Each mule had a muleteer, so, with our guide we totalled eight people.

'Any questions before you go?' asked Mohamed.

'I am very interested in your mule,' ventured Christophe, the Frenchman. 'What are they, and how much can they carry?'

'Its mum was a horse, and its dad was a donkey. They can carry a maximum of 100kg, but we don't make them carry so much. Ok, let's go!'

Christophe looked as if he had more questions, but they'd have to wait.

The start of the hike was through an ancient walnut forest, where water ran across the path in small concrete irrigation channels. There were many guesthouses among the trees, some very stylish, others little more than a home stay. We left the village behind, but only after explaining countless times that, yes, while the carpets I kept being offered were lovely, I just didn't really need one on a hike up North Africa's highest peak.

We crossed a 200m-wide, near dry, river bed - testament to the volumes of water that can flood off these desert mountains - then wound our way up to the Toubkal Refuge at 3,207m - a climb of 1,400m.

Around six hours later and covered in dust, we sat drinking a cold beer on the roof of the Toubkal Refuge, surrounded by the jagged peaks of the High Atlas and admiring the view down to the desert plains, feeling a little guilty while the fasting Mohamed and the muleteers busied themselves making dinner. There are two refuges on Toubkal, built next-door to each other. We stayed in the older one, which has a communal area with a fireplace and rooms full of bunks. One of my Glaswegian friends checked out the showers, and the heart-stopping screams caused by the cold water still haunt me.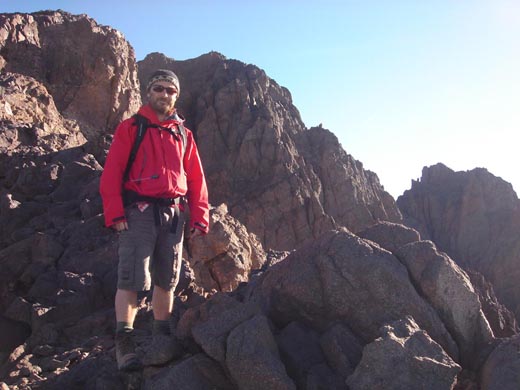 At dinner, Mohamed explained the plan for the next morning's summit ascent, then Christophe continued his Q&A session on mules, bizarrely ending with the question 'What do they taste like?' to which Mohamed simply replied, 'We don't eat them.' Walking away, shaking his head, he added, 'Mule eater - only a Frenchman would ask that.'

After a broken sleep in a snore-filled room, we were awoken just after midnight and drank sweet mint tea while forcing down bread and jam, before setting off into the fantastically star-filled night. Mohamed led the way at a well measured pace, keeping us moving enough to stay warm while slow enough so we didn't struggle with the altitude.

We were not alone on the mountain - as we zigzagged our way slowly upwards we could see the torches of other groups above us. It was never really steep, or difficult underfoot, although the loose scree on the way down does need your attention. As we climbed and the air thinned the conversations stopped and all of us concentrated on putting one foot in front of the other. Just before sunrise, as the sky started to lighten, we startled a sleeping lammergeier vulture, which, disgruntled, took flight towards a tourist-free peak.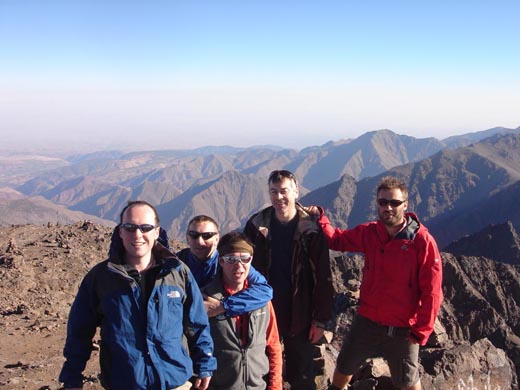 Mohamed's timing had been spot on and we reached the top in good spirits, with hugs and high fives all round, just as the sun rose above distant peaks. Feeling the sun's welcomingly warmth, we sat in a relaxed silence, happy with our achievement and the incredible view of crumbling rock spires and hazy desert, with Marrakesh almost a mirage in the far distance. The silence was finally broken by Christophe saying how hungry he was.

'Mule burger?' offered Glaswegian Rus.

A two-hour descent saw us back at the refuge for more mint tea and a second breakfast. We planned to head back to Imlil immediately, and as we put our boots and daypack back on Christophe had one last question.

'My knee is hurting - can I ride a mule down?' Christophe had gone from mule eater to mule rider, and as he rode off ahead of us with his baseball cap on backwards, he looked every bit the modern day French colonialist.

We made good time and by mid-afternoon were back in Imlil. After saying goodbye to our team, we jumped into a 4x4 with just enough energy left for a night out in the fascinating, pulsating affront to your senses that is Marrakesh.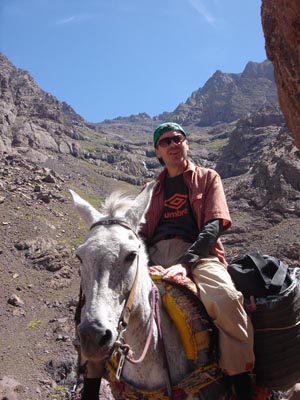 Essential information

Toubkal, in the summer, is a non-technical peak and any fit hill walker should be able to summit. The total altitude gain is about 2,350m. From Imlil to the refuge is 1,400m - a similar height gain to climbing Ben Nevis, if a little further in distance (6hr). The morning summit ascent is just under 1,000m gain, similar to climbing Snowdon via the Ranger Path (5hr).

You do need to consider the altitude, especially if flying in straight from sea level. Hiking/climbing at altitude can be problematic, with shortness of breath and slight headaches a common symptom when above 3,000m. Acute altitude sickness or high altitude pulmonary oedema  should be taken very seriously and can only be helped with getting to a lower altitude as soon and as safely as possible (please seewww.thebmc.co.ukfor more information on symptoms).

The best and only real form of preparation is to get hiking. Climb as many UK hills as you can before you go and once there, drink plenty of water – and don't rush.

Getting there:

Easy Jet flights from £150 return (www.easyjet.com) also British Airways (www.ba.com ) and Royal Air Maroc (www.royalairmaroc.com)

When to go

Toubkal can be climbed year round with May to October the most stable summer season. In the winter it is often wet and snow-covered, making it necessary to use crampons, ice axe and rope/climbing harness.

Where to stay

The new refuge www.refugedutoubkal.com from €35pp/night

Tour Operators

www.toubkalguide.com

2 day trip from €100pp, depending on group size. Includes: local mountain guide, muleteers and cook, 1 night in Toubkal Refuge or in tents depending on the weather, all meals and transport to/from High Atlas from Marrakesh.

Explore sell long weekend trips up Toubkal for £245 without flights, £589 with.

KE Adventure offer week-long winter ascents for £545, land only.