IF YOU HEARD THE WORDS 'WASHINGTON STATE', you could be forgiven for thinking of Barack Obama, the White House or perhaps hit TV show The West Wing. In fact, Washington State is more than 2,500 miles away from Washington DC, situated in the far northwest region of America on the border of Canada.
Home to corporate giants such as Starbucks, Microsoft, Boeing and Amazon, Washington State is a mountainous province that offers endless opportunities for the adventurous traveller. Forget the White House – think white-water rafting, breathtaking riding terrain and some fine fishing. And that's just for starters.
My visit to Washington State coincided with America's favourite season – Fall, Autumn to you and I. Visiting during the Fall provides a colourful backdrop to any trip here, one which in my case began on a horse in the shadow of the Cascade Mountain range in the valleys of Winthrop, in the north of the state. 

For riding with a cowboy feel, Sun Mountain Stables is hard to beat – western saddles, Stetsons and a smattering of lively horses. Self-confessed cowgirl Kit Cramer and her team cater for all abilities, their most popular activity being the Cowboy Dinner.
 
We rode through the valleys in the late afternoon for about an hour to a makeshift ranch, which has an area to tie up your horse before sitting down for a hearty BBQ dinner, complete with open fire and real cowboy musicians to entertain the guests.

For more experienced riders, private excursions can also be arranged for sunrise which shows off the Cascades at their best, as well as providing a perfect way to work up an appetite for breakfast. If you're lucky, you might even glimpse the odd black bear going about its business too.
 
Sun Mountain Lodge has a finger in every pie. Winter visitors can enjoy downhill skiing at the nearby Loup Loup Ski Bowl, while a summer stay offers river-rafting, golf, fishing and extensive hiking.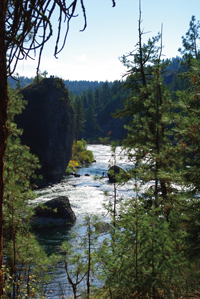 For those in search of a more gentle pace, there is a year-round spa, but the emphasis here is definitely on the outdoors – no room has a TV, instead you are treated to panoramic windows showing off the stunning mountains, and you can't get better viewing than that.

A visit to the Cascades is possible via a number of access points, not least Seattle to the West and Spokane, Washington State's second largest city, to the East. Spokane, a city built on natural resources such as gold and silver, is an ideal base for the multitude of activities tempting you just a short drive out of town.

First stop, Riverside State Park – 10,000 acres of pine trees on undulating steppes along the banks of the Spokane River. Riverside offers extensive camping facilities and activities ranging from kayaking and swimming to cycling, riding, hiking and rock climbing in the mountains that overshadow the park. Starbucks might be on every corner elsewhere in the state, but there is no whiff of frothy coffee here. 

From Riverside State Park, it's an easy 18-mile hop to Green Bluff Growers, a collection of more than 30 small farms that have teamed up to offer family-friendly activities and fruit picking in their vast open countryside.
One of the more unusual (and most popular) activities is based at Knapp's Farm. Known locally as 'Punkin Chunkin', it involves firing real pumpkins out of a giant hydraulic cannon, where they cover a quarter of a mile in the sky before landing barely visible three fields away to be eaten by the deer that night.
If you look carefully you'll see a large propped up red target in the landing field. According to owner Larry Knapp, who hasn't hit the target in 12 years, it's the safest place to stand.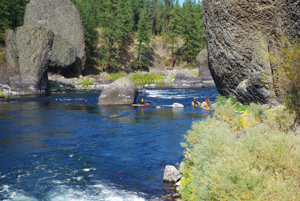 Just as rural Washington State has made farming a going concern, there is also farming business at the heart of Seattle – otherwise known as the 'Emerald City', home to the Space Needle and the birthplace of Jimi Hendrix and grunge rockers Nirvana.

Pike Place food market was founded in 1907 by a group of four farmers fed up with paying extortionate fees to the middlemen, opting instead to go direct to their customers. On day one they assembled their carts on the steep hill overlooking Elliot Bay, and had sold out of all their stock by lunchtime.
 
Today, Pike Place is home to nearly 500 companies offering everything from clam chowder to truffle oil and homemade crumpets. Seattle Food Tours offers guided tours of the Market, which take you, via mouth-watering tastings, through the rabbit warren of buildings and stalls and even passing the world's first-ever Starbucks, founded in 1971.
 
From its location beside Lake Washington Seattle celebrates fish on a grand scale, both in the eating and appreciating if Pike Place's singing fishmongers are anything to go by. At Chittenden Locks in the docklands area of town, visitors can go underneath the water level of the river to view the salmon run, when the fish make their way back to their birthplace to mate.
 
Having climbed a 21-step 'water ladder', large amounts of these tireless fish can be seen, through a glass observatory, resting on the river bed in their natural habitat – a perspective rarely seen and fascinating for fishing enthusiasts and inquisitive visitors alike.
 
It seems that food and nature go hand-in-hand here, and it's not hard to see why Washington State is known as the 'Evergreen State' with its mountains, markets, forests and fauna all contained in one corner of North America. You might be familiar with Starbucks, but there's a lot more to this state that's just waiting to be seen.

Geting there
Icelandair flies to Seattle via Reykjavik from London Heathrow, Manchester and Glasgow. Passengers can stopover in Iceland for up to seven nights at no additional airfare. Return airfares to Seattle start from £465.
 
More information
For a free visitor guide to Seattle and Washington State call 020 7978 5233 or visit
www.experiencewa.com