Roughly one third of the way across the Atlantic, there lies a well-kept secret. An archipelago that boasts such an eclectic array of experiences, it's a wonder that more people haven't discovered it. As I bobbed on a small boat watching sperm whales dive in front of the backdrop of a 2km-high volcano, however, I reflected that there were upsides to the fact that the Azores aren't on most people's radar. At least, not yet.
Five days earlier, they weren't really on my radar either, and a trip certainly wasn't on the cards. But the freeze placed on work, travel and playtime by the pandemic had just started thawing when the opportunity to visit this mythical island chain landed on my desk, and the temptation of visiting a place that needed double-checking on the map tickled my dromomania. It helped too that my companion for this trip would be photographer Dan Wildey. He's devastatingly handy with a camera, and despite his weird taste in music, we've enjoyed our past assignments together.
This trip was arranged so quickly that when we landed on the island of São Miguel, I still had no idea what the week would entail. "It looks a bit like the Peak District," said Dan as we drove away from the airport. Dan's from the Peak District so he would know. But I couldn't help feeling, as rounded sugarloaf hills filled the horizon, each one with its own volcanic history, that something tropical like Tracy Island might have made a more apt comparison.
It should be said that while the Azores are currently home to 26 active volcanoes, the last eruption was over 450 years ago, and there is zero suggestion of imminent activity. Indeed, it is the long-term dormancy of the region that offers its first clear selling point: crater lakes. Our opening afternoon encouraged a visit to Lagoa do Furnas, a wide lake at the centre of a system of geothermal springs. Just down the hill is Furnas, one of São Miguel's largest settlements, and home to a locally-famed dish named Cozida Das Furnas. It's a stew cooked beneath the earth by, as the local translation of the name explains, the volcano.
We woke early on our second morning and blazed a trail to the north west of the island, marvelling at healthy, plump bunches of blue and white hydrangeas lining the roadside. A short drive took us to the start of the Miradouro do Cerrado das Freiras, a skyline trail which reveals a wide panorama of the Sete Cidades crater, one of the Azores' most famous natural monuments. Several miles across from rim to rim, the crater cradles a small town of the same name and two glistening lakes - Lagoa Azul and its smaller sibling, Lagoa Verde.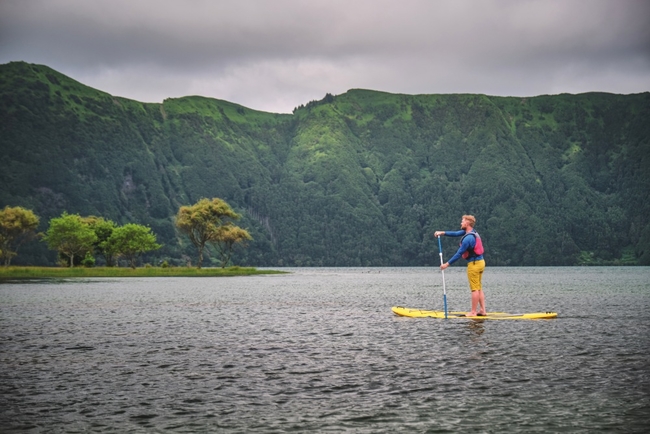 In Sete Cidades, we picked up a pair of rented SUPs from Futurismo adventures, a local tour operator. From the shores of Lagoa Azul, you can paddle through one of seven arches on the low road bridge that seperates it from Lagoa Verde. You could easily spend a whole day exploring each of their shorelines.
We rounded off the afternoon with a coastal drive starting in Mosteiros, a small fishing town with a stunning array of rock stacks and small islands just offshore.São Miguel, like all the other islands in the Azores, has almost no flat areas, which means its roads are always fun to drive. Our cruise along the northern highway was a rollercoaster ride - there were the actual ups and downs, and the metaphorical ones occasioned by Dan's questionable music selections.
Island hopping
If you really want to make the most of an adventure in the Azores, it's worth visiting more than one of them. We set off for the airport on morning three, and enjoyed a 45 minute flight to Pico (pronounced Peak - Ooh), the second largest landmass in the archipelago. Instantly the feel was different; a more rural charm, with tightly mazed vineyards squeezed between lava walls and even more hydrangeas bordering the roads.
Overlooking everything is Portugal's highest peak, the Montanha do Pico, a pleasingly conical volcano which rises to 2,351m above sea level. Pico dwarves even the enormous ridgeline that runs along the island's centre, something I can only liken to a green version of the wall from Game of Thrones.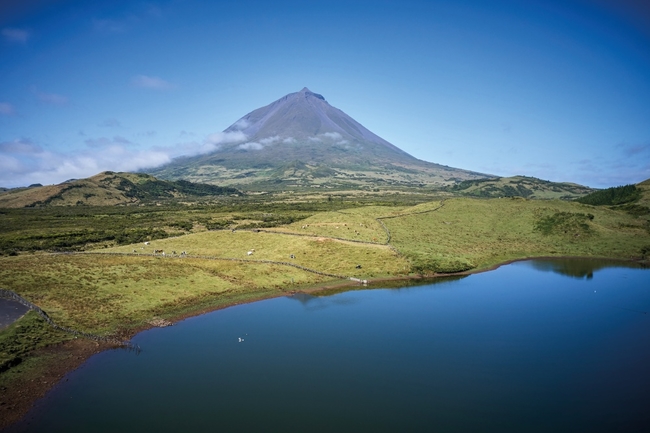 These natural monuments provided the background for an extraordinary experience. We swapped plane seats for a comfortable perch on a whale watching rib, and couldn't believe our luck as we saw not just endless pods of dolphins but four sperm whales. The world's largest toothed predators, these huge mammals can grow up to 20 metres in length, and famously feed on giant squid by preference. The pod we saw teased us, floating on the surface restfully, before saying goodbye with the best wave on the planet - a tail bigger than our hire car sliding into the ocean. Spectacular.
Forged by fire
The next morning we set off early with Jennifer from Futurismo Adventures. First stop was a smaller volcanic lookout just east of Pico Mountain, opening up a glorious view of the island and its central plateau. Fifteen bumpy minutes later we reached Lagoa do Capitão, a lake at 850m above sea level which both supplies water for local farmers, and marks the beginning of a rewarding downhill hike.
Starting on the flat, we slowly meandered our way into an overgrown forest, stepping carefully to keep our footing on the island's basalt-covered surface. You can't go far on Pico without a reminder that this island, like all the Azores, only emerged from beneath the ocean some 300,000 years earlier. A rapid-fire series of volcanic eruptions left the landscape littered with lava, which cooled into the basalt that so amazed the Portuguese settlers who landed here in the 1400s. They soon found that the dark, mottled rock had its uses. Everything is made from basalt here, from vineyard walls to buildings in each of the villages.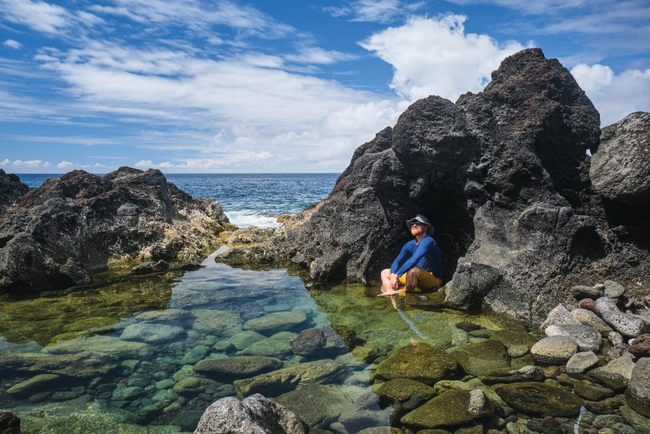 Once at the coast, it was time to cool off. But first I had to get over my vertigo. It took a while, a certain amount of uhming and ahh-ing, and no little 'encouragement' from Dan, who was filming the whole thing. But eventually, I summoned up the minerals to make a reluctant cliff jump from four metres up - and was rewarded by the soothing effect of the cool turquoise sea.
Drinking it all in
Still dripping, we headed towards refreshment of a different kind. Wine plays a huge role in Pico's culture, as Fortunato, a part-time teacher and wine producer, but a full-time raconteur, told us when we met at Adego Czar. Established by his father, the small company was named after the discovery of Pico wine in the cellars of the last Czar. Apparently, Pico wines even merit a mention in Tolstoy's War & Peace.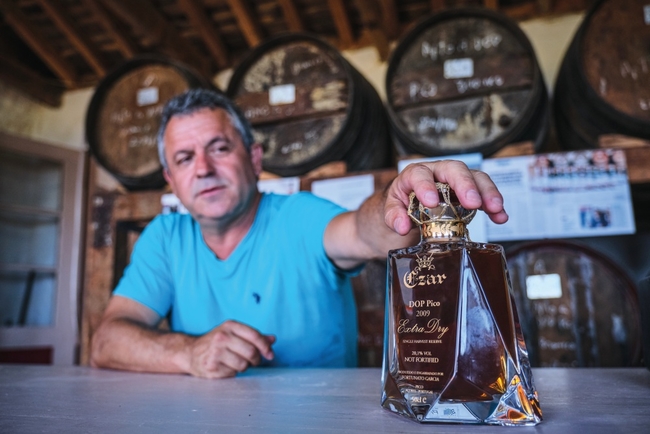 Fortunato might not produce wine full-time, but let this not devalue the product. His dream is to eventually ensure his 2,000-3,000-bottle annual yield reaches the legendary gold standard - over 20 percent proof. He showed us a £1,500 bottle with home-designed crystal seal, and I had to drink a couple more glasses to cope with the nerves when Dan decided to walk off with that very bottle, for a photoshoot on an unstable box. The numbness on my tongue and lips drifted away during a pre-dinner wild swim, but the smile remained through the night. And no, not a hangover in sight.
With inter-island ferries and flights often weather dependent, it's good practice to ensure you finish a trip to the Azores back on São Miguel, to avoid missing your flight home. So we touched back down for a final day, this time staying in Ponta Delgada in the luxurious Lince Hotel, which had taken advantage of the covid-19 pandemic to go through a £1.5 million refurb.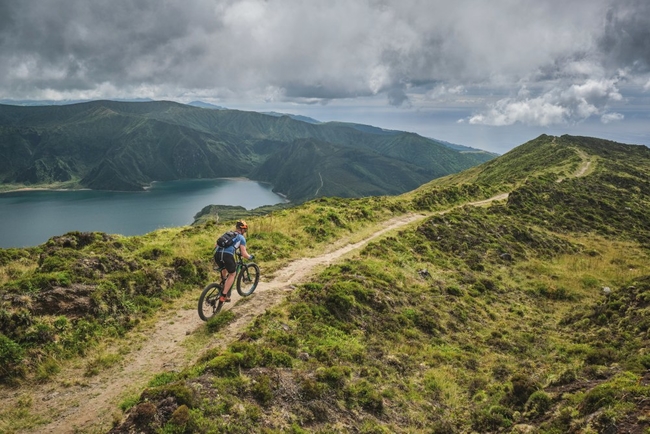 We spent our final morning on two wheels, guided by the ebullient Andrea from Azores Adventure Islands. As a handful of Dutch tourists descended the walking path around Lagoa do Fogo, we ramped our electric mountain bikes up to turbo mode and explored the trails around the crater's rim, gliding effortlessly up steep inclines and enjoying 360 panoramic views over lake, ocean and island.
Looking back at a week on the archipelago, I can't quite believe what we packed in. Some of the best whale watching in the world, endless hikes, ebiking, delicious meals, wild swimming, wine tasting, crater-lake views and coastal drives. Some would say, it has far more to offer than the Peak District. Just don't tell Dan.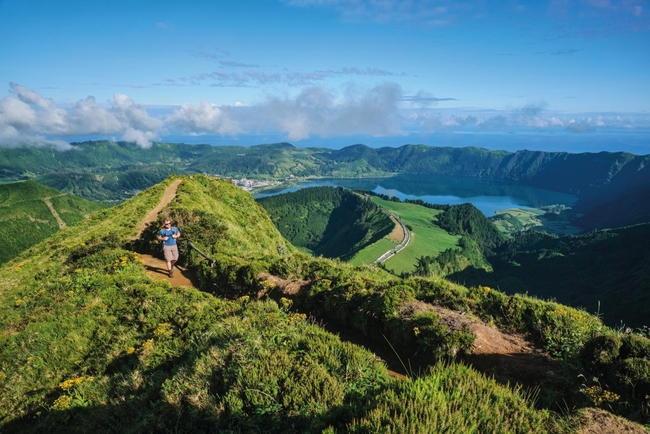 Azores Activities: Hiking
Each island on the Azores boasts a variety of well signposted hiking trails, so don't forget to pack your walking boots. Choose a coastal path, venture around the rim of a volcanic crater lake, or start in the centre of an island and pick your way down to the coast on a trail of cooled lava.
Find detailed guides to the following walks at trails.visitazores.com
Praia – Lagoa do Fogo - São Miguel
Category - Circular
Difficulty - Medium
Extension - 11 km
Time average - 4h00

Lagoa das Furnas - São Miguel
Category - Circular
Difficulty - Easy
Extension - 9.5 km
Time average - 3h00

Sanguinho - São Miguel
Category - Circular
Difficulty - Medium
Extension - 4.5 km
Time average - 2h00

Serra Devassa - São Miguel
Category - Circular
Difficulty - Medium
Extension - 4.9 km
Time average - 2h00

Pico das Camarinhas - Ponta da Ferraria - São Miguel
Category - Linear
Difficulty - Easy
Extension - 4.9 km
Time average - 02h30
Biking
Go further and faster on two wheels with a little electrical help. With the endless trails on offer around the Azores you're guaranteed two things on your bike: great views and a big smile.
SUP & kayaking
There's nothing like being on the water, surrounded by steep verdant hills to induce a combination of calm and awe. I recommend a couple of hours on the green and blue lakes at Sete Cidades on Sao Miguel
Futurismo Azores Adventures in Sete Cidades
Whale watching
The Azores boast some of the best whale watching on the planet. Aqua Açores even offer refunds for those rare trips where no whales are sighted.
Aqua Açores
Email: This email address is being protected from spambots. You need JavaScript enabled to view it.
Travel info
Our trip
Dave and Dan's trip was supported by Visit Azores
Getting there
TAP Air Portugal fly from London to Ponta Delgada via Lisbon from £155 return.
Getting around
There are regular flights and ferries between all of the islands, but they can be affected by weather, so make sure you leave contingency days either side of your international flights.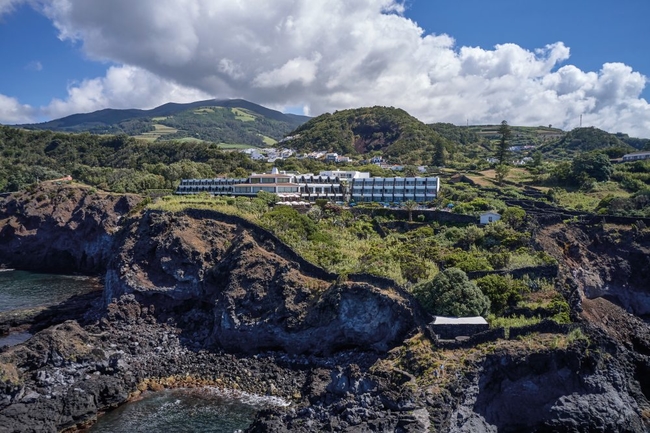 Where to stay on São Miguel
Caloura Hotel Resort
After a day of new experiences there's nothing better than sinking into a comfortable chair with an ocean view and a glass of local beer. We enjoyed three nights just south of Agua De Pau at the sumptuous Caloura Hotel Resort, and three nights wasn't enough. Cliff-top walks to the soundtrack of breaking waves, private balcony dinners and comfortable lawn loungers offered the perfect rest between missions.
Location: Rua do Jubileu, 27
9560-206 Água de Pau
São Miguel, Açores
Phone: +351 253 168 748
The Lince Hotel
Located in a quiet corner of Ponta Delgada, the largest town in the Azores, the luxurious Lince Hotel recently underwent a major refurbishment. Comfortable, with all the mod cons, it's conveniently located for exploring the town and the surrounding area.
Location: Av. Dom João III 29,
9500-310 Ponta Delgada, Portugal
Phone: (+351) 296 960 900
Where to stay on Pico
Aldeia da Fonte
Our basecamp on the island of Pico was the rustic Aldeia da Fonte Nature Hotel. A sprawling village of volcanic rock houses, it boasts its own bay (perfect for wild swimming), a private whale watching tower, and a lovely restaurant covered in a leafy natural canopy, complete with hungry, twittering sparrows.
Location: Caminho de Baixo
9930-177 Lajes do Pico
Phone: + 351 292 679 500