Silence is not something that I'm known for. But after a chatty three-hour boat ride past the fishermen and villages along the Pangalanes canal in Eastern Madagascar, we had arrived at the stunningly beautiful Bush House Lodge to find we were the only guests. Sitting at the open-air restaurant overlooking the white-sand bay, my wife Issy and I realised we hadn't said a word – rendered speechless by the sheer tranquillity of our surroundings.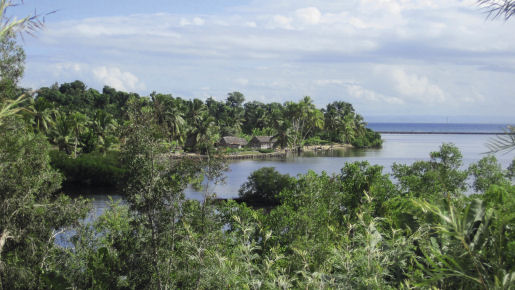 Madagascar does that to you. The fourth largest island in the world is incredibly beautiful and ecologically unique; there really is nowhere else like it on Earth. It is full of surprises that fire the imagination, stir the soul and make you think about the way we live in this world.
Located off the south eastern coast of Africa in the Indian Ocean, having been part of the super continent Gondwana until it split from India 88 million years ago, the plants and animals on the island have evolved in complete isolation, to the extent that 90% of Madagascar's flora and fauna is found only on this island. Divided down its spine by central highlands peaking at 1,500m and resulting in two micro-climates, the western and southern sides are barren and dry, while the Eastern and Northern areas are rich and diverse. This is a big country, over double the size of the UK. We wanted to focus on the North and East of the island, and specialist tour operator Aardvark Safaris had taken our wish-list and designed us a superb 10-day itinerary.
Madagascar is not known for its luxury, with probably no more than a handful of what you would call top end hotels. But we wanted to spend the first few days relaxing, and the Princess Bora Lodge on the beautiful island of Ile Ste Marie, a short, awe-inspiring flight over rainforests and reefs from the capital Antananarivo, was a perfect place to start.
Landing at the small but fairly modern airport, we had our first surprise: as we were met not by a minbus or even a taxi, but by a cart pulled along by two large and slightly reluctant zebus, domestic cattle with a large horn-like lump on their necks that would prove to be both useful and extremely tasty! As we approached the hotel gates the zebu, steaming in the heat, performed a three-point turn, reversing the cart right up to the steps of the reception area allowing us to gracefully disembark!
The Princess Bora Lodge was started a decade ago by three Swiss brothers who set out to create bungalows from locally sourced materials, taking on local people and teaching them the skills to work as masseurs and in the maintenance team. Our bungalow was set 50 yards back from the beautiful white-sand bay with a scattering of palm trees – the only interference on a clear view of the turquoise sea and fishermen going about their business. Paradise. After the long flight from Paris, calm set in, with the only sounds the soft breeze in the trees and bird calls. I reached for the camera in a futile bid to capture the setting, before realising that it was the ambience rather than the view I wanted to re-create.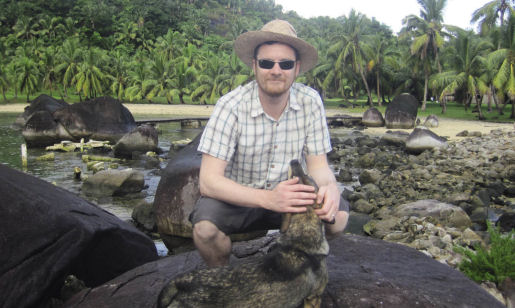 The 17 lodges are cleverly positioned around the main area where there is a nicely presented restaurant serving good quality French, Malagasy and Creole food; along with a well-stocked wine cellar you can browse yourself before making a selection. After our earlier transport, we felt a pang of guilt in choosing a tender Zebu steak, but not for long – it put our beef to shame.
By day we hired snorkel gear and kayaks from the hotel to explore the bay where scuba diving can also be arranged. The snorkelling was spectacular with clear water offering plenty of sightings of colourful fish and reef life. From July to September, the resort offers whale-watching tours and if you're lucky you'll see them swimming across the bay just a few hundred metres from the hotel.
Outside the grounds a small village with friendly locals provided an introduction to Malagasy life. Wooden huts built on stilts to allow for the seasonal flooding, and roadside stalls selling everything from second-hand clothes to the day's fishing catch, jostled for space with free-ranging chickens and children playing football, all alongside stunning little coves. It had a Caribbean feel, but with few westernised elements to detract from its authenticity.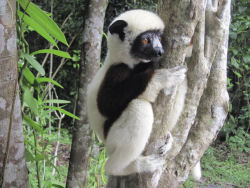 A 30-minute walk took us to an animal sanctuary and our first encounter with the island's most famous inhabitants – lemur.
There are 100 species in Madagascar and they are incredibly inquisitive and intelligent creatures, not to mention beautiful – and a mite cheeky! My attempt at capturing a photo of a ring-tailed lemur swinging in a tree above was interrupted by him 'taking a leak' at me! Lesson learnt, close your mouth and stand at an angle.
Ile Ste Marie can be explored by bike, car or moped. Erve, one of the lodge's waiters, had arranged a car for us. Although the roads rarely live up to their name making the going slow and bumpy, most places are accessible with just a short walk from the main road. Coco Bay, with its rock pools, clear water and palm-lined seafront, is a wonderful place to stop for a couple of hours and enjoy the fresh coconuts. The snorkelling and swimming here is fantastic and we were completely alone for the entire afternoon. Ambodifotatra, the main town on the island, was a surprising hive of activity with stalls selling locally-made souvenirs and all else besides.
In stark contrast, Ampahantany, a rural village near our second stop, the Bush House Lodge, is home to no more than 150 people who live almost entirely off the land. Here, the well-mannered children's eyes lit up at the sight of 'Vazaha' – the Malagasy term for white people – and the shout went out to alert everyone that there were visitors. Children suddenly appeared from the bushes and trees and followed us inquisitively as we took in village life. The men worked on building and improving their homes while women sat weaving mats and grinding rice. A bag of lollipops meant we had the full attention of the children who sat patiently waiting for their treat. Their excitement really put our own affluent lives into perspective.
The journey to Ampahantany was an 8km round trek over rough paths and barefoot through the shallows of the lake. Engene, our guide at Bush House, turned to us, smiling, and said: 'Last week we chased a crocodile here'. We hoped it wasn't looking for revenge.
While we rested in the shadow of a travellers tree, sipping the fresh water caught in its leaves, Engene told us that the lack of infrastructure in Madagascar results in a shortage of basic resources, such as pens and paper, in rural schools. The nearest doctor is often hours away, so life here is anything but easy. Despite the challenges, however, everywhere we went we found the Malagasy people incredibly friendly and never short of a giant, welcoming smile. Unlike in many underdeveloped countries, we experienced almost no begging or hassle.
Young people face huge difficulties in continuing in education, but have a burning desire to experience other cultures. Tourism is vital for the future of Madagascar, to help conserve the rainforest; every year, one-third of the landmass is set alight in unsustainable slash-and-burn clearances to make way for crop production.
The Bush House Lodge sits in the Canal des Pangalanes lake district, separated from the Indian Ocean by sand banks. At 600km, the canal is the longest in the world. It was constructed during the early French colonial years of 1896-1904 to make it easier to transport goods to the main trading port of Tamatave because shipping on the Indian Ocean was too dangerous. Its construction was blighted by the deaths of thousands of locals who worked in terrible conditions, but it still dominates daily life in this region, providing the main source of trade, transport and travel to what would otherwise be a fairly inaccessible part of Madagascar. .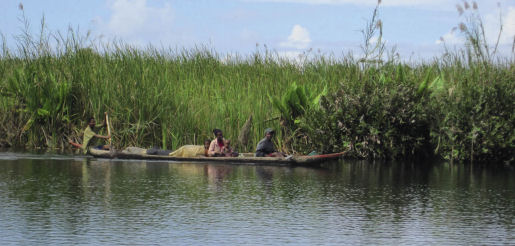 The boat ride from Tamatave (a 30-minute flight from Ile Ste Marie) is a fascinating journey. Betsimisaraka villages line the banks along with pirogues (traditional dugout canoes), local fishermen, and incredibly overcrowded boats and rafts of all shapes and sizes carrying timber and other goods.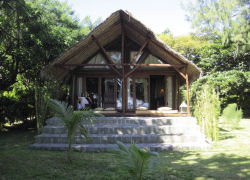 Our lodge bungalows were sturdy and well-built but had a large gap between the roof and the walls and no glass in the windows, which meant you were completely exposed to the sounds of the forest at night, and of course the insects and animals who reside there! Electricity is provided by a generator and is only available for two hours in the morning and from 6-10 at night. The first night at 10pm when the lights went out was a startling experience for me. I lay awake for a couple of hours taking in the incredible sounds and animal calls, and wondering what the scuttling was on the floor nearby. Certainly not the most restful night's sleep I've ever had but a truly wonderful experience!
Engene invited us to watch a football match between local towns, a friendly in preparation for a big tournament with a prize of 100,000 ariary (about £30, but more than a month's wages for most people) and a zebu. The pitch was a flat-in-places mix of straw, shoots of grass and thick mud. The poorer players were barefoot and the ones with trainers were all local business owners. Whatever the footwear, this was the most physical game of football I have ever seen. Super-fit men crunched into tackles and flung themselves at diving headers.
At the back of the Bush House, we were amused to find a cheeky local lemur embarking on missions to steal food from the kitchens, but our finest encounter with these amazing animals was on a guided trek around Andasibe National Park on the third and final leg of our trip. A boat ride and three-hour drive along spectacular mountain roads took us to Andasibe. Spending a full day tracking lemurs in the forest was hard work, but incredibly rewarding. We were lucky enough to stumble on a tree-top fight for territory between Brown lemur and, our favourites, the beautiful Sifaka. A cacophony erupted as both sides asserted their authority before leaping from tree to tree to protect their space and food. The fight lasted a good 20 minutes before the brown lemur admitted defeat to their larger neighbours.
Having followed the Sifaka for an hour or so, they seemed to get more inquisitive, coming a little closer each time we entered a clearing until some were no more than a few yards away. One perched himself on a branch, lay back with a handful of berries and watched us intently as we snapped away for half an hour. The human-like movements were incredible and I swear he was as intrigued by us as we were by him.
If our arrival in Madagascar stunned us to silence, our experiences have given us much to talk about. We went  excited about the lemur and the landscape and those surpassed all our expectations, but our abiding memories will be of the wonderful Malagasy people. It's back on our list as a place to re-visit, and that can't come soon enough.
Getting there
There are currently no direct flights to Madagascar from the UK. You can go via Paris or Nairobi. We took the flight from Paris which is 12 hours on Air Madagascar, who put on four flights a week from Paris.
When to go
Variations in the climate mean it pays to do some research. Monsoons bring storms and cyclones to the east and north from December to March. The rainy season is November to March, and the dry season is April to October. The mountains, including Antananarivo, are warm and thundery from November to April and dry, cool and windy the rest of the year.
The wet season in Madagascar is the hottest time of the year, with temperatures hitting a daily average of 28ºC in December and a low of 17ºC. July is the coolest month with temperatures ranging from 21ºC by day and 9ºC at night.
Where we stayed
Princess Bora Lodge, Île Sainte-Marie
From Є220 per night per bungalow
Bush House Lodge
Canal des Pangalanes lake district
From Є52 per night per person, full board
Vakona Lodge
Andasibe National Park
From Є62 per night, per bungalow
Tour Operators
Our trip was organised by Aardvark Safaris who arrange bespoke tours to Madagascar.
The total cost for the three-legged trip was £3,245pp for an 11-night trip, including all flights, accommodation, most meals, transfers or boat travel, English-speaking guide in wildlife areas.
01980 849160, www.aardvarksafaris.com
Top tips
Take your own mosquito net and some good, long-lasting anti-bite protection
Must do
See lemur in the wild.
Useful contacts
Madagascar Tourism, Antananarivo
+261 20 22 661 15