The best of the best
Marsa Wadi Lahami
Dolphins everywhere, I couldn't believe my eyes, I wasn't in an aquarium with half a dozen depressed animals performing tricks, I was swimming with hundreds of Dolphins in their natural habitat just a 45 minute rib ride from Wadi Lahami.
To get to the first of my diving destinations "Marsa Wadi Lahami" I had travelled just about as far south as you can possibly go on an Egyptian tourist visa.  After this point and up until the border of Sudan the area is controlled by the military. Although the Sudanese border is 300 kilometres away they have a check point at Shalatin which is just a 140 kilometres further south of my destination. I left Gatwick at 10.15am on a Wednesday morning and found the mid week departure a breeze. Within minutes of arrival I had checked in my baggage and was through passport control and on my way to Garfunkel's for breakie. The flight left on time and I arrived in Marsa Alam around 17.00hrs. Once out of the airport terminal I had a scenic three hour journey by mini bus ahead of me, the Redsea on my left and the mountains of the desert on my right. I finally reached my destination Wadi Lahami at 21.30. Some may think that travelling all day is going to be tiring but surprisingly enough it was quite relaxing and obviously exciting. Once I had had something to eat and a couple of cold beers I was shown to my apartment and told of the following days diving program.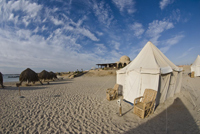 There are three types of accommodation at Nakari and Shagra and tents and chalets at Lahami owned by "Red Sea Diving Safari's". The tents which while I was there seemed quite popular, they are spacious have electric light and a power point for charging batteries, then there are the huts that are fairly basic with a bed and shelf unit for your cloths etc, The amenities are close by. I stayed in one of the spacious chalets that have views overlooking the desert and the sea, my accommodation came with twin beds, wardrobes and on suite facilities.
The day starts early at all of the villages with breakfast being served from 6am, then after a short stroll across the beach to the waiting rib you leave for your first dive site of the day around 6.45am. But like all new guests I had to do a compulsory check dive so didn't have to be at the dive centre until 8.30. My guide for the morning was the manager of the centre Ross McGrath. We loaded the rib with our equipment then set of for the fifteen minute rib ride to the dive site.
Article Continues...
---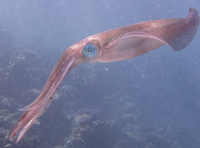 First up was Lahami (North)
Ross gave us a short briefing on what we could expect to see and then it was a backward roll into the clear warm turquoise water, as we made our descent we were greeted with an array of colourful soft corals of greens, blues, reds, yellows and purples all pulsating with life, there was fish literally everywhere, swimming above, below, in front and behind us, it was difficult to know where to look next. Then we found a big "Whip Lash Ray" resting between two small rocks. Our depth at this time was around 20 metres. Nudibranchs, Moray eels, Puffer fish and Box fish were all on or around the many small beds of coral that we came across. In the sand we found a Moses sole which was so well camouflaged that unless it moved you would pass right over without noticing it. Ross was one of the original team that researched, found and named many of the dive sites 19 years ago that "Red Sea Diving Safari's" have to offer and knew exactly where to take us for the best underwater landscapes. As we neared the end of the dive we decided to spend some time at 5 metres, this way we could extend our dive time, do a safety stop and investigate the reef further. When we reached 50bar it signalled the end of a fantastic dive but we had been under for around an hour and a half. Ross and his team are quite laid back, they won't rush you they will stop and show you things that you might otherwise miss, they really do enjoy their work. 
Sharbour
The skipper helped us back onto the rib and within minutes we were on our way to the next dive site, sharbour. We changed our tanks, had a cup of coffee and generally relaxed during the surface interval on the rib. The hour went by quite quickly and while we all kitted up Ross gave us a briefing on what we could expect to see. Once in the water Ross guided us over a plateau of soft coral that was heaving with marine life, again the depth was shallow around 18 metres.
I could barely make out the outline on one pinnacle because of the density of the fish. Lots of macro photography on every pinnacle Nudibranchs, Shrimps, Pipefish and crustaceans all ready and waiting to pose for the camera. We didn't need to move very far, in fact I would have been surprised if we had moved more than 30 metres the entire dive.
There wasn't any current and the visibility was brilliant, so I could take my time and chose my photos. Once we had done our safety stops and rejoined the rib it was a five minute ride back to Lahami for lunch.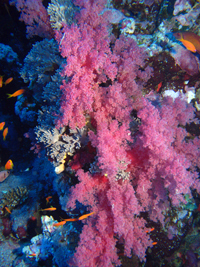 Torfa (meaning house reef)
I dived the house reef in the afternoon which I am told also makes for a good night dive. There have been sightings of Sea Horses in the sea grass (try saying that when you've had a drink), one of the other dive guides had used a cup to mark the area where he had seen them.
We found plenty of sea grass and Pipefish and we had fish swimming all around us but unfortunately none of the animals or crockery on our list. Our depth was no more than 7 metres so we could in theory stay down for a good couple of hours, however after an hour and a half we decided to end the dive. As we surfaced we found that we were just a short distance from our exit point. Although I didn't see what I hoped to see it was still an interesting dive.
"Abu Galawa Big"
The following day we left the dive centre as planned at 6.45am for the first of our dives of the day, "Abu Galawa Big". Abu Galawa which means (father of the pools)is a reef system  that is covered by colourful soft corals and the big is just a name that highlights the general size of the part of the reef we would be diving. However this particular site is more widely known for the wreck that has been here since the Second World War. Not much is known about this wreck except that it is a Chinese Tug boat that hit a shallow reef and why it was in the area is still very much a mystery.
The boat sank and as far as we know there was no loss of life, the bow rests against the reef at a depth of 5 metres and the stern in 15 metres and it is literally covered in soft corals. On the briefing you will be asked not to enter her and to stay at least a metre or two away from the wreck so as to preserve her for as long as possible. No boats are allowed to moor near the wreck or on this reef so when you surface you will be asked to swim a little way out so that the rib can pick you up.
Article Continues...
---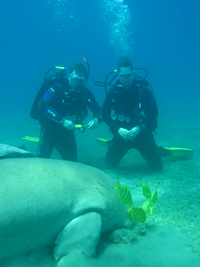 "living the Passion"
Now I could go on about every dive I made while I was there, each one being successively better than the last. But for me the most memorable experience of my entire diving career has to be snorkelling with wild Dolphins for the best part of two days. The Egyptians call the experience "living the Passion".
Literally hundreds of Dolphins swim all around you, above you , below you, between your legs and by the side of you, swimming within inches of your body, to watch them playing in their natural habitat and to hear them communicating is really something special, but please remember a strict no touch policy is in place here, just take photos because without the evidence no one will believe you. 
I have been asked not to mention the exact whereabouts of the site because the Egyptians and the tour operator are both conscious of conservation issues and although small groups of divers are welcome they would not want to stress the Dolphins with too many people visiting the site at any one time.
Liveaboard stay
To get to the site takes around 45 minutes by rib, so on the way you will stop and have a dive at a prearranged site. Then it's off to snorkel with these magical creatures for the rest of the day.
You will be asked to pack an overnight bag as you will be staying on a liveaboard that is permanently moored at the site. The boat is 30 metres long, has eight cabins and can sleep 16 people. Lunch and dinner are set meals and the food is excellent.
The following morning after breakfast will again be yours to snorkel with the Dolphins and then around 10.30 you will join a rib for the trip back to Lahami, on the way diving at another fantastic dive site.
The following day I travelled for two hours by mini bus north to Marsa Nakari. Again the diving was spectacular, we dived reefs such as Shaab Nakari and Habili Eldrey which have a mixture of soft and hard corals and a couple of over hangs that you can swim through.  Everything here is what you would expect from such untouched remote locations.
Wreck of the Abu Ghusun
My dive guide at Nakari was Mido the assistant manager and a shore dive that he thought we should visit was the wreck of the Abu Ghusun. To get to the site you have to travel by truck for about an hour, but I can tell you it is well worth the trip.
The wreck is thought to be between 40 – 50 years old and was carrying bags of poly ethylene balls to make plastic. When it was originally found the coastguard refused to let divers onto it because it still had all of its cargo. When it went to the seabed it did so in two pieces but time and tide have taken their toll and she now lies in three sections.
The stern is lying on its port side in 10 metres and the rest of the wreckage descends gently to a maximum depth of 20 metres. Most of the bags of ethylene have now burst and the contents can be found mixed with the sand on the beach. I did two dives on this wreck and still didn't see it all.
We followed the contour of the wreck for the first dive and then on the second dive we entered her  and followed some of the passages, we found the galley, the washrooms and the bridge.
Now don't worry if wrecks aren't your thing as the reef and the sea grass have a whole host of inhabitants just waiting for you to find them.I stayed at Nakari for another day and even got to name a dive site (how cool is that), So when you do decide to dive the south ask Mido to take you to Ashraf reef, it is one colourful dive site that has more than enough marine life to keep you entertained for a long time.
Marsa Shagra
For the last part of my journey I moved further north to Marsa Shagra the largest and most popular of the three eco - villages. Here I was able to dive sites such as the world famous Elphinstone reef which is just a ten minute rib ride away and with sharks such as Hammerheads and Oceanic white tips as regular visitors this is a must do dive. Marsa Abu Dabbab south is where you can find the Dugong  but you will more than likely come across giant Turtles and Guitar sharks.
At all three of the eco villages I found the guides and the staff relaxed, friendly and helpful. The food was excellent and there was lots of it. The accommodation was spacious and comfortable and the scenery both above and below the surface was just about the best I have ever seen. I spent my evenings relaxing in the Bedouin tents drinking coffee or in the desert enjoying a specially prepared meal.
There are hotels popping up everywhere along the coast of the Red Sea , opening their doors for the very first time to eager divers. However the owners of the eco – villages are doing their best to keep just a little bit of the Red sea authentic, unspoilt and somewhere where you can go to sample the real Egypt.
My trip was arranged by dive specialist tour operator Oonasdivers and you can contact them on 01323 648924 or via their website www.oonasdivers.com
All photos by Patrick Shier