An all season destination
It had been a great ski trip - the same eight of us for the past few years hit the slopes of Europe in the last week of February. It had been my turn to book the trip this season and I had decided that Zermatt was the perfect spot for this year's jaunt.
We are a mixed bunch of skiers - a couple of us are fairly advanced - or 'fearless' as I prefer to describe myself - some confident intermediates and two third timers. Most European ski resorts cater for a mixed level of ski group but we also like to party - a good après-ski scene is a must for us and Zermatt rocks. I'm also inclined to generalise and say that Austrian and Swiss ski resorts offer something more than the average French ski resort in the Alps - a sense of tradition, history and heritage. Range and extent of skiing aside, French skiing is usually accompanied by purpose-built concrete monstrosities, whereas old alpine hostelries and quaint cobbled streets are more the norm in Austria and Switzerland. Interestingly, my most memorable ski trips have usually been in Austria or Switzerland - coincidence perhaps.
So having established that Austria, Switzerland and Zermatt in particular, are all excellent places for a European ski holiday what are they like as summer destinations?
The Zubriggen hotel in Zermatt is tucked away at the quieter top end of town - a 10-minute leisurely walk to the centre and about two minutes walk from the nearest ski lift. It almost sits in the very shadow of the magnificent Matterhorn that majestically towers over this car-free alpine town.
I had never considered coming to the Alps in the summer but The Zubriggen sold the idea to me with its brochures equally full of both summer and winter activities and scenic pictures. Zermatt is as busy in the summer as the winter. Activities include paragliding, walking, skiing on the glacier and mountain biking - to name but a few. Being a fair-weather cyclist and ski-junkie I pondered the thought of coming back in the summer - perhaps for a long weekend as opposed to a week long holiday. Now that I have been there in the summer I am pleased that I did more than just ponder and wish I had stayed longer.
Continued...

---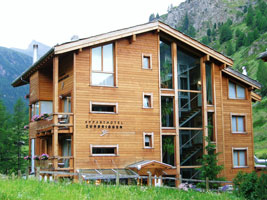 We booked a self-catered suite at The Zurbriggen - this Apparthotel has no restaurant but does serve breakfast every day delivered to your room - and it was everything and more than the brochure promised. The facilities - including a kitchen in each room/suite - and scenery from this small, family-owned boutique hotel are fantastic. It's not exactly cheap but the expense was well worth the luxury and the superb service. All the rooms are luxuriously finished, south facing and have uninterrupted views of the Matterhorn from private balconies and huge windows.
The train journey up from Geneva was what you would expect - on time, efficient and spotless. Tipped off that the scenery was incredible we travelled in daylight. The trip by car is good but, by train, it is better if slightly less convenient. It takes several hours with an intermediary change required but you will be fully entertained by the views and it is well worth it compared to the option of a direct coach from the airport.
If you enjoy clean fresh air, spectacular scenery, beautifully located alpine restaurants and the relaxing summer tinkle of cowbells then the Alps in the summer are the place for you. If sunbathing is your thing then you will enjoy high 20-degree temperatures while adrenaline junkies will marvel at the extent of activities. Skiing is just one of many - completely different to skiing in the winter and suffice to say, I will be back for more.
Trip Notes

Summer
• Train it up to Zermatt from Geneva in daylight.
• Paraglide for a bird's eye view of Zermatt - fantastic and exhilirating.
• Take the guided Gorner Gorge walk. Traverse glacial waters and witness the wonders of nature at work below your feet. Especially thrilling if/when the weather is bad.
• Skiing on the glacier - Europe's largest summer skiing area. Don't expect too much as the skiing is limited but it's great to ski in a T-shirt.
• Try horse/mule trekking - a great, off-the-beaten-track, way to see the spectacular Swiss countryside.
• Visit the highest sightseeing platform in Europe for great views of the Matterhorn.

• Glacier Palace - a free-to-enter collection of ice sculptures carved into caves 15 metres below the surface of the glacier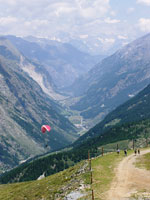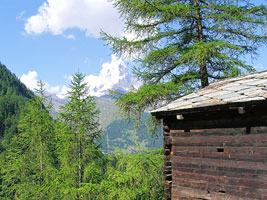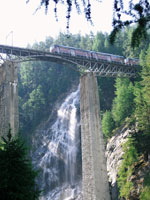 Continued...
---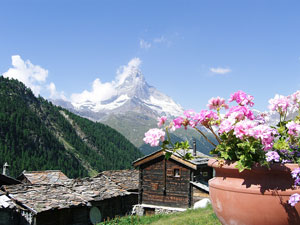 Trip Notes

Winter
• Great resort for groups of mixed ability although more seasoned skiers may find the lack of black runs limiting.
• Ski red11 on to red19 on a clear day - incredible run through amazing glacial landscape.
• Lunch at the Rifflealp hotel off red41/42 - excellent service, great food at reasonable prices - lots of outdoor heaters and blankets to keep you warm (no indoor seating).
• Party at Le Post - very popular and great atmosphere - several bars and clubs all in one location.
• Make red4 your last run of the day in to town. Stop at The Olympia for live music and a hot toddy on the sout-facing balcony. Another good spot to stop is the Hennu Stall on red50 - enjoy the house speciality of Caramel Vodka.
• Ski Matterhorn/Schwarzsee area on your first good-weather day. If the weather closes in it is most likely this area will be closed.
• Eat at Chez Vrony on blue6 - exceptional scenery, lots of outdoor decking and balconies that can be reserved. Every beam and rafter inside is littered with mountain memorabilia and pictures of famous patrons.
For more information see:
All words and photographs © Bruce Holdroyd

Bruce Holdroyd is a travel junkie constantly on the hunt for new places to either ski or scuba dive - wishes he could take his dog with him everywhere he goes. With over 19 years of experience in the airline industry, Bruce currently works at London Heathrow airport.