I knew this time in my life would come. All-thrills gravity riding has finally given way to the pursuit of proper fitness in the saddle. My usual routine of fitting in a few stolen hours of riding downhill laps or sessioning some jumps hasn't proved enough to keep my mind and body sufficiently exercised, and an itchy, I-wish-I-were-on-a-bike feeling has slowly grown into an irrepressible desire to do something I'd never before considered my thing: to pedal long, far, and in a straight-ish line, to take on a long-distance cycle trail in the name of fitness and pure escapism alike. 
It takes a long time for a plan to come to fruition, but finally, mid-2018, I find myself alongside Tom Pinches and photographer Andy Lloyd at the starting gate of our journey right across Slovenia.
Our 238-mile route along the new Trans Slovenia trail, part of the huge, ambitious and thousand mile-plus Trans Dinarica route, will take us through mountains, towns and forests, transporting us roughly from north to south but also, we hope, back in time to a simpler moment in all our lives.
We will be free for seven days, with no worries about deadlines, emails or money - just bikes, friends, and a spot of plain and honest suffering on our journey across the country. 
A visionary trail
Back in 2015 I met the incredibly up-beat Jan Klavora, who beamed with positivity as he told me of his plan to open up a mountain bike trail a thousand miles long and ranging from Slovenia to Serbia in Central Europe, passing through Croatia, Bosnia, Montenegro, Albania, Kosovo and Macedonia on its route south.
He wanted the Trans Dinarica, as it would come to be called, to be a long-distance ride designed to be attacked in week-long sections. I was captivated, and I kept in touch with Jan, getting updates from him as the first sections of his trail were finalised. I knew that Slovenia, the first section of the full trail to be planned and completed, had my name on it.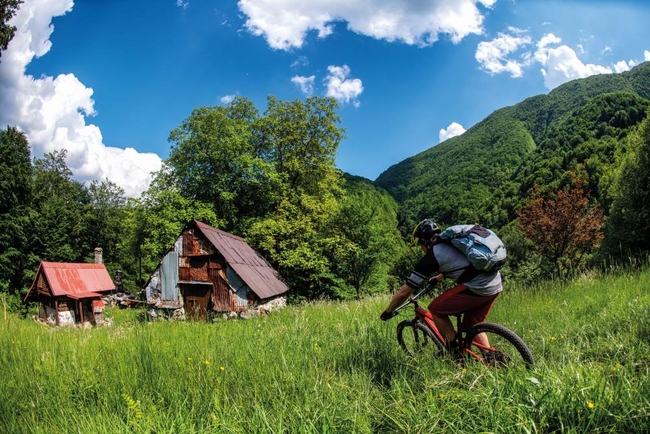 And by the start of our Trans Slovenia effort, Jan and his team had finished the planning of the Trans Dinarica and mapped routes through Slovenia, Croatia and Bosnia. We would tackle the first section over the course of one week before returning to ride Croatia and Bosnia in the future. 
The Trans Slovenia trail starts just north of the country, in Arnoldstein, Austria. From here it crosses immediately back into Slovenia before meandering south through the magnificent Soča valley. Next it scales great mountains in a south-westerly direction, briefly entering Italy on its way through Slovenia's vine-clad wine district. Finally it arrives at its southernmost point on the country's small but stunning stretch of coastline – our end point.
We have seven days set before us, with accommodation organised in hostels and B&Bs for each night. This may seem a mere jaunt compared to some heroic long-distance cycle voyages, but for us three weary souls sat in Arnoldstein, holding a map and waving goodbye to Jan, it seems daunting at best.
We needn't have feared. Or at least that's the false sense of security our first few days lead us into. From Arnoldstein we cross the border over to Kranjska Gora in Slovenia, then climb the arduous Vršič Pass and make our way into the Soča valley. This heavenly gorge has a shimmering turquoise river at its bottom and winds below the country's highest peaks. It's one of Europe's most beautiful places. 
We amble along for these first few days, confident in our progress as we make easy work of the early part of the Trans Slovenia. We dip our feet in the fresh waters of the Soča, learn of the valley's gruesome modern history – some half a million people died here on the Isonzo Front during WWI – and generally faff our way to the foot of the mountains. 
Grit your teeth
On day four, on departure from Kobarid, a town at the point where the narrow valley begins to open into the rest of Slovenia, we are jovial and off-guard. For three days we've been riding in relatively populated areas, bumping regularly into cheery hikers and taking exceedingly long lunches at sun-drenched food havens. But Jan's route had been easy to us on days one to three. Now he was about to put us through the grinder. 
The realisation of the challenge before us comes as we stand in awe of a lofty mountain quite noticeably in our way. The path glistens forebodingly, made up of slick, cobble-like stones coated in clay-like mud and near-impossible to get a grip on with our wheels.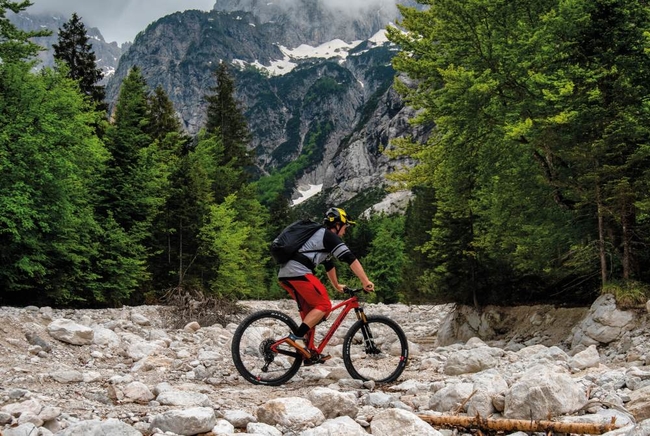 The climb, which continues without pause for nearly 1,000 metres, silences our usually-chatty trio – by its crest we've used up both our energy and most of our daylight reserves. 
We are faced with one way down: a dangerous descent into an unknown valley in the dark. Then we turn a corner and see the view. For me, the most exciting part of travelling in the mountains is the flip-flopping of emotions that can be triggered by a breath-taking vantage point. Here, an enormous natural amphitheatre opens out before us. Seemingly free-falling walls of rock funnel into a thousand-metre canyon. It's a staggering sight. 
All this magnificence has to be taken in in just a minute or two – that is all we can afford in our battle to get out of the gorge in daylight. We make it safely out of that exquisite mountain basin, finally arriving gratefully at our lodgings in the town of Tolmin somewhere around 10pm. 
On our fourth day we set off at a plod across a flat plain before entering into a mental hole of pure struggle as the gradient sharpens. Pushing hard, we climb on asphalt then mud, grinding at a slow-yet-steady rate until, sometime mid-afternoon, we find ourselves atop a peak, with staggering views all around. From our vantage point here on Matajur we peer back into the Soča valley and forward over the never-ending expanse of countryside into which we're about to descend. 
We have one foot in Slovenia, the other in Italy. Then we put feet to pedals and begin our descent of what will prove to be the trail of the trip.
Ride of a lifetime
From our start at over 1,600 metres to our finish at close to 0, the non-stop trail of Matajur winds from rough alpine landscapes to slope-hugging singletrack, snaking its way through endless woodland and throwing just about every gnarly and slippy technical challenge possible our way. From start to finish, Matajur's epic downhill has to be one of the best, yet least-known rides of my life.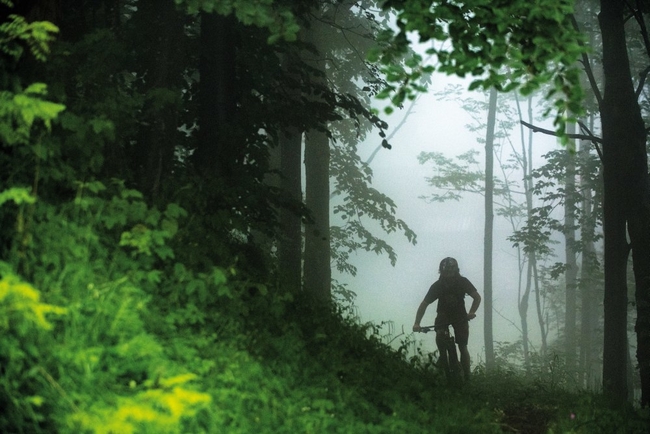 The ecstasy of our descent soon turns to mild panic as we realise that both our energy and daylight funds have once again been depleted. Thankfully we are now in Italy, and village streets lined with pizzerias are a sight for sore legs. We refuel, then began the long and steady final 25 miles of our 56-mile day. Re-entering Slovenia, we take a gravel road through its sublime wine-producing region, cutting through miles of vineyards towards our resting point, Šmartno's Hotel San Martin.
Two further 50-mile days take us through truly fabulous landscapes, from vines to valleys, forests to grasslands. We ride through the sumptuous rolling hills known as 'Slovenian Tuscany' and travel through the Vipava valley, an immense span of lush green vegetation and deceptively large mountains. Tiny villages with lavender-purple doors and window shutters suggest Provence, but never-ending fire roads through deep woodlands remind us we are in Slovenia, a land two-thirds covered in trees. 
By now a magical transformation has taken place and we take lengthy stints in the saddle in our stride – we've found our rhythm. Miles vanish as we progress rapidly south - ambling is replaced by head-down pedalling on the straights and by out-of-saddle hauling up the climbs. 
We even add miles to our journey, riding hand built, forest-hidden trails with local Andrej Remskar. He shows us the way through the woods above Trieste in Italy on a network of trails that deserve to be as famed as those of Italy's enduro trails at Finale Ligure.  
When we finally come to a stop at the end of our trail in the pretty coastal village of Piran, the flat calm sea and the orange setting sun are there to greet us. There's no doubt in anyone's mind that we'll be back for more. Seven arduously long but yet far too short-lived days of cycling in the wilds have calmed our souls.
Although we've never really been that far from people or buildings, it's funny how a journey through Slovenia's glorious, demanding but hugely rewarding landscape has created a much-needed distance from everyday happenings. The feeling of constant exercise day after day, lungs open, legs turning, muscles working… it's addictive. And we may have chipped off a mere fraction of the ambitious Trans Dinarica, but from here we can glimpse the start point of section two of the trail. Croatia is just a stone's throw away…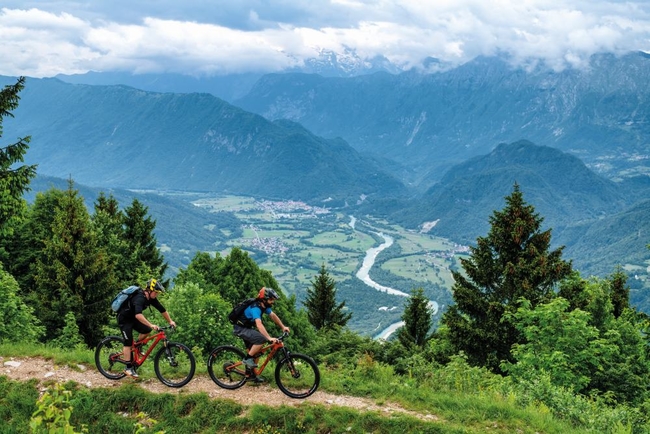 How to ride the Trans Slovenia trail and beyond
PICK YOUR ROUTE
The Trans Slovenia route has several versions. We rode Trans Slovenia 1, which is a section of the official Trans Dinarica route. 
TS1 involves long days in the saddle and a fair amount of asphalt and fire road grinding. Other versions of TS are tailored towards more singletrack time, so it's worth doing your homework to work out which version of the route (there are four available to book) might best suit you and your riding style. 
MAP IT OUT
Like many long-distance routes in Europe, all Trans Slovenia routes are GPS mapped and often self-guided, although fully guided trips are also available to book. 
Trans Slovenia organises your riding days into achievable chunks, with accommodation suggestions for each night, making it easy to map your route in advance. 
TAKE IT FURTHER
The Trans Dinarica, the full long-distance trail from Slovenia to Serbia, is an ongoing project. 
By 2019 more sections are expected to be complete and ready to ride, and you can now also ride across Croatia (224 miles) and Bosnia (238 miles), the latest country-crossing sections to be plotted. 
Travel info
Health & safety
Slovenia is generally safe and easy to travel around, and tap water is drinkable. 
Carry insect repellent and sun cream in summer. 
What to pack
Pack plenty of layers. 
You'll be most comfortable bringing your own bike for long distances – if you're renting a bike in Slovenia, consider bringing along a padded saddle. 
Our trip
James, Andy and Tom were hosted by Visit Good Place, a cycle and outdoor agency that organises bicycle tours in Central Europe including four incarnations of the Trans Slovenia trail. All Slovenia itineraries are fully customisable and start from £860 (self-guided) and £1,220 (guided) including accommodation, luggage transfers and meals. 
Getting there
Fly daily from major UK cities to Ljubljana with EasyJet from £42 return. 
Getting around
Besides cycling, it's easy to get around Slovenia by bus (ap-ljubljana.si). Train services run by Slovenian Railways travel out into the countryside from the capital, and some (marked with bicycle symbols) allow bikes. 
Food and drink
Try gibanica, a delicious layered cake filled with poppy seeds, walnuts and apples, and wash it down with home-made berry schnapps.
Where to stay 
Hotel San Martin, in the Slovenian village of Šmartno, is ecologically-minded, modern and comfortable. Doubles from £76 per night.