Meeting the locals
My first glimpse of Norway's western fjords is from the air, flying into Alesund above a pirate's treasure map of green islands and indigo ocean. On solid ground, the landscape is just as glorious. Our first stop on the way through mountain passes to the fjords is Herdal Farm. This remote meadow was once the summer pasture where local goat farmers brought their herds to graze - now you can hike to the farm's tiny summer cabins, clad in thick layers of moss, to meet the resident herd of goats and sample the cheese and surprisingly tasty goat milk milk sweets that are made here.
This is the last of the gentle weather we'll have this weekend – storm clouds are looming as we drive to UNESCO-listed Geirangerfjord, a huge body of water fed by cascading waterfalls tumbling down from the mountains rising steeply above it. The town of Geiranger sits perched on the water's edge.
Out on the water
The very best way to see the fjords up close is by kayak. We carry ours to the water's and paddle out onto the water - it's raining lightly, but no longer matters once we're well wrapped in waterproofs and busy gazing up at the astonishing cliff faces towering above our tiny kayak. The landscape here is on an epic scale - the fjord is 260 metres deep and the mountains tower 1,700 metres above its surface. We paddle our way to the rushing waterfalls known as the Seven Sisters, huge arcs of water rushing down to meet us. I spot small jellyfish undulating below the surface.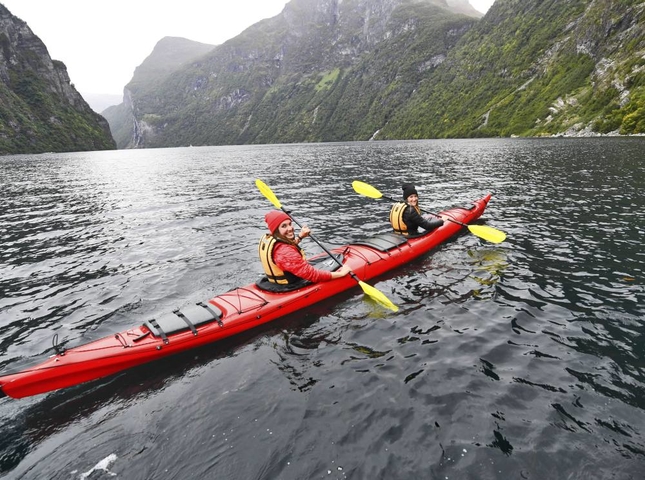 Out of the kayaks and onto bikes. We drive up high to the summit of Dalsnibba mountain, where the change in temperature is palpable - it's only early September but I can feel my damp jacket harden with frost.
The veritiginous view across the mountain tops and far down to Geirangerfjord is awe-inducing. We climb onto bikes, ready to take on the Nibbevegen road - known as Norway's most ambitious building project, it's so open to the elements that it's closed every winter. We fly back down to the valley, squeezing brakes desperately around hairpin bends.
Next we hop on the Loen Skylift, a shiny new cable car that whisks visitors up Hoven mountain. We share the journey with some adrenaline-buzzed base jumpers carrying their parachutes – they've just catapulted themselves off the mountain top, and are heading up for another go. When the angry clouds finally part at the top of Hoven, we see distant peaks wreathed in swirling mist. We lace up our hiking boots - from the summit a network of walking and trail running routes criss-cross through Jostedalsbreen National Park.
On our final day, there's time for a rainy hike to Briksdalen, a huge glacier that feeds a lake of duck-egg blue. Even in a storm, this is one of the most beautiful landscapes I've ever explored.
I'd come back to Norway's fjords in any weather.
Three must-dos in Geiranger, from cuddling goats to kayaking the iconic fjord
1. Eat at Brasserie Posten
The very best of hearty Scandinavian cuisine is served up at this modern but cosy bistro in what was once Geiranger's town post office. Fill up on smorgasbords of local cheeses and cured meats acommpanied by craft beers.
2. Visit Herdal Farm
If ever there was a fairytale version of Norway, it would look like this farm, where wooden cabins with moss-clad roofs hunker under the mountains. Meet the farm's herd of goats and try the tasty goat milk sweets (yes, really).
3. Kayak the Seven Sisters
You can't visit Geirangerfjord without itching to get out on the water. Geiranger Kayak offer guided or solo kayaking trips from £100 per day - the best is a paddle under the
iconic Seven Sisters waterfalls.
Travel tips
Getting there
Norwegian fly London to Alesund from £106 return.
Getting around
Rent a car in Alesund, or travel the fjords in style by hopping on a 7-day active fjords P&O cruise departing from Southampton from £799 pp.
Food and drink
Norway's freshly-caught seafood is a highlight.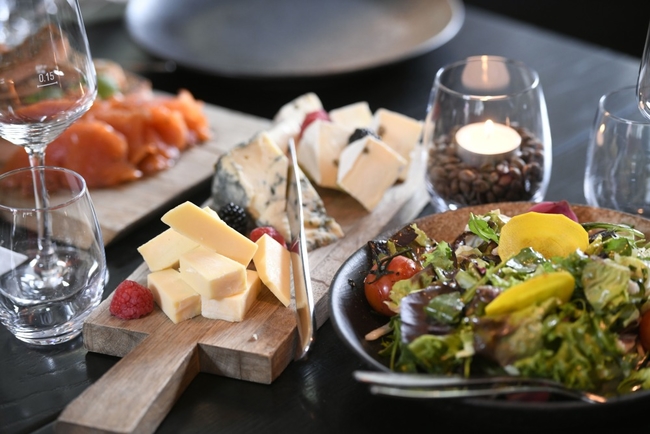 Where to stay
Hotel Alexandra in Loen is cheery, old fashioned and comfortable.
The Hotel Union in Geiranger is the perfect base for exploring the nearby fjord.