The adventure in question is off-roading and I was keen to try it, encouraged by romantic images of overlanding in far-flung exotic destinations.
Off-roading is, in some ways contradictory to stewardship of outdoor spaces. It's hard to leave no trace when you're barrelling through the landscape in a two-tonne truck with knobbly tyres. And while off-roaders proclaim their innocence and their right to access, and enjoy the countryside like any other, hardcore ramblers shake their fists at their smoke belching Tonka toys that tear up the tracks and rights of way.
This isn't a conflict exclusive to walkers and off-roaders though, believe it or not mountain bikers often get the shaky fist, and presumably horse riders have their own beefs, crikey, it's like the wild west out there.
From my own perspective (and not necessarily that of Active Traveller) the countryside is enriching and nourishing to the soul, so whatever your flavour of enjoyment you should go for it, minimising impact as much as possible along the way.
Controversy acknowledged and conveniently swept under the car mats, it was time to gather up mates, swap hiking shoes for driving shoes and head out to the unknown - a land of green lanes around the Elan Valley in mid Wales.
The Land Cruiser we're borrowing is a hulking beast of a vehicle, it's agricultural but with a touch of luxury from the heated steering wheel, sat nav, and leather seats. It ambles down the M4 perfectly well, but I instinctively feel this isn't its natural home. It's itching to get off piste and clamber up the Welsh hills.
Apart from a brief go in a friends 4x4 this is my first experience of off-roading, and somewhat worryingly I'm responsible for bringing people and truck back in one piece.
We've got plenty of kit stashed in the back, our roughly hewn plan is to hit some green lanes and then find a wild place to pitch a tent for the night, cook up a nice meal and enjoy a few beers. Aware that incognito wild camping is all but impossible with a 2m high truck we're not sure we can pull that part off, but adventure is always best served with a sprinkling of uncertainty and peril.
As we approach the Elan Valley, I wonder why I haven't been before. It's an area of picture-perfect hills and valleys, scarred by millennia of glacial action and punctuated by six unusually architectural dams along the Claerwen and Elan Rivers. Red Kites glide across the sky majestically and there's barely anyone around, like many parts of Wales this feels more remote and raw than the densely populated South of England.
We soon spot our entry into a green lane, our ability to navigate this vehicle up it a complete unknown. We pass through a farmer's yard and then all of a sudden, we're driving a car along a Welsh hillside.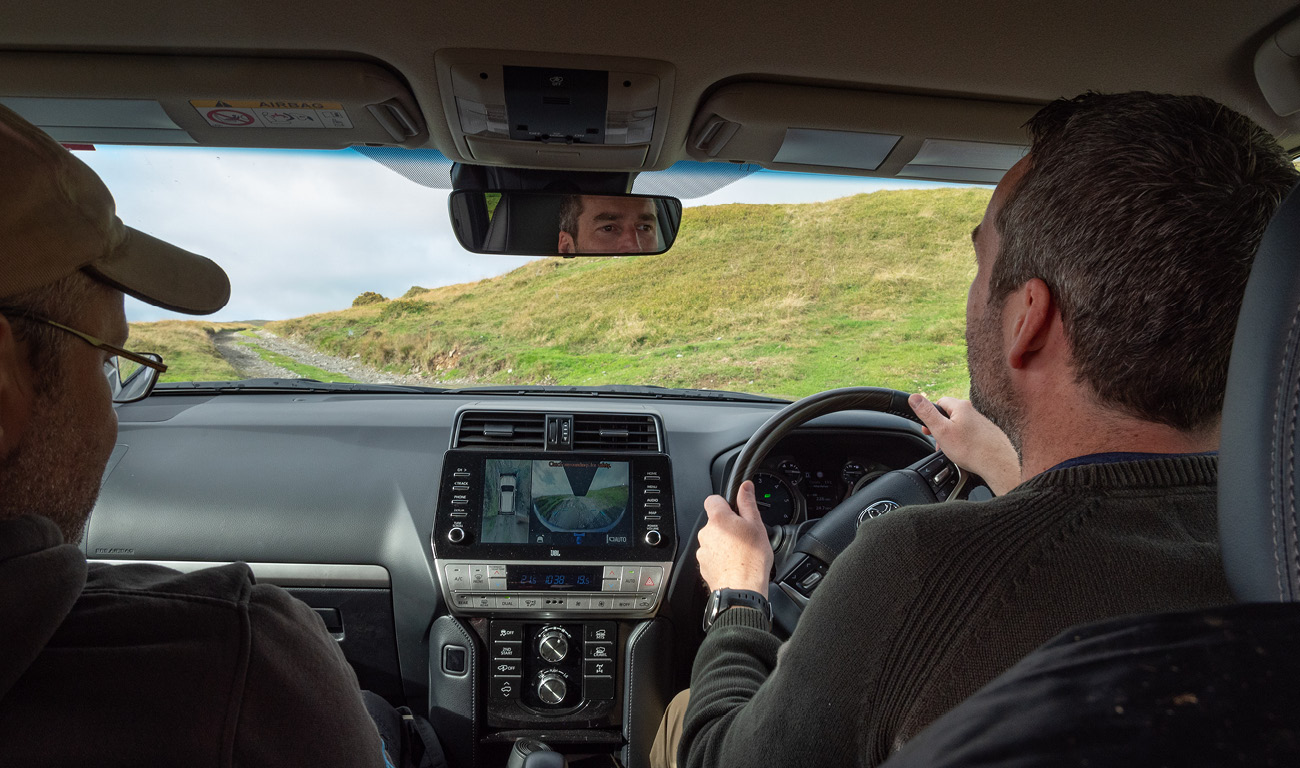 Having not read the handbook, the important looking buttons on the centre console mean nothing to me. It is apparent from the pictures accompanying them that they might be vital for driving up hills, only time will tell.
We follow the track as it winds up and over steep rocky outcrops and through rivers that come over the bonnet. We randomly punch at the buttons on the dash, worried that the car might fall off the hill at any moment, but it barely bats an eyelid. To a seasoned off-roader this is probably the equivalent of a nursery slope, but we feel like we're in the Paris Dakar rally with Bear Grylls in the passenger seat and a crocodile in the boot.
It's a whole bunch of fun. We're taking turns driving the hulking beast down tracks, over obstacles and through rivers and despite being a very sensible 41-year-old man a spark of inner child is ignited inside me. It turns out off roading has a lot of elements of the type of outdoor adventure I enjoy, clean air (yeah, I know), remote hills and friends. Being hikers, we can't help walking alongside the truck, soaking in the beauty of the landscape. The Land Cruiser doesn't disturb us, it's going so slow that the engine is barely audible, and we don't feel that it negatively detracts from the experience of being out in the hills.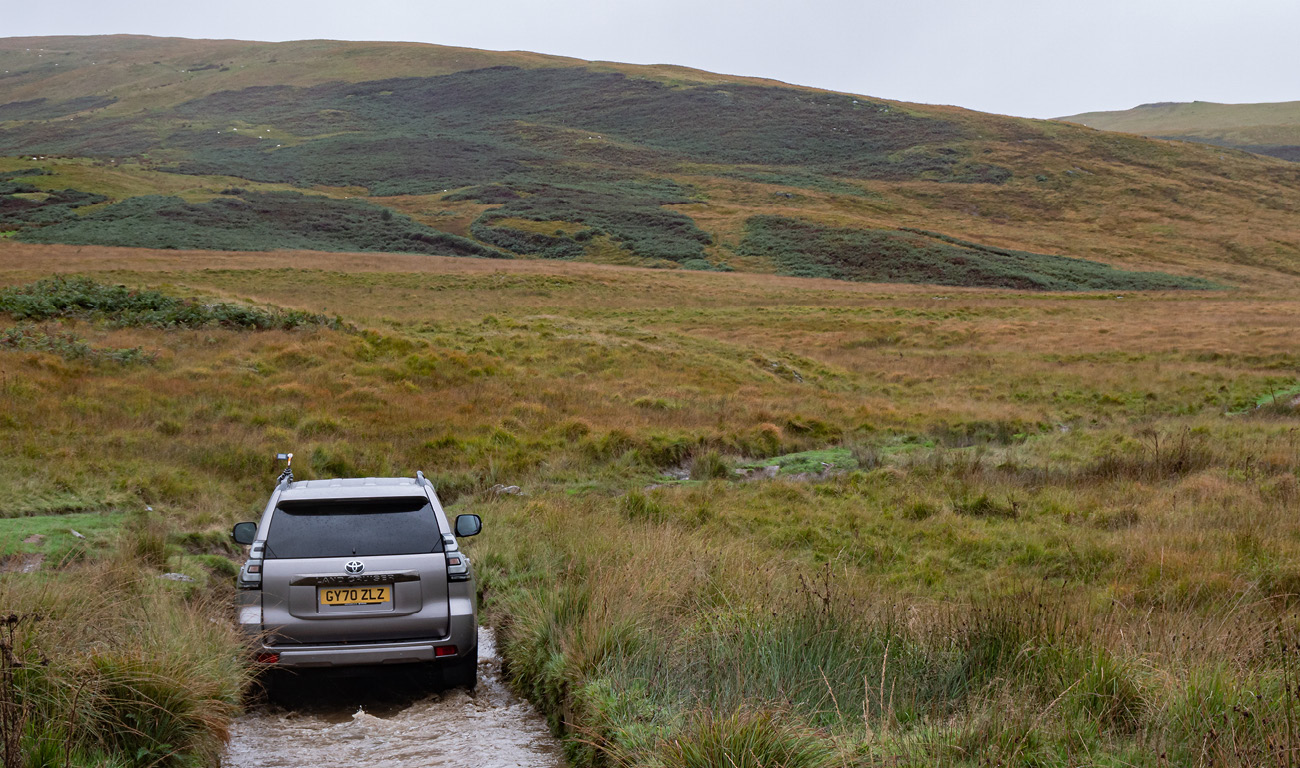 We make it to the end of our first green lane in one piece, feeling relieved and elated. We've immersed ourselves in the countryside as we would on any human powered adventure, and, crucially for any memorable trip, we've laughed a lot. We stop for a brew and a group of seasoned off-roaders pull up beside us. They're sociable and are clearly intrigued as to why our truck is so new and theirs are so old. Their convoy has eight trucks in total with a mix of occupants, from single blokes to entire families along for the ride. It strikes me that this is quite a wholesome, inclusive activity, despite what other countryside users might instinctively think.
As we pull away from our pit stop, we decide that the idea of truck camping isn't a goer and check in to a campsite just outside Rhayader. It's wild and empty but has the obvious benefit of toilets and a shower. As the sky darkens that evening, we're treated to a spectacular show of stars speckled across every inch of the night sky right down to the horizon. Covid has happened and it has been a long time since I've seen a sky like this, it feels cleansing. I glance over at the tent gently chuffing smoke from the wood burner with the truck parked next to it and decide that this off-roading thing is alright.