'Killarney Mountain Lodge' reads the road sign. "Turn left and go 43 miles."
"Prepare yourselves," chuckles Rod Rayburn, who has taken the responsibility of driving photographer Dan and me from the local airport in Sudbury to our base camp for the next week.
We've flown into Toronto and switched to a much smaller, 56 person-capacity prop plane for the second leg of our journey. Rod holds a steady track on a quiet, undulating two-way country road split by a thick dotted yellow line, and I notice that autumn is coming - the first blushes of Canadian fall add reddish hues to the border of this woodland avenue, and it feels like we're doing this pretty highway an injustice by driving rather than cycling along it.
So far, everything in Ontario feels like a journey: the local fauna have their own bridge to cross the highway, we're on a road-trippin' airport commute and if what I've been told is correct, a feast of glorious paddling down the river awaits.
Into the wild
Before we make it to any kind of civilisation, Rod cuts a right and bounces along a track. Directly ahead is an adventurer's dream: a wood-clad cabin-turned-outdoors store, something right out of the wild west.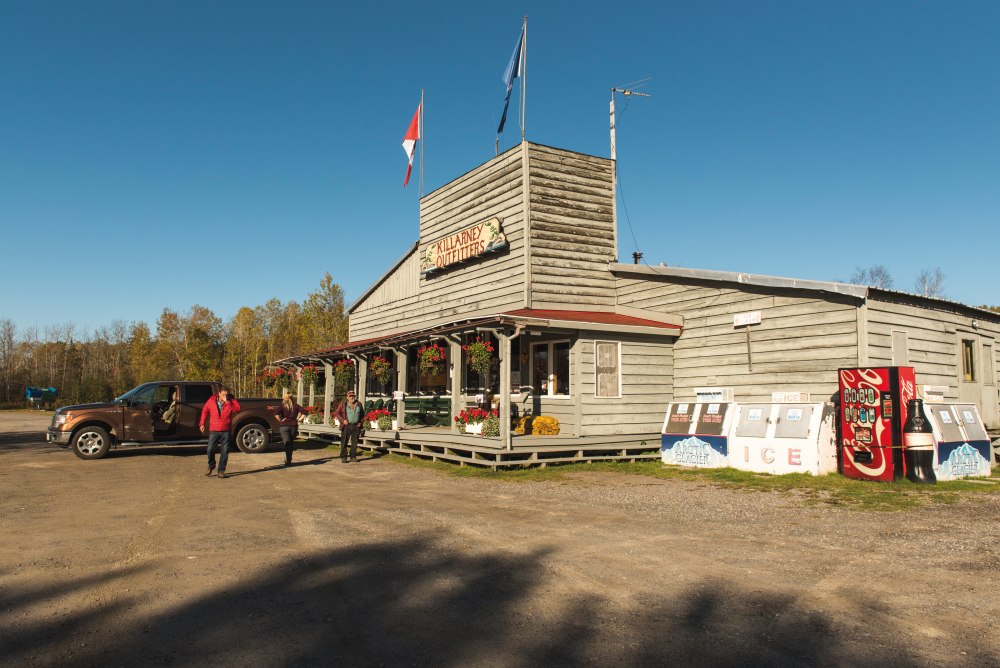 Canoes are stacked up to the front and out the back, a tattered Canadian flag flaps in the gentle evening breeze and a wide patio bordered with flowers wraps around the front of the homestead. This is Killarney Outfitters, and the owner, Ted East, is chatting to a pair of content customers as we pull in.
"You can camp round the back for free, if you like?" he offers, returned by two grateful smiles.We step down from the oversized truck and stretch our legs. Ted looks at Dan,
"So you're the shutterbug," then at me, "and you're the adrenaline junkie."
"I don't know how much adrenaline you get paddling at four mph," I reply with a grin. Ted raises his right hand and the drink clutched within it.
"Shall I get you boys a cold drink?" he asks, disappearing at the speed of light. It was a rhetorical question and the answer keeps us busy for the next hour as Ted, who perfectly represents what in this part of the world they call 'the colourful 5%' who live a wilder life, lays out a rough itinerary for the next few days in Killarney Provincial Park. Little do I know that this perfect pocket of Ontario is about to become one of my favourite places on the planet.
We'll be back to the Outfitters in the morning to kit up, but it's been a long day of travelling. Time for a rest. Rod drives us the remaining mile to the Killarney Mountain Lodge, one of only two hotels in a region where there is barely a hill to mention.
We appreciate the cavernous lounge, where an enormous moose head holds court over a roaring fire. Walls are lined with paintings from local artists influenced by the famed Canadian landscape painters known as the Group of Seven. But best of all is the expansive, sink-and-be-free king-sized bed that single-handedly cures my jet lag.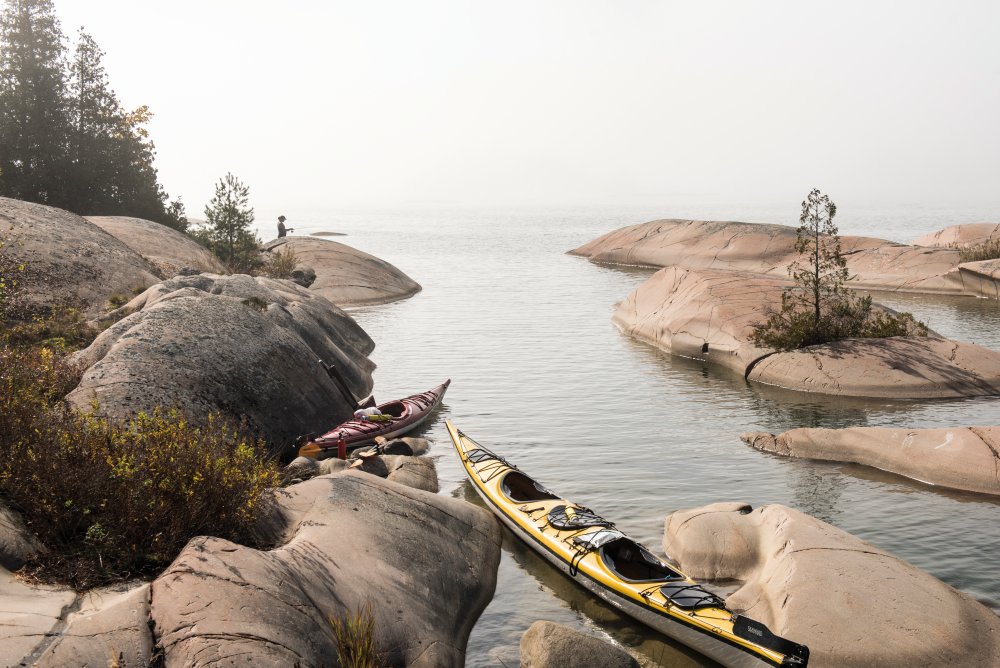 At breakfast the next morning the Lodge Manager introduces himself as Kelly. "I drove in from Sudbury this morning, saw a bear" he tells us.
"You saw a bear?"
"Oh, it was bear-ly there." Kelly smiles, his quipping work for today complete.
The staff table at the Outfitters is covered in supplies - tents, mats and meals for the next two days. Kearie, our guide for this section of the adventure, smiles excitedly.
"I usually have to mind the store, so it's great to head for the lakes. What a job!"
Pret-a-portage
Our journey starts back in Killarney, where the Outfitter's boat, Cyclops, waits patiently with our three-man canoe already strapped to the roof. Tom, our pilot, negotiates his way out of the small marina and into the channel, which just happens to double up as a runway for visiting seaplanes.
"I came here twelve years ago for a week-long job. I'm still here!" Tom chuckles, his thick white beard dancing in the wind.
We glide past low-lying granite islands, around wooded headlands and alongside craggy cliffs, soaking up the autumn sun and admiring the rainbows cast by the churn of our engines. When the lake system becomes a cul-de-sac Tom manoeuvres alongside a short wooden jetty and we unload, ready to portage (the term for carrying your vessel over land to get to water).
"First portage is seven hundred metres long," says Kearie, checking her map.
"I'll help out with this one," says Tom, effortlessly hauling our 17ft canoe onto his wide shoulders and stomping into the forest without another word. We stop for lunch by an emerald blue lake, clear as a bath, and scoff sandwiches on rocky seats as sea eagles circle overhead.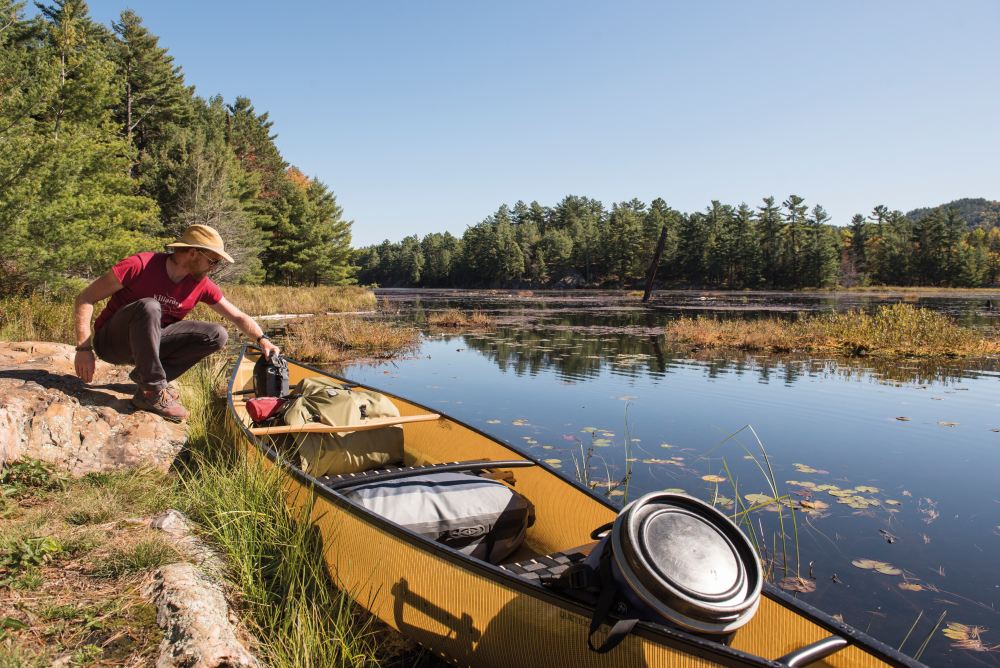 The next two days become a simple, slow voyage into peace. We make the canoe our home and pick up the pace with each portage. At the end of each lake a short hike is required to take us to the next body of water.
One person takes the canoe - lifting it above our heads becomes an art form - and the other two load up with bags. The early hauls are softened by the knowledge that much of our cargo will disappear into our bellies during the coming mealtimes, and the balance of paddling versus portaging evens out the demand on our muscles.
Campsites in Killarney Provincial Park are defined locations and need to be booked up to five months in advance. This keeps the park quiet and ensures everyone paddling knows they have a place to stay each night. Our island camp is atop a raised cliff with clear, flat tent spots carpeted with pine needles. A fire pit waits for a flame and 100 metres away is the Thunder Box, a simple wooden box with a spring-loaded toilet seat carved into it.
"The Thunder Box was more than I expected," I grin at Kearie and Dan after my first walk into the woods.
"This is Canada, expect more," said Kearie, delivering a slogan that seems to sum up the trip.
"I love getting creative with back country meals," Kearie tells us as she cooks up a feast on the campfire. Steak and potatoes, spaghetti and meatballs, eggs for breakfast - the banquets keep coming. There's nothing like a good meal after a few hours of paddling, but we have to be mindful that we aren't the only ones who might appreciate the food.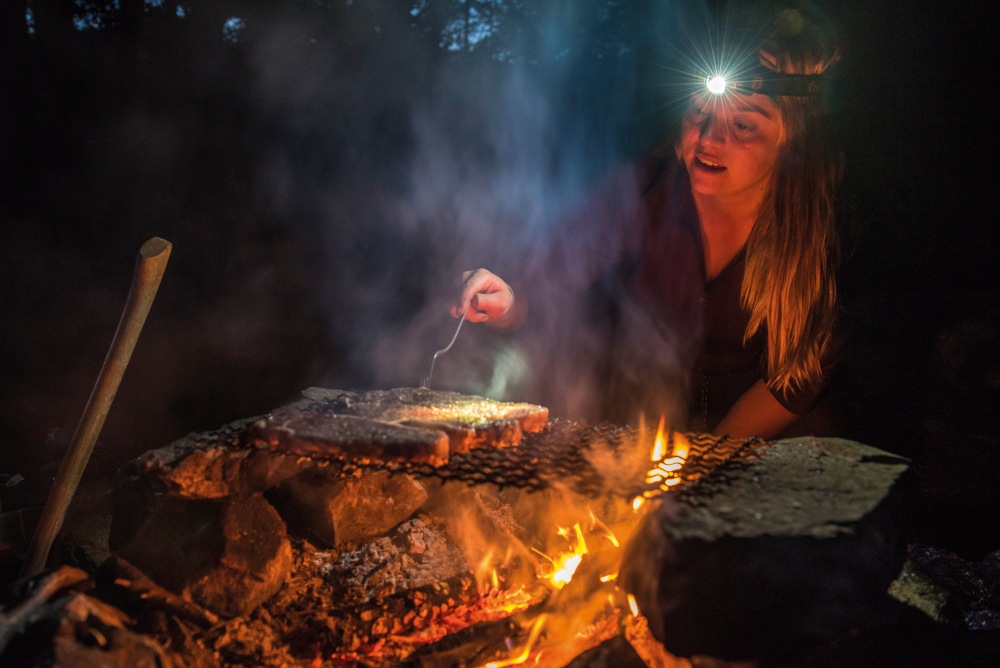 Each night we haul a sealed food sack high out of reach of local bears, and ensure there are no snacks or toiletries left in our tents to tempt a furry visitor. And no, we don't see any bears – our knowledgeable guides and our evasive actions obviously do their job.
We keep the same camp for two nights in a row, sheltering from a storm the first morning and enjoying the following calm with a gentle paddle around the lake. We wave to two passing canoes who are in search of their campsite but otherwise share the scene with six eagles and a few jumping fish.
We paddle home on day three, crossing lakes with names like Little Sheguiandah, Whiskey Jack, Kakakise, Shingwalk, Nellie, Chikanishing, and OSA (Ontario Society of Artists). Maps are available for all visiting paddlers to negotiate the lakes, and the catcher's mitt of each body of water makes navigation easy.
Later that afternoon, after a lunch, coffee and a gear switch around at Killarney Outfitters, we're back on board Cyclops, but this time we're motoring east with Ted himself at the helm. Soon at Georgian Bay, we carve at incredible angles between the thousands of small islands and granite rocks that dot the waters on the bay's north coast.
Ted is in his element, urging us to take a drink from the cooler and sit back on his own personal rollercoaster as he tells us stories about his crew, who he fondly refers to as "my kids". We slide alongside a terrace of smooth rock, throw our gear ashore and unload a pair of gorgeous sea kayaks.
I've been fortunate enough to lay my head in some of our planet's most scenic spots, camping over 100 nights a year for the last decade, but I can honestly say this is right up there as one of the best campsites I've ever stayed at. There's nobody else around - we don't see another human for the two days we're here. Each rock flattens out to offer a unique tenting spot. And the higher we climb up our small hill, the better the views become.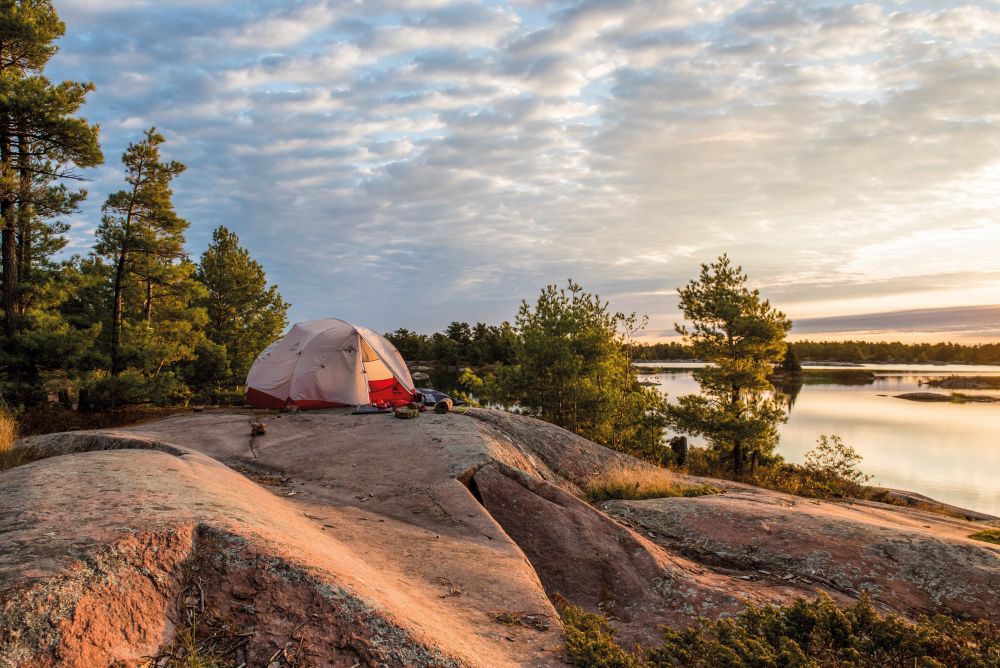 Georgian Bay is gorgeous, island after island glinting pink in the late afternoon night. There's a slight roar on the air from the breakers far beyond, where waves crash in on the shores of the outer islands. This will be our base for the next two nights – from here we will fish, paddle and explore.
One-pot wonders
Our guide for this section is Rachel, who like Kearie and the rest of the 'kids', found her way to the Outfitters one summer and never left. She teaches Dan and me how to fix up and cast a fishing rod and all about the different types of lure to use when targeting local species.
We sit for hours on our granite ledge, chatting and battling a local pike that claims four hooks in our unsuccessful attempts to reel him in. Then we take to the water and kayak for miles along the coastline, occasionally jumping out and fishing for our supper from a new rock.
The days we spend on the shores of Georgian Bay are nothing short of heaven, from otters swimming along the coast each morning to pitch black night skies full of stars, not to mention the seemingly infinite routes to explore by kayak during the day. I feel sorry to leave when Tom turns up in Cyclops, ready to take us back to reality. He ties up the boat and marches up the hill on the hunt for cranberries. When he discovers his jewel-red quarry he grins with great satisfaction.
"This bush is loaded. I'm gonna pick me a whole sack."
Later, before we settle into a final night in Killarney Mountain Lodge, Dan, Rachel and I swap paddles for our hiking boots and spend the afternoon trekking up to the Crack, the most famous section of the La Cloche walking trail, a 48 mile-long loop through the provincial park.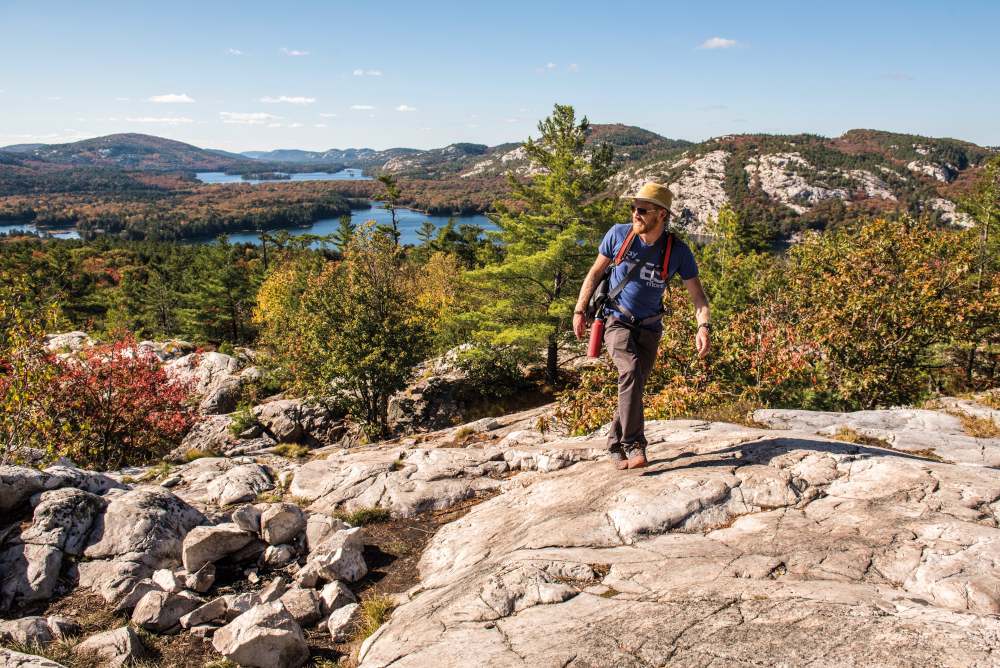 Up this high there are sublime views over Killarney. The panorama north unveils the lake system we've crossed in canoes, and off to the south is Georgian Bay and the archipelago we paddled through by sea kayak. Looking down on the wild landscape we explored is the perfect way to end our Canadian paddling adventure.
Travel info:
Health & safety
Kayaking and canoeing in new territory is best attempted with a knowledgeable local guide. Always wear life jackets when on the water.
What to pack
Hiking boots, quick-drying layers, sunscreen and hat. Killarney Outfitters can kit you up with all the extras you need for kayaking, canoeing and camping.
Our trip
Dave was a guest of the Ontario Tourist board.
Their website offers tons of information to help you plan an active adventure in the province and in Killarney Provincial Park.
Getting there
Fly British Airways from London Heathrow to Toronto from £402 return. Air Canada fly Toronto to Sudbury from £90 return.
Getting around
Car hire is the easiest way to get around Ontario's wilder corners.
Food and drink
Ontario's famed sweet treats include locally-tapped maple syrup and beaver tails, tasty pastries coated in butter and cinnamon.
Where to stay
Killarney Mountain Lodge is a beautiful base from which to explore the provincial park. Doubles from £72 per night.