Sponsored content
Despite its size, Malta and its neighbours Gozo and Comino are Mediterranean islands brimming with natural beauty, a year-round welcoming climate, fascinating culture and a remarkable history stretching back 7,000 years. With landscapes from dramatic coastal cliffs plunging into waves, to the rocky scrubland of the garrigue and hidden, lush valleys, the Maltese islands are an ideal holiday destination, with highlights including the Blue Grotto, Dingli Cliffs and prehistoric UNESCO World Heritage sites.
Moreover, the compact nature of the Maltese archipelago makes it easy to explore and to switch from one activity to another; you can go for an early morning hike or bike ride, visit an historic site in the afternoon and enjoy a cooling dip in the evening.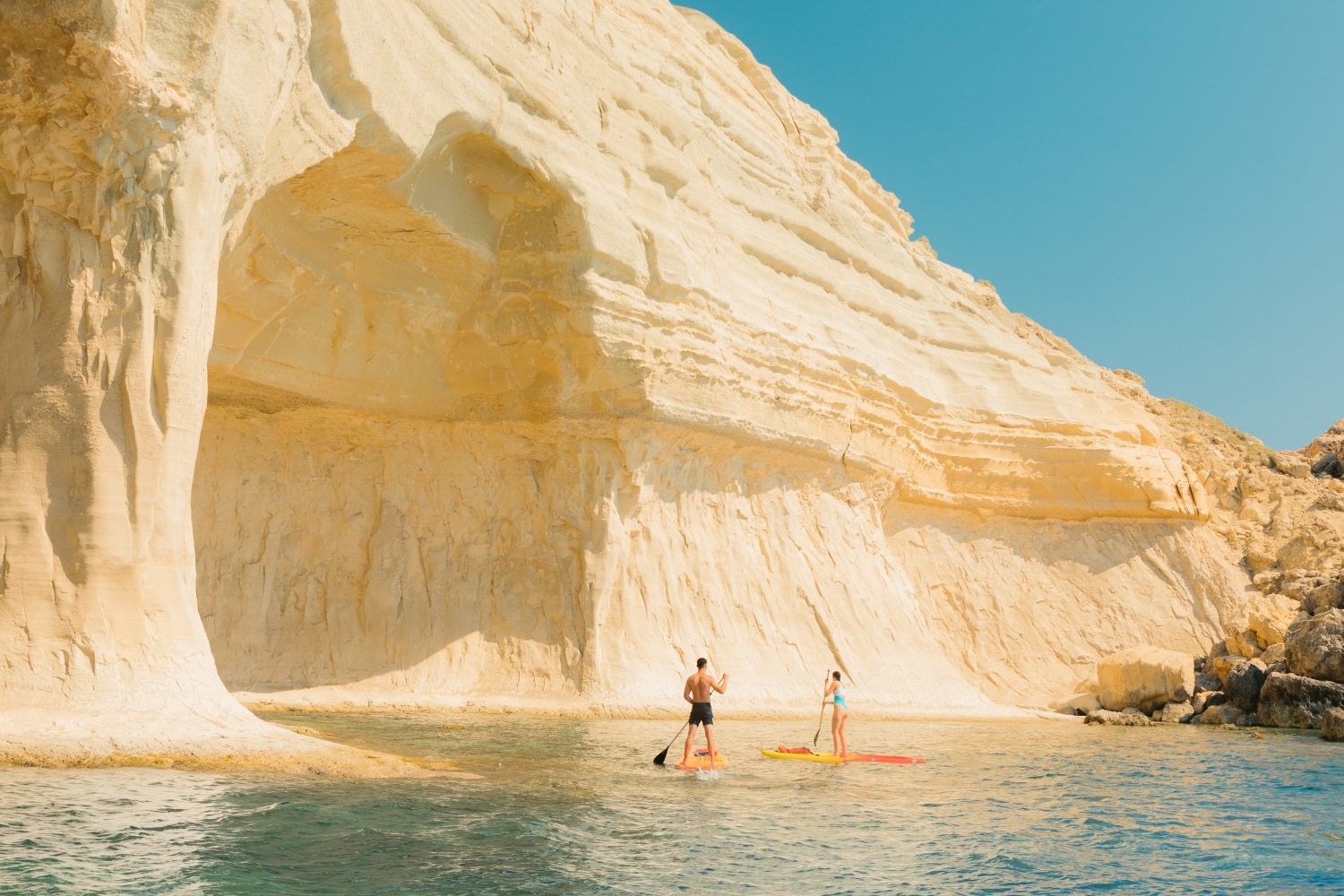 Where is Malta and how to get there
Malta - and the smaller islands of Gozo and Comino - are located in the central Mediterranean Sea, some 80km due south of the Italian island of Sicily. Although it only has a single airport - Malta International airport - there are regular flights to Malta from the UK with several different UK carriers. Flight time from London is about 3hrs 15mins.
Several ferry services run regularly between Malta, Gozo and to Comino, making it easy to get around and see as much of Malta as possible.
Diving and water sports in Malta
Both above and below the water, Malta is exceptional. With a wonderful climate and more than 120 underwater sites, from geological wonders to ancient shipwrecks, the Maltese islands are consistently voted one of the world's best diving destinations, with the diving season running from March to November.
Malta's seabed is studded with wrecks of boats, planes, and statues such as the awesome HMS Maori or the 10,000 tonnes Um El Faroud, and a World War Two Blenheim bomber. With so many awesome boat and shore dives available, and with wrecks at all depths, Malta's magnificent seabed has something for every type of diver.
The abundance of shore dives, to depths of between 5 and 60 metres, means you don't even have to venture far from shore to explore the crystal clear waters.
And when it comes to boat dives, the range of options is astonishing. Whether it's exploring underwater caves brimming with sea life, or investigating wrecks, and no matter your preferred depth, the choice of amazing dives is truly astounding. As well as ships and planes there's even a 13-tonne statue of Christ, which was relocated to Qawra Point in May 2000. It was originally sunk near St. Paul's Islands and blessed by Pope John Paul in 1990, to protect the fishermen of Malta.
Another must-see is the Crystal lagoon on Comino. After a 5-metre descent, divers enter a 30-metre tunnel illuminated by the brilliant light of the lagoon, making it ideal for underwater photography. Known in particular for the vast array of bream found in its waters, visitors can expect to be dazzled by stingrays, eels and octopuses too.
If you prefer to keep your head above the water, Malta's beautiful coastline is a delight for kayaking and SUP, with the waters around three glorious islands to explore. There are many nooks, inlets and sea caves to investigate - one highlight is the Coral Lagoon, a collapsed cave at the north western tip of the main island, accessed through a narrow slit in the cliff face. The entire tiny island of Comino is a protected nature reserve and you can paddle round it in a couple of hours.
There are ample opportunities to try multiple water sports in Malta, such as sailing, surfing, paragliding, and even the newest water sport of flyboarding in which you fly over the water on a hydroflight device that uses the pressure of water to propel and keep you in the air! And with such beautiful crystal-clear water, even a refreshing swim or snorkel is a memorable experience on Malta.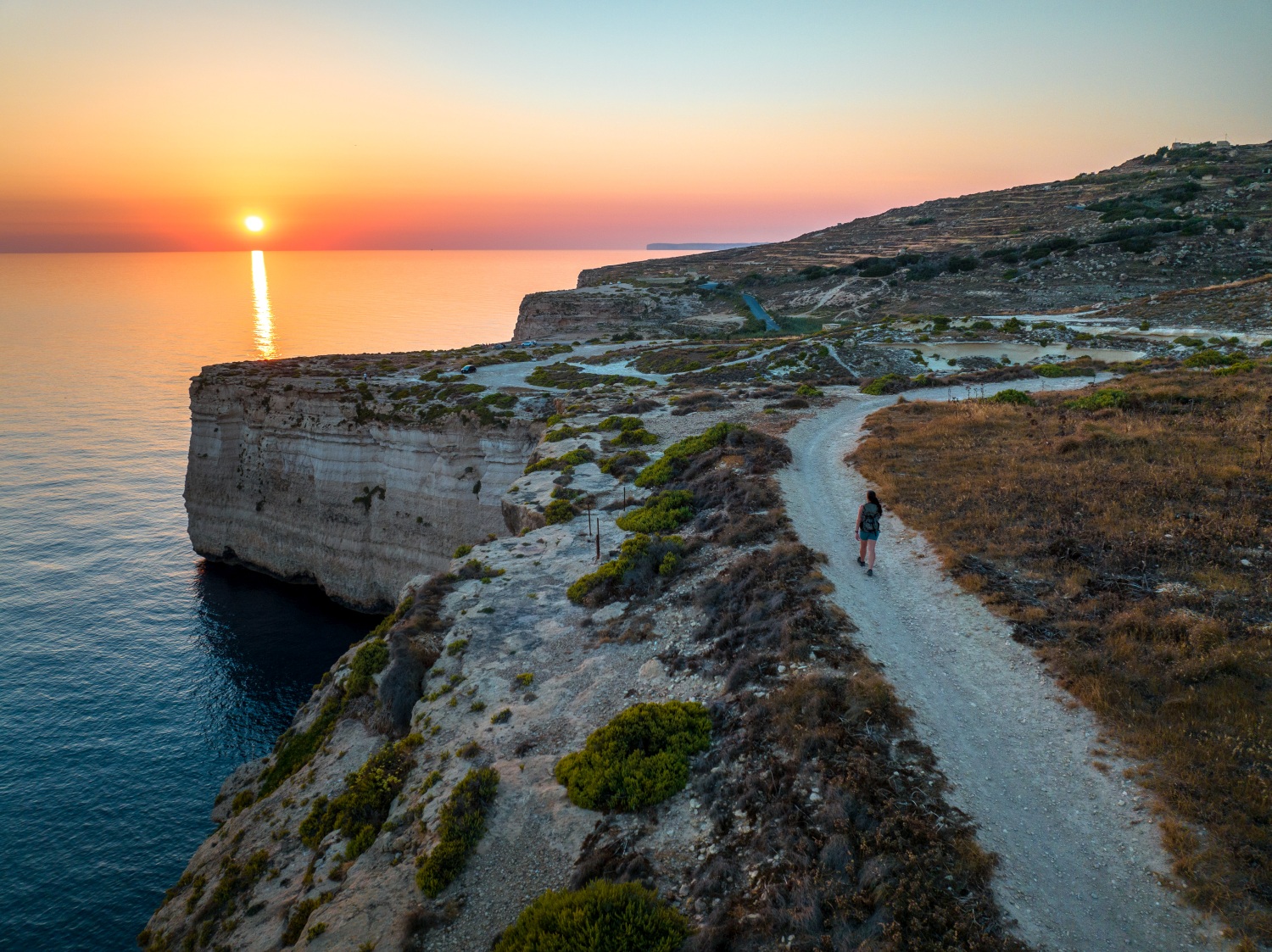 The best walking and hiking trails in Malta
Whether you prefer a short hike or a longer meander, want to tread a rocky path and get off the beaten track, or take in popular tourist sites, hug the spectacular coastline of this island nation and enjoy beautiful sea views, marvel at geological sites, or get up close to the varied botanical life, there are hikes in Malta to suit every taste, and it's just one of many activities that can be enjoyed during the cooler months.
While many are drawn to Malta by its stunning wildflowers, there are also wonderful coastal walks, caves, cliffs, ruins, and other delights to enjoy, with areas such as the Il Majjistral Nature and History Park being ideal for a day trip. Areas where you'll find some of the best walks in Malta include Mellieħa, Dingli, Għar Lapsi, Fawwara, Wardija in the North, and the southern coast with its fishing villages and Delimara Point. Equally good for hiking adventures are the small island of Gozo and the even smaller Comino, which offer their own splendid views and countryside.
The best hikes in Malta include:
The Watch Towers Walk
This Malta walk starts and ends at Ghadira Bay. Setting off from close to the Għadira Nature Reserve, the trail reaches the top of Marfa Ridge just beneath the hugely imposing Red Tower - a Malta photo must! 
Offering stunning views to the sea on either side, the walk takes you through dry-farmed land, wooded areas and amazing cliffs. Before arriving at the White Tower, a short detour reveals a spectacular geological formation.
The Windmills Walk
This walk starts and ends at Żurrieq's village square, passing through the small village of Safi and the surrounding countryside.
Highlights include important sites, such as the Ta' Marmara, Tas-Salib and Ta' Qaret Windmills, Ġibjun Gardens, the Wardija Watchtower, the Hamlet of Bubaqra, the Tal-Bakkari remains, Hlantun, Safi Parish Church and the Xarolla Windmill. You can also admire ancient Roman tombs which are thought to date as far back as 700 BC.
Salt Pans Walk
A highlight of Gozo, this circular walk starts and ends in Victoria, the main town of Gozo, and takes in the breathtaking 'Sara valley'. After visiting Gozo's oldest basilica, the walk continues to 'Wied il-Għasri', a valley flanked by high cliffs, and then to the sea.
Near here is 'Reqqa point', with its traditional salt pans - a remarkable landscape feature where salt is produced by evaporation of sea water.
Xlendi Walk
Running from the southeast to the southwest of Gozo, this route takes you from L-Imġarr Harbour to Ix-Xlendi Bay, taking in the lower-lying coast at Xatt l-Aħmar to the fjord-like Bay of Mġarr ix-Xini, past Xlendi Tower which has stood guard since the time of the Knights of St. John.
A slower pace and family activities in Malta
Malta's plethora of prehistoric ruins, archaeological sites, mysterious caves, beautiful bays and network of country lanes can also be easily explored by bike, while options from a short walk to horse riding and Segway tours are also popular ways to get round.
Cycling
Whatever type of cyclist you are, the relatively small size of Malta and Gozo and delightfully smooth roads, make both islands ideal for cycling. With rental facilities galore and specialised bike hotels too, this is a great place to hit the saddle and give cycling in Malta a go.
Horse riding
With many certified riding stables throughout the islands, catering to all ages, families especially will enjoy a variety of scenic rides, both beachside and along country trails, as well as sunset rides over the dramatic cliffs - all truly memorable experiences.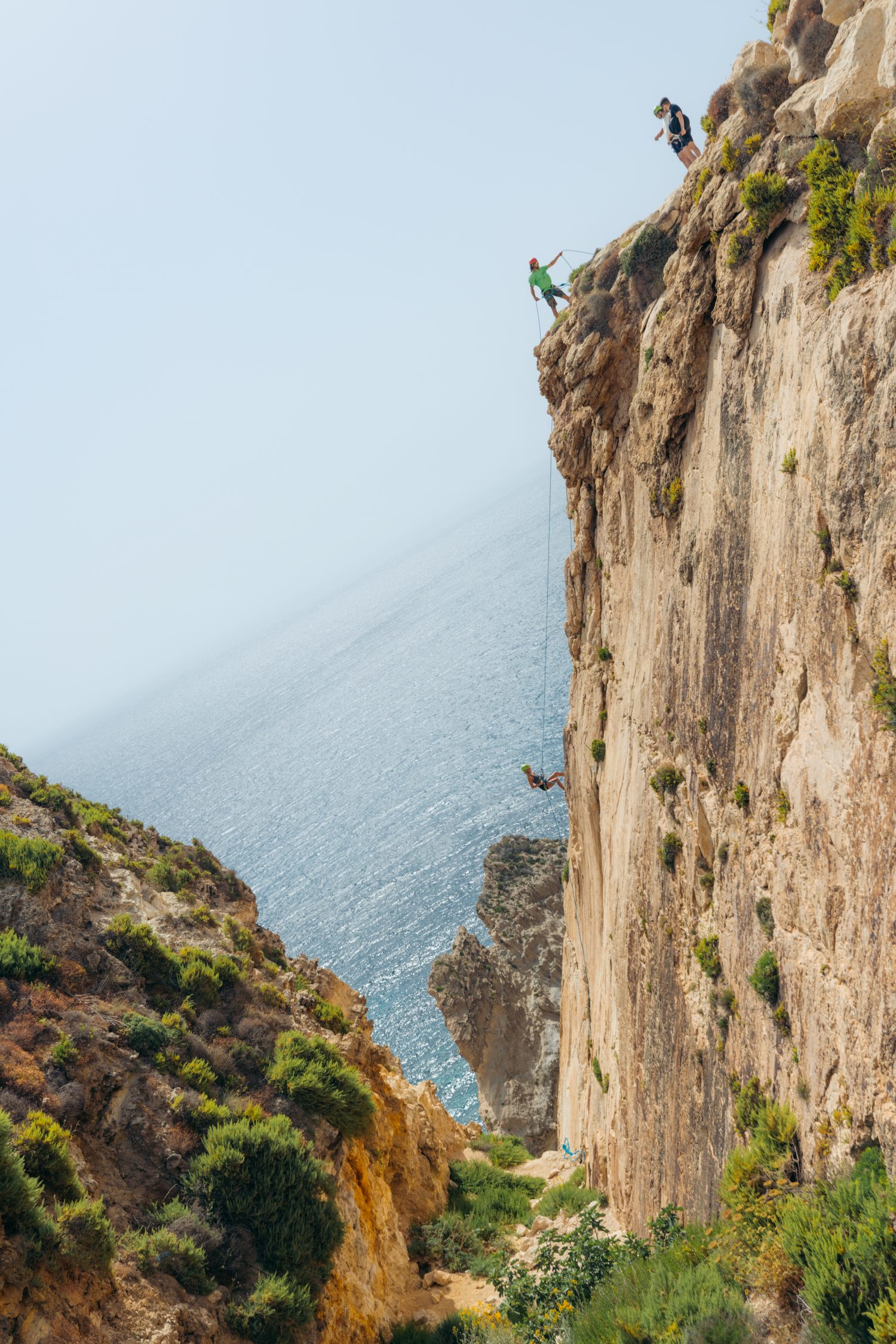 Abseiling
With magnificent cliffs making up miles of beautiful Maltese coastline, and spectacular scenery galore, the Maltese Islands are a year-round abseiler's paradise. Whether you're a complete beginner, an expert, or a parents wishing to give their kids a thrilling adventure, Malta's got something for every type of abseiler.
Segway
It doesn't take long to master a Segway and, suitable for anyone over 12, they make a fun, low-impact way for families to explore together - whether that means sightseeing around Valletta, gliding along the steep Dingli Cliffs - officially the highest point on the island - stopping at various points of interest en route, or taking a sunset tour along the splendid beaches.
Ziplining
Fly off a cliff or zoom down a valley, or whizz over the Grand Harbour - ziplining is an exciting way to experience Malta and Gozo. The zipline at Migra I-Ferha is the fastest on Malta, taking you from one cliff edge to another 50m above the sea.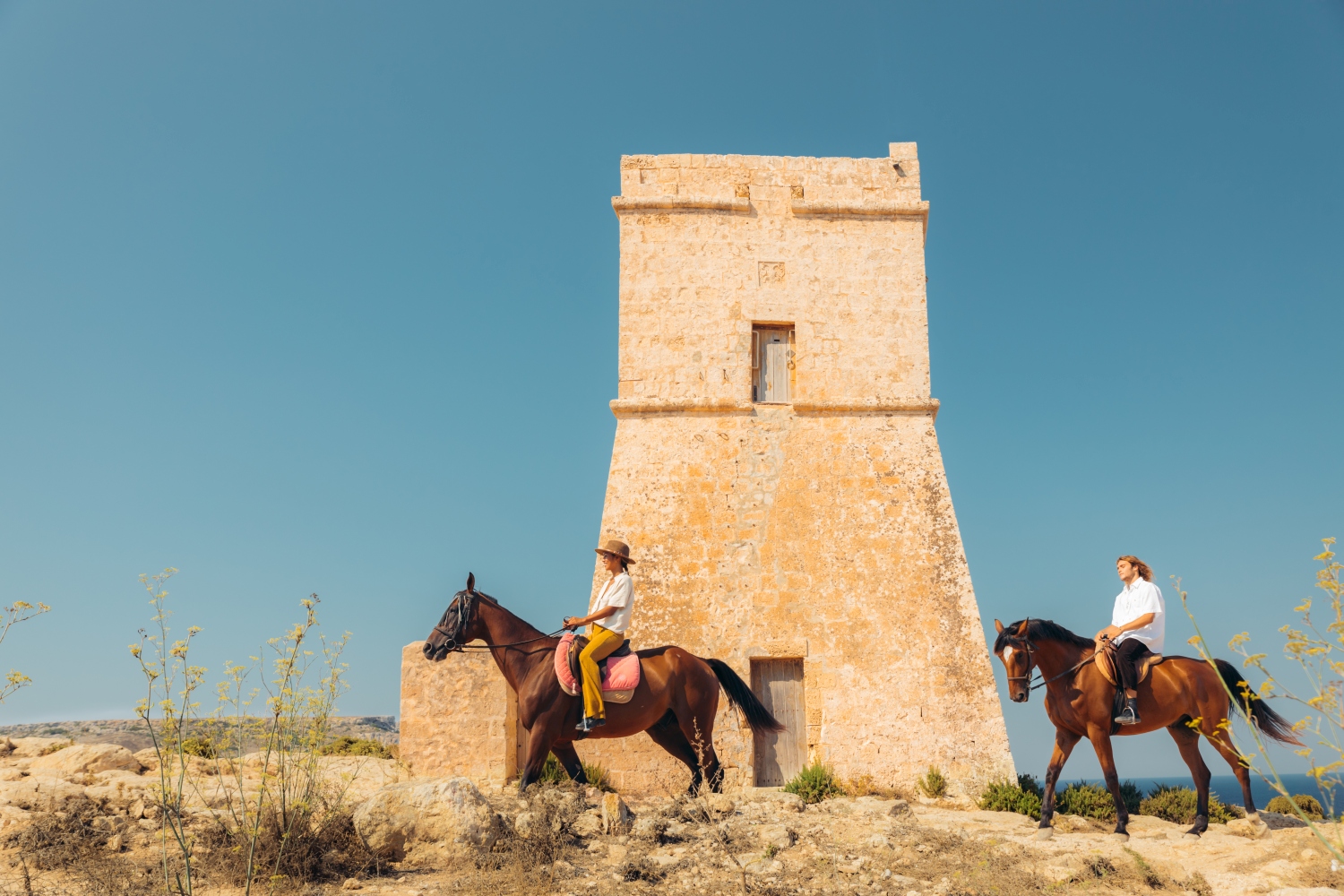 Malta's rich history
With over 7,000 years of history, Malta is the ultimate holiday destination for any history buff! Home to some of the oldest free-standing temples in the World, the Islands have also played host to the Phoenicians, the Romans, Napoleon and the British Empire. Must-visit places include the awe-inspiring UNESCO World Heritage sites, the Maltese megalithic structures, such as Ħaġar Qim, cave chapels, the secluded palaces of the Knights of St. John and the remarkable fortified capital of Valletta.
The two temples of Ġgantija on the island of Gozo are notable for their huge Bronze Age structures. The Ġgantija temples are the oldest, free-standing monuments in the world and are a testament to the Island's inhabitation for at least 1,000 years before the famous Egyptian pyramids of Giza were constructed.
The Maltese capital Valletta has hundreds of monuments, all within a relatively small space, making it one of the most concentrated historic areas in the world. Also well worth a visit is the ancient capital Mdina, founded 4,000 years ago. With narrow, cobbled streets shrouded in an air of mystery, Mdina will plunge you back in time. 
The Maltese are proud of their culture and celebrate it with firework displays, rowdy festas, and outstanding hospitality. The magnetism of Malta is impossible to resist.
For more information about visiting Malta, go to visitmalta.com