Given that I have spent much of my life paying homage to the natural beauty of the bejewelled chain of islands that are Scotland's Outer Hebrides, it came as a great surprise to me that 2018 was the year when I got to know this familiar turf on a much more physical level. Joined by a group of fellow Scotland-fanatics I headed back west for a week-long campaign, Outdoor Hebrides, aimed at showing off the countless opportunities that these incredible islands can deliver for lovers of the outdoors. Here's how it all went down…
Isle of Lewis
Starting in the north, Lewis is the land of ancient standing stones, moodily dramatic terrain and the best black pudding in the world. But our objective was to engage in a coastal boating adventure with the superbly named Hebrides Fish n' Trips. Our host, local charmer Lewis Mackenzie, took us between the endless little rocky mounds and islets off the main island that see visits aplenty from well-travelled wildlife but precious few from anyone else.
Stunned to almost immediately spot a diving sea eagle, Lewis' wry smile told us the whole story of a man in the know. These rugged and remote waters are a playground for the winged champions and Lewis enjoys a cheerily familiar relationship with them and many of the other bird species that pass by here on their epic worldwide travels.
Bird whispering is not his only skill, however, as he then goes on to explain his role in the remarkable rise of the Outer Hebrides' first distillery. Although we will all have to patiently await the arrival of whisky in the years to come, Harris Gin has already cemented itself a place of favour amongst enthusiasts.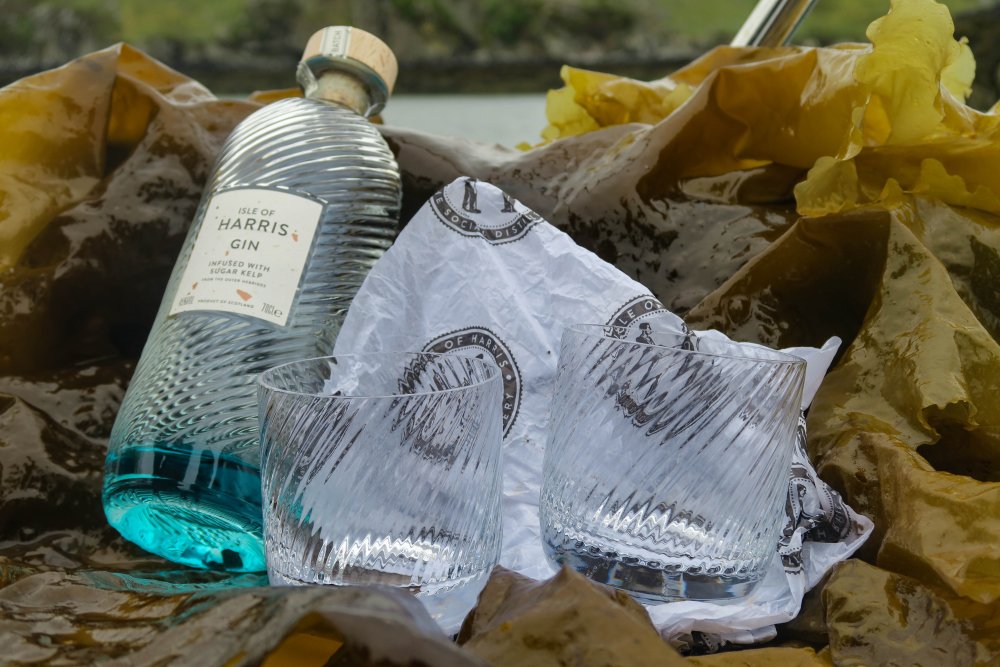 This is largely down to the role of sugar kelp in the flavouring process and Lewis is the very man who gathers this salty/sweet stuff that grows up to 4 metres in these very waters. Nothing, absolutely nothing, closes off a busy day on the waves quite so well as a locally-made and sourced G&T.
Isle of Harris
Thanks to social media and frenetic word-of-mouth chatter from awestruck visitors, the word is very much out that the coastlines of Harris are among the most beautiful in the world. Stunning, endless stretches of sand present untouched beaches of all shapes and sizes as the angry waters of the Atlantic crash into these remote lands and leave behind immaculate, raw beauty.
Truly atmospheric on a stormy day (the kind of inspirational conditions that writers, artists and poets live for), the stunning radiance of turquoise waters meeting white/gold sand on calmer days is something anyone in their right mind would just sit back and savour with selfish, gleeful gratitude. Suitable then that this is where we headed next as our journey south commenced.
In contrast to those resplendent sandy marathons that make up South Harris, the North is an altogether more rocky affair. Mountainous stretches and lunar-like landscapes are ideally suited to mountain biking and many a thrill was had as us relative novices hung on amid nervous humour to traverse the all-over-the-shop terrain that always keeps you guessing. Inhibitions shattered and knees shaking excitedly, the beaches were now calling.
Coasteering is something entirely new to me. The seemingly straightforward process of splashing and clambering your way along rock-strewn coastline, in and out of the water all the while, does a crude injustice to the sensational adrenaline rush that comes your way throughout. Under the expert supervision of local suppliers, The Scaladale Centre, the appalling introduction to these cold waters almost immediately dissipated into something lodged between refreshing and electrifying.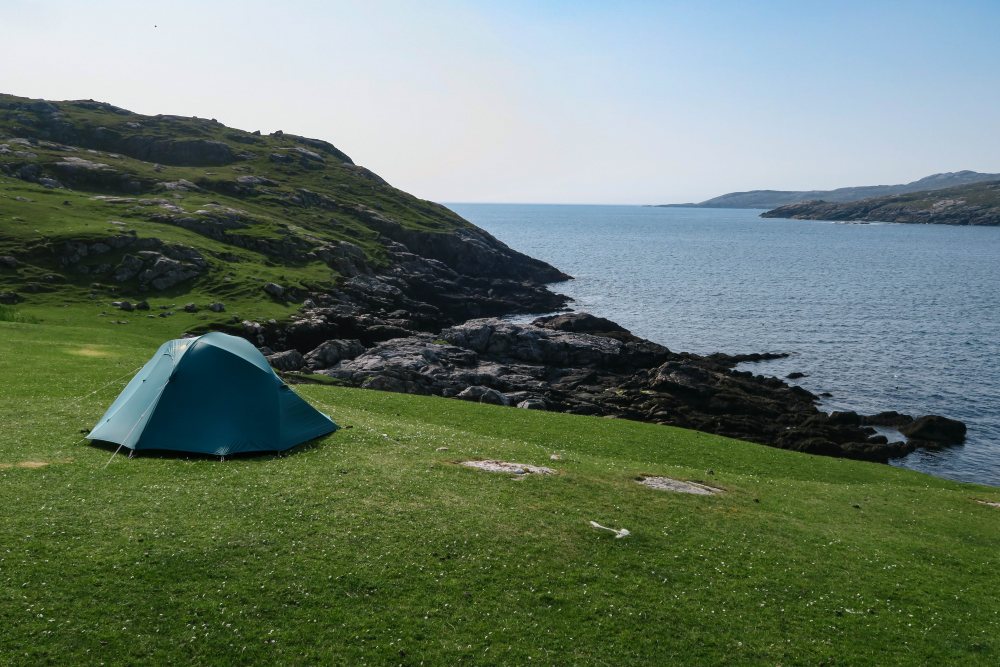 Stunning backdrops and nervy cliff jumping completed the kind of day that will live long in the memory and draws even old fans like me that much closer to the Outer Hebrides. Ended under the stars and a glorious sunset at Hushinish Beach, weary bodies collapsed headlong into wild beach front camping, lulled by nothing other than the sound of the waves.
Isle of North Uist and Benbecula
Refreshed and feeling very much closer to the kind of raw nature that entices travellers to these parts, our road south down the glistening chain took us next to Benbecula. A population centre for the islands, it does not generally gather the acclaim of its more celebrated neighbours but, thanks to a horse-riding session on its west coast beaches with the Uist Community Riding School, it will always have an idyllic little image lodged in my memory.
For many this is a must-do activity at some point in your life – to elegantly saunter across a glorious beach on horseback – and I wouldn't have chosen anywhere else in the world to make my debut.
Next up, we met with local artist Ellis O'Connor to learn her passion for capturing these stunning landscapes and coasts and transporting them onto canvas. A riot of colours and wildly changing weather make this the perfect place for artists to retreat into their creative minds and we all felt pangs of jealousy at Ellis' remote lifestyle and close relationship with her biggest passion.
Isle of Barra
The southern end of Scotland's Western Isles, Barra and Vatersay are lands with their own personalities that differ from those further north. Home to the only commercial flight route that lands on a beach, Barra is for many the Outer Hebrides in miniature.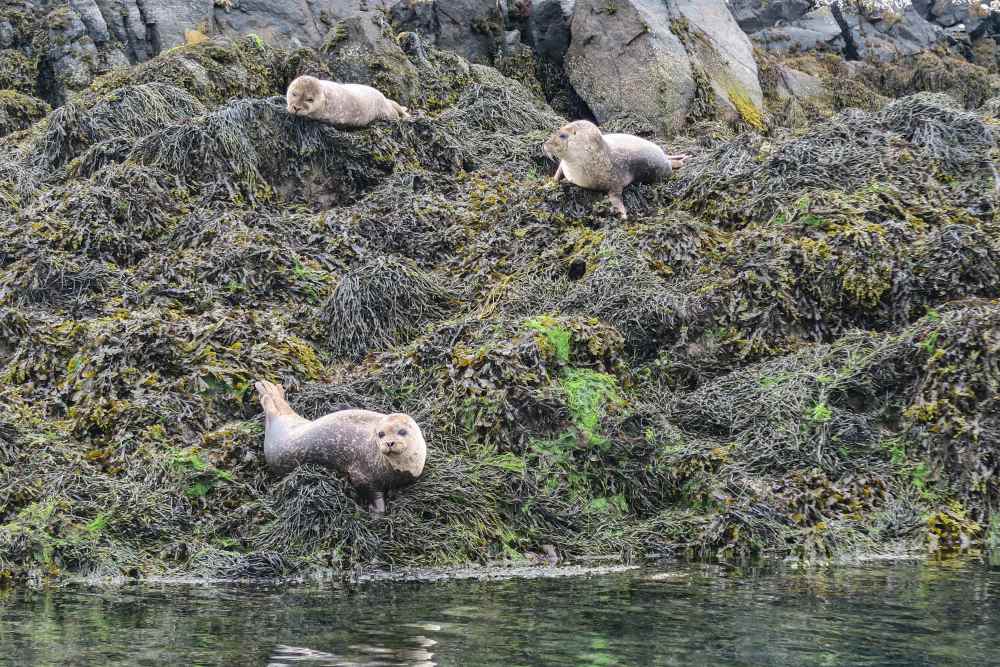 Its glorious west coast beaches were ideal for a splash with the local wildlife – troops of curious seals – as we went snorkelling and kayaking with Isle of Barra Surf and Coastal Adventures. The island's unmissable manmade attraction, Kisimul Castle, made for the ridiculously perfect centre of attention for the latter as we all had that pinch yourself moment while circling one of the great 15th Century fortresses….and an iconic image of Scottish tourism. Under the watchful eye of Heaval, Barra's highest hill, and bobbing along on waters visited by Vikings and the ancient Lords of the Isles is as surreally brilliant as it gets.
What a spectacular end to a week that just couldn't stop stunning us all. I've walked the hills, driven the roads and studied the history…. but this week was something more. Jumping in and out of that icy water, sleeping on the beach, cycling the inclines and getting up close with the resident horses, seals and eagles took my relationship status with the Outer Hebrides to a new level of complexity. These truly are magical lands, where nature in all its forms rules and where memories come to grow and find permanency. I'll be seeing them again soon.
Catch up on Neil's Outdoor Hebrides road trip with Outer Hebrides Tourism and watch the full video at visitouterhebrides.co.uk/oh where you'll also find lots of inspiration and top tips to help plan the ultimate outdoor and active short break on the islands.
Outdoor Hebrides Adventure - Short from Outer Hebrides on Vimeo.
Neil Robertson is a Scotland travel blogger and digital marketer as Travels with a Kilt. A lifelong traveller and Scotland-fanatic, he loves nothing more than poking about a ruin, taking on a Munro and chasing his drone around a loch. You can keep up with his adventures on his Scotland blog where he is constantly exploring his home country's top assets, or follow him on Twitter, Instagram and Facebook.
#OutdoorHebrides is supported by VisitScotland and Comhairle nan Eilean Siar