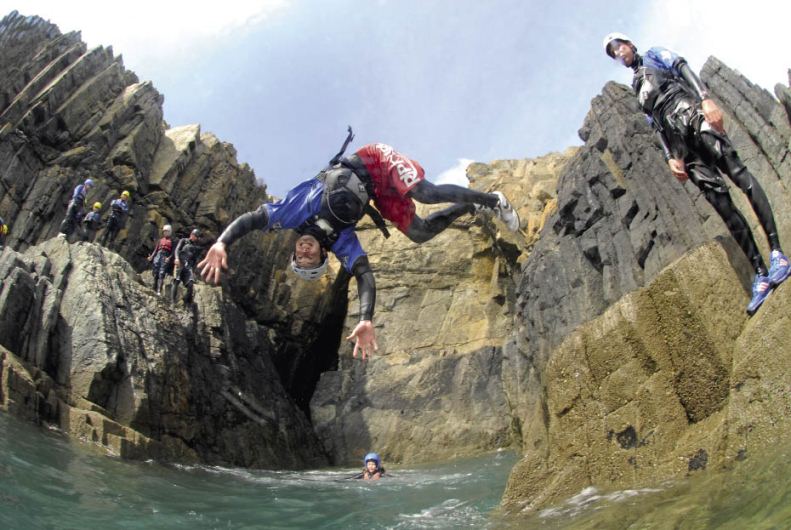 The only thing in a hurry in Pembrokeshire is the weather. Spend some time in our glorious coastal county, and you'll soon realise why most of us here prefer to live life at the pace of Pembs. Even if there was a motorway to speed down or a traffic jam to curse, why bother when there are just so many better things to do?
But with this last bit of Wales sticking out into the Atlantic to greet them, the weather fronts certainly don't hang around as they rush in from the ocean, scurrying overhead on their busy commute to the east. They can bring high winds and, yes, the exhilarating sea air might mean some quick showers, but the rain seldom stays around long enough to spoil anyone's day.
I've often had to convince a gloomy visitor, scowling into a grey drizzle of a morning, to just hang on and wait awhile. 'Ah, give it an hour or so, it'll be fine.' A coffee and a decent breakfast later, and the light starts breaking through. By the afternoon we're climbing a sun-baked sea cliff, and by the time we're supping a beer on the beach and watching the sunset burn into the sea, rain is a distant memory and it feels like a Pembrokeshire summer must surely last forever.
The wild weather can bring fantastic conditions for kitesurfing and windsurfing, and the wide open Atlantic beaches mean this is one of the most consistent surf coasts in the UK. And with a beach facing nearly every point of the compass, whichever way the wind blows and however big the surf pumps there's usually somewhere to have some serious fun. If you prefer taking a kayak or paddle board out on a calm sea, or want clear blue skies for the best views the hills can offer, the weather-in-a-hurry means you seldom have to wait long for your perfect day.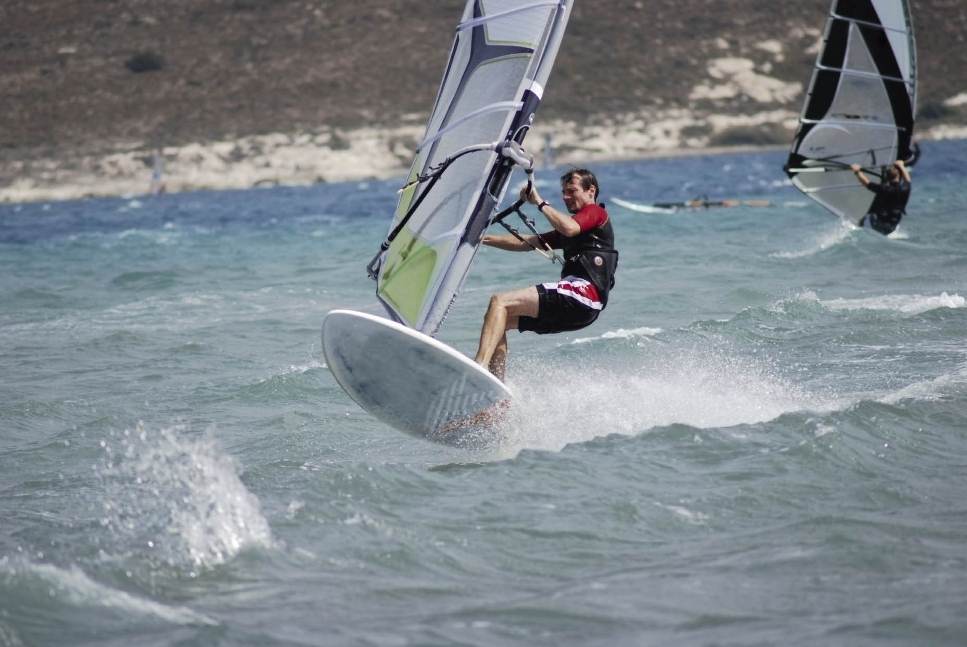 But if the elements don't quite co-operate, there's still plenty to do while not doing very much at all. The coast towns of Newport, St Davids and Tenby are fine places to potter away endless days, and villages like Porthgain and Solva are making a decent living from helping people spend the most time doing the least possible.
The food can be pretty slow here too. With sheep grazing on the hills in the north and the rich dairy lands of the south, and surrounded by an ocean teeming with fish courses, the many farm shops, restaurants and cafes are never short of local produce. And each year there seems to be another food festival or farmers' market to help you take your time over enjoying the rich fruits of Pembrokeshire's land and sea.
Admittedly, the local wildlife can sometimes be a bit frantic. Listen to thousands of kittiwakes, fulmars, razorbills and guillemots quarrelling on a cliff on Skomer island, and nature doesn't seem quite so peaceful. The massive male grey seals fighting over their patch of isolated cove aren't so peace-loving either, though the females will happily ignore them and get on with the serious business of raising their fluffy white pups.
It's not just the bustling coasts that see all the action. A tranquil autumn evening among the rustling woodlands in the centre of the county can often be disturbed by a rush of wind as a mumuration of starlings flocks overhead. And a crisp winter's afternoon on the supposedly quiet waters of the Cleddau waterway can be almost deafening with geese honking, curlews whistling and oystercatchers shrieking.
But watch an otter lazily backstroking across the lily ponds at Stackpole, and you're spotting an animal that seems to have the pace of Pembs in its DNA. A nice swim, a bite of tasty fresh fish, laze around in the sun a bit and call it a day's work. Now that's the life.
Surfing
With waves to compare to Cornwall but nothing like the crowds, Pembrokeshire is heaven for all standards of surfer. When there's a decent swell Freshwater West, or 'Fresh' to the locals, is definitely not for the inexperienced, with overhead waves breaking on reefs and rips an Olympic swimmer couldn't take head on. But it's hardly ever completely flat, and on a summer's day with a small wave and a lifeguard hovering in the background it's a lot more friendly.
Newgale and Whitesands can be good beaches for beginners, and there are plenty of other spots all along the coast for those prepared to hunt them out.
Outer Reef, Freshwater West and Manorbier 01646 680 070 / 07769 903 653, www.outerreefsurfschool.com
Pete Bounds, Newgale 07971 271 673, www.surfmasterclass.com
Windsurfing and kitesurfing
Wind direction is as important as wind strength for windsurfing and kitesurfing. And as the beaches of the Pembrokeshire peninsula face so many directions, on most windy days somewhere here is probably just about perfect.
Newgale and Freshwater West can have great waves for riding and jumping. Tenby and Dale offer more sheltered waters for beginners, intermediates and flat water speed freaks, while Broadhaven and Amroth can offer something in between. Pendine is officially in Carmarthenshire, but is borrowed by the Pembrokeshire posse when the wind and swell are in the right direction.
West Wales Watersports, Dale 01646 636 642, www.surfdale.co.uk
Walk on Water, Saundersfoot 01834 811 237 / 07973 405 656, www.walkonwatersports.co.uk
The Big Blue Experience, Newgale 07816 169 359, www.thebigblueexperience.com
Kayaking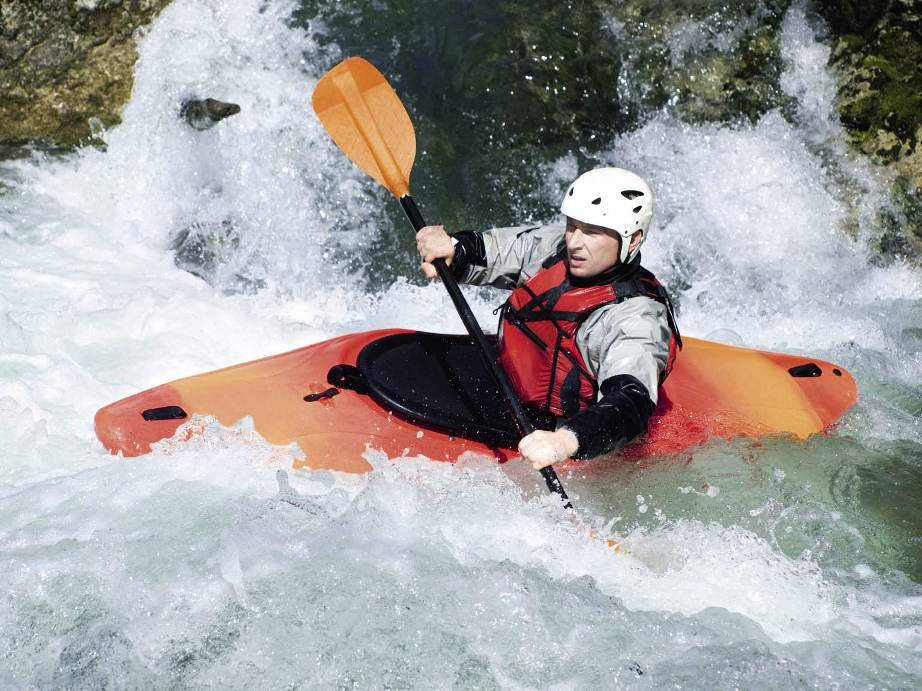 Pembrokeshire has it all for sea kayaking – the fantastic scenery of the sea cliffs, the secluded coves for an overnight camp, quiet estuary waters to escape from it all. The offshore islands are a tempting destination for a long sea crossing, the raging tidal races will challenge the most experienced, and there is no better way to enjoy Pembrokeshire's natural beauty than by kayak.
So whether you're more interested in playing in the surf, tackling the renowned Bitches of Ramsey Sound – thrilling tidal rapids regarded as an almost religious experience by paddlers – or want to combine your kayaking with a spot of fishing, foraging and a beach barbeque, it's all here for every level of paddler.
Dragon Activity Guides, Letterston 01348 841 336 / 07809 717055, www.dragonactivityguides.co.uk
Sea Kayak Guides Carnhedryn 01437 720 859, www.seakayakguides.co.uk
Coasteering
Coasteering was invented in Pembrokeshire, emerging as a commercially-viable activity in the 1990s, and the rugged coastline is still one of the best places for it. There are plenty of outfits who will kit you up with wetsuit, buoyancy aid and helmet and take you to climb, swim, slip and slide your way along the coast, pausing now and then for everyone to jump off a cliff.
Scrambling around where heavy waves meet sharp rocks can be exhilarating, but coasteering need not be all action, adrenalin and battling the elements. Calm days can be a gentle paddle exploring the rock pools, and Pembrokeshire's marine wildlife will always give a good show, especially if seals or dolphins decide to join you.
TYF, St Davids 01437 721 611, www.tyf.com
Celtic Quest Coasteering, Ambleston 01348 881530,
Walking
Most walkers come to Pembrokeshire to have a go at some of the 186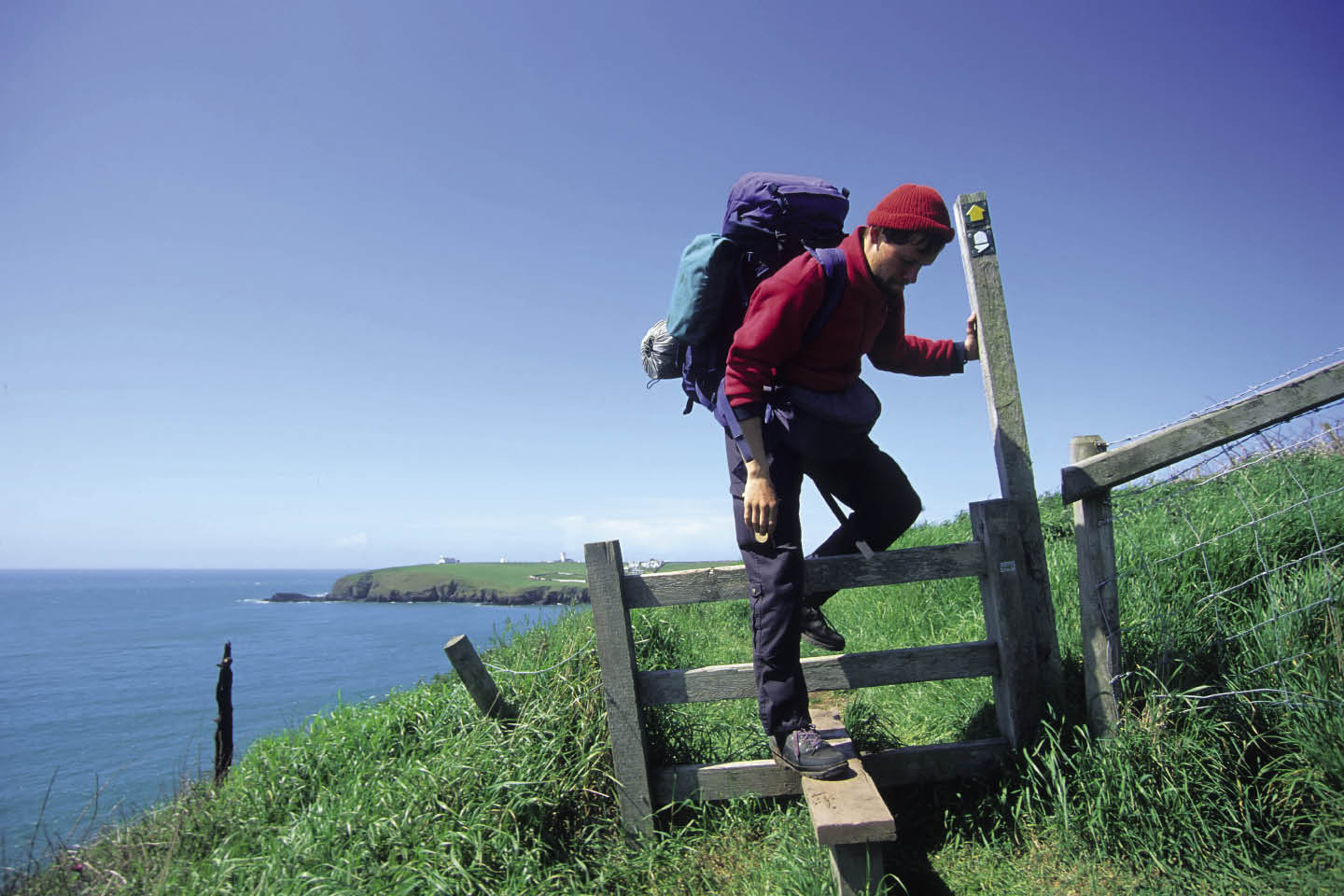 miles of coast path, and you could do the lot in one go if you fancy two weeks of non-stop walking. Choosing what to do just as a taster is difficult, as every inch is worthwhile and packed full of interest.
But the coast is not the only option. In Pembs we say we're 'going up the mountains', though with a highest point of 536m the Preselis would be barely hills anywhere else. They might not be the highest, but you can find a peace and solitude here that's rare in many more glamorous ranges.
Pembrokeshire Coast National Park www.pembrokeshirecoast.org.uk
Climbing
Pembrokeshire's towering sea cliffs are a rite-of-passage for UK climbers. It's adventure climbing at its absolute best – abseiling into the unknown while the sea churns and pounds below, then long, steep climbs out on immaculate rock.
From the limestone cathedral caves of Lydstep and the famous zawn of Huntsman's Leap, to the volcanic slabs of north Pembrokeshire, there are enough routes here to satisfy the keenest climber. There are plenty of options for beginners too, but make sure you're with an experienced guide.
TYF, St Davids 01437 721 611, www.tyf.com
Dragon Activity Guides, Letterston 01348 841 336 / 07809 717055, www.dragonactivityguides.co.uk
Tourist Information
Visit Pembrokeshire www.visitpembrokeshire.com
All photographs by Simon Wiliams