Amidst the floating islands of branches, seaweed and river scum, a latex orange finger points skyward accusingly. I wiggle towards it, lying flat on my stand-up paddleboard (SUP), catching on branches as I inch forwards, peppering board, body and water with fragments of twigs and leaves. The pointed nose of the board, heavily laden with spoils from the river, cuts through the debris and I plunge a hand into the murky tangle, magpie-like.
The offending object is a heavy-duty workman's glove, seemingly brand-new. I add it to the generous pile of loot wedged with cables on the board: tennis balls, fishing ropes, gas canisters, carrier bags and even a full packet of Haribo Starmix.
We're paddling down Cornwall's Helford River, on a wild camping trip, but unlike other "paddle packing" trips that I've been on, this one has a purpose. We're aiming to clean the river as we go, armed with large white dumping bags to store the abundant petrochemical catch we expect to land en-route.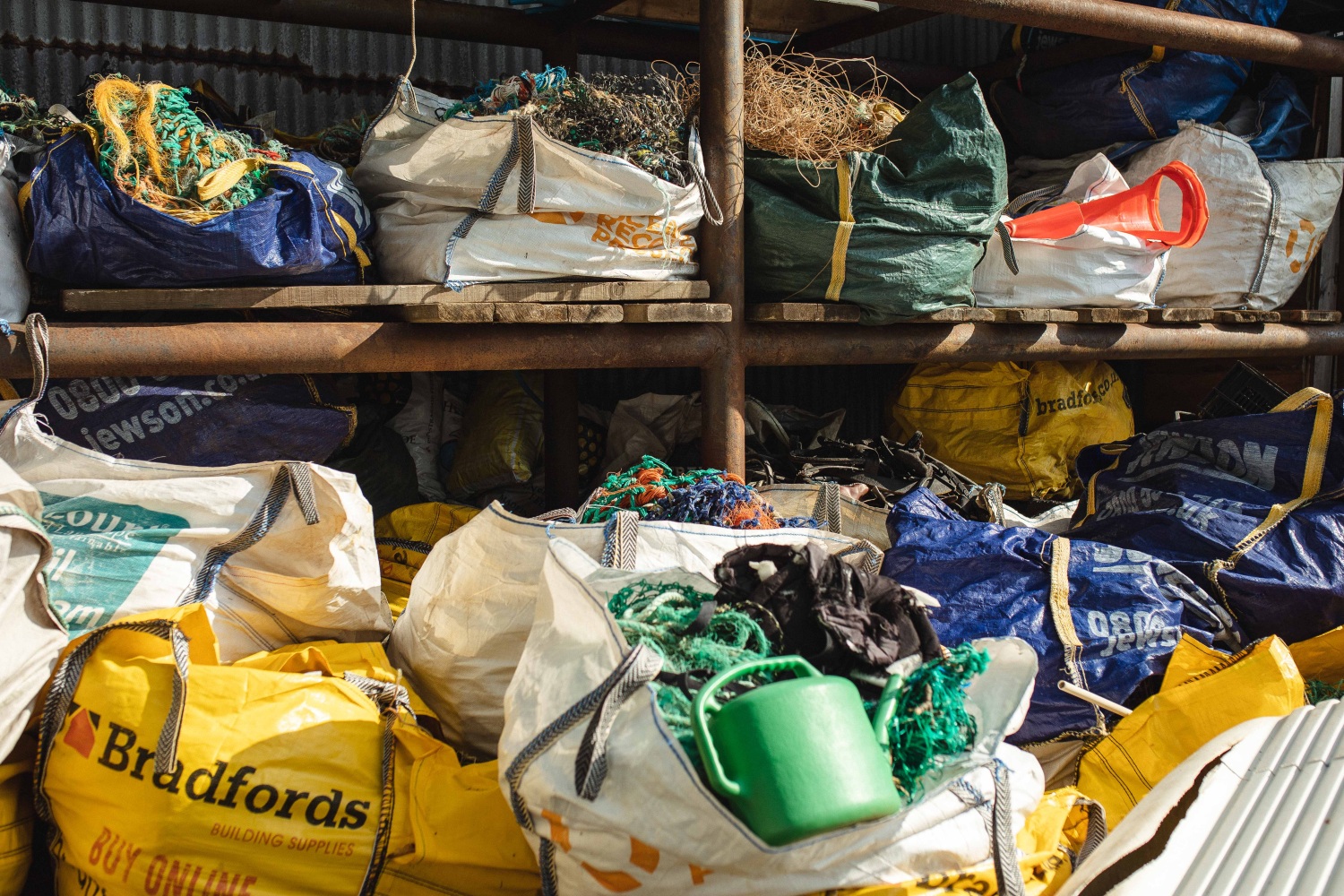 None of the group are strangers to beach cleans. I'm joined by three friends, all of whom live locally, and all of whom paddle board year-round from our local beach. When the weather is fine and the water calm, the seabed looks close enough to touch with a paddle, and it's easy to forget that the ocean is the world's largest dumping ground.
"The ocean is the world's largest dumping ground"
During the winter however, fierce easterly winds pummel Cornwall's south coast, leaving the beach strewn with slag heaps of seaweed, and whatever else the sea throws in. Plastic is the most common offender: bottles, bags and, increasingly, disposable face masks, are regular discoveries. Sometimes the casualties are much larger, and much sadder. It isn't uncommon to find a dolphin or seal carcass washed up on
the sand. For this inland cleaning effort, we've enlisted the help of veteran river-cleaner Steve Green, who's showing us the ropes - in this case, quite literally: he's holding up a matted dreadlock of nylon lines, rope and bladderwrack. "75% of the rubbish that we find is fishing waste," Green tells us.
A Cornish local, Steve has lived on this stretch of river for the past 16 years. Along with his wife, Monika, and brood of five barefoot children, he runs Clean Ocean Sailing, an enterprise which runs trips to clean up the rivers and oceans, educating the public on the damaging effects of plastic pollution as they go.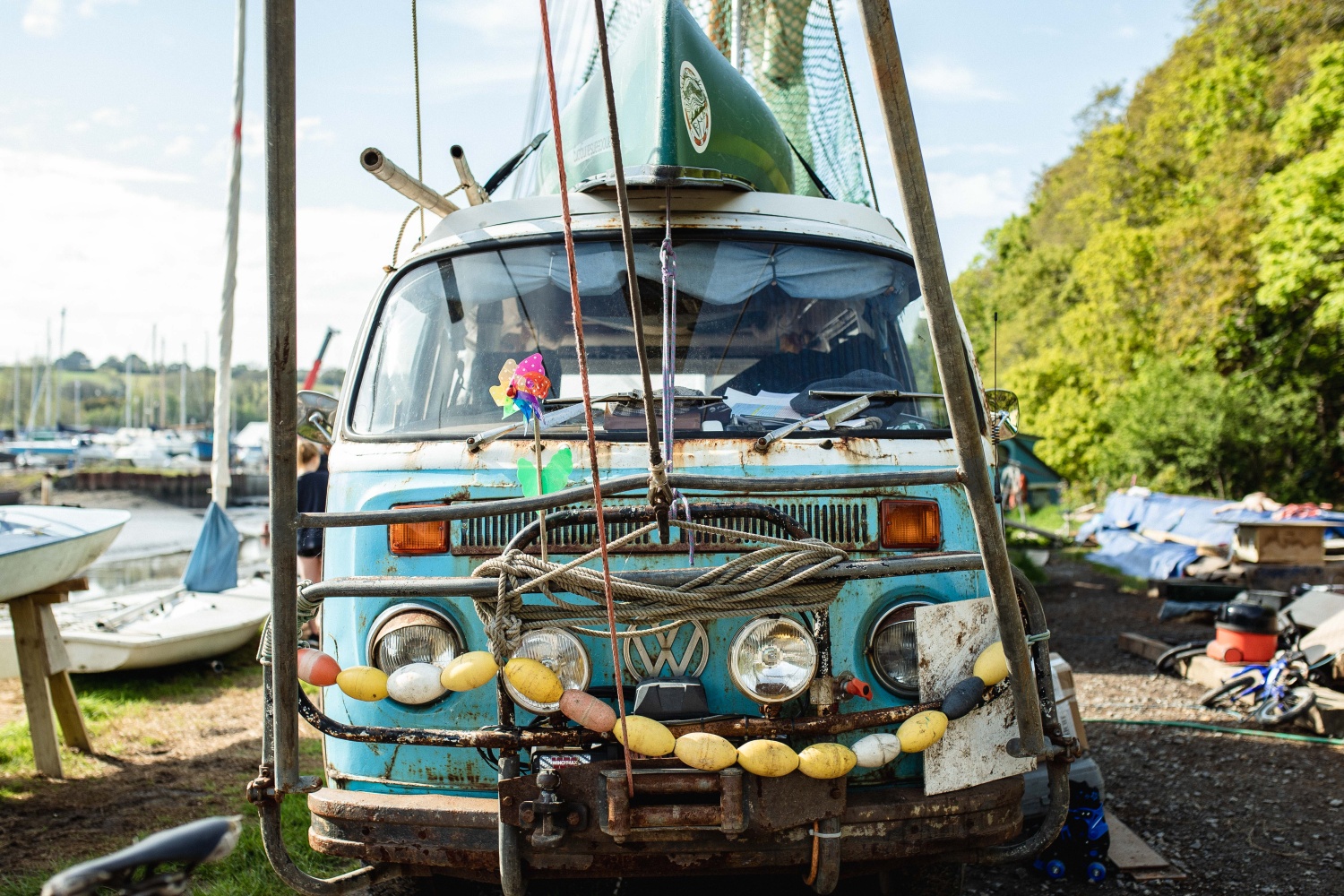 Steve's schooner, the Annette, is both his home and the vessel for their sea-cleaning trips. She's a patchwork quilt of a boat, and right now she doesn't look particularly seaworthy. There's a gaping hole in her stern which he's in the process of repairing by hand. He's done all of Annette's repairs by hand, sourcing timber as locally as possible from valleys in North Cornwall.
Although the Helford river is home, Steve has travelled far and wide on his quest to curb plastic pollution. He sails regularly to the Isles of Scilly, but has been as far as Brittany, the Hebrides and Galicia. There's always plenty to clean, so they take volunteers too.
"Some of the islands on Scilly have been two metres deep in rubbish along the shore," says Steve with a frown. "No-one sees this because you need a special permit to land on the uninhabited islands. On average, we get about three and a half tonnes of rubbish on a trip to Scilly. We'd take more if we could fit it all on Annette."
"We get 3.5 tonnes of rubbish on a trip to the Isles of Scilly"
The rubbish comes from further still, though. Among the giant sacks of refuse stacked outside Steve's shed is a giant yellow buoy, partially caved in. The stamp on the side tells us that this particular buoy has been washed all the way across the Atlantic from Florida, a transatlantic journey of over 4,000 miles.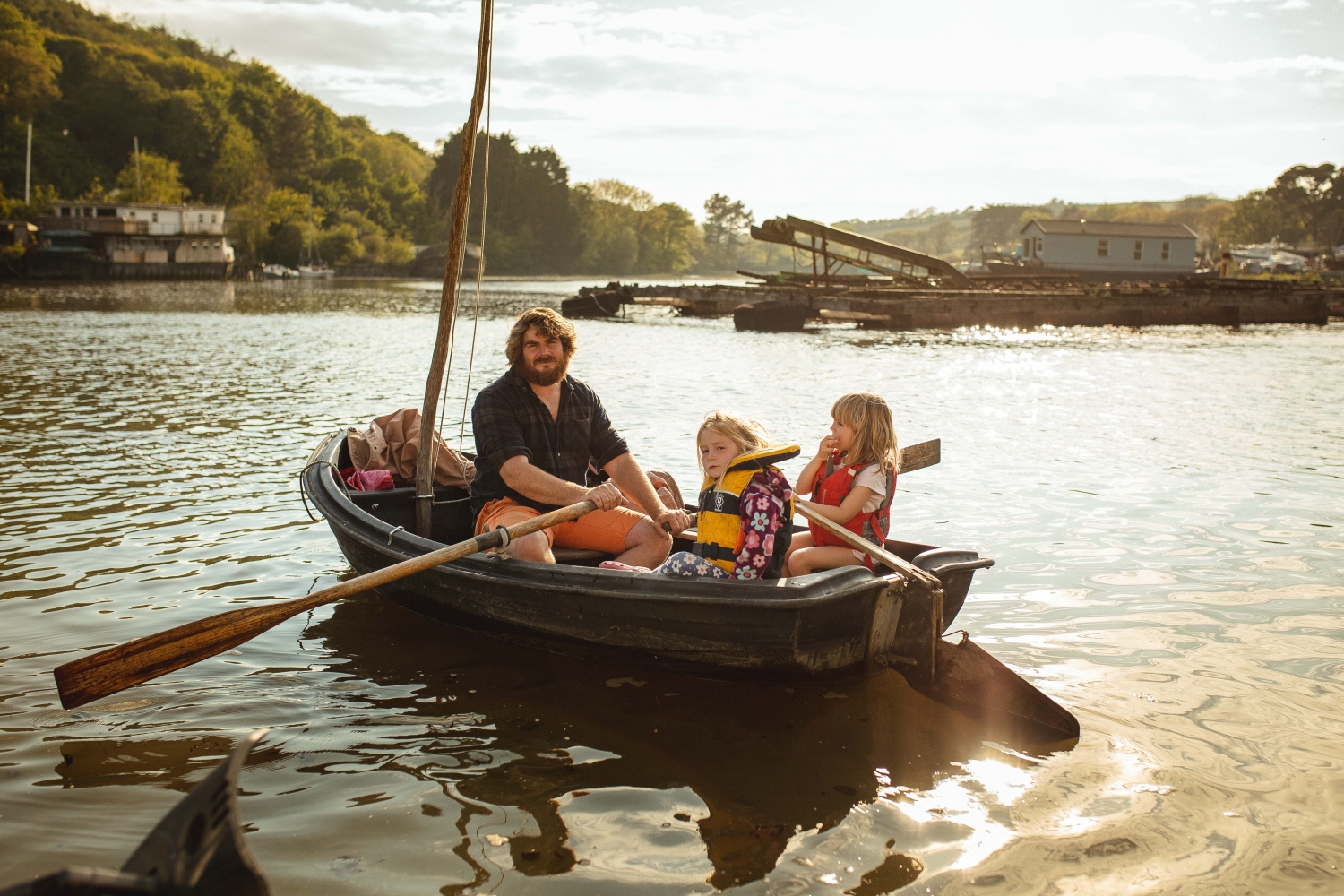 A different kind of catch
Our journey begins at Gweek, a small village around 10km from the coast. Our camping supplies are tightly encased in layer after layer of drybags, like Russian dolls, and strapped to the front of our boards, as we wait for the high tide to envelop the mudflats.
Steve leads the way in a small sailing dinghy with what appears to be an undoctored tree branch as a mast. A stocky black Labrador sits in the prow, and in the stern are two pint-sized volunteers: Steve's daughter and her friend from the boat-next-door, aged six and five respectively.
The girls are clearly well-practised at river cleans, quickly identifying clear plastic from filmy sea lettuce and plunging tiny hands into the water to retrieve it. Steve shows us how much of the rubbish lies in the slipstream or wedged along the bank. We hop off the boards to retrieve some of it, coating toes and leashes in sticky, treacly mud.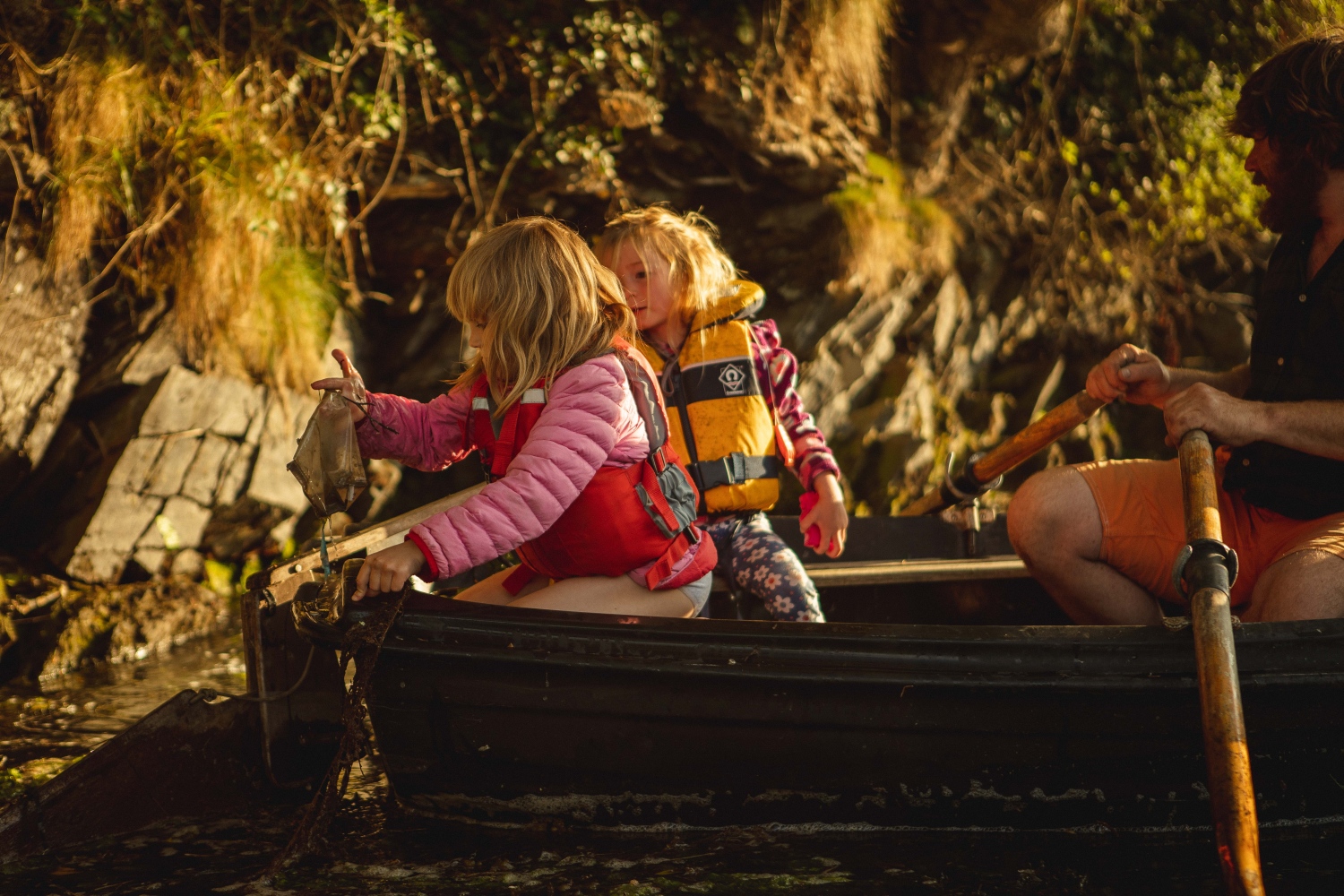 At first glance, the Helford looks idyllic. The water is calm enough to mirror the sky, giving the impression of paddling over fluffy, gold-ringed clouds. A tangled head of oak trees cascades down the hills to meet the river, ending in a blunt-cut a few inches above the water where the trees have been shorn off by the tide.
 "At first glance, the Helford looks idyllic"
This untamed woodland, split in two by the snaking, winding waterway, reminds me of the Amazon basin, and the silence of the wilderness is broken only by the gentle splashes as our paddles break the surface. Up ahead, a heron glides across the water, and a plump wild goose waddles through the undergrowth.
It's not long before litter intrudes to shatter the illusion. Against the palette of sea green and cerulean blue, we notice a harsh, sticky-looking blob of pillarbox red staining the hillside, instantly sticking out as something unnatural against the forest canopy. "It's a weather balloon," says Steve. "The Met Office sends one up every day to send data back to their office, but they're left to fall wherever and are never recovered." The nearest Met Office station is in Exeter, over 100 miles away.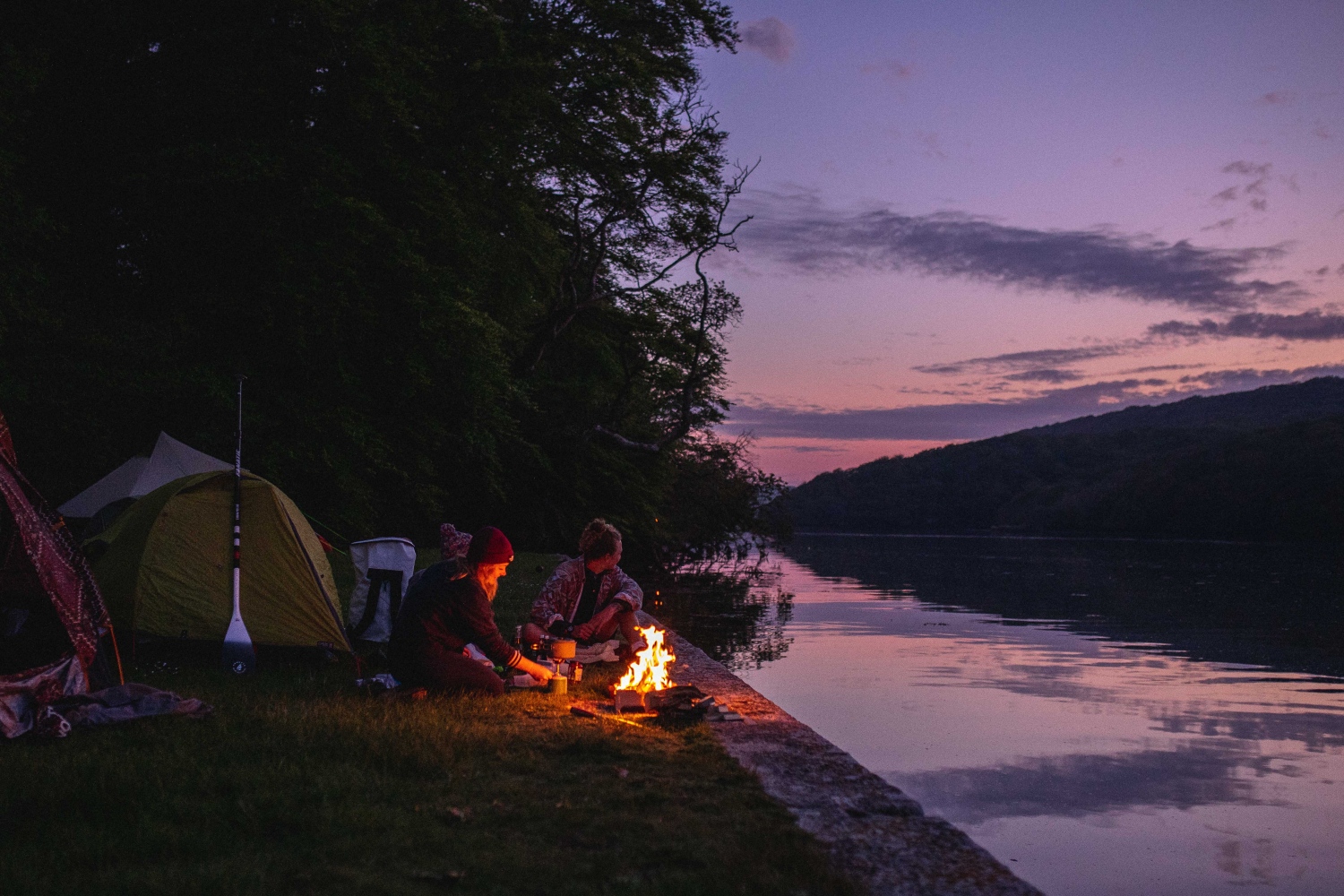 After a few hours of paddling and litter-picking, we decide to camp on a grassy quay on the river bank. Our tents are arranged in a semi-circle facing the water, flanked by boards and bulging bags of rubbish. We've opted to undertake the whole expedition zero-waste, determined to take 'leave no trace' one step further, and to leave our environment cleaner than when we arrived.
"We pitch camp and fall asleep to the hoots of owls"
Dinner is a pasta bolognese made with sunflower mince, cooked over the campfire, with all ingredients sourced from our local zero-waste shop and decanted into tupperware. We eat homemade banana bread as a starter (why is it that, when camping, it always seems appropriate to eat dessert before the main dish?) and fall asleep to the hoots of owls.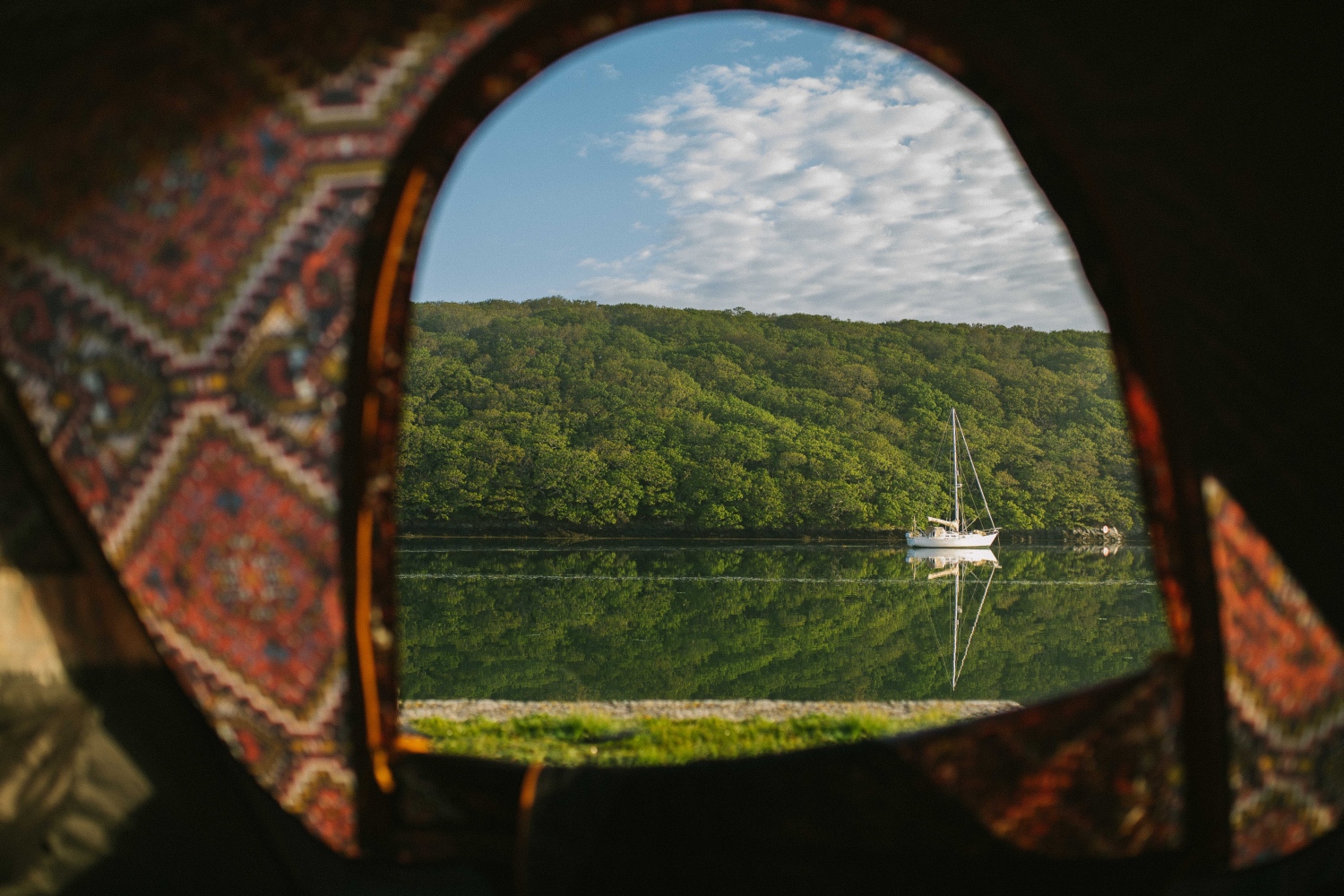 Far from the mainstream
On a sunny bank holiday weekend, like the one we've picked for our mission, Cornwall's beaches will be full of frying bodies and plastic windbreakers. The Helford, on the other hand, is pure tranquillity, retaining the air of mystery that it has held for centuries.
During the Second World War, these secluded creeks offered a haven for French Resistance operations, with easy access to the English Channel. Mulberry harbours, temporary, portable harbours were built in pieces here, out of sight of prying eyes, before being transported to the River Fal and over to France where they were famously used for the D-Day landings.
Perhaps it is this inscrutability that inspired one of Cornwall's most famous authors, Daphne du Maurier, to set her novel Frenchman's Creek here. We paddle down the real Frenchman's Creek on our trip. Rather than discovering the Breton pirate ships described in the book, the creek now harbours the fading wrappers of chocolate teacakes.
Usually when I head off on an expedition, I come back with lighter bags, having consumed all the food. This time it's the opposite, and by the time we finally decide to turn for home, the nose of the board is sitting low in the water, with all the added weight.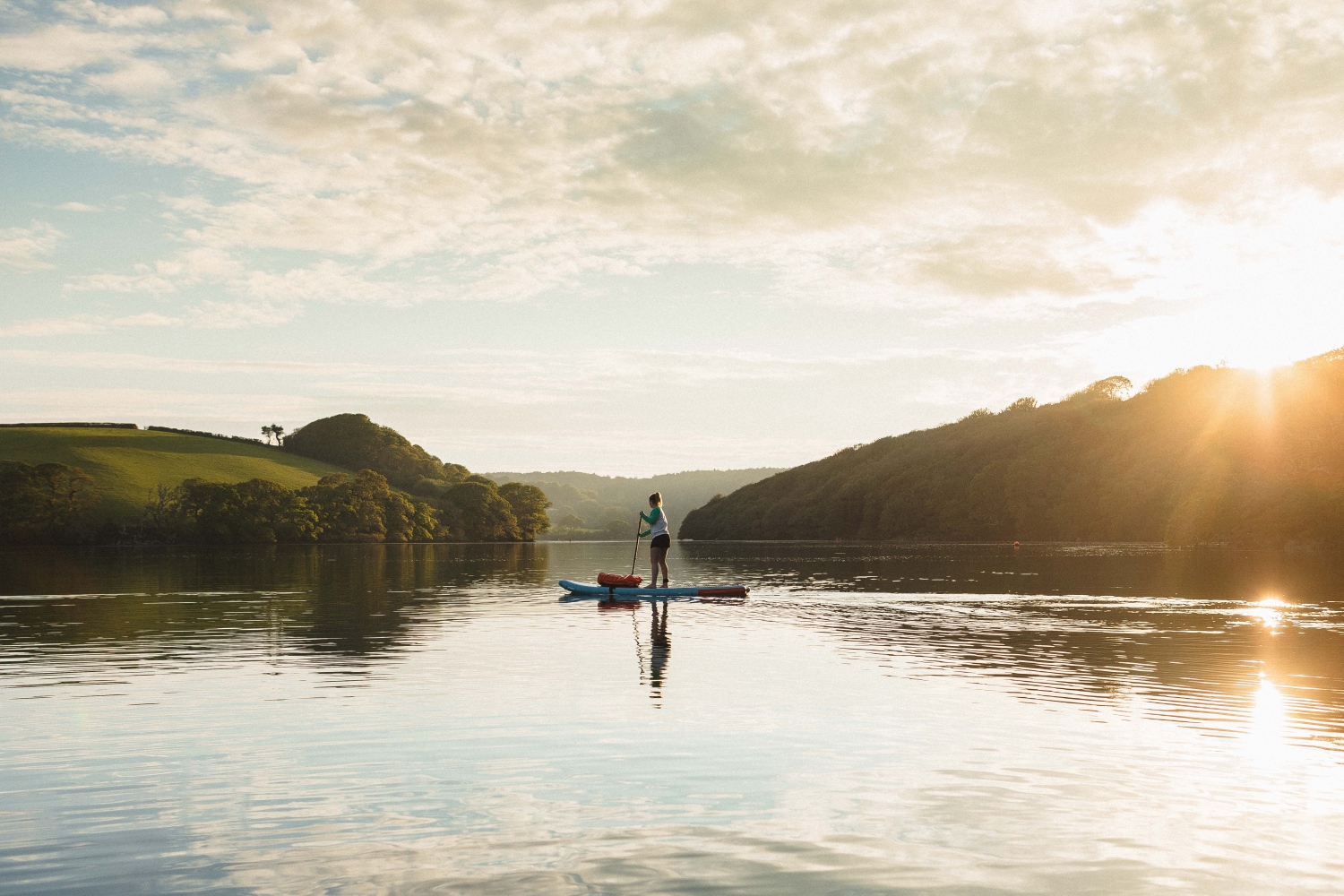 On our return to Gweek, we proudly display our sacks of river-rubbish to Steve. Incredibly, much of our catch will actually be returned to the river, albeit in an unrecognisable form. After sorting, weighing and documenting all the waste, Steve transports it under sail to a recycling plant in Exeter.
From here, the plastic is shredded, granulated and remade into recycled-plastic sea kayaks and handplanes by Cornish company Odyssey Innovation. Buyers are encouraged to carry out their own sea cleans, and they're planning to expand their range to include SUPs soon. There's every chance that the next time we come on a river clean, the very boards we stand on may be made of detritus fished from the stream.
Yet while one person's trash can be turned into another person's treasure, the sheer amount of waste clogging Cornwall's waterways means there's a long way to go before the Helford runs as clear and clean as it should.
Dishearteningly, when we disembark at Gweek, the rubbish in the water seems to have multiplied. As I fish a final plastic bottle out of the water all I can hope is that if it ever finds its way back into the river again, it is in the form of a recycled kayak.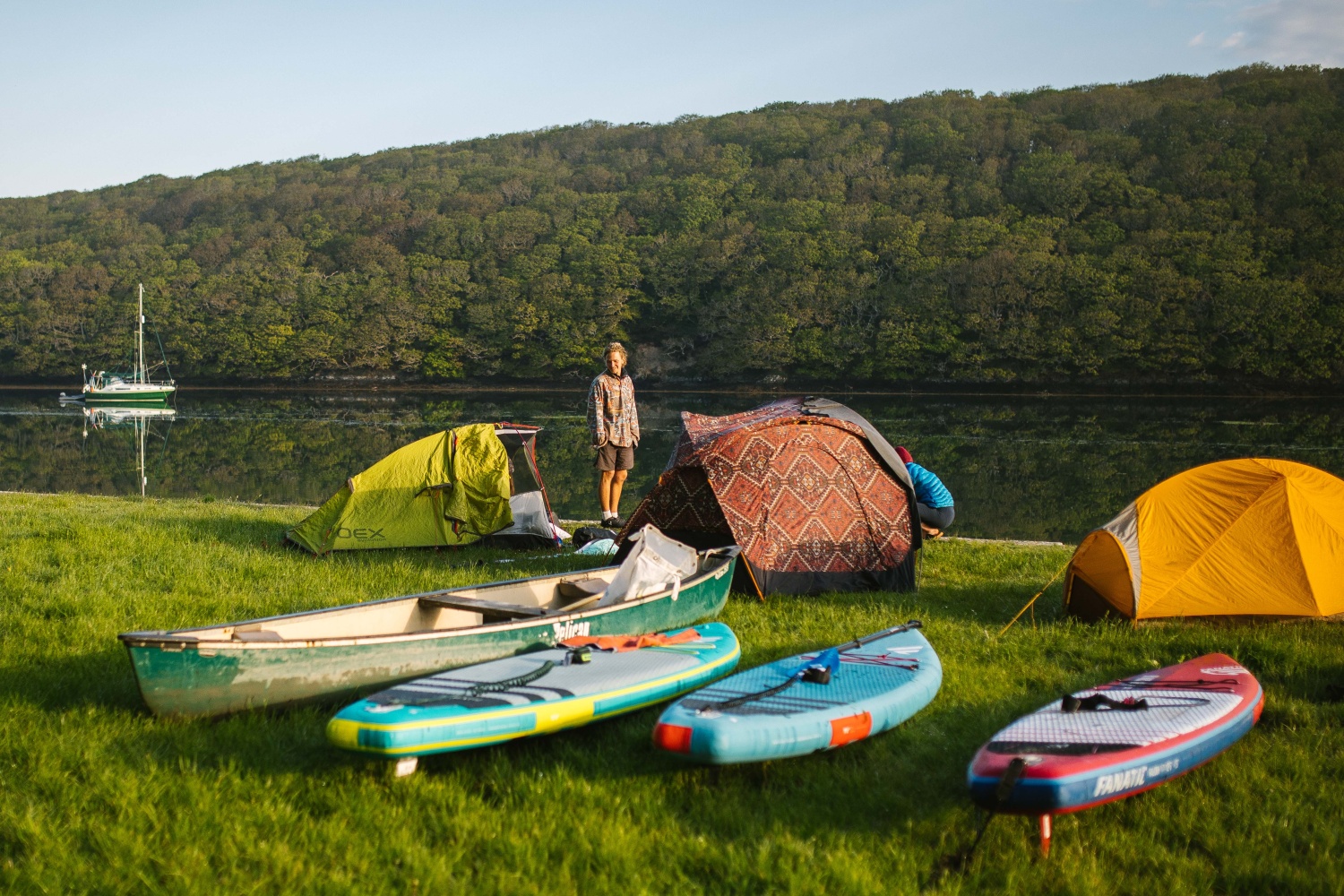 What's SUP? Five great places to paddle in Cornwall
Devoran Creek
Devoran was once a busy mining port and is the starting point for coast-to-coast cycles across the width of Cornwall. It's a haven for birdlife and makes for a very scenic paddle at high tide.
Fowey River
The Fowey River is very tidal and it's best to go on an organised tour if you choose to paddle here. Paddle Cornwall SUP operates from Golant and runs trips up to Lostwithiel at the head of the river.
Malpas
Just outside Truro on the banks of the River Fal, the waterside village of Malpas is a lovely spot to SUP and stop off at pubs along the way.
Mylor Creek
Mylor Creek is a fantastic spot for a short paddle. Launching from Mylor Churchtown, it is only just over a mile to the end of the creek. 
The Camel Estuary
The Camel Estuary is extremely tidal and best paddled an hour either side of high tide.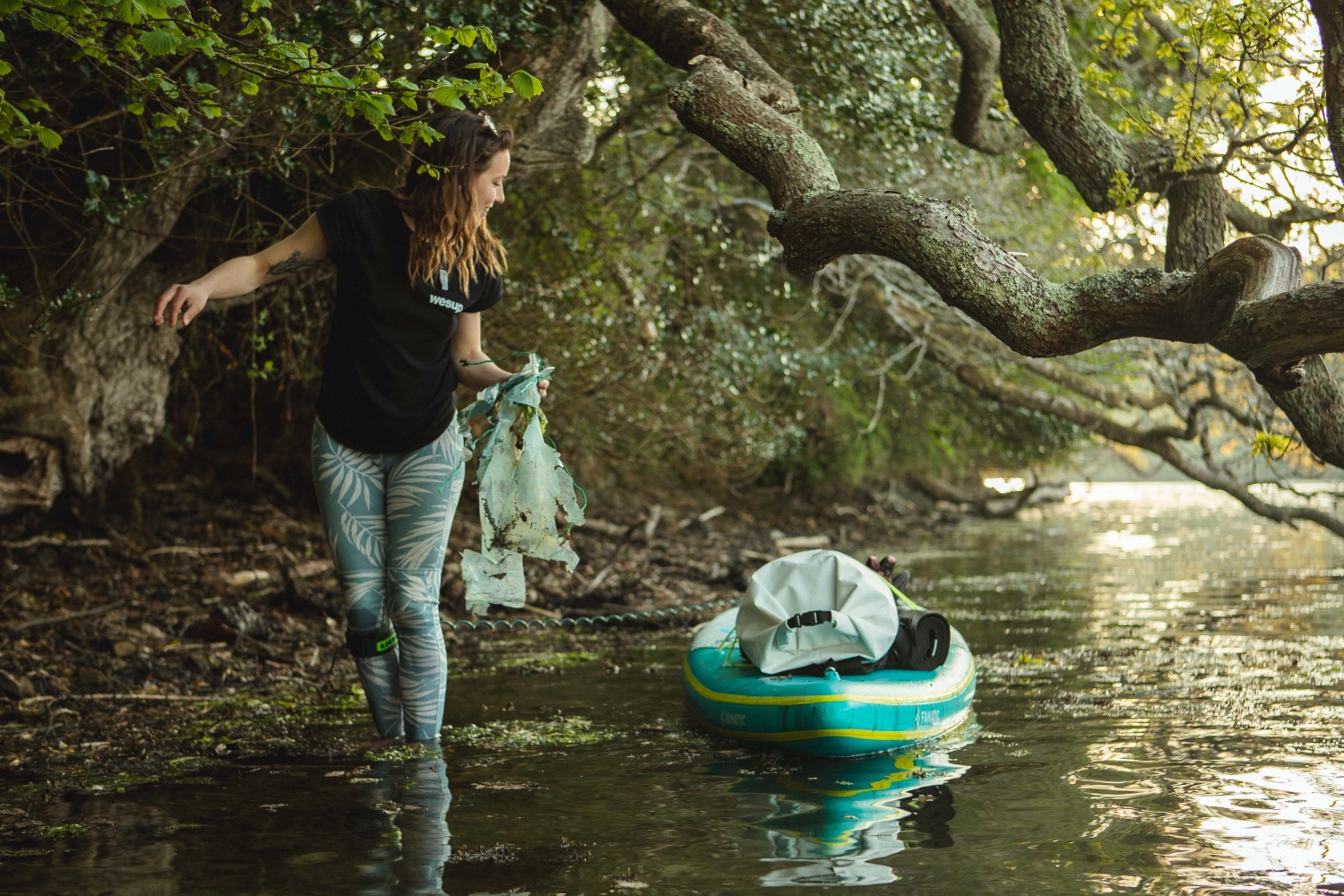 Travel info:
Health & safety
Always check the weather before heading out on a SUP trip. Checking the wind direction, wind speed and tide is far more important than looking at whether or not it is going to rain. Apps like My Tide Times and Wind Finder are self-explanatory. The River App, which tells you how high or low rivers are running versus their normal flow, is another good one. 
What to pack
Multiple drybags, camping gear, plenty of drinking water (the Helford is salt water), waterproofs, swimming costumes.
Our trip
Anna is a member of WeSUP who offer all-day board hire from £45pp for experienced paddle boarders.
Getting there
Anna lives locally, but trains from London, Scotland and the Midlands stop at Truro. From here, catch the branchline to Falmouth Town.
Getting around
Gweek is a small place with limited public transport links. Having a car makes travelling in Cornwall much easier, but regular buses do run between Falmouth and Gweek. 
Food and drink
There are a few great pubs on the Helford River (The Ferry Boat Inn is a particularly good one), but shops are limited and Gweek only has one small convenience store. Stock up in Falmouth before you go, there's an excellent zero-waste shop called Un_rap.
Where to stay
Falmouth Lodge Backpackers offers great budget accommodation with double rooms from £39. For a more upmarket option on the Helford River, the Budock Vean Hotel has doubles starting from £75 in low season.
falmouthbackpackers.co.uk; budockvean.co.uk