'Welcome to the Free Republic of Holidays, Saas-Fee. Become a Citizen'. These are the two straplines that greet you on the Saas-Fee summer website, and both, I hate to admit it, are truly brilliant ideas from the resort's marketing department.

It's not hard to become a citizen, all you have to do is stay the night in one of the resort's beds. I signed up my whole family (wife, children, aged four and two, and my in-laws!). Being a citizen gains you free access to all the area's cable cars and buses, essential if you're to make the most of your stay, as well as multiple discounts on activities from high ropes to brewing beer. You even get your own passport.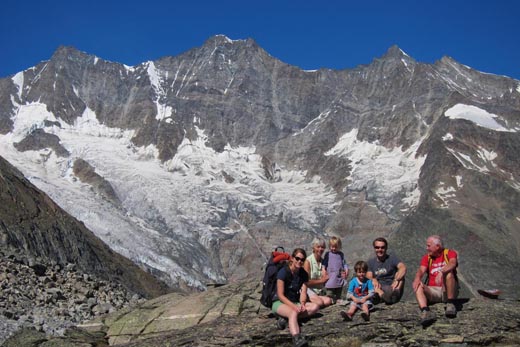 Saas-Fee is just how you would imagine a perfect Swiss alpine village. Surrounded by glacier-clad mountains, it sits in a hanging valley and every balcony of its chalet architecture is festooned with flowers. It's car free and the only vehicles on the streets are bicycles and electric golf-carts. It was one of these that picked us up from the bus and drove us to our lodging. It had been an easy, if a little long, journey: we'd flown to Geneva then taken a direct train (2 ½ hrs) from the airport to Visp, before a 40min bus ride to resort.

The following morning we woke early to the sound of cowbells. Hotel Waldesruh is on the edge of the village with unbroken views of the mountains and the cows were making the most of the lush summer grass.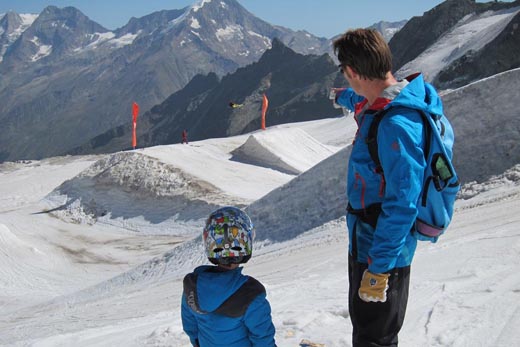 Skiing was our first activity and finally - after two gondolas, a tunnel and a funicular – my wife, Jacob (our eldest) and I emerged into the bright, warm morning sun on the Feegletscher glacier. It was novel to be on my board in August, and great to see my son hadn't forgotten how to ski as he smiled his way down the glacier. Awkwardly, the only lifts open were T-Bars, which meant I pretty much had to put my son in my backpack to get him back up the mountain. Unconventional, but it did the job!

My in-laws, meanwhile, had taken our daughter for a forest walk before meeting us at the 'Threes!xty', a revolving restaurant at the base of the summer skiing area (3,500m). It was a great spot for kicking back as the scenery slowly span before us, although it did make me feel somewhat seasick! We then descended into the depths of the biggest ice pavilion in the world. Caved out of, and into, the ice, it's complete with a couple of kids' slides made of ice and lots of strange ice-carved faces, which tripped the kids out a little.

The next morning we used our citizenship for a free ride on the Plattjen bubble. At the top was an amazing ball run carved from long pine logs. There were multiple start points for the wooden balls, most ending with the ball dropping out of a carved crocodile's head. It kept my kids entertained for ages. Once we'd finally managed to drag them away we took a wonderful two-hour walk back down to Saas-Fee.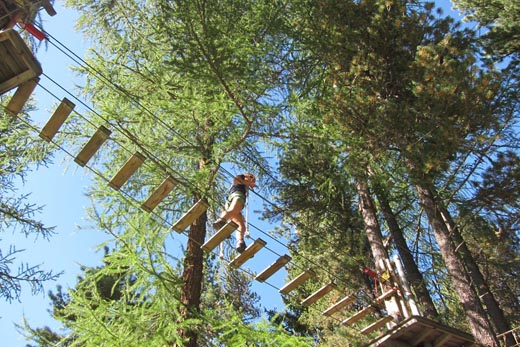 After a couple of goes on the very fast Feeblitz toboggan run, which Jacob loved, three of us adults tried the Forest Adventure Trail - a high ropes course in four sections of increasing difficulty. The final section started with a long ladder up to a tiny platform, from which you had to swing on a rope towards a suspended cargo net. This was followed by some strength-zapping, balance-requiring obstacles. Once we'd finished, the staff told us it was too windy for the final zip line across the gorge and to come back another time to finish it off. Who said anything about a gorge?

On our last full day I woke Jacob early, rushed breakfast and hit the slopes for a full morning on the snow. After a few runs we hit the park, where Jacob and I watched in awe as the jibbers went inverted. 'Can you do that Dad?' was a question I answered with a cough, and a mumbled, 'I'm a little too old for all that now.' Not denying, nor confirming, my previous abilities!

Rejoining the rest of the family who'd been for a morning swim, we took a short bus ride down the valley to the village of Saas-Grund before taking the gondola up to Kreuzboden (2,397 metres) - and I was glad we did. What we found has to be one of the best playgrounds in the world. Sympathetically built into, and using, the rocks and water of the landscape, were a climbing wall, a wooden tower with rope bridges and fireman's poles, zip lines, caves with tunnels, a channelled mountain stream with multiple dam gates, a small lake for swimming/paddling with a rope-pulled wooden raft, oversized wooden sun loungers and hammocks for the grown-ups, pedal-powered go karts and a petting zoo, all against the glorious backdrop of Saas-Fee's glaciers and peaks. An attraction like this would have a large entrance fee in the UK but here it's free.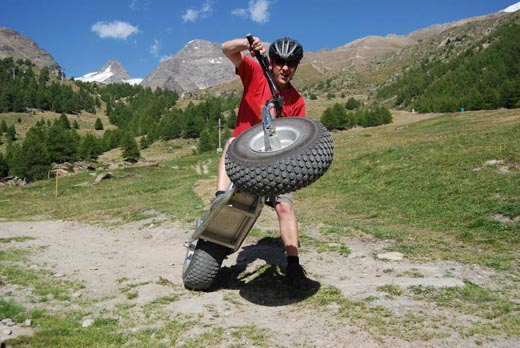 Leaving the kids with Granny to ride back down on the gondola, the rest of us mounted Monster Trotties - a cross between a child's scooter and a mountain bike with very fat stout tyres. With two or three pushes we were off on an exhilarating 11km descent on dirt tracks to the valley floor. We saw chamois and marmots as we sped along, making both bolt for cover, and apart from my wife losing most of the skin of one elbow we managed to arrive safely at the bottom.

Our last morning was spent trying to feed marmots at the top of the Spielboden bubble. We'd been told to take carrots but the tame and very fat marmots snubbed us in favour of another tourist who lured them with chocolate biscuits. With a little time to spare before our lunchtime bus and train to the airport, we returned to the Forest Adventure, and we were given the all clear to use the long zip line across the gorge.

With a 'Why are we going?' from the kids, and a heavy heart, we climbed aboard our bus, all in agreement that Saas-Fee is all things to all people. Once our plane had landed in a cloudy London I started to plan my campaign for the leadership of the People's Popular Front of Saas-Fee. Want to join me?