Round the bend


TEXAS IS HOT. Outside the airport at Midland, I'm hit with a blast of dry desert air and the sun beats down relentlessly as my eyes adjust to the brightness and my body to the heat. Mike, a native Texan and our guide for the week, immediately offers us canteens fi lled with ice-cold water, which we gratefully accept and guzzle.
It's also big, almost incomprehensibly so compared to the compactness of the UK. As you drive away from the airport along Interstate 20, the horizon is dotted with pumpjacks, or nodding donkeys – some bobbing away furiously; others motionless and rusting – and other relics of the oil industry, as far as the eye can see, all beneath a vast blue sky. It evokes countless movies about the Wild West or the all-American road trip.

My whistle-stop tour around the far west of Texas takes in the spectacular mountain scenery of the Big Bend National Park and some cowboy-style activities around the tiny outposts along the USA-Mexico border – as well as the famous food and hospitality of the Texans, who are fi ercely proud of their independence in this sparsely populated hinterland.

Going south from Midland, the landscape becomes more dramatic, with the Glass Mountains providing a backdrop to the wild, unrelenting scrubland – the sort of landscape you see in any number of Westerns. A three-hour drive leads you to Marathon, a town of 600 on the railroad from Houston to Los Angeles. Its location, 40 miles north of the entrance to the Big Bend National Park, makes it a prime base for tourists who want to explore the region. It's rather peaceful, aside from the cicadas at dusk and the occasional train thundering through.

The historic Gage Hotel, pitched alongside Highway 90, is our fi rst taste of Texan hospitality. It features 16 double rooms on its two storeys, plus 20 separate adobe-brick rooms facing a nearby courtyard. The beautiful rooms and lobby are filled with Old West artefacts dating from the turn of the 20th century.

About a half-hour drive west from Marathon is Alpine – with a population of about 6,000, it's one of the larger towns of the Big Bend region. Everyone in this part of the world seems to drive a pickup truck or a four-wheel drive. This penchant for the larger automobile is testament to the fact that West Texas is still very much cowboy country, and while the traditions of the working cowboy are alive and well, these days the truck is preferred over the horse on the endless cattle ranches that take up swathes of the vast, open landscape.

The Big Bend is named after the northwards curve that the Rio Grande – the river that separates Texas from Mexico – takes as it makes its way eastwards towards the Gulf of Mexico. It was dedicated as a national park in 1944 and comprises 1,250 square miles (about the size of Gloucestershire) of rugged Chihuahuan Desert, as well as the entire Chisos Mountains range. To learn more about the human history and geography of the region, you can visit the fascinating Museum of the Big Bend, on the campus of Sul Ross State University in Alpine.

It's a 100-mile drive south from Alpine to Chisos Mountain Lodge, our accommodation in the park. By the time we get there after negotiating the winding road high into the magnifi cent Chisos Mountains, the skies are grey and sending out ominous rumbles of thunder. As the rain hammers down, the lights in our rooms go out. A lightning strike has knocked out the power – a regular occurrence up here. Coats on heads, we sprint across the car park to the restaurant, where the staff are coping admirably with the lack of electricity, serving up a limited 'power outage menu'.

The accommodation itself is clean, comfortable and an ideal base for exploring the park. The 72 rooms are a short distance from the restaurant, convenience store, gift shop and trail heads. Don't expect to get a mobile phone signal up here, though – this really is slap bang in the wilderness.
---

Early the next morning, the sun is shining once again as we drive down the mountain. We go down a dirt track for ten minutes, before making sure we've each got plenty of water for the trek ahead. We're going to Cattail Falls, a secluded waterfall about a mile and a half from where we park.

This is not a difficult trail, but it's tiring to hike along rough ground in the baking morning heat. But our efforts are rewarded as the path becomes shaded, the air turns cooler and the vegetation more lush. We clamber over some wet rocks and reach the falls, which, fed by the torrential rain the previous night, tumble from the top of the rock face, sprinkling a fine, cooling spray in our faces. It's secluded and tranquil, apart from the musical chirping of birds and crickets.

Cattail Falls isn't a place you'll find on any maps or in any guidebooks: as the only watering hole for miles around, it's deliberately kept secret as it's frequented by the local wildlife, including black bears and mountain lions. That said, it's easy enough to reach and is signposted on the ground – just don't get in the pool, as sunscreen contaminates the water.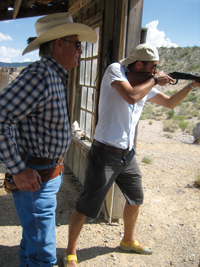 Soon, we're on the road again and heading for Lajitas, right on the Mexican border next to the Rio Grande, just outside the national park. On the way, we stop off at the 'ghost town' of Terlingua for lunch. A thriving mercury-mining settlement during the early 20th century, it had been largely abandoned by the 1940s. Now, it's a tourist stop-off and historical curiosity – look out for the ruined miners' stone huts on the barren mountainside – with a tiny community comprising a few shops, galleries and the Starlight Theatre, a locally renowned bar, restaurant and live music venue. 

Twelve miles east of Terlingua is Lajitas. This former cavalry post on the Comanche Trail has been converted into a luxury resort that offers a range of outdoor activities, yet retains its authentic Wild West character. The resort has a brand-new 18-hole golf course, equestrian centre, swimming pool, spa, bar, restaurant, general store and even a museum dedicated to Texas longhorn cattle, and offers a multitude of outdoor activities on 42 square miles of land. It even has its own private airport.

We meet the equestrian centre manager Kim 'OK' Estes, a genuine cowboy who's been riding for 63 years (I didn't catch his age, but I'd guess he's not much older than that). He tells us about the history of western riding and his role training horses for competition in rodeos before we head to the shooting range to try clay pigeon shooting. We insert our earplugs and, after OK gives us a quick demonstration, it's time for my go. It's pretty diffi cult: the targets zip across at quite a speed, but I manage to hit one on my third attempt – but the shotgun has a hefty kickback, which I can still feel on my shoulder two days later.

Then it's on to the cowboy shooting, which is where the real fun begins. We head to a shooting range that's mocked up like a typical Wild West town. First, we fi re a Colt .45 at rusty targets about fi ve metres away. Using a six-shooter is much trickier than the movies suggest, but I think I've found my weapon of choice: I hit four out of fi ve, while OK makes wisecracks behind me, calling me 'Clint Eastwood the second' if I'm on target, or saying when I miss, 'Well, at least you hit the mountain.'

Next up is the Winchester rifle, with which we have to hit similar targets farther away – I nail them. Easy, this shooting lark. Finally, it's the shotgun again, and the toughest task yet: when you hit the target, it immediately triggers a clay pigeon to spring up from behind it, which you must also shoot. I didn't manage it, and my hubris is exposed.

Following that, we take a tour on all-terrain vehicles (ATV), or quad bikes, around the new 18-hole championship golf course, Black Jack's Crossing. Designed by former PGA Champion Lanny Wadkins, it is in a fantastic setting that offers spectacular views over the Rio Grande and the surrounding mountains.

During our visit, the course is closed, so we whizz around on the ATVs with abandon. And after such an action-packed day, an early night is in order – for tomorrow, we take a river trip. (I don't sleep well, though, as there's a large spider on my wall that I swear is just waiting to crawl into my undercrackers. It turns out to be a baby tarantula – I'm glad I didn't meet its parents.)

At 9.30am, we put in on the mighty Rio Grande and begin our day-long rafting trip. The river itself is brown and silty, fi lled with debris and fast-flowing. But the water is not the main attraction; it's the majestic scenery of Santa Elena, a canyon whose walls reach a height of 450 metres. Mike and his pal Ernesto from Mexico take it in turns to row as we spot local birdlife: herons, kingfishers, turkey vultures and peregrine falcons.

The canyon walls grow taller as we head downstream, overshadowing the river. At about 1pm, we moor up on a sandbar and eat lunch while marvelling at the massive rock walls that dwarf us. Then it's onwards to our exit point – a slipway at the end of the canyon inside the Big Bend National Park, which we reach at about 3.30pm. For me, this fantastic trip was the highlight of my entire time in the Big Bend.

The next morning, we drive a few miles west to Lajitas Stables for cowboy-style horse riding. I'm paired with a steed called Huey, who our guide Janelle describes as 'laidback, a bit lazy… and fat'. I'm apprehensive as I've ridden a horse precisely zero times before, and have visions of being thrown and going head fi rst into a cactus – or worse, a ravine – but our pace is leisurely as we head into the mountains above Lajitas.
---

Huey is living up to his reputation and is recalcitrant at fi rst, but he becomes more obedient as I grow in confi dence. We eventually reach the top of the trail – which is rocky but proves no problem for the horses – and take in the views over the river below. We head back the way we came, drinking plenty of water in the rising morning heat. A long drive is ahead of us as we go westwards to Cibolo Creek Ranch, located on Route 67, about 25 miles north of the border town of Presidio, where we stop for lunch.

Four miles from the highway, the beautiful adobe hacienda – dating back to 1857 and restored in 1990 – is in the middle of 47 square miles of the grassy Chinati Mountains. The suites sport huge beds, traditional Mexican décor and antiques, with a pool, bar and restaurant close by, all in splendid isolation.

The next morning, we pile into an ex-US Army humvee modified to carry passengers on safari-style raised seating. Despite the jarring terrain and heat not helping the sore heads we nurse after drinking a little too much the night before, this is an enjoyable tour, with expert commentary from our driver Mike (a different one). He tells us that wealthy oilmen come here to hunt game, from quail to mountain lion, and pay thousands of dollars for the privilege.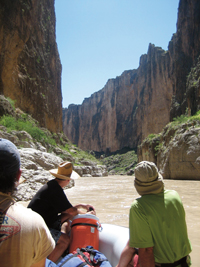 We spot a lone buffalo, deer and cattle, while coming across ruined stone huts dating back to pioneer times, prehistoric rock art and some terrifi c views from high ground. But as we go up a steep incline, we hear an almighty crack and are jolted from our hangovers. We leap out and survey the damage. It's bad: the right rear axle has snapped, and the fuel tank is leaking. It turns out that the humvee was surplus from the first Gulf War – Iraq couldn't break it, but Texas could.
In the afternoon, we check out the ranch on the other side of Route 67, where there are a number of old forts in which you can stay in complete solitude and Old West luxury or, if you so wish, austerity: Mick Jagger and Jerry Hall once holed up in one that has no electricity. We also spot more ranch animals (camels, oryx) and local wildlife (a coachwhip snake, known locally as a red racer, and a couple of road runners). Guests can hire ATVs to travel around the vast estate.

Our next stop is Marfa, a small, artsy town of 2,100 that's famed both for its thriving cultural scene and an unexplained phenomenon known as the Marfa Lights. If you're driving here from the south, you'll have to stop at a border control checkpoint, so ensure you have your passports.

As we arrive, the sky becomes overcast and the air becomes milder – it's more like a British day in March, and is a reminder of how the weather can change dramatically here. We don our jackets and make our way to the Chinati Foundation, a modern art museum in a former prisoner of war camp and one of a dozen galleries in the town. In the centre of town is the Hotel Paisano.

Built in 1930, it exudes historical splendour, and hosted stars Elizabeth Taylor, James Dean and Rock Hudson during the fi lming of the movie Giant in the 1950s. More recently, Marfa and its surrounding area has provided the backdrop for No Country For Old Men and There Will Be Blood.

We head for the McDonald Observatory, high up in the green hills near Fort Davis. One of the world's major astronomical research facilities, it welcomes visitors with a fascinating presentation prior to a tour of its huge telescopes during the day. At night, it holds regular 'star parties', where you can view the Milky Way in all its glory under some of the clearest skies in the States.

Our last night in Texas is spent at the Indian Lodge, in the heart of the Davis Mountains State Park. This 39-room full-service hotel resembles a Native American multilevel adobe pueblo, and is an ideal place to spend my last night in Texas. Beneath one of those big, clear night skies, refl ecting on a hectic but memorable week in the Wild West, I just know that I haven't even scratched the surface of the Big Bend.
---
How Lajita got the goat

In the 1980s, the wealthy Houston businessman who owned Lajitas jokingly elected his friend as mayor of the town. However, the owner of the local trading post took umbrage to this, saying: 'If somebody from Houston can be mayor of Lajitas, then why not my goat?' And lo, Clay Henry (for 'twas his name) was elected. But the story doesn't end there: Clay had a reputation as liking a drink – specifi cally beer, and lots of it. Not that this was a problem; in fact, his ale-guzzling antics were a big tourist draw. And he was but the fi rst in a dynasty of boozy billy-goat politicians: his son and successor, Clay Henry, Jr, was also fond of a pint; and in 2002, Clay Henry III was castrated by an angry local who objected to the mayor drinking his bottle of beer. Sadly, Clay is no longer with us and Lajitas no longer has a mayoral goat, but the story is commemorated at the resort's bar: the Thirsty Goat Saloon.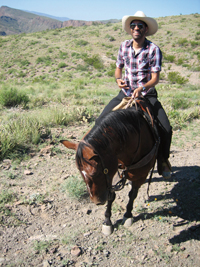 Thank goodness it's real Tex-Mex food

The spicy, smoky cuisine of the southwest USA and Mexico is world famous, but there's much more to Tex-Mex food than nachos and chilli con carne (although there are plenty of these two staples about).

Marathon Coffee Shop in Marathon offers a hearty breakfast menu of Tex-Mex specialities, most of which are con huevo. The breakfast burrito – tortillas filled with scrambled egg – comes with sides of beans, cheese, chilli sauce and shredded potato. +1 432 386 4352

Grab some excellent Mexican food at Los Jalapeños in Terlingua – cheap, cheerful and authentic, this place does a mean mole poblano (a rich sauce fl avoured with chilli and chocolate and served with chicken and rice) alongside a selection of beers from south of the border. You'll also notice the bulbous, deep pink fruits that sprout from almost every cactus. These are prickly pears – called tuna in Spanish – and can be used to fl avour a variety of foods. The prickly pear margarita is a speciality cocktail of the Starlight Theatre in Terlingua, which also serves a wide range of Southwestern cuisine. +1 432 371 2326

When to go
 
While the Big Bend is a year-round destination, this trip was taken in August, which is generally quiet – even Texans don't go on holiday in such blazing heat. The hottest month is June, when temperatures reach 37°C in the daytime. Winters are generally mild, with daytime temperatures in the low 20s, although it gets colder at night, often near freezing.

Book early if you want to visit during March/April, as this is when Texan schools and universities have their spring break and local families descendon the Big Bend's hotel rooms.
Getting there
 
Continental Airlines fl ies twice daily from Heathrow to Houston, from where you get a connecting fl ight to Midland – economy return lead-in fares start at £518.27, including taxes and charges.
www.continental.com

Getting around
You will unquestionably need a car to get around the remote and vast Big Bend region. There are desks for several car rental companies at Midland International Airport.
www.flymaf.com/ground_transportation.aspx

Accommodation
 
Gage Hotel, Marathon. From $90 for a double room with shared bath. www.gagehotel.com Chisos Mountain Lodge, Big Bend National Park. From $113 for a room with one double and one single bed.
www.chisosmountainslodge.com

Further information
The Big Bend National Park is open all year round. To enter the park, drivers must pay an entrance fee of $20 for a seven-day vehicle pass, while individuals must pay $10 (free for children aged 15 or younger). For more about visiting the Big Bend National Park, see
www.visitbigbend.com
. For more about visiting Texas, go to the Texas Tourism website at
www.traveltex.com
.