"I thought we'd have our lunch up there," Barry says, pointing to a huge rock a short distance ahead of us. Behind it looms Streap, a peak we toyed with scaling, but which seems to have moved further and further away the closer we've got.
We slowly zigzag up the heather-covered hill, scrambling and grabbing at roots here and there to haul ourselves up. When we get to the slab of rock at the top, our thighs burning and backs sweat-soaked from the sun, the Scottish landscape unfolds in front of us.
Glenfinnan, the valley we've just hiked through, is hemmed in by lush green hills on all sides, the river Finnan and its waterside walking trail snaking through the middle and off into the distance. Just out of view is the Glenfinnan Viaduct, where earlier we passed a clutch of Harry Potter fans waiting to glimpse a train travelling along the same route as the Hogwarts Express.
As we sit and devour our sandwiches, I marvel at the fact that last night I fell asleep somewhere just outside London and woke up amid the sweeping landscapes of the Highlands, the Caledonian Sleeper overnight train having chugged through the dark on its way into the wild Scottish Highlands.

Soon, though, it's time to descend again. When I first told Barry Wallace, who runs Scottish adventure company Wilderness SUP, of my plans to spend a day hiking before our paddle board expedition, he offered to join me, mentioning a 'stunning bothy' he knew along this route.
A distinctly Scottish place to stay, bothies range in size from glorified sheds to spacious cottages. They're usually abandoned buildings in the hills that have been restored to provide basic shelter from the elements for hikers, and are left unlocked for anyone to make use of them.
As we approach Corryhully, a lovely stone building with a tin roof, Barry tells me it's nicknamed the 'Electric Bothy' because, well, it has electricity. "Most of them don't," he explains. In this case, it's been put to good use – with an electric kettle for a cuppa. Inside, the bothy is rustic but tidy, with bare stone walls, a fireplace and wide platforms for sleeping on.
Nearby, on the riverbank, a group of campers are packing away their gear. Unlike in most of the UK, wild camping is allowed pretty much anywhere in Scotland, and tomorrow we'll be pitching up in the wild too.
Beaches and bothies
After a night in the tiny coastal town of Arisaig, where we're treated to a Technicolor sun setting over the bobbing boats in the harbour, we meet the rest of the paddling group.
There are six of us in total, and our plan is to paddle west along Loch Nan Uamh, hugging the coastline and stopping off at remote beaches along the way. We'll be following the route Bonnie Prince Charlie trod in 1746, when he was leaving Scotland after defeat in the Battle of Culloden.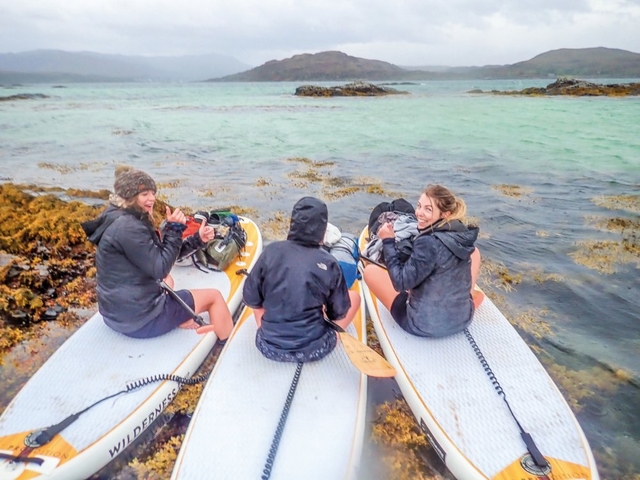 History, though, is not the only attraction here. It's a stunning stretch of coast, all jagged cliffs and craggy rocks dropping off into dark water. The sky is clear as we wade out into the boggy-bottomed sea, pushing our paddle boards laden with everything we'll need for the next couple of days – dry bags crammed with sleeping gear and clothes, tents strapped alongside them. The wind is not on our side, so once aboard we kneel down and begin paddling furiously against it.
"Think of it like this: the longer your paddle is out of the water, the more power you're losing," Barry shouts over the wind, encouraging us to take long, fluid strokes rather than short, inefficient ones. We put this tip into action and slowly make it out of the first bay.
We're not going far today, and the next hour's paddle is more manageable, the sea calm enough for me to see that it's spiked with orange jellyfish, their heads as big as bicycle wheels. Climate change has brought more of these alien-looking creatures to these waters in recent years.
I make a mental note to avoid falling in.
Eventually we reach a deserted pebbly beach, backed with a grassy stretch where we pitch our tents. It is another battle against the wind, but once we get them up we reward ourselves with a warming drink in a clifftop bothy nearby.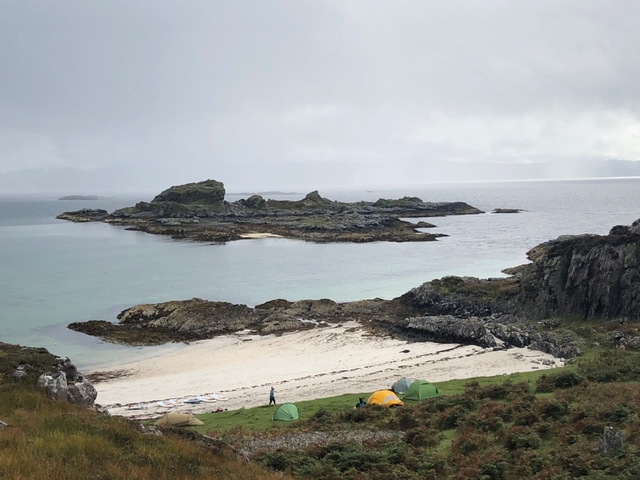 "It's called Carlotta's Eyrie," Barry says, leading the way. We scramble up the rocks, aided by knotted ropes some helpful soul has installed, and reach a compact shack overlooking the water. Inside, Carlotta's is cosy, with a big sleeping platform, a shelf of books and a long, rectangular window with sweeping sea views. On one wall is a stained piece of paper, and when I take a closer look I see it's signed by two men who took part in building the bothy.
"Over 20 people were involved in the project, which was concluded in 1956," the note says. "Hope it provides shelter for many years to come."
We spend an hour or so chatting over wine and beer sipped from camping cups before we clamber back towards our tents. We gather driftwood from the beach and get a fire going while Barry cooks dinner over a gas stove. In the dark, flashes of torchlight and excited chatter tell us that a group of hikers are heading up to Carlotta's bothy for the night.
They may have the warmth of four walls to look forward to, but I'm cosy under canvas, swaddled in a four-season sleeping bag and all my layers, listening to the rustle of the tent in the wind.
Marooned on a desert island
After waking up to the morning moos of nearby cows, we paddle onwards for just short of four miles, the sea behaving itself a little better than yesterday, but still putting up a fair fight. I'm windswept and my arms ache a little, but as soon as I see our final stop, I'm reenergised. The clouds have retreated, leaving a blue sky over a sandy beach so white it could almost pass for the Caribbean.
Once the tents are erected, we paddle a short way across to a tiny island and lie on the sand, the sun warming our faces. Yesterday the early September weather was distinctly autumnal, but today, for an hour or two at least, it's summer again.
Emboldened, I decide to go for a dip, and wade waist-deep into the water before throwing myself in up to the neck. It's cold. Extremely cold. But I manage to swim a couple of quick lengths, using points on the beach as my markers, before the burn of the cold on my skin sends me scuttling back out onto the sand.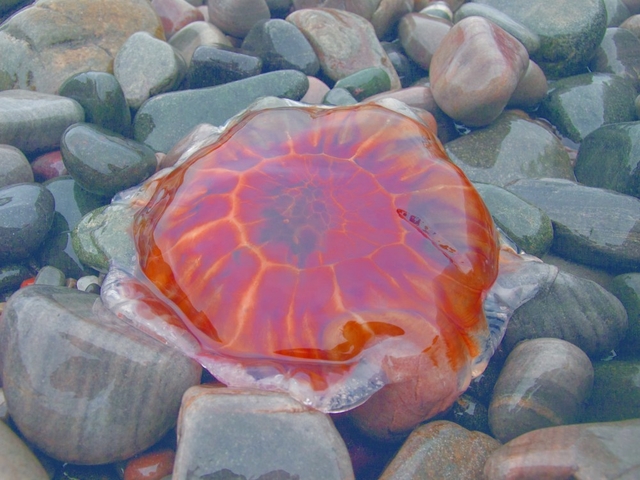 That night we make another campfire on our island. There's a chill in the air, so we get as close to the flames as we can. My hair, clothes, and even the rubber lid of my cup soak up that distinctive smoky scent that will linger for weeks after I get back, making me smile. Before going to bed I pop a small rock on the fire for a few minutes before taking it back to my tent with me. Wrapped in a jumper, at the end of my sleeping bag, it's the perfect foot-warmer.
In the morning, we attempt our return to Arisaig, but the water is against us; it's choppier than ever, washing some of us back onto the beach and sweeping others towards the rocks.
In the morning, we attempt our return to Arisaig, but the water is against us; it's choppier than ever, washing some of us back onto the beach and sweeping others towards the rocks. We decide paddling wasn't meant to be today, and put our tents back up.
That's the way it is in the Highlands; bad weather can come from nowhere, and all plans are provisional. Luckily, no one has anywhere better to be, so we embrace being marooned. We spend the day chatting, napping and playing improvised games of boules with rocks on the sand. That night I drift off listening to the thwack of heavy rain on canvas. We wake before 6am and pack up in the pitch black morning.
As we set off, the sun is just starting to peek over the craggy peninsulas and islands that lie ahead. We paddle silently in the blueish light, a gentle breeze behind us, our paddles slicing through the glassy water as jellyfish propel themselves forward on either side of us.
The sky catches fire at dawn, and we glide towards the inferno. I stand all the way, enjoying the hypnotic sweep of the paddle through water, admiring the world coming to life around me. Soon, we've passed Carlotta's, and less than two hours after we set out we're approaching our start point. It's hard to believe we were so close the whole time.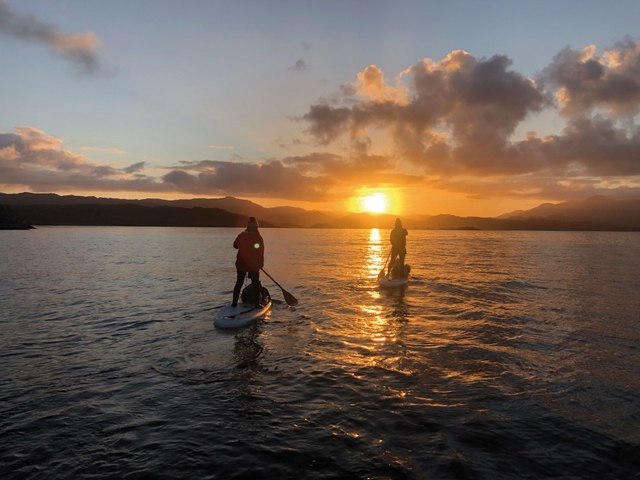 On the home stretch, Barry drifts up alongside me. He seems relieved we've had a morning of perfect paddling weather, and that our marooning was only short-term.
"Scotland gives you these amazing moments, but it makes you work for them," he says. And he's right. Mother Nature has chosen the final moment of our wild weekend, just before we return to our cars, clean clothes and daily lives, to remind us what we'll be missing when we leave.
Three more adventures in Scotland's wild west
Summiting Ben Nevis
Scale the UK's highest peak and you'll be rewarded with fabulous views of glacial valleys and distant lochs. Of the two main routes to Ben Nevis' 1,345 metres summit, the Mountain Track is rather easier than the challenging Carn Mor Dearg Arete route. 
Five Ferries cycle route
This 52-mile route takes in the islands of Arran and Bute, as well as the Cowal and Kintyre peninsulas. The four stages of the ride are connected by – that's right – five ferry journeys.
Sea kayaking trail
Europe's first long-distance sea kayak route, the 310-mile Scottish Sea Kayak Trail, takes you from the beautiful Isle of Gigha all the way to the Summer Isles near Ullapool. You can tackle chunks of it in a day or two or go the whole hog.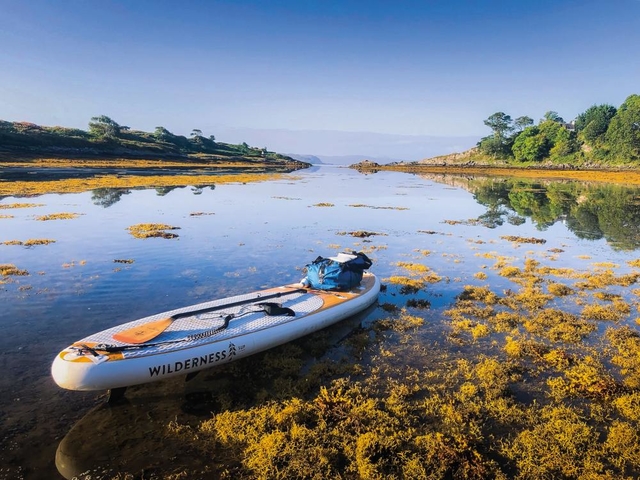 Travel info
Health & safety
You'll end up in some relatively remote areas, so a guide is highly recommended.
What to pack
Camping gear, a dry bag, plenty of warm layers, waterproofs and wetsuit boots for paddling in.
Our trip
Wilderness SUP offers a three-night paddleboard adventure on Scotland's west coast from £500 pp, including two nights wild camping, one in a local bunkhouse, beach walks and plenty of SUP in between.
Getting there
Nicola travelled by the Caledonian Sleeper train, which serves Fort William and other Highland stations including Arisaig, from London Euston. Twin berths (for two people) cost from £170 one way.
Getting around
Regular local trains and buses connect Arisaig with Fort William and Inverness is easily reached on public transport too. Once there, transport to the start point for the trip can be arranged via Wilderness SUP.
Food and drink
Wilderness SUP provides much of the food during their wild camping adventure (expect warming porridge for breakfast and hearty, filling dishes for dinner). You'll need to bring additional snacks, plus the all-important alcohol for campfire nights.
Where to stay
Bookend camping with a well earned comfortable bed at The Arisaig Hotel, which also has a cosy bar and restaurant. Double rooms from £80, beds in the adjoining bunkhouse from £25pp.