Not everyone has the itch that I've had all my life to seek out adventures. If I go to a new country I want to do EVERYTHING. I want to fit as much in as possible to each day I spend on earth – it's become a kind of game. How many different things can I do in the shortest time? So I was pretty excited when Active Traveller sent me to Switzerland to pack as much outdoor adventure as possible into a long weekend. Challenge accepted.
Day one
I feel strangely smug queueing up at City Airport, watching the suits heading off to go and broker and hedge stuff as I contemplate my action-packed Swiss itinerary. My excitement is largely fuelled by my first planned activity – paragliding. I've done it a few times before and have even managed a few solos and one ground handling experience that landed me in a huge cow pat, so naturally I'm keen to give it another go. The excitement lasts all of my plane journey and doesn't subside on the train journey from Zurich towards Interlaken.
Within half an hour of arriving at the bustling lakeside town I am 300 metres up a mountain, being strapped into a harness and pushed off the hill in tandem. We lift off and start to soar with the thermals. Once the panic subsides I manage to open my eyes and am greeted with picturepostcard Swiss Alpine vistas. It's breathtaking, quite literally. The only slight annoyance is the thermals blowing my beard into my face.
Next up, jet boating. Bombing down Brienzersee lake at 65mph sounds extremely fun, and thus it proves, as we make 360 degree spins and launch our wake into the air over other boats. I'm still working out how to fit in as many activities as possible to my first day, so I eye up the people stand-up paddleboarding along the shore and decide that's next.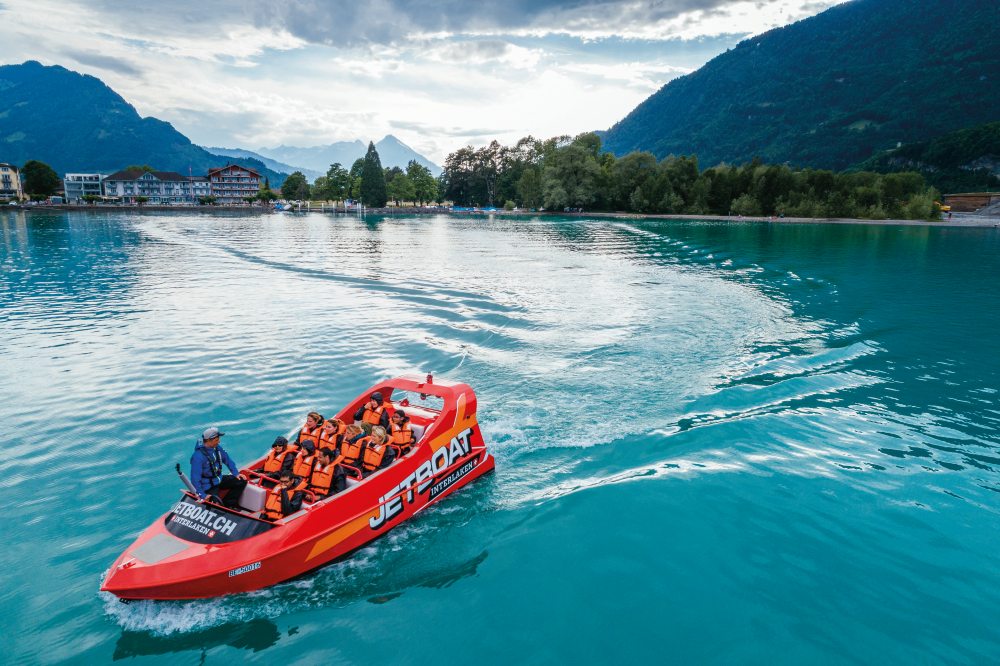 I paddle below 2,000 metre-high peaks rising up on either side of the lake and enjoy the calm pace after the last two rather more hair-raising ones. After about an hour on the water I decide there's just time to squeeze in a short hike to a nearby waterfall. The hike meanders through the forest, the trail running behind one of the waterfalls and giving me the opportunely to dunk my head into the freezing but sweet-tasting glacial water.
An hour later I'm comfortably holed up in a 100 year-old hotel called the Grandhotel Giessbach. Its classic Swiss-style shutters are wide open to the afternoon heat and guests sit on the patio drinking wine and playing chess – I keep expecting James Bond to suddenly appear, possibly with a Saint Bernard in tow. I'm pretty pleased with how many adventures I've ticked off today, so promptly tuck myself into bed (after a 7.3% IPA) and sleep like a baby.
Day two
I get up early-ish for a run and catch a bus up the road to 1,500 metres, right on the snow line. I live precisely 67 meters above sea level in Coniston in the Lake District, so being nearly a mile high gives my lungs a right proper work out. The views, however, make up for my constant spluttering, my 180bpm heart rate forces me to rest every few hundred metres with the Wellhorn mountain towering above me.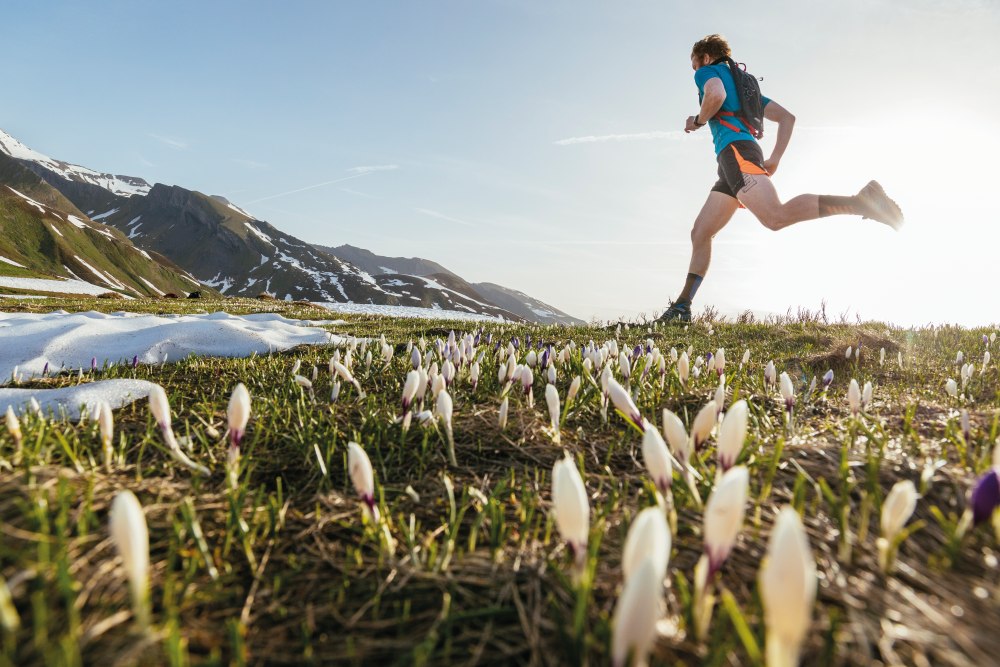 After my run I head to a nearby river canyon for another short hike. Ever since reading Bill Bryson's A Short History of Nearly Everything I've been fascinated by geography, and especially by how water can carve deep canyons into rocks that are so hard you'd need dynamite to break then. The often 30 metre-deep Gletscherschlucht Rosenlaui canyon is a marvel to explore - deafening water echoes deep in the stone crevasses and fine mist sprays all over me as I look down on it.
After another (very efficient, like everything in Switzerland) bus ride down to Grindelwald I stop for a coffee and think on what to do next. I've spotted quite a few mountain bikes around so figure there must be a few trails to explore. I manage to resist the shiny e-bikes on offer and instead rent a proper old-school mountain bike - 10 minutes later I'm on a gondola and headed skywards.
Up at nearly 2,000 metres even walking is tough on my sea-level lungs. I struggle up the 25% gravel track, eventually reach the top of the trail and there it is. Standing majestically across the valley from me, partly covered in its own wreath of clouds, is the formidable Eiger. The mountain is steeped in history, and to this day climbing its north face is something almost every climber dreams to complete.
It's certainly on my ever-growing bucket list. I stand there for a while taking it all in, hoping a Saint Bernard will pad up to me and offer me a swig of brandy.
Years ago I banned myself from all activities or sports that require skill. This is because my ambition always outweighs said skill and results in me breaking things, mostly body parts. The last time I went skiing, for example, I broke both thumbs, a rib and a ski boot in three separate accidents. This penchant for hurting myself has also meant that I never got into downhill mountain biking, a decision I now regret as I tear down the trails back towards town.
Unlike in England and Wales, in Switzerland you can cycle on all footpaths (except for a few localised exceptions) and it seems to work perfectly. Switzerland has more than 22,000 miles of marked trails, most of which you can mountain bike on, and everyone respects each other's use of the path. I like that a lot. And I reach the bottom miraculously still in one piece.
In the evening I take a train to the mountain village of Kandersteg, where the clouds roll in and begin a long symphony of thunder and lightning. I sit in the window of my hotel room, staring out at the snow-covered mountains being lit up every few seconds until the storm has passed. What a perfect way to end my day.
Day three
Above Kandersteg is Oeschinensee lake, a turquoise Narnia hidden in the mountains. It famously froze over a few years back and thousands of people flocked there to do a bit of ice-skating. My day's first activity is going to be a three-hour hike up above the lake, circumnavigating it clockwise. It's Sunday, so I'm expecting crowds, but I only meet three other hikers, plus a few mountain goats.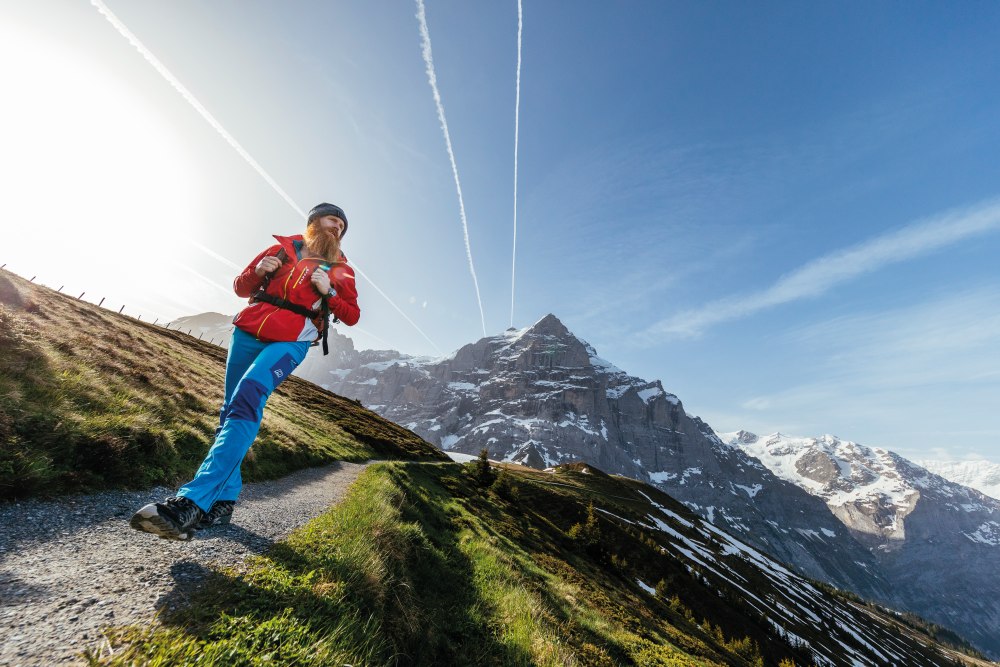 Back down at the lake I know exactly what my next activity will be - a swim. I've forgotten my trunks, so I wander off to a quieter bit of the lake and strip down to my underpants. I wade in slowly, the cold glacial water sending shock waves up my body. I dive in and immediately lose two things - all the air in my lungs, and my underpants. Floundering around trying to find both my breath and my pants must have been quite the sight for anyone with binoculars staring down at me from above. I do apologise.
Feeling reinvigorated, I drip my way up to the lakeside restaurant for coffee and cake. I'm wondering if my morning activities are over when I spot a toboggan run near the gondola – this I have to try. For five francs (about £3.50) I am given the pleasure of sitting on a small tea tray with wheels and a handbrake between my legs.
I am then dragged up the track for a couple of minutes and let go - I proceed to scream like a small child as I career down the metal slide all the way back to the bottom. The sled isn't on tracks, so cornering really does require some nifty sideways leaning. I have to say that this was one of the best £3.50 I've ever spent (excepting my delicious 7.3% beer from the first night, of course).
After a brief recovery from all the toboggan excitement I'm on the road again to the town of Gstaad. Feeling like my trail run on day two wasn't quite long enough, I suffer my way up Eggli hill, a good 800 metres of ascent that reminds me of my local, Coniston Old Man. In the evening, legs feeling suitably spent, I have a wonderful dinner of local trout and kip in a tiny wooden B&B.
Day four
I'd only just completed my Trans-Europe cycling world record before coming to Switzerland, and after it I promised myself that I wouldn't sit on another road bike for at least six months. So it comes as a surprise when I feel the urge to at least sample some of the alpine climbs around Gstaad. There is a famous cycle route called the Gstaad Four Finger loop, and as it's only 40 or so miles,
I decide to take it on. A local bike shop provides me with a fancy new bike with electronic Shimano gearing and I'm soon enjoying cycling up a hill without carrying my entire life in my panniers, as I had done across Europe.
I doubt I need to introduce the idea of road cycling in the Alps - if you're into cycling you'll probably already know how amazing it is. In Switzerland you get the added benefit of ridiculously good tarmac, fairly quiet roads and an abundance of cheese and chocolate everywhere - a cyclist's dream. I spend two hours cycling up and down the valleys and due to a slightly lengthy delay at a cheese factory I only manage three of the four fingers of the route, but I'm content – also my arse has started to hurt. So I head for Gstaad and the airport, via three perfectly punctual trains.
Arriving home I tuck myself into bed feeling pretty happy with what I have managed to pack into my four days in the Swiss Alps. Paragliding, jet boating, stand- up paddleboarding, hiking (twice), mountain biking, swimming, trail running (twice) and tobogganing.
I probably could have fitted in more, as bungee jumping, canyoning, river rafting, kayaking, climbing and more are all on offer in this active traveller's paradise. Switzerland really did allow me to scratch my adventurous itch.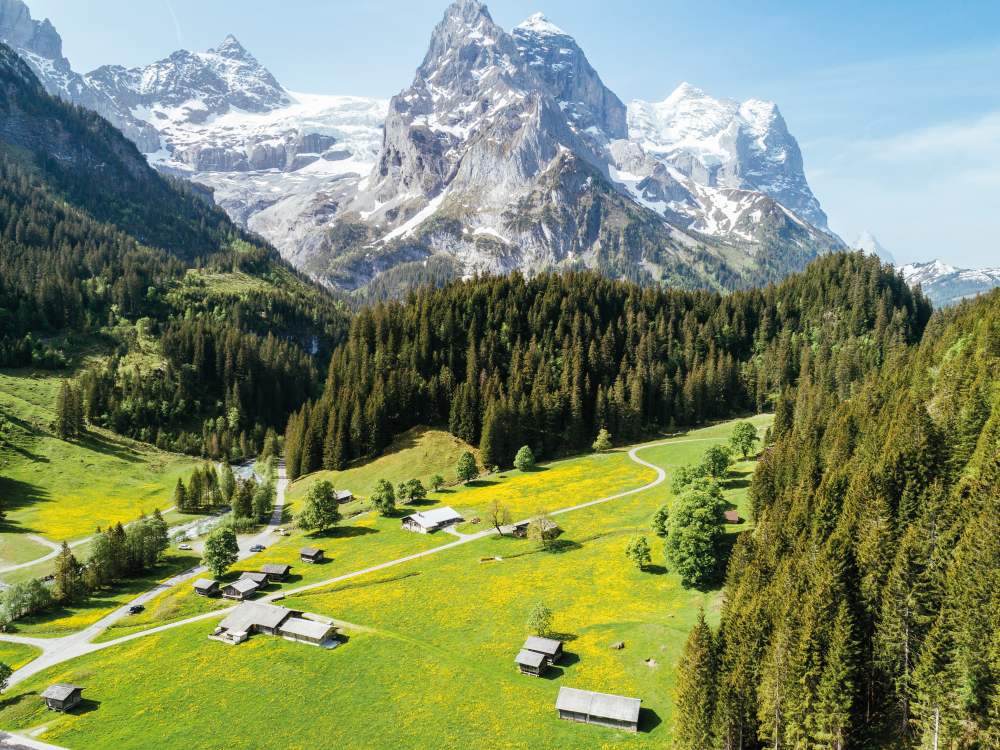 Four Bern road rides
Tour de Gstaad Classique
The classic ride from Gstaad can be summed up thus: two Alpine passes and endless views. From Gsteig the Col du Pillon rises in several changing grades along the high peaks. After the descent to Les Diablerets the climb to Les Voëttes follows, and the final descent to Château-d'Oex is great fun.
Strade Bianche de Simmental
This mid-length loop begins and ends in Schönried and takes in Zweisimmen, Oey, Zwischenflüh, Meienberg and Grubenwald. The route is partly on gravel roads, and includes a long climb and a challenging gravel section at the end.
Heart route: Stage 4, Thun-Langnau
The full 434-mile 'Hertzroute' leads right across Switzerland from Lausanne to Rorschach. Several stages skirt Bern, embrace Lake Thun and dive into the forests of the fairytale landscape of Eriz. The joy of the Heart Route is not its directness but its meandering path through Switzerland as it once was.
Interlaken to Jungfrau
From Interlaken this iconic route follows the Jungfrau Railway line along the Lütschine river to Grindelwald, at the foot of the Eiger. After a sharp six mile climb up to Grosse Scheidegg at 1,962m the road winds through lush Alpine pastures. From the top, it's downhill through the verdant Rosenlaui Valley and Meiringen. The mainly flat ride back to Interlaken hugs the shores of emerald Lake Brienz.
Sean Conway: His life in numbers
One – He is the first and only man in history to cycle, swim and run the length of Britain.
24 – Sean recently took the record for cycling 4,000 miles across Europe in this amount of days.
12,000 - The amount of miles he cycled with a fractured spine so he could complete his goal of cycling around the world.
4,000 – The amount of miles Sean covered while completing a continuous Ultra Triathlon around the entire coast of mainland Britain.
135 – The length of time it took in days for Sean to swim the length of Great Britain.
44 – The number of days it took for Sean to run from John O'Groats to Land's End.
12,000 - The number of cabbages Sean cut a day to earn money to fund his adventures.
50 – The number of hours Sean was continuously sick while sailing the 700 mile route from Lands End to John O'Groats.
One – Famous beard that Sean started growing to protect his face from jellyfish tentacles.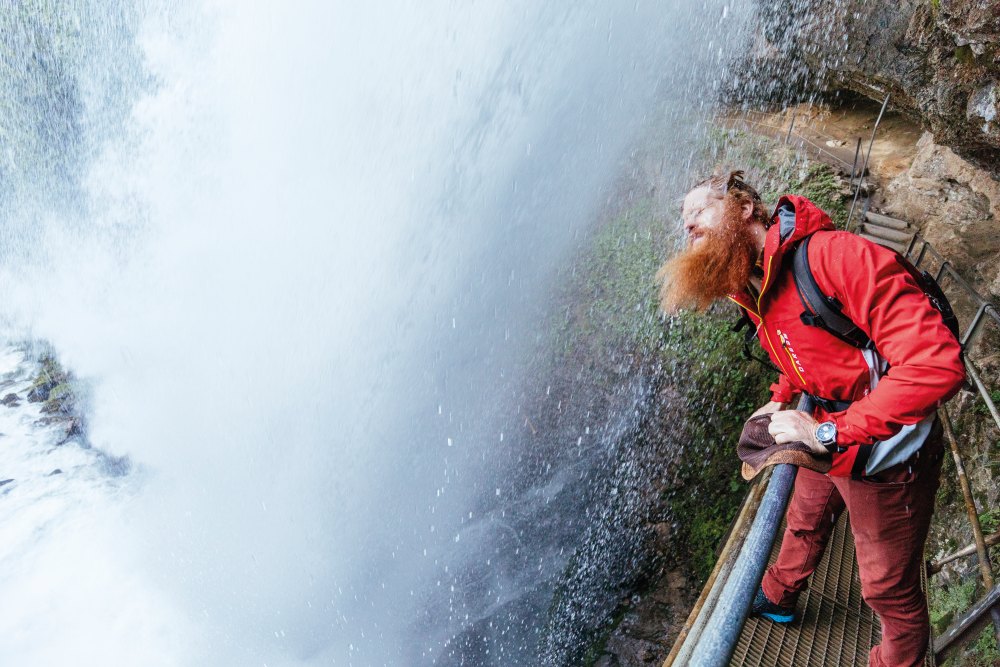 Travel info
What to pack
If you're planning a multi-activity trip like Sean's you'll need to pack plenty of layers, waterproofs, decent hiking boots and cycling clothing.
Our trip
Sean was hosted by the Jungfrau Region, Adelboden Lenk Kandersteg, Interlaken Tourism and Destination Gstaad. Find ideas for adventures in the Bern region at Made in Bern.
Getting there
Sean flew from City airport to Zurich with Swiss Air, singles from £79. Swiss also fly to Switzerland from other UK airports including Manchester, Birmingham, Edinburgh and Inverness.
Getting around
Get around Switzerland with the Swiss Travel Pass, which includes travel by train, bus and boat across the country and also includes rides on panoramic trains, the use of public transport in more than 90 towns and cities, a 50% price reduction on most mountain excursions, as well as free admission to more than 500 museums. Prices start from £170 for a three-day pass.
Staying there
If you fancy a spot of luxury the Grandhotel Giessbach, a gorgeous old-world lodge complete with its own waterfall and railway, is a delight. Doubles from £150.
Food and drink
You can't visit Switzerland without trying a traditional cheese fondue. Head up into the mountains to seek out Fondueland Gstaad, a quirky oversized wooden fondue pot sat looking out over the surrounding peaks, the perfect place to try it.