Have you ever climbed a proper mountain before?" asked my wife.
"Of course." I replied, slightly annoyed at the insinuation that there was any chance I hadn't.
"Which one?"
"Kilimanjaro." I replied, smugly.
"But isn't that just a hike? I meant real mountain climbing, like in the Alps."
I paused for a second, and it hit me. I've cycled around the world, swum the length of Britain and completed the world's longest triathlon, but it turns out I have never climbed a proper mountain. Right then, my next challenge was decided.
Without further ado, I book a flight to Switzerland and rope in my Swiss friend, photographer Martin Bissig, for an alpine adventure. He too has never climbed a proper mountain, and is equally excited and terrified by the idea. Little does he know that I've also got plenty of other adrenaline-filled activities in mind for our time exploring the beautiful Swiss canton of Bern.
I land in Geneva in thrashing rain but the skies clear on the way to Gstaad, where Martin will join me in a few days. My first guide, Ruedi, meets me for an acclimatisation hike. We're heading up the Saanenmöser pass, following a picture-postcard alpine river before we hit the snowline.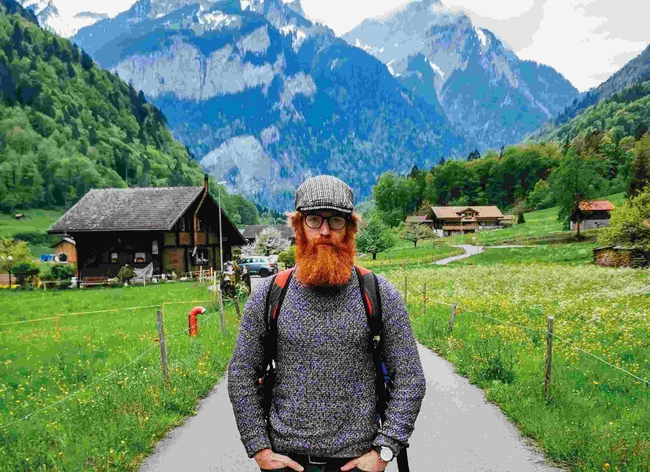 I don't have much snow experience and soon I'm slipping and sliding all over the place, much to the amusement of Ruedi, who is as steady as the Eiger. Until we get lower down again and off the snow, that is. Then I'm streaks ahead, my home turf of boggy fells in the Lake District finally giving me the edge over my Swiss companion.
We make our final climb up to the Grubenberghütte mountain hut, where we're spending the night. I'm expecting bothy-style accommodation, so I'm very surprised to find a 32 bed style dorm complete with caretaker who cooks dinner and breakfast (and to learn that Switzerland has over 150 of these fantastic mountain huts). We end up sharing stories and wine with other hikers till the early hours.
When we wake the next morning we find there has been a huge snow dump overnight, a blanket of fresh powder smoothing over the landscape like a freshly ironed duvet. The deep powder comes up to our thighs at times as we forge our own path through what feels like real wilderness. It's at around midday when I realise that since we started our hike the previous day, we've not seen anyone else except for at the hut. It feels like we have the whole of the glorious Swiss Alps to ourselves.
We push hard back down towards Rougemont valley, which seems like a different planet in the full swing of summer after our snowy trek. I say goodbyes to Ruedi and take the train to Interlaken.
Grand Canyons
"Are you ready for the cold?' I joke to Martin as we meet up at our backpacker's hostel. Martin hates the cold, and I've sneakily planned a day of water-based activities for us.
"Always ready," he says, perhaps with misplaced confidence.
We grab two stand-up paddle boards and explore the westerly shores of Brienzersee with High Tide, powering through the oncoming waves. Back on shore we swap SUPs for kayaks and paddle along the crystal-blue water. Snow-covered peaks surround us and I have to pinch myself to remind myself I'm in Switzerland, only 90 minutes flight from Manchester, and not in some remote corner of Alaska.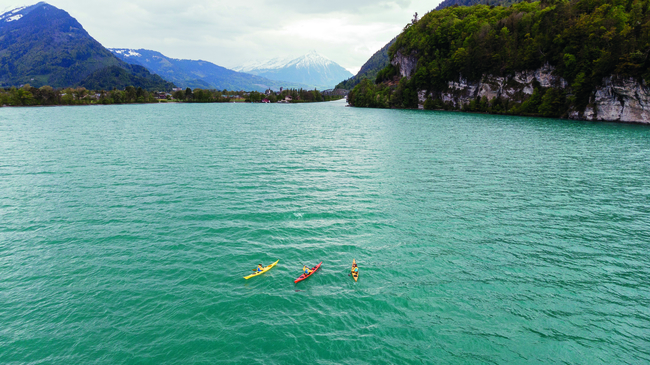 The next morning we head out with Outdoor Interlaken to give canyoning a try. I slip a wetsuit hood over my head and decide I look like a knight of the round table - the next task is to find a suitable helmet to borrow. Each helmet has a name on it, and I sort through them all, pushing aside 'Bubbles' and 'Twinkle Toes' until I see the perfect one for me – 'Mad Max'.
We head into Chli Schliere canyon, scrambling over rocks and careening down natural water slides as a warmup for the technical (read: terrifyingly exhilarating) sections of the canyon that lie ahead.
Our first real challenge is a 30ft abseil alongside a waterfall. I steel myself to walk backward over the ledge, praying the rope holds after all the cheese and chocolate I consumed at last night's typically Swiss dinner.
Martin is perched on a rock next to me, taking photos and laughing at my terrified face.
I manage to head down smoothly and plunge into the icy but refreshing water below, and Martin follows suit, now looking equally terrified. The next section of the route is even more exhilarating - a very high jump off a waterfall and a free fall down into a washing machine of turbulent water below.
My guide steps off first and then it's my turn. My heart races but I count to three, and jump. Air rushes passed my ears and then I plunge, cannon ball style into the water below - I feel like I'm underwater for ages before I eventually resurface. I immediately want to do it again. Canyoning, it turns out, is addictive.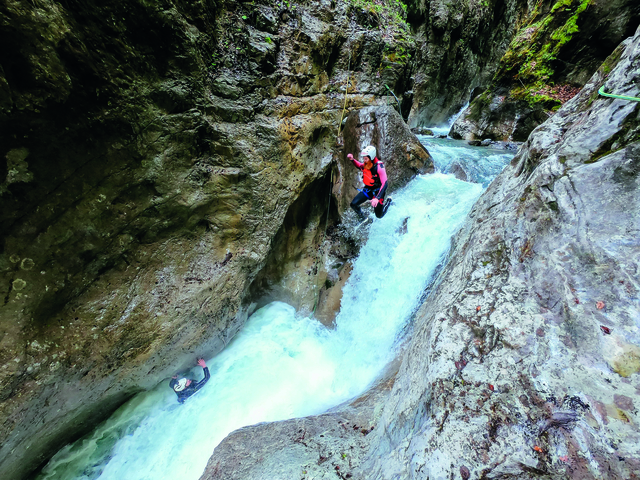 Our next stop is the village of Grindelwald, home to an infamous canyon swing where, I've been told, you can fly for 85 metres through the air above a chasm. We meet our guide and another six nervous adrenaline seekers, put harnesses on and head to the top of the gorge.
This, we learn, is no ordinary swing. We'll be jumping off a cliff right through a narrow glacier gorge, with rocky cliffs a hair's breadth on each side of us. Again the countdown begins. Three, two, one - and I step off the platform into the abyss. Suddenly I'm falling, and falling, letting out an involuntary echoing whoop as I plunge down. When is this rope going to catch? Four seconds later, which feels like a lifetime, it finally takes hold.
Mastering the mountain
Finally, the big day has arrived. The day we've been waiting for. Today, we will try to reach the summit of the daunting Mönch mountain, 4,107 metres tall. Martin and I meet our Grindelwald Sports mountain guide, Freddy, and we take the train up to Jungfraujoch mountain, a whopping 3,450 metres above sea-level.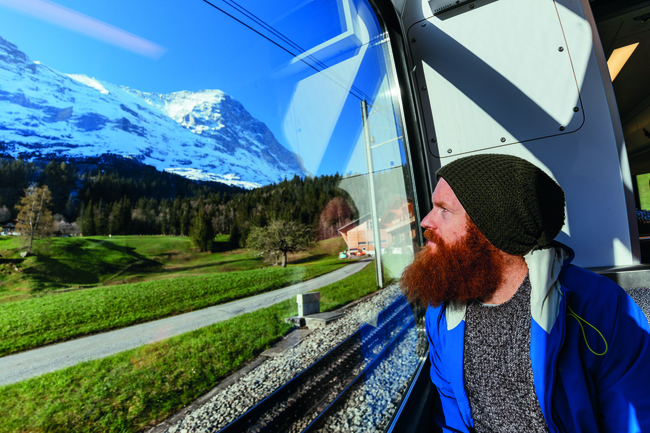 As soon as we get off the train Martin and I look at each other in dismay as we struggle for air. I'd forgotten to take the altitude into account, but my lungs are now busy telling me that 3,500 metres is pretty damn high. The first section of the route is a flattish groomed path up to the base of where our climb will start. To get from the groomed path to the foot of the climb we wade through 100 metres of deep powder.
It's so inviting that I want to run into it and make a snow angel, but Freddy informs us that there are huge crevasses lying in wait under the powder, and gets us roped together. Things feel serious as we get kitted up with crampons and ice axes – looks like I've finally found my first proper climb. I stare up at the summit, still 600 metres away and looking bleak and ominous. The wind is blowing a flurry off the top and the ridgeline looks as sharp as a finely honed kitchen knife.
Freddy takes the lead, hooking the rope around rocks in case we slip. He walks up the rocky sections as if it were a tame canal path as Martin and I struggle and scramble. I only fall over once, when my crampons catch on my shoelaces – looks like I've still got a lot to learn.
The ridge is sharp, but freshly fallen snow has made it seem wider than normal - a good metre wide at times. I feel safer on the ridge than I had on the scrambling sections, and figure that if Martin falls to one side, I'll just jump down the other side and we'll be safe, at least in theory...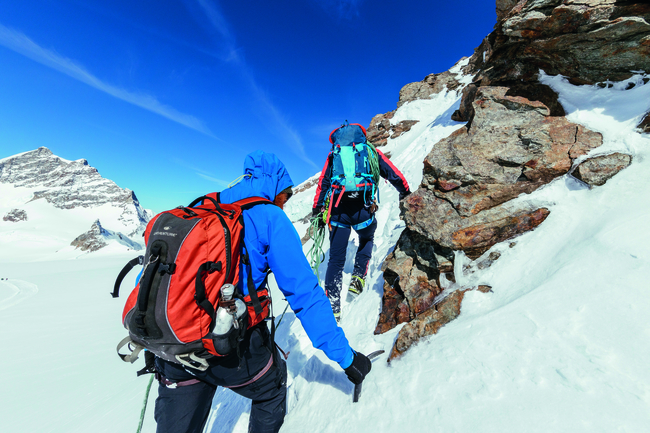 We push on, taking short steps, our lungs bursting for oxygen but getting little. Then as we are nearing the next scramble before the final ridge line to the summit, a huge gust of wind nearly knocks us off our feet (except for Freddy, of course, who is totally fine).
We all kneel down.
"How strong is this wind?" I ask Freddy.
"Maybe 60 miles per hour?"
"Isn't that quite strong?"
"Kind of, yes. But we're still good to go on."
So we do. hoping the wind will die down. It doesn't. About 20 minutes later another huge gust knocks us sideways. Martin and I stop and look at each other.
This is far beyond our technical ability and comfort zone - unfamiliar kit, lack of oxygen and gale force winds are all taking their toll on our progress and confidence. The wind is just too strong. Freddy shakes our hands and congratulates us on getting this far.
"It's not been a simple climb," he consoles us, and in fact no-one manages to summit the Mönch today, which eases my guilt over quitting just a little. And we don't regret our decision a few hours later when we are back down the mountain and having a warm bowl of soup, already planning the next time we'll come up and attempt the summit again in better weather.
That evening, back in Gridelwald, I look up into the snow-covered mountains above me with new eyes. In the space of a day they have gone from a beautiful backdrop to icy obstacles that I suddenly feel a desperate need to conquer. I think I'll look back on this moment later in life and realise that this was the start of a very long relationship with climbing big mountains.
Switzerland has tested me and thrilled me. I may have not conquered my Alpine mountain peak but I've taken myself far, far out of my comfort zone. And The Mönch isn't going anywhere. I'll be back.
Travel info:
Health & safety
Book an experienced local guide for canyoning and mountaineering trips.
What to pack
Pack waterproofs and crampon-compatible hiking boots.



Our trip
Sean was hosted by the Bern Tourist Board. Their website is a great place to plan your next adventure.
Go canyoning with Outdoor Interlaken, £92 per person.
Grindelwald Sports offer private mountain guiding, price on request.
Go kayaking with High Tide, £32 per person.
Getting there
Sean flew to Geneva from Manchester with Easyjet, from £79 return, or fly from London Gatwick from £50 return.
Getting around
Switzerland's excellent train service makes it easy to get around. Geneva to Gstaad £40 return, Gstaad to Interlaken £28 return.
Where to stay
Grubenberghütte
Sleep high in the mountains at this welcoming hut.
Dorm beds from £16.
Backpackers Villa Sonnenhof
Friendly, affordable hostel with unbeatable views across the Jungfrau. Dorm beds from £34 per night.
Grindelwald Sunstar
This centrally-located hotel has a great spa. Doubles from £196.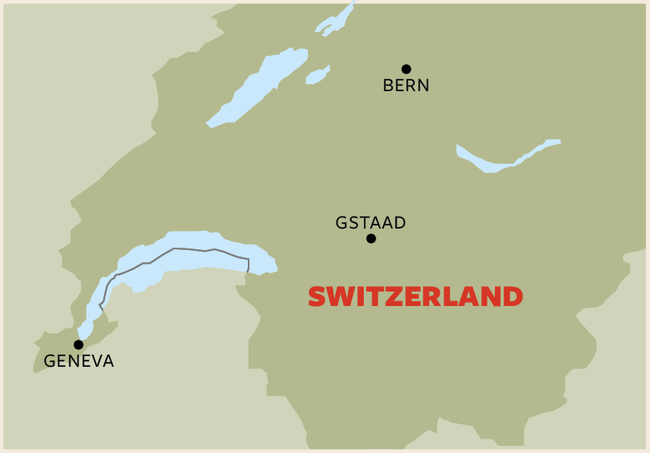 Five more epic Swiss mountains to summit
MATTERHORN
4,478 metres
You'll probably recognise the beautiful pyramid-shaped mountain that straddles Switzerland and Italy's border, towering over the Italian resort of Cervinia and the Swiss resort of Zermatt. Four routes reach the summit from Zermatt, all best suited to experienced scramblers. The climb takes place over rock, snow and ice with some fixed ropes.
EIGER
3,967 metres
It may be just shy of joining the 4,000 metre summit club but the Eiger in the Bernese Alps is no slouch - this is a tough peak only suitable for experienced mountaineers. Its imposingly steep 1,800-metre north face, the Eigerwand, is the highest in the Alps and a world-renowned challenge.
BREITHORN
4,164 metres
One of the easiest of the 4,000 metre club mountains in the Alps, the Breithorn, found between Valais and Aosta, is the perfect peak for guided beginners, and can be reached from the Kleine Matterhorn lift in four hours.
BISHORN
4,153 metres
The remote Bishorn in the canton of Valais is usually attempted over two days, with the Tract Hut making a great overnight stop. The summit can be attempted with a guide if you have no technical experience but good fitness levels - your reward is the incredible views of the surrounding mountains.
WEISSMIES
4,017 metres
The classic Alpine route up the mountain named 'white moss' in the canton of Valais has great scrambling and a narrow summit ridge, making it suitable for practising your mountaineering skills with an experienced guide. Stay overnight at the cosy Almageller hut.
Keep up to date with all of Sean's adventures over at his Instagram @seanconwayadventure