I'll freely admit it – I'm deathly afraid of heights.
So why, you might ask, am I standing on a cliff, preparing to throw myself off a mountain with only a flimsy parachute strapped to my back?
It may seem odd that a man with a serious fear of high places would voluntarily agree to an adventure-packed trip around South Tyrol's high Alpine peaks and mountain valleys. I blame the internet. When Active Traveller asked me to cover hiking, via ferrata, mountain biking and paragliding in South Tyrol, I promptly Googled the landscapes I might be exploring in Italy's Val Gardena and Alta Badia regions.
One scroll through photos of lush green valleys, rocky peaks, vivid sunsets and remote wooden mountain huts hugging the sides of hills, and I was hooked. It looked like the perfect place to get out and conquer my fears.
Mountainous South Tyrol in northeast Italy borders Austria and Switzerland's mountain resorts in the heart of the Alps. The area is as well known as an epic adventure base as it is for its traditional villages of ancient churches and pretty cobbled streets, and for its incredible local food (wine and cured meats feature heavily – this is Italy, after all).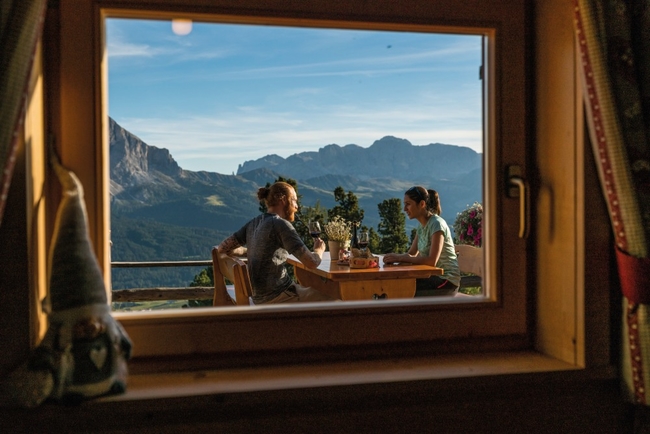 There's something for everyone - hiking trails and via ferrata routes lead far into the surrounding peaks of the Dolomites. Mountain bikers will find downhill thrills here, and E-bikers can roll more gently through wildflower meadows. And yes, you can strap yourself to a parachute and fling yourself off the side of a mountain.
I'm trying my best not to think about that bit as I plan my trip, but the sheer beauty of this corner of the Dolomites seems worth trying to put my vertigo out of my mind in the name of adventure. Before I know it, I'm on the plane with a backpack full of outdoor gear.
Mountains are calling
On arrival in the valley of Val Gardena, I step out of the airport taxi and am instantly in awe. My view is all blue sky, jagged peaks and grassy meadows of a shade so green they look artificial. Val Gardena is a cluster of three villages - Ortisei, Selva di Val Gardena and Santa Cristina - surrounded on all sides by tall peaks.
This is a hiker's paradise, where 500 miles of mountain routes connect sixty mountain huts. I'm itching to explore, but first I drop my gear off at the Bike Hotel Linder in Selva. At the foot of the hills and a few minutes from the gondolas, which run during the summer as well as in winter, this relaxed hotel makes the perfect base for cyclists and hikers to explore the surrounding trails.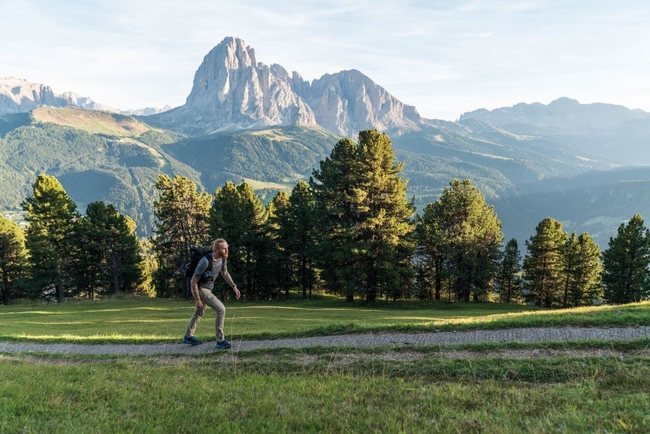 I set out for a leisurely hike to round off a long day of travelling. I've heard that between mid-September and early November I might be able catch a natural phenomenon known as the 'burning Dolomites' - when the dying golden leaves of the larch trees are lit up in brilliant colours as the sun sets.
Reaching a rocky vantage point, I watch as the glowing sun catches the trees as it slips over the horizon – it looks like the whole valley is on fire for a moment. Once the sun has disappeared, the night sky is so clear that I can see the Milky Way traced out above me. I walk home, the trail well-lit by my torch and the brightness of the starlit sky above.
I'm slightly sceptical about giving E-mountain biking a try the next morning. Isn't it a bit of a cheat? But E-biking, South Tyrol style, turns out not to be for the faint-hearted. After wheeling my bike onto a gondola, my guide and I climb a gentle uphill trail, the motor kicking in and making pedalling a breeze. Then my guide turns to me with a smile. "Ready for the downhill?"
Plummeting down the trail, my heart is in my mouth. I hang on for dear life as we skid around gravel corners and fly over jumps.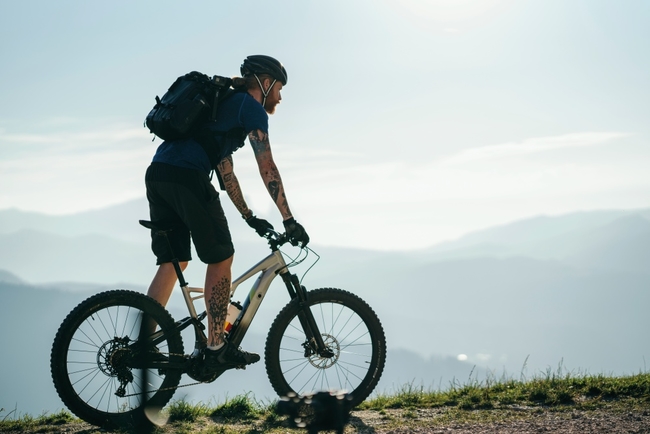 Before I know it, we're down the trail and stopping at the Comici Hut, a restaurant that feels like it's literally on top of the world, for lunch. A crisp icy beer and panoramic views of the Dolomites help my heartbeat finally slow back to normal. Who said E-biking wasn't adrenaline-fuelled?
Get your rocks on
My alarm beeps insistently in what feels like the dead of night. It's 5am and pitch black outside, apparently the perfect time to head out into the mountains. I force myself up in time to meet Martin, my guide from Catores Alpine School. He hands me a head torch for the two hour hike from Passo Gardena and into the Cir peaks.
At first, the only light cutting through the black night are the thin streams from our head torches. After trudging through wet grasslands we hit the slopes of the mountains, and it proves challenging hiking on hard and brittle scree, especially with no sense of my surroundings.
I'm relieved when the first light of day peeps over the horizon, just in time for us to don harnesses and clip into a via ferrata route that heads up Gran Cir mountain. Half hiking, half scrambling, this section is far tougher than our approach – but I'm much happier kitted out with a harness and helmet, and able to watch the early morning sun lighting the Dolomites in a soft pink hue.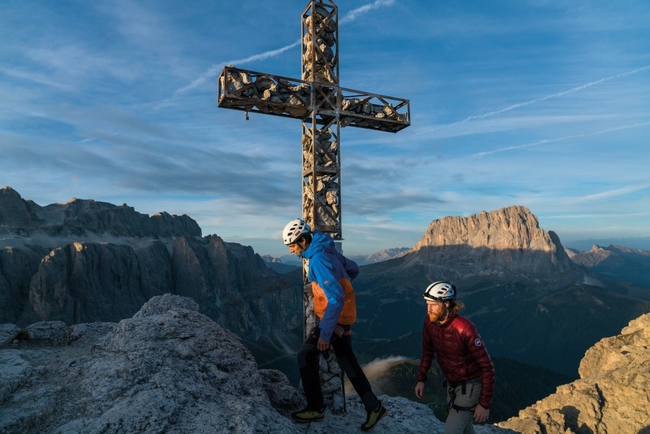 It's not even breakfast time when we stand on Gran Cir. Balancing on a rocky outcrop next to its iron cross at 2,592 metres, the view is awe inspiring and well worth the early start! After breakfast at the Jimmy Hut, a wood-clad eyrie in the mountains, it's time to try a different way of conquering the peaks - by mountain bike. Three trails of varying difficulty begin at the Piz Sorega Plateau and wind all the way down to the cable car.
We're off before I can work out which route we've taken, but as we scream down descents and around corners I realise, slightly too late, that we're on the advanced one. There's nothing to do but follow my guide, so I relax and start to enjoy the riproaring descent.
I'm still in one piece and I've been both dreaming of and dreading my last day in South Tyrol. Today I'm finally facing my fear of heights and taking to the skies over the mountain region of Alta Badia.
Is it a bird? Is it a plane?
It's one thing to stand on a mountain peak – quite another to paraglide far above said peak, with nothing between your feet and the mountains but empty air. But as the time for take-off approaches, my anxiety is finally squashed under a bubble of rising excitement.
My guide kits me out in a hefty harness and then, without much warning, runs me off the side of the mountain. The feeling of racing over grass and then suddenly feeling the ground drop below you and realising you're airborne is insane – this is surely the closest I'll ever get to knowing how it feels to be one of the eagles that soar above the Alps.
Once we are floating in the sky, paragliding actually feels very serene. As we glide along on thermals and slowly circle down over the valleys and tiny villages below, I forget all about my fear of heights. And if I can paraglide with life-long vertigo, I reckon anyone can.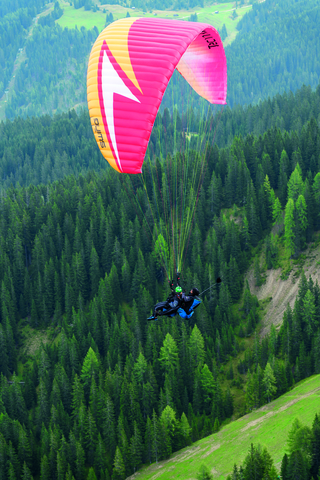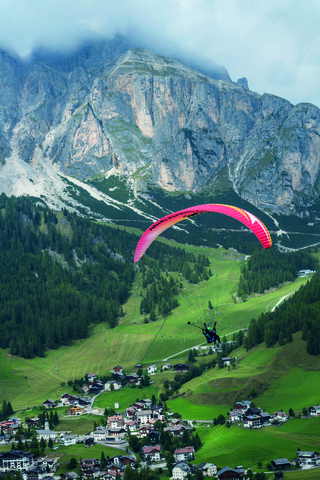 We've timed our landing perfectly – as we gather up parachutes and make our way to the Santa Croce refuge for well-deserved plates of pasta and pints the heavens open, turning the sky an iron grey and making the mountains and meadows look even more vibrant.
As I leave for the airport I take one last look at the peaks and valleys, wishing I had longer to explore the trails that criss-cross them. I feel physically exhausted from throwing myself at everything the South Tyrol has to offer, but mentally motivated to return for more.
My fear of heights has been, if not conquered, then at least bravely faced – that's the power of adventuring in this rewarding corner of the Alps.
Cool lodgings: Five places to stay in South Tyrol
Pension Briol
This 13-room hotel sits halfway up a volcanic mountain, so you can imagine the jaw-dropping views across the Dolomites. From the shot of schnapps on arrival to hikes from the door, this is a proper Alpine stay.
Price: From £73 per person per night.
Bike Hotel Linder
The perfect base for cyclists in summer and skiers in winter, you're a two-minute cycle from the gondola at the Linder Hotel, which also has a restaurant specialising in gourmet twists on local ingredients, and a pool and sauna for relaxing tired muscles after days out exploring in the mountains.
Price: Doubles from £77 per night.
Weisses Kreuz Hotel
It's all rather luxurious at Weisses Kreuz, an architectural smorgasbord of 13th century manor and ultra-modern hotel in the village of Burgeis. Expect cosy, chalet-style rooms and a very plush spa.
Price: Doubles from £75 per night.
Seiser Alp campsite
Pack your tent and head for this delightfully relaxed campsite. Seiser Alp is all about the views – pretty much anywhere you park your camper or pitch your tent, you're guaranteed to wake up to views of the mountains.
Price: £7 per person per night.
Mullerhutte
You really have to commit if you want to spend the night at this remote mountain refuge – it's perched at 3,145 metres and requires a hefty hike to reach it. Once there, you'll find basic but warm accommodation in bunkrooms as well as plenty of other climbers and hikers taking a breather by the wood stove.
Price: From £13 per person per night.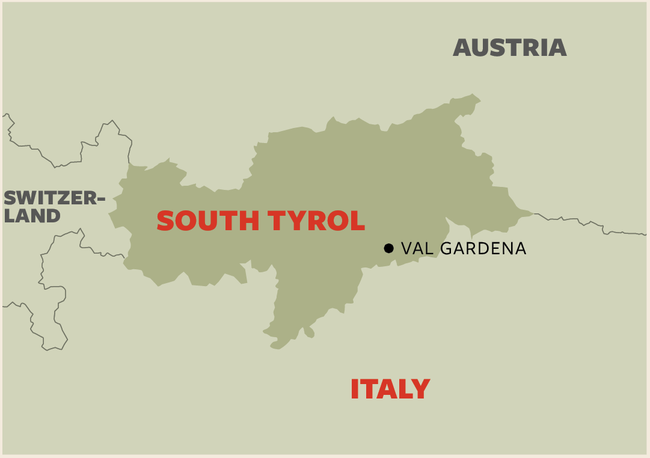 Travel info:
Health & safety
We recommend taking an experienced local guide if you're hiking or mountain biking on an unknown trail.
What to pack
Pack waterproofs, hiking boots, cycling gear, sun cream and a hat.
Our trip
Gwilym was hosted by South Tyrol. Find more information on planning a trip online at:
Book a mountain guide for a sunrise hike to Grand Cir with the Catores Alpine School.
The cosy wooden Jimmy Hut in Passo Gardena serves up hearty South Tyrolean dishes and is the perfect place to refuel during a hike.
Getting there
Gwilym flew EasyJet from London Gatwick to Venice Marco Polo Airport, a three-hour journey from Val Gardena. From £35 return.
Getting around
A hire car is the easiest way to get around. Avis, Europcar and Hertz operate from Venice airport.
Food and drink
South Tyrol is famed for local apples, smoked ham and wines. Try sachertorte and strudel for dessert.