Royal pedigree
As the preferred winter retreat of minor royals, ex-England rugby players and, err James Blunt, Verbier is synonymous with a certain level of luxury. During our summer visit, pre-pandemic, the red trouser brigade is out in force. There are horse trials taking place in town, we're told.
We're here to try a different kind of riding, however: exploring the resort's vast, 220km-long network of enduro mountain bike trails. As well as its high-end clientele, Verbier is also famous for the steepness of its terrain. It's not for nothing that the finale of the Freeride World Tour, held here every winter, is called the "Verbier Xtreme".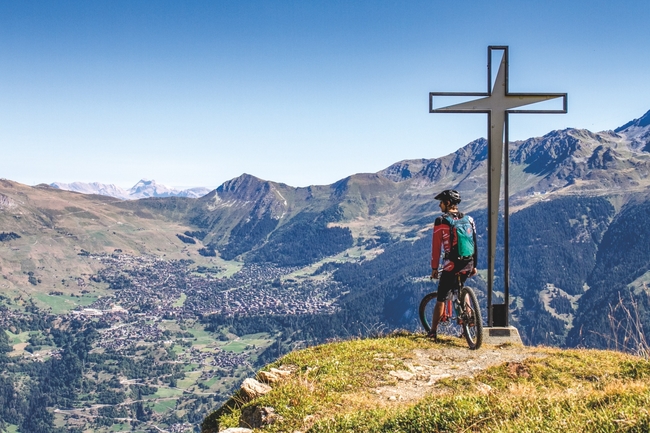 A Saturday morning flight to Geneva, and a three-hour ride on Switzerland's excellent national train network (which runs, like clockwork, naturally) brings us to our hotel in Le Chable, the town at the bottom of the valley. I'm all for easing myself into things after our early start, but my riding buddy, Alfie Bacon, is having none of it. "We're going to the bikepark," he says.
Sculpted to perfection by local shaper Fabrice "Trifon" Tirefort, the 12km of bike park trails make the most of Verbier's natural assets. The blues and reds are several degrees more severe than the equivalent trails in the UK, but still flow beautifully. I'm not going anywhere near the black jump sections however, no matter well-shaped they look.
The following morning, instead of doubling back under the Medran cable car into the bike park, we follow our guide, Yann Raussis, around the main bowl which frames the village. In winter, Yann's a pro skier, competing on the Freeride World Tour, and he's no slouch on a bike either, ripping down the sun-baked trails at warp speed. To finish, he takes us off-piste, with a sunset blast through the villages between Verbier and Le Chable - ducking between houses and skirting round vegetable patches as we go.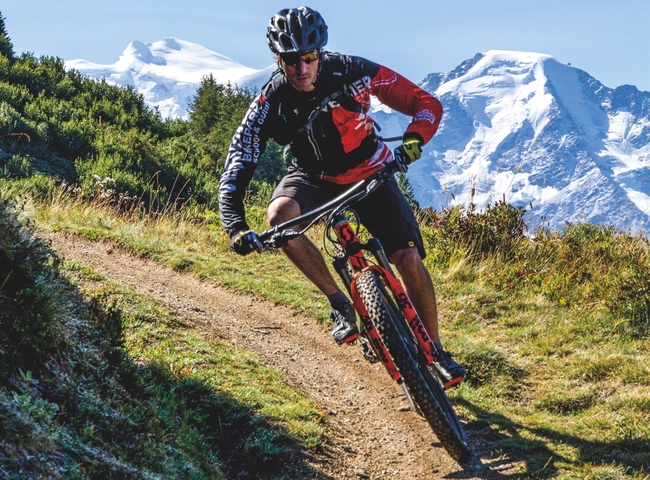 A day to remember
Having shown us the pick of the easily-accessible marked trails (as well as a few unmarked ones) Yann decides we're ready for something bigger. So on Monday, we pedal up to the Colle de Mille at 2,472 metres. It's a stiff climb, and one which makes it obvious why many locals now choose to ride eBikes.
Our efforts are rewarded, however, with lunch at the recently-refurbished refuge, the Cabane de Mille, where huge glass windows look out over a panorama of perfect, snow-capped peaks. The ride down, an epic 1,600m descent, is scarcely any less stunning - screaming along ridges in the high alpine, riding past mirror-like glacial lakes, and skipping through close-spaced pine trees to the finish. To this day, it's one of the best outings I've ever had on a bike.
"The 1,600m descent is one of the best trails I've ever ridden on a bike"
James Blunt and the royals can keep their version of Verbier, I think, as our train pulls out of Le Chable station. I'd take these trails over horse trials anyday.
Local heroes
Three more must-ride trails around Verbier. Find further details at verbierbikepark.ch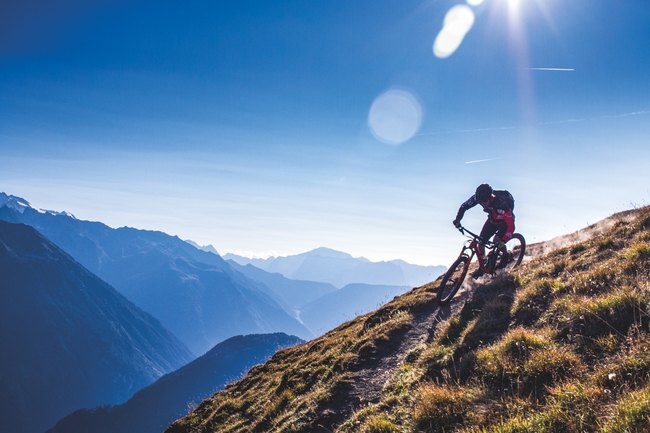 Savoleyres - Pathier - Le Chable
Head west along the ridge line from the top of the Savoleyres lift at 2,347m. Follow the winding single track marked Number 9 along the edge of a cliff down to Pathiers, then drop down to Le Chable. 13km, and 1,780m of descent. Boom!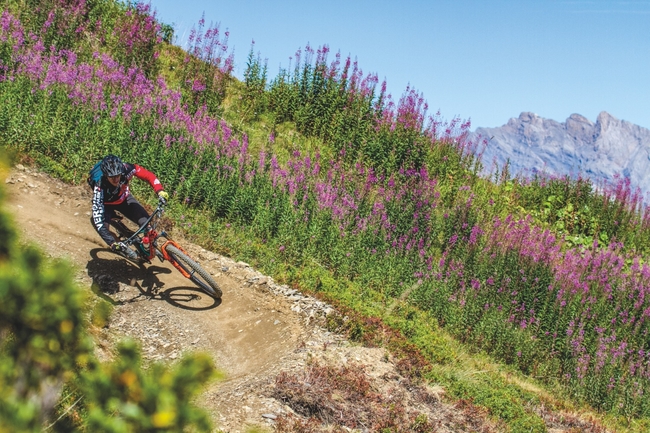 Wouaiy
The name of this lengthy red, bikepark trail needs no translation: read it aloud, and you'll get an idea of the kind of involuntary whoops you'll make while riding it. It's got it all - with quick turns up top, technical root sections through the forest, and a fast outrun.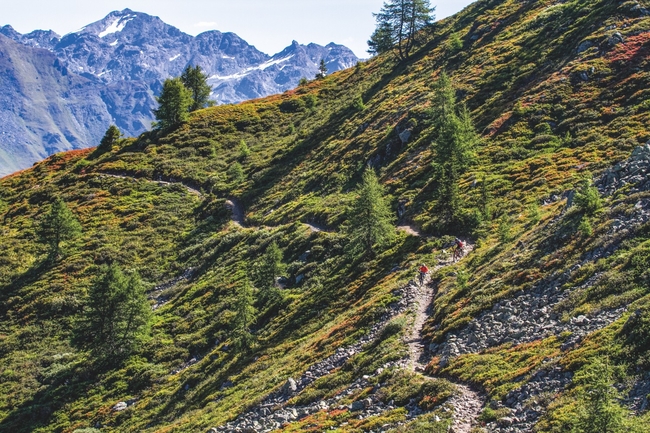 Tour de Montfort
This is the daddy of Verbier MTB trails, with the full "advanced" version covering 59km, more than 2,000m of climbing, and 3,100m of descent. There's an "easy," 48km option too, which uses more lifts. Whichever one you choose, it's still a big day out
Travel tips
Getting there
SWISS fly from London to Geneva from £73 return.
Getting around
Rent bikes or eBikes from Backside bike shop.
Food and drink
Eat lunch at Namaste and try the Croûte, a Valaisanne speciality which combines melted cheese, white wine, and bacon - all the good stuff.
Where to stay
Hôtel A Lârze in Le Chable combines Scandi-chic decor with classic Swiss hospitality. Doubles from £130.