Try not to be so hard on yourself," says Marina Nieves, my surf instructor, with a smile. "Focus on the small wins and just enjoy being out here in the water." It's not a big ask, given where we are, bobbing about beyond the breakers at El Palmar, a wild and unspoilt stretch of beach on Spain's Costa de La Luz. It's winter back home in the UK, but here the sky is a wonderful shade of blue, the sun is sparkling off the sea, and to the south-east, we can see the hazy outline of Morocco's Rif mountains.
The arc of learning to surf is long and while it may bend towards progress, that improvement also comes in fits and starts, especially if you're based in the UK where the swell is fickle and the water cold. You might think you're done once you've nailed your pop-up, but then you're onto turning and catching green waves, and after that it's slightly bigger and faster green waves, which is what I'm trying to master today. Except I'm not quite getting it as quickly as I'd like.
But for Marina, who herself surfs with rare poise and grace, the goal of the Sea Retreat is not to push guests to become expert surfers in a week. Instead, they're looking to improve everyone, from total beginners to more advanced intermediates, through having a good time and building the group's confidence in the water. To focus less on the outcome, and more on enjoying the process. As I begin to relax and tune into the beauty of the setting, it all becomes easier, and I start to catch some nice waves.
Along with Marina's kind and gentle approach, the experience is no doubt aided by the mild air and water temperatures. Both hover around 18 degrees, despite it being early January. It's so freeing to surf without a hood, gloves and boots in water that doesn't make you gasp on entry. While I am still wearing a wetsuit, it's not a thick one, which makes paddling a lot more straightforward.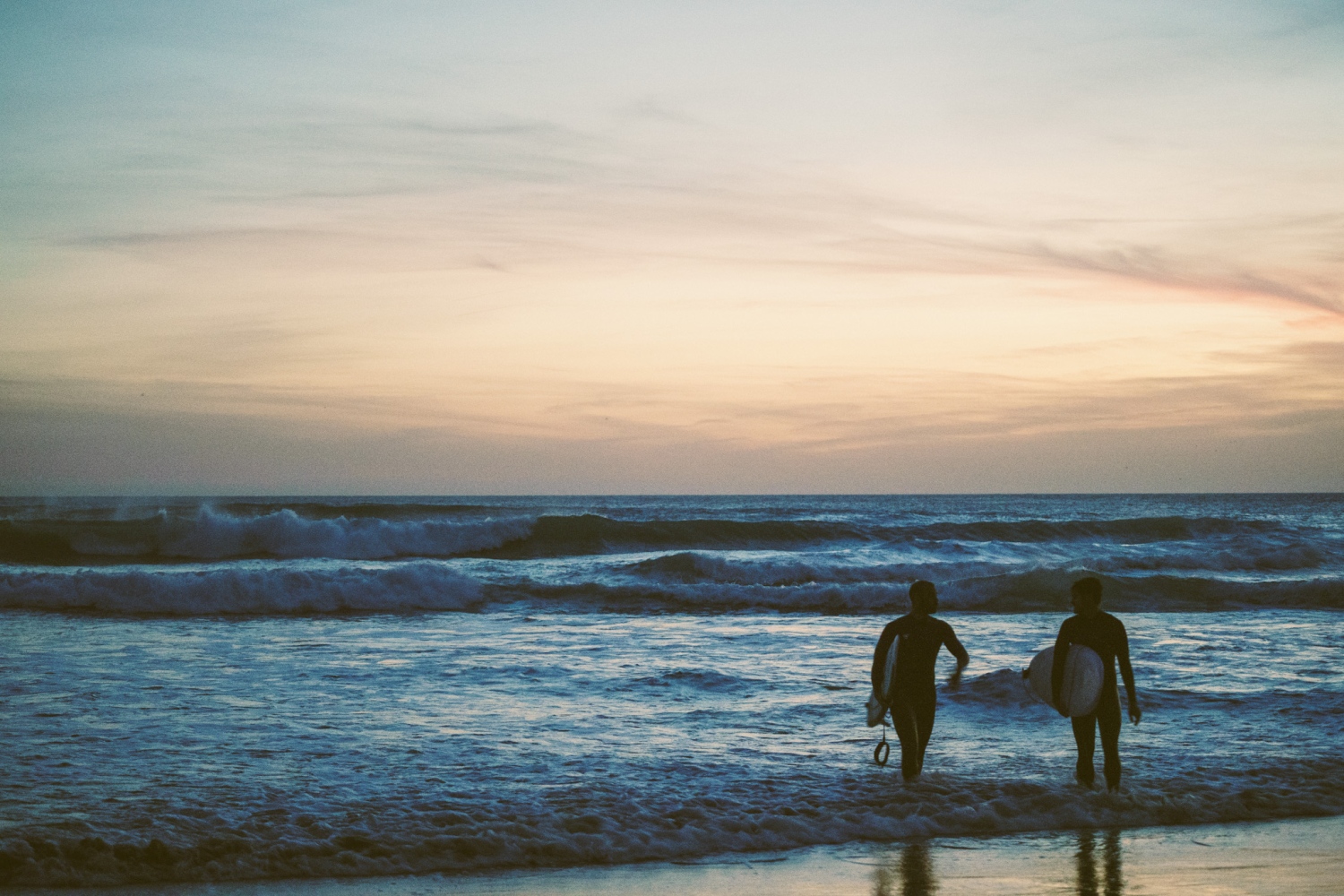 Before I heard about the Sea Retreat, I thought you had to fly long-haul to surf somewhere that wasn't freezing at this time of year—or at the very least, leave mainland Europe and take a four-hour flight to Morocco or the Canaries. Yet I flew to Seville in just over two hours, spending an enjoyable night, with obligatory tapas, in the capital of Andalucía, before taking the train south the next morning for an hour and a half, with a short transfer beyond that. 
Marina, who is from Seville, set up the Sea Retreat with her husband Callum Jelley, who's from Yorkshire, at the end of last year. They wanted to help guests "escape the dark" and the all-round bleakness of the northern European winters Callum grew up with, as well as showcasing this special part of Spain, where Marina has been coming on holiday since she was a child.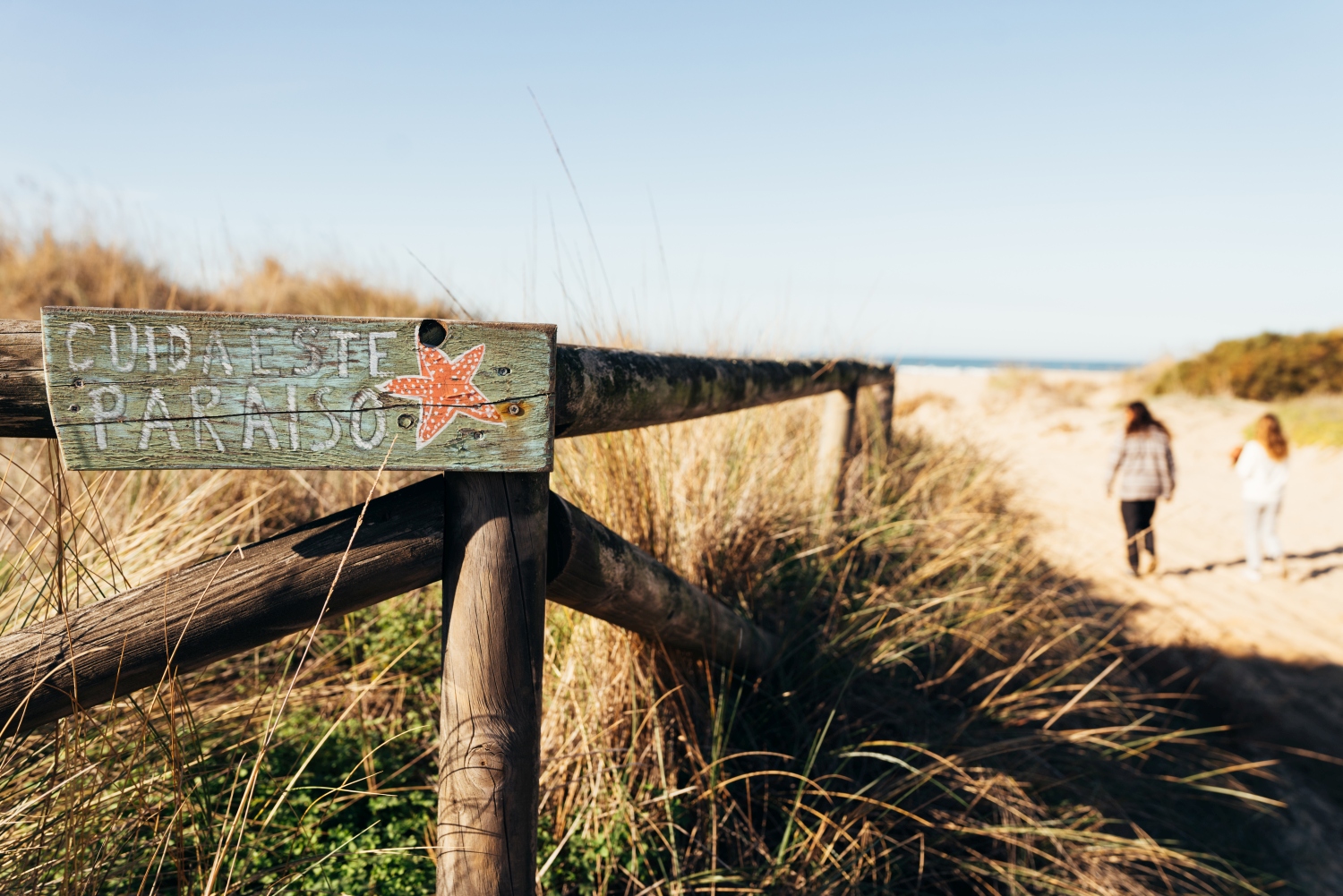 Off-grid civilization
El Palmar, or "the palm grove", gets 300 plus days of sunshine a year, yet is often overlooked by tourists who head for the Costa del Sol and Costa Blanca. Geographically, it might be in the same general area, but in terms of vibe, it could not be further from the likes of Marbella. It's an easy-going community of low-rise homes, cafes and bars with hand-painted signs, surf schools and small farmsteads, running beside a long stretch of sandy beach. It's off-grid enough to have no running water or even house numbers. Instead, residents use wells to bring in their drinking water, and collect post themselves. Although—perhaps inevitably in the modern age—there is working wifi.
 In high summer, El Palmar swells with Spanish holidaymakers; the heat can be scorching, and the sea is usually flat, so many locals—including Marina and Callum—leave town and rent out their houses. But for the rest of the year, the locals welcome #vanlifers of all ages from the north of the continent, and smiling surfers like me, especially in winter. This, Marina and Callum say, is by far the best time to visit, as the wave count is high, the weather mild and the nature at its finest; the fields back from the beach are lush and green, and yellow wildflowers dot the dunes.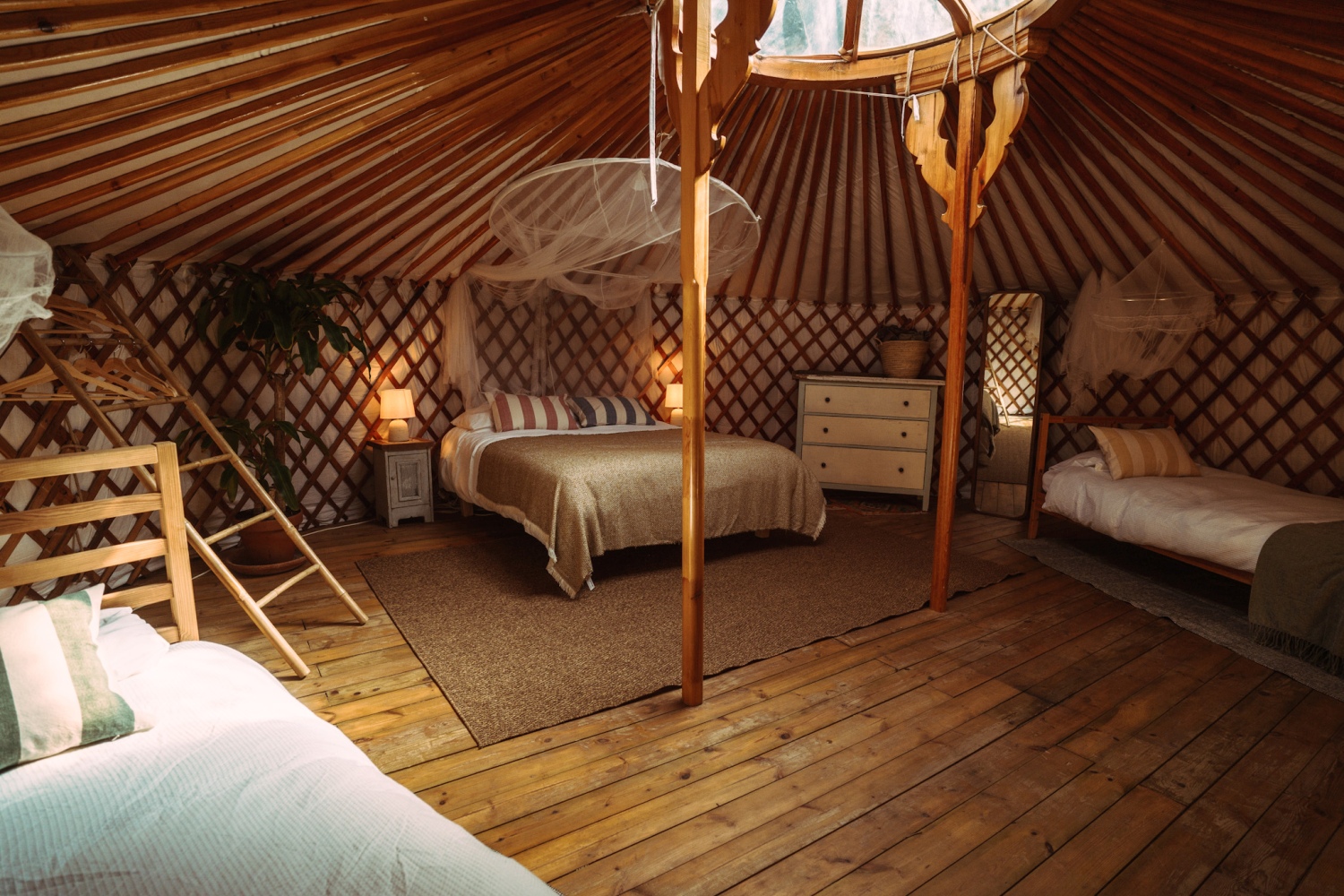 During my trip, I stayed at the surf house, just three minutes' walk from the beach. It has a beautiful back garden that's a prime barbecue spot and, later in the evenings, is great for stargazing, thanks to the enviable lack of light pollution. The house sleeps eight but during my visit it's just me and a friendly couple from Sardinia . From this October, Sea Retreat guests will be able to stay in glamping yurts tucked away on a picturesque, forested hillside nearby. During the week, a chef prepares a range of healthy meals—from tofu noodles, Spanish tortillas, and aubergine parmigiana, to epic salads.
El Palmar is a long beach break, so there's usually plenty of whitewater for beginners and a range of different wave peaks for improvers to progress on, without anyone getting in anyone else's way. When the swell is too big, Marina and Callum have some secret spots up their sleeve as alternative locations. One of them is a lovely peeling longboard wave that, on one morning, behaved almost like a wave-pool in terms of its perfect shape and predictability. Of course, it had a far superior natural backdrop, with endless sand dunes, and hills cloaked in umbrella-shaped pines.
We have one surf lesson a day, and some truly magical guided sunset surfs; we borrow bikes to ride along the oceanfront, stopping for coffee and cake at Homies—the best café on the strip—on the way back. On the sunsets we're not surfing, we do beach cleans, taking small bags along with us to pick up litter as we walk the shore. For Marina and Callum, it's important that visitors to El Palmar leave the beach in a better state than they found it.
We head to the nearby port town of Barbate and have lunch at Peña El Atún, an informal seafood restaurant, which specialises in tuna caught using the traditional Andalusian method of Almadraba. The tuna is incredibly fresh and tasty with dishes including sashimi, tacos, and stews, plus salmorejo, a delicious creamy version of gazpacho.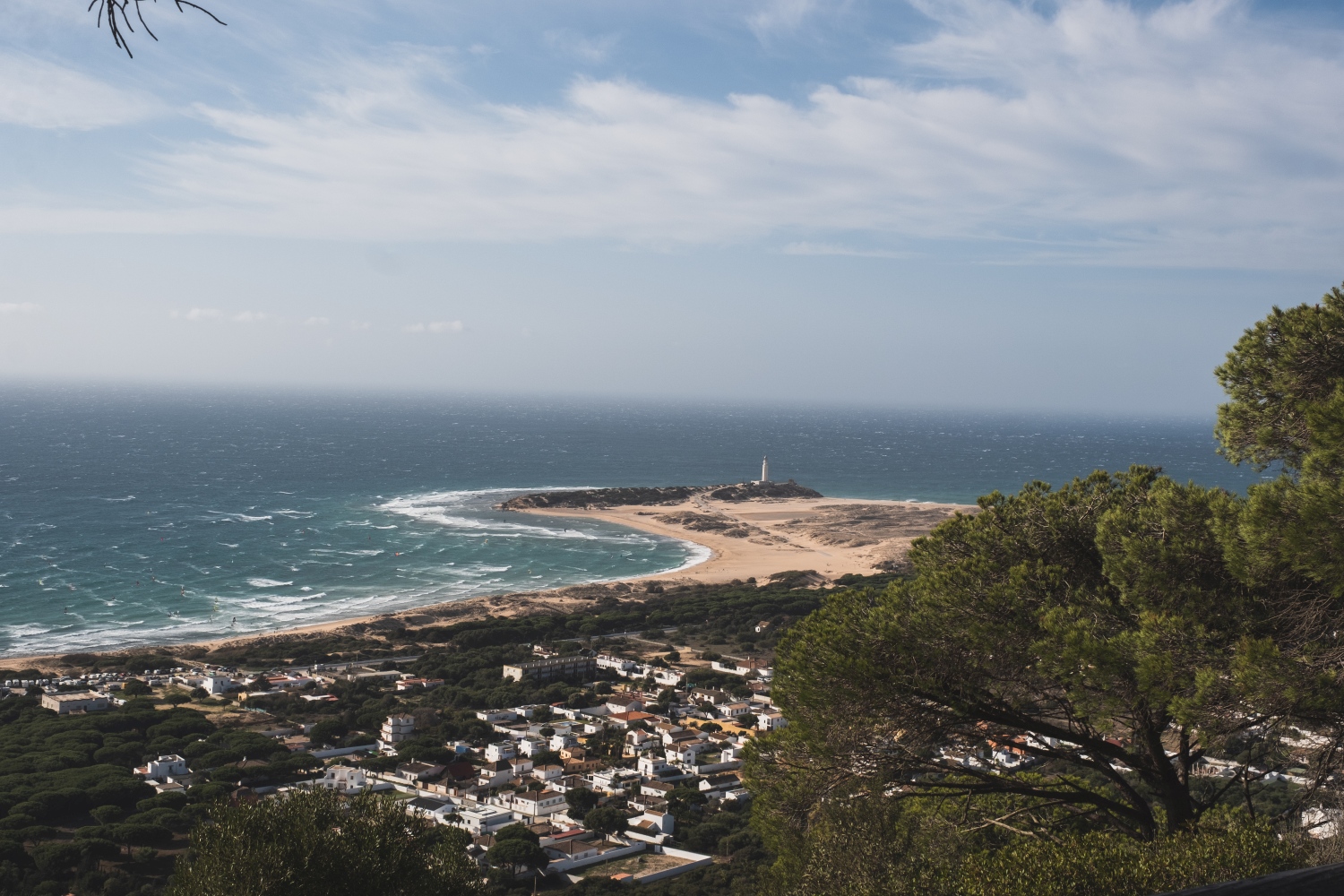 An escape from the ordinary
On another day, we take a stroll to the headland of the Cape of Trafalgar, the location of Admiral Nelson's famous 1805 victory over the French and Spanish naval fleet. The spot houses a pretty, white-painted lighthouse and a plaque which warns sagely, in Spanish, "that it is madness to make such terrible wars". There are pleasingly no stalls selling Union Jack tat—as there surely would be if the battle site was in English waters.
On the flight over here, a smartly dressed woman had asked me where I was heading and looked faintly panicked when I said I would be staying at El Palmar, instead of the more well-trodden Cadiz or Tarifa. She started reeling off churches and historical sights I should visit, while I nodded politely knowing I'd seek out none of them. I was just here to forget winter and surf, while trying not to overthink the whole learning process. Thanks to Marina and Callum and their Sea Retreat, I managed to do exactly that.
Know how
Our trip
Sam's trip was supported by the Sea Retreat. A week staying at their awesome surf house starts from £699 per person for six nights, with full board, equipment, and surf lessons included. From October they will also be renting out yurts from £740. Alternatively, if you've got your own kit, you can stay at the surf house for £95 a day as a B&B. 
Getting there
Various airlines fly from the UK to Seville, including Ryanair, and BA. Prices tend to be cheaper than in summer. The Sea Retreat can organise transfers from Seville. Alternatively, you can take trains all the way from London to Seville, with either an overnight in Barcelona, or (better still) a night on a French sleeper train. Check out Seat 61 for details.