You learn something every day. Even while walking. But getting a lecture on the origins of Tenerife drawn with a stick in the very sediment of its explosive past is pretty mind-blowing. 
This is an island that formed seven million years ago from the sea bed upwards as volcanic eruptions drove up lava and rock to form first three, then (two million years later) one land mass.
In its centre is the volcano Mt Teide, an, er, iceberg of a peak. Though the 3,718 metres rising above sea level makes its summit the highest point in Spain, measured from the ocean floor it's actually 7,500m, which makes it the highest volcano in the world outside the Hawaiian islands. You've got to love those stats. Impressive.
The biggest of the seven Spanish Canary Islands that lie around 300km off the African coast, Tenerife draws something like five million tourists a year – and, predictably, most flop onto the beaches and into the hotels of the highly commercialised south, rarely emerging until it's time to catch the plane back to wherever home is.
But in keeping with its origins, Tenerife has a wilder side that rewards those who venture inland or north, east and west to its more rugged coastlines, with spectacular scenery, unique nature and 1,000km of some of the finest walking terrain in Europe. And enough top facts and stats to fill a rucksack and you've got a must-visit location.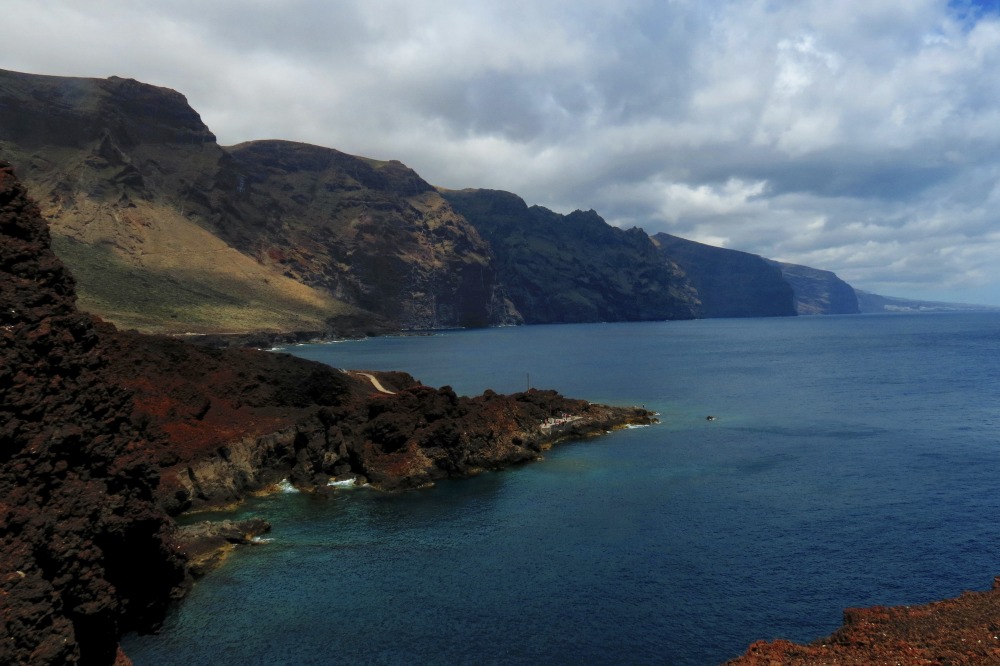 The central Teide National Park – one of two UNESCO World Heritage Sites on Tenerife – is a huge volcanic landscape that almost seems to be from another planet, and, in the space of a one day-long walk on the island you can experience an amazing contrast of terrain, from ochre-coloured lava to lush green forests and vivid rocky coastline, all flecked or draped with remarkable local flora.
My short walking tour of the island actually starts in Las Vegas – not the hedonistic metropolis in the Nevada desert, but a tiny hamlet, too small to even be called a village, south east of Mt Teide.
The 'vegas' that give this hamlet its pluralised name are a series of highly fertile earth terraces formed by sediment flowing down a ravine. An oasis of fertility in the arid south, it was why Las Vegas was once the most important Castillian colonial settlement in the whole of the southern region.
Our local guide is Candido – and boy, is he playing against type. While the rest of us are togged up in hiking shorts, wicking tees, branded footwear, Goretex jackets and all manner of caps, the 'mature' Candido is looking very dapper, wearing creased trousers, yellow shirt and a brown fedora, looking for all the world as if he's out for a Sunday stroll. 
Candido's day job is to maintain the paths around here. The paths and the caves. For once upon a time, folk here lived in caves – dwellings hewn into rather than built upon the volcanic rock. They worked the land and used stone ovens for cooking, baking bread and drying fruit.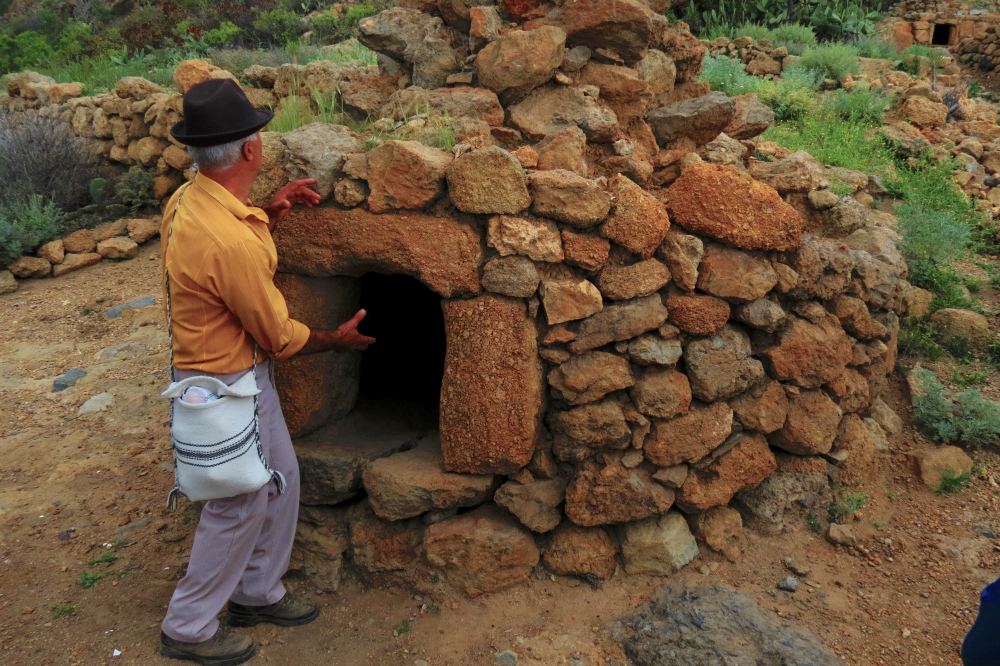 I'd tell you more, but what happens in Vegas…
Our walk is one of several on offer each day as part of the island's annual Walking Festival, now in its fourth year. This incredibly sociable event brings together 200 hikers from 14 different countries, for four days in May, setting up its HQ in the northern coastal resort of Puerto de la Cruz, a more traditional and authentic town, and bussing hikers to various start points around the island.
Featuring more than 20 trails of varying length and intensity, the Tenerife Walking Festival has three trail categories to choose from: volcanic, coastal and forest hikes. These include Teide National Park, the remarkable ancient laurel forest of Teno Rural Park; the charming village of Taganana, perched high above the Atlantic Ocean; and many more areas of stunning natural beauty.
Considered to be one of the most outstanding hiking events in Europe due to the variety and originality of the routes on offer, the event certainly showcases Tenerife's astonishing natural beauty.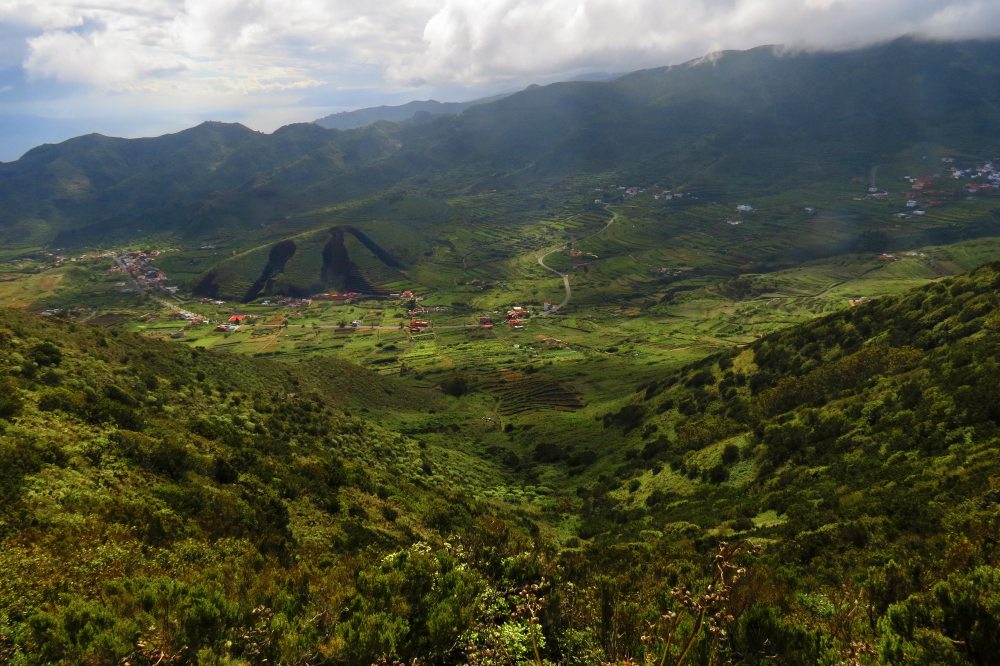 The Las Vegas Circular takes us about four hours and is typical of the friendly nature of the festival. As walkers, we are used to walking alone, with family, a four-legged companion or with a guide. But at the Tenerife Walking Festival you can start a walk with a bunch of strangers and finish it with a group of friends.
It's a modest introduction – the terrain is not too demanding, though our group of around 25 gets strung out in some steeper places, and the cloud does settle in on us towards the end, restricting our scenic pleasure. But there's plenty of interest to be enjoyed in the plant life: masses of cacti and succulents, broom, Canary pine - including the Pino del Guirre: the tallest and widest on the island, which, of course, makes for many photos of mass tree-hugging. And we all chuckle at the signpost that reads Risco el Muerto (which we wrongly translate as Risk of Death, but which actually means 'cliff of the dead'). 
We round off our walk with a bit of theatre – a group of locals perform a couple of Tenerifian folk ballads before serving up a picnic of chicken stew and wrinkled, salted potatoes - 'papas arrugadas' - with red and green 'mojos' - paprika and green coriander dipping sauces. Viva Las Vegas!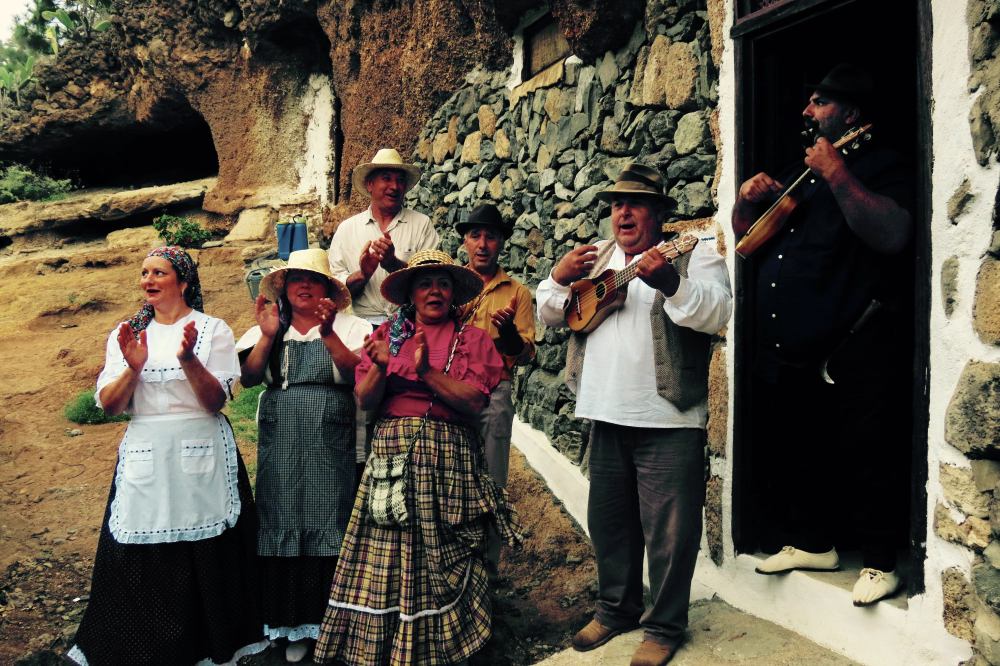 Day two – and we're in for a real contrast. We head west into Teno Rural Park, one of the must-see parts of the island – and one of the three original 'mini-islands' that first erupted from the ocean floor. It's here, on a purple-soiled path at the start point in Baracan, that our guide Dragan, a volcanic surveyor from Serbia, runs through the geological history. 
Here too, he splits the group into two – one with Spanish speakers and one English-speaking (for the UK, Dutch and German walkers). This is better as we now walk in smaller groups and our 'guidance' comes in just one language rather than multiple versions.
Already this is a more spectacular walk than yesterday's, as we set off with views over the lush, green El Palmar valley, before the trail winds into the ravines of the Teno massif. Geologically, this is as old as Tenerife gets, and the colours of the terrain are rich as they offer up hues of orange, red and purple.
The ridge path is narrow, with steep drops, and then we climb up a green slope before we get our first glimpse of the ocean – deeply blue against the earthen colours of the land. Lining our route are more wonderful succulents and cacti, including agave (the source of tequila), brooms and heathers.
And then, quite suddenly, the trail disappears into what looks like a line of trees, but once inside you realise that you are in a forest of huge, ancient heathers, more than 6,000 years old, that have a genuinely other-worldly feel. There are also laurels, gold and purple flowers whose names I have already forgotten, and, weirdly, giant dandelions.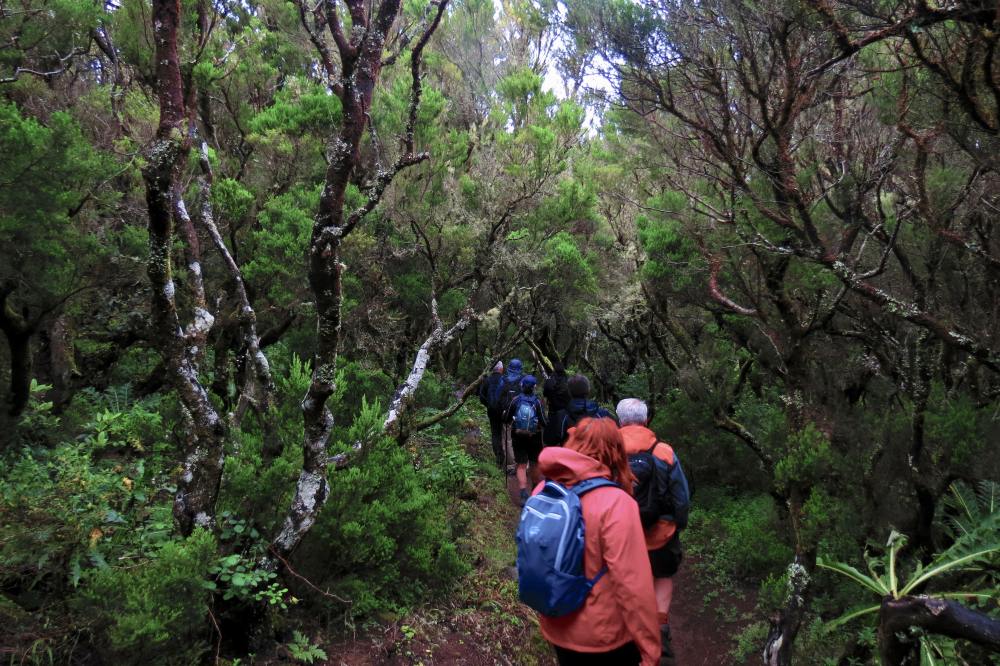 Suddenly again, we are through the forest and out – first past the brightest red earth I've ever seen, and then into an area called the valley of goats. Dragan points out – and picks for us to taste – a bush of wild fennel, its liquorice taste clean and fresh. And one species of broom, famed for its hallucinogenic properties, once used by the island's aboriginal Guanche medicine men in their rituals. We don't get to try that…
We carry on into the small village of Teno Alto, where we stop for a snack of cheese and wine – the freshest, crumbliest goat's cheese you could wish for and a glass of wine from Tenerife's ancient vines. On cue, a tractor-driving farmer brings his herd of goats into and through the village, bells clanging noisily, before silence returns.
The day's other entertainment is a demonstration of a traditional goat-herder's method of getting around steep mountain slopes by jumping with a huge pole, planted on the ground so the herder can slide safely down it. These days, the practice is also a sport, and the demo makes for fun viewing.
The last stage of our walk is downhill all the way, and in silent concentration we pick our route carefully down a precipitous rocky trail, trying to avoid too many slips on the loose stones and rocks.  The final stretch is along a tarmac road to the lighthouse at Punta de Teno, the most westerly point of the island, from where we look down the coast at the famous 600ft tall sheer cliffs of Los Gigantes.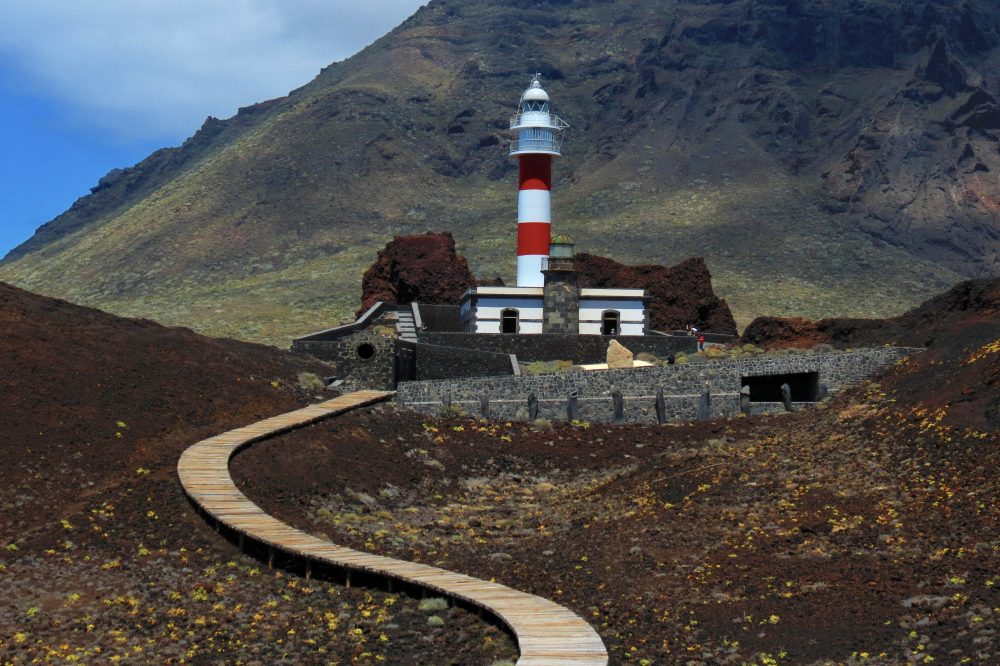 We catch the bus back towards Puerto de la Cruz – along a winding cliff road used to great effect in the car-chase movie Fast and Furious 6. Our bus is a lot slower…
Neither walk has been too demanding, and the pace was steady rather than fast. There are tougher paths to travel, though. Next time…
Best foot forward: six other great walking festivals
Spring and autumn are the best times to join one of the dozens of wonderful walking festivals around the UK and Europe. That means some are still to come, while others are over for this year, so start planning now for 2019!
Lysefjorden Hiking Festival
14-16 September 2018
Norway's fjord country is undoubtedly an utterly spectacular location for a walking festival. Discover epic hikes in one of the world's most beautiful fjords. 
Gran Canaria Walking Festival
24-28 October
Enjoy Tenerife in the spring (each May) – and neighbouring Gran Canaria in the autumn. Walkers from all over Europe are expected to enjoy the six chosen routes for this year's festival.
grancanariawalkingfestival.com
Snowdonia Walking Festival
3-4 November 2018
Experience some of the most iconic walking scenery in the British Isles. Based in Betws-y-Coed, you can choose from 4-5 professionally guided walks each day.
Ballyhoura International Walking Festival
May 2019
Ireland's oldest and biggest walking festival, in one of the country's most beautiful landscapes, which celebrated its 23rd year in 2018, with a programme of 24 walks for all levels and ages over four days.
Newton Stewart Walking Festival
10-16 May 2019
Walking the Galloway Hills – an area often described as Scotland's best kept secret. Choose from a marvellous variety of around 30 routes over 7 days, with transport and guides included, as well as a programme of evening social events.
Isle of Wight Walking Festival
April/May 2019
Due to celebrate its 20th year in 2019, this is one of the UK's longest-running walking festivals and its programme of more than 80 walks spread over two weeks follows in the footsteps of everyone from Alfred Lord Tennyson to Jimi Hendrix.
isleofwightwalkingfestival.co.uk