We meet Oscar on day four, about halfway through the 68-mile trek. Neither my girlfriend Simona nor I have slept much. Despite pitching our tent behind a boulder last night, we weren't able to escape the full brunt of the force nine gale, which lashed at the canvas like a death metal drummer practising his fills. Oscar, by comparison, has slept well. His trekking trousers look clean - pressed almost.
We've just watched an unfortunate Spanish couple, whose tent had been blown away completely by the storm, climb gratefully into a helicopter, their trek over. Oscar looked up as they took off, and then went back to splitting birchwood with his axe, swinging it with the ease of a seasoned pro. I strike up a conversation with his father, Stefan, who's standing nearby. Oscar will be 11 this year, he tells me.
Hiking the Kungsleden, or "King's Trail", has long been a right of passage in this part of the world. The Svenska Turistföreningen (or Swedish Tourist Association) which dates back to 1885, has promoted this route ever since its inception, and it remains one of the country's most popular among all age groups.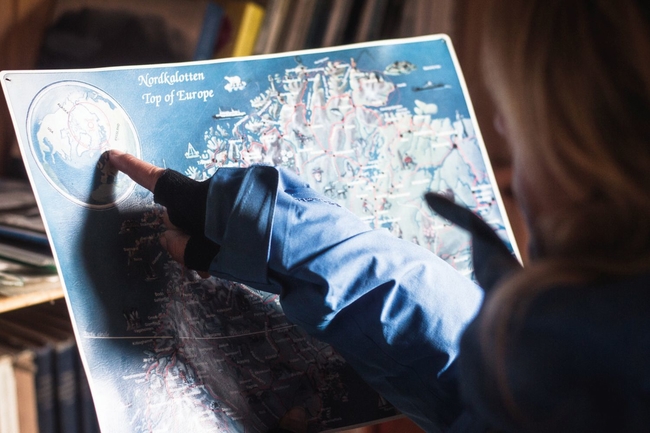 We're here as part of the Fjällräven Classic, an event organised every year by the Swedish outdoor brand to celebrate this iconic wilderness - a landscape that's provided both the inspiration and the testing ground for countless Fjällräven products down the years. But neither the fact that this is an organised event, nor the ages of the people hiking it alongside us make the Kungsleden a walk in the park. We're 125 miles north of the Arctic Circle. Oscar might be young, but Duke of Edinburgh this ain't.
Of course, if Fjällräven's founder Åke Nordin was still around today, he'd have been thrilled that kids were hiking on the Kungsleden. The original decision to stage an event here was about more than just promoting the brand - it was about popularising friluftsliv, the Scandinavian concept of adventure that underpins everything Fjällräven do. Translated literally, the word means "free air life," but it's not just about getting outside. It encapsulates a whole set of beliefs: that the outdoors is good for you, and that access to it is a fundamental right, one that everyone should enjoy.
Given those ideals, Nordin would also no doubt have been pleased at the way the event has grown. In 2005, just 152 people set off on the trek, but in recent years the event has sold out its 2,000-odd tickets months before the August start date. People come from far and wide. "There are 38 nations represented this year," Anna-Luisa Stadelman, one of the start line volunteers, tells us as we set off.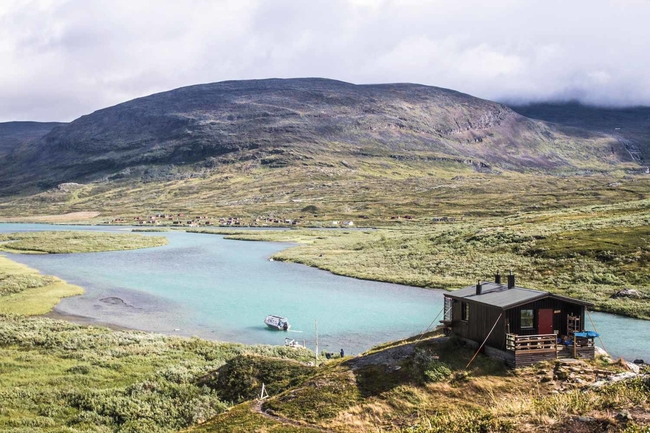 With numbers like that, the Fjällräven Classic is, by necessity, a tightly run ship. Buses are organised to take trekkers from the tiny town of Kiruna, where you fly in, to the start line. You're given a map, dehydrated food, and the camping gas to cook it with, plus a trekking card, which must be stamped at each of the five checkpoints that you pass through on the way round.
Just because the event is well-organised, however, doesn't mean the walking feels any less wild. Contestants cross the line in staggered starts over the course of two days, and camp wherever they want. Our group is one of the last, and quickly thins out. Around five kilometres later, the last bar of mobile phone signal blinks off on my phone and by the time we pitch our tent, we're gloriously alone.
When you're this far north at this time of year, it never gets fully dark, and on that first evening the sky is bright and clear. Long after we turn in, the sun is still painting the snow-capped peaks with a rich palette of pinks and purples.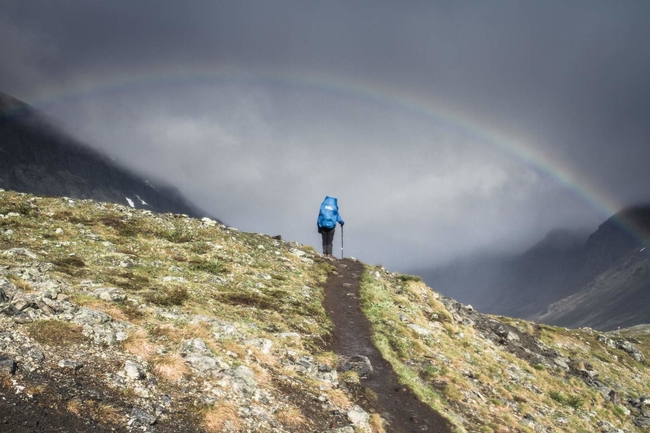 We soon learn, however, that life on the Kungsleden isn't always so easy. It's not that there's ever any danger of getting lost - the trail is far too well signposted for that. But the weather on our first few days lulls us into a false sense of security. There are some years, we're told, when the Fjällräven Classic is held under bright sun from start to finish. Unfortunately, this is not one of them.
We're walking around the base of Kebnekaise, Sweden's highest mountain, when the weather closes in. The summit above us disappears in swirling clouds of fog, the wind becomes strong enough to lean against, and the rain starts coming down sideways.
The landscape in this part of Sweden was sculpted by the same ice cap that scooped out Scotland's glens, and frequently reminds me of the Highlands. The valleys are wide, u-shaped, and open, and the mountains are visibly old - their sharp edges rubbed smooth by ice and age, unlike the thrusting young upstarts of the Alps. Unfortunately, the weather is also similar to Scotland.
Three of our six days on the Kungsleden, including the night of the tent-destroying gale, are spent walking in the rain. Of course, this is all part of the challenge, and even if our resolve occasionally falters, our gear is always up to the challenge. "Det finns inget dåligt väder, bara dåliga kläder," is a Swedish saying that Fjällräven live by, and we come to appreciate every time we pull up our hoods: "There's no bad weather, only bad clothing".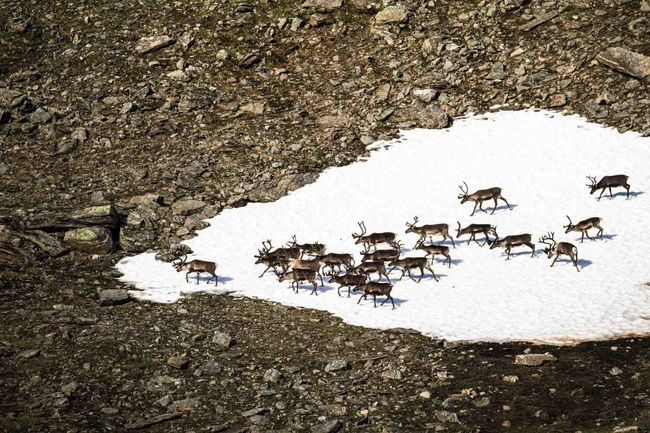 Any moments where we find ourselves struggling are far outweighed by the highlights, however. One morning, as we're finishing breakfast in a particularly remote spot, we look up and see a herd of reindeer running across the slope opposite. And then there's the sauna at Alesjaure, the second to last checkpoint. It's a sketchy-looking wooden structure perched precariously above the river below. But its sweat-stained steam room and plastic bucket shower are more welcome than a five-star hotel spa.
On the final stretch, which runs next to the Abisko river canyon, we encounter increasing numbers of day hikers - as well as people setting off on the Kungsleden the other way round. Among these is Terje, a broad-shouldered giant of a man who's hiking the route with Bossa, his equally thickset Rhodesian Ridgeback. "Bossa can carry about 15kg," he says, explaining the saddlebag-style harness, "about a third of his own weight".
Terje is actually Norwegian, but from Narvik, just across the border. It's not a place you go to unless you're in the business of transporting iron ore, he tells me. "It's very cold and dark in the winter. Maybe half an hour of daylight."
Yet it's perhaps those long winter nights that explain why people in this part of the world have such an affinity with the outdoors. Friluftsliv, the free air life, must feel like the best drug in the world after all that time cooped up inside. Even for those of us who are just visiting, the appeal is abundantly obvious.
The Kungsleden is a pretty special place. Having seen it at its most storm-tossed and turbulent, it's still easy to see why everyone - from old men with their dogs, to 11-year-olds earning their spurs - might choose to follow the path of kings in August.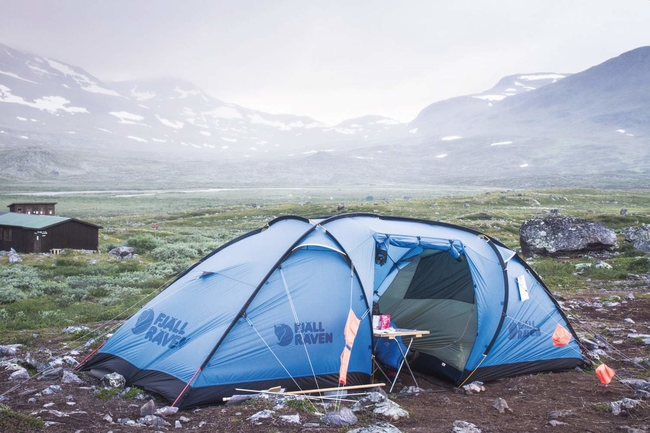 Travel info:
Our trip
Tristan & Simona's trip was supported by Fjällräven. The Fjällräven Classic 2021 takes place on the Kungsleden in August. The brand now also runs 7 off-shoot events, everywhere from the US to South Korea. The first ever Fjällräven Classic UK will take place in July 2021.
Getting there
Tristan & Simona flew from London to Kiruna via Stockholm. Flights from £142 return. flysas.com



What to pack
You'll need waterproof outdoor clothing, a 3-season sleeping bag, portable stove, and an expedition-style tent. Fjällräven provide a detailed packing list for Classic participants when you book your ticket.
Food and drink
Dehydrated food and camping gas are included in your ticket price, and are picked up before the start in Kiruna. There are two refill points en-route to Abisko.