Groggily I lift myself up from the straw mattress, pull on a jacket and stagger towards the corrugated iron door of the mountain refuge. It sticks with frost at my first push, but a second shove forces  it open and the shallow rays of the early-morning mountain sun flood through.
Last night's dense cloud cover has cleared, and the valley spread out below me now sits under a crisp blue sky and a centimetre-deep layer of snow.  Two women in traditional Andean dress load mules with blankets and firewood and a man carrying a barrel sets off towards the stream for water.
I suspect the scene at the other side of the refuge will be spectacular in this weather, but I'm still taken aback when I make my way around its crumbling grey walls  and look out from the edge of Laguna Chiarkhota.
Towering over the opposite shore of the lake are the summits of no fewer eight mountains and three glaciers, all plastered with fresh snow. I rush back inside to collect my camera and take what feels like a thousand photos, each one tinted a different shade of orange and then  yellow by the changing light of the rising sun. 
The conditions are a photographer's dream, and reach a new point of perfection when the wind dies down altogether and, for a precious few seconds, the mountains and glaciers form an unblemished mirror image in the surface of the water. 
This is Bolivia's Cordillera Real - or 'Royal Range' - one of the most picturesque parts of the Andes, the chain of mountains that stretches along the entire western flank of South America. This 77 mile-long, 12 mile-wide belt runs north-west from La Paz to the shores of Lake Titicaca,  a remote, peaceful and barely-trodden hiker's paradise. 
Into the wild
I have opted for a five-day journey at the southern end  of the range, where the trail winds its way between 6,000 metre peaks and past a succession of glaciers and lakes  at altitudes rarely dropping below 4,000 metres. 
Hiking in South America is enjoying a bit of a golden age, spearheaded by the ever-popular Inca Trail and the Torres del Paine national park in Patagonia. But Bolivia has far fewer tourists than its neighbours, and the hiking here is raw, wild and quiet, as I'll discover. 
Some paths have seen so little footfall that they are hard to spot - and impossible after snowfall - so hiking with a guide to navigate you through this majestic labyrinth is recommended, and it's easy to hire one in La Paz. 
David, my chosen guide, picks me up early on our first morning and we drive for two and a half hours out of the city and into the mountains via a spectacular road that runs parallel to the Cordillera Real and offers panoramic views of almost  the full length of the range.
Our driver, Marco, suddenly peels off the highway and starts climbing up a dirt track that I'm convinced will break his ageing car, but he ploughs on regardless over grassy hillocks and across deep streams until finally we  crack and crunch to a halt at an abandoned farm settlement in a valley known as Kotia.
Marco smokes a cigarette, says his goodbyes and speeds back from whence we came in a frenzy of dust and sprayed water, leaving David and I alone with the mountains and a quietness pierced only by occasional birdsong and the sound of wind brushing over dry grass.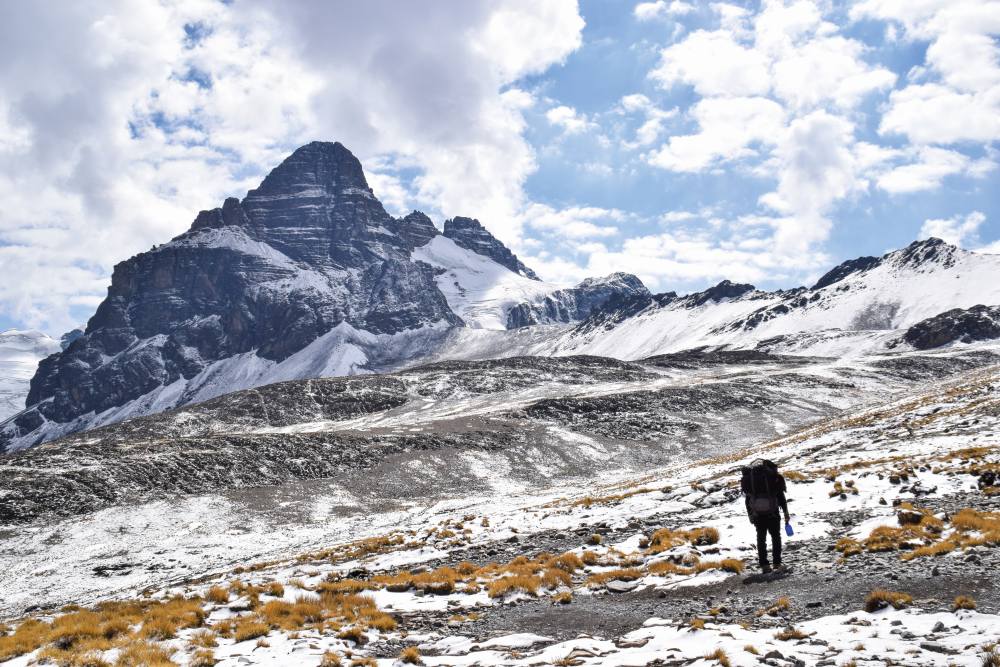 Most guides will arrange to pick up a mule at the start of treks, but David is as strong as a workhorse and opts to carry all of our kit of his back, his load lightened slightly by the absence of tents. It's early October and the nights now carry a bitter cold, so he has decided that instead of camping we will sleep in mountain refuges, most of which are unmanned and far more rudimentary than those you find in the European Alps.
I have spent two and half days leading up to the trek acclimatising in La Paz, at 3,600 metres. Just exploring the highest capital city in the world is excellent preparation for a mountain trek. Even so, now that we're up over 4,000 metres the altitude bites as soon as I pull on my pack and take my first step. Luckily today's route is a short one, taking us past the striking turquoise water of Laguna Kotia and over two ridges before ending at a refuge beside the inky black Laguna Ajwani three hours later.
We arrive early in the evening, just as a herd of 50 or so llamas are being shepherded past the lake by a lone farmer and shortly before the gravelly peaks beyond are stained a deep orange by the sun setting over the distant lowlands to the west.
Lake district
Temperatures drop down close to zero by the time darkness falls, but I'm warmed from the piping-hot dinner David prepares for us and we spend the rest of the evening asking about each other's lives and families using my fledgling Spanish.
Our second day on the trail is far longer and starts with a steep, lung-emptying ascent up to a rocky pass offering our first views of Huayna Potosi, a 6,088 metre-high mountain towering over La Paz. The route to its summit does not require technical climbing skills and is achievable for walkers with little or no mountaineering experience. When I first arrived in Bolivia I had been keen to attempt to climb its icy slopes but opted for this more remote trek instead, and although seeing the peak for the first time leaves me with a pang of regret, the scenery I've been spoilt with so far reassures me that I've made the right choice.
We drop down from the pass to the shore of the scenic Laguna Sistana, where David promptly pulls out a fishing line, swings it over his head and casts it far into the dark-blue water. After several failed attempts I begin to think there is nothing biting today, but then the line pulls tight and David reels in a silvery fish about eight inches long. "Trucha!" he calls over. Trout.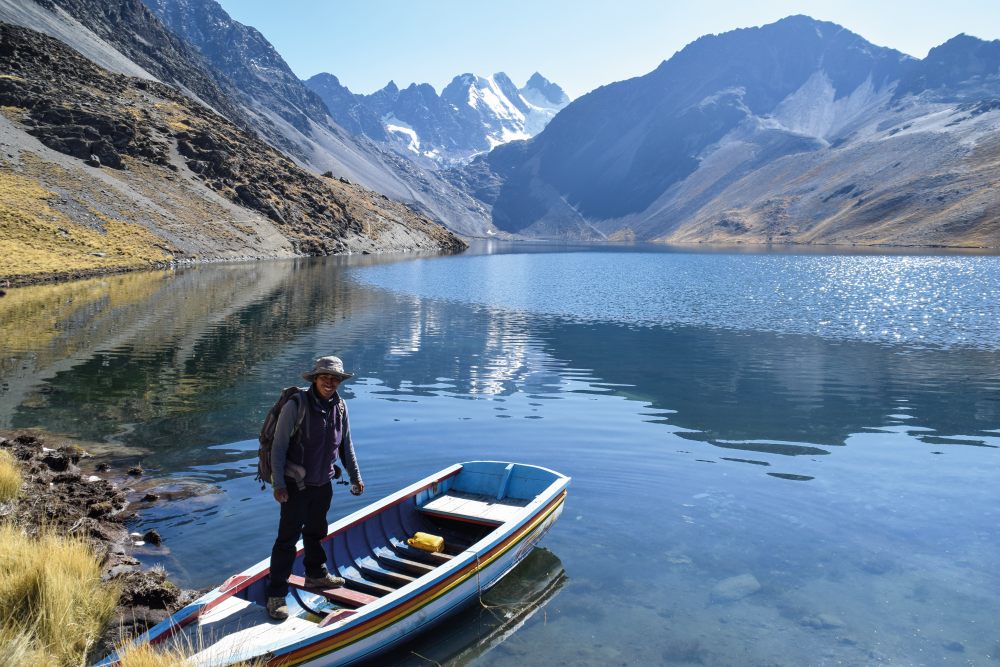 He swiftly catches two more fish, wraps his bounty in cloth and stuffs them in his pack ready for dinner tonight. The extra weight doesn't seem to affect him in the afternoon, as we inch our way up to the Jurikhota Pass, cross a small plateau and then drop down to Laguna Jurikhota, the fourth lake we've encountered in just two days.
Our home for the night is a basic but beautifully located refuge on the water's edge, and I while away the evening gazing across the lake and up to the summits of Condoriri and Ala Izquierda, both of which stand at over 5,500 metres high. Huge slabs of snow and ice cling to the sheer south faces of these two giants. It's a humbling sight.
After David has prepared a dinner of soup and the freshly caught trout, I roll out my sleeping bag on a dusty floor and settle in for night. The refuge badly lacks home comforts and a chilly draft creeps in through a gap at the bottom of the door, but it somehow feels cosy and before I know it I'm being woken up by warm morning sunlight beaming in on me through steamed-up windows. 
Day three will be the highest and most taxing of the hike, so I shovel down a double portion of breakfast before setting out along the banks of Laguna Jurikhota and up a steep scree slope leading to the Condoriri Massif, a chain of 13 peaks all over 5,000 metres high. 
Glaciers pour down from each peak and dump their water in the predictably named Laguna Glaciar, a small but stunning lake that catches me completely by surprise when it suddenly appears as the path levels out. We start ascending towards the Apacheta Pass and then leave the trail to climb to the 5,320 metre summit of Pico Austria.
El condor pasa
I have not taken to the dizzying altitude as well as I had hoped, and every step of the rocky, hour-long ascent is a hard-won battle. But my efforts are handsomely rewarded when I reach the summit and find Condoriri, Ala Izquierda, Ala Derecha, Pequeño Alpamayo and half a dozen other epic mountains lined up across from me in one magnificent Andean panorama.
Perhaps attracted by our presence, a lone condor floats effortlessly into view and glides around above us for more than half an hour as we eat lunch on the summit, its graceful motion contrasting with the intimidating ice and rock surrounding us. 
Clouds begin to gather when we start the long descent down to Laguna Chiarkhota in the next valley, and fine rain is falling by the time we arrive a couple of hours later. It's not until I wake up to clear and still conditions the next day that I realise just how spectacular the lake is, flanked on all sides by swelling white-capped mountains that are mirrored in the water.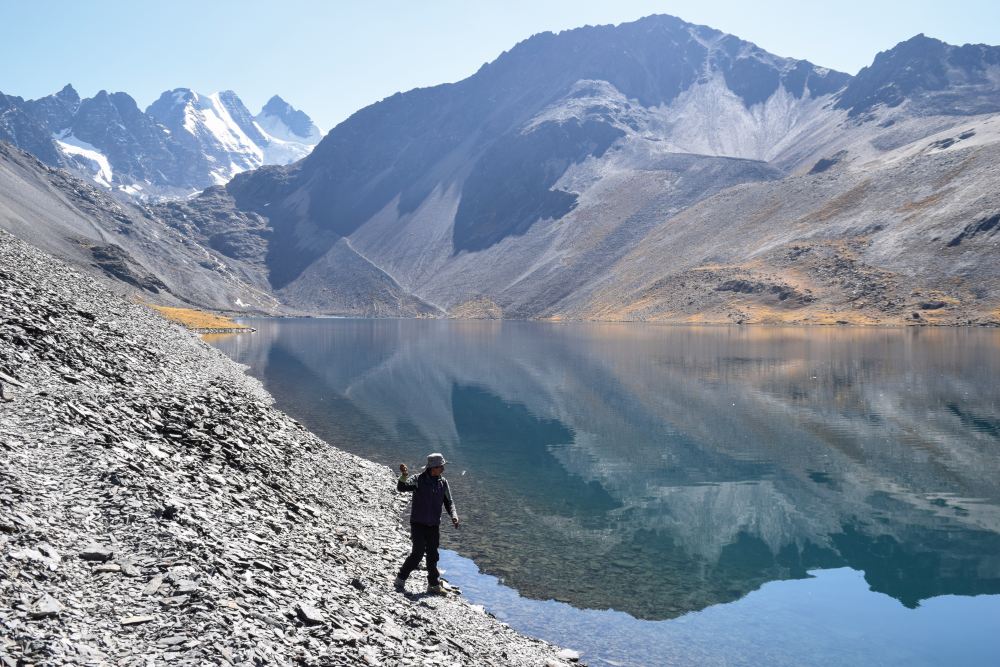 I could stay and spend all morning photographing it, but we have a lot of ground to cover over the final two days of the trek, so David soon has us climbing away from the lake and up towards another pass offering more front-row views of the Condoriri Massif, now caked top to bottom in fresh snow. Once over the pass, we dip back down below the snowline and into a sprawling grass valley dotted with small lakes.
For the first time the trail is gentle and we spend the afternoon ambling leisurely towards a tiny farm settlement located at the foot of Huayna Potosi. Almost the entire north face of the mountain is visible and I spend the rest of the afternoon sat nursing steaming hot mugs of tea, gazing upwards at vast ice fields and glaciers that clinging to the precipitous rock.
The settlement is made up of four huts with mud walls and thatched roofs, two of which act as refuges for hikers. It's far from the most comfortable place I've spent a night, but it has a rugged charm and fits perfectly with the unspoilt and undeveloped nature of the trek.
Blazing sunshine awaits us the next morning. We leave the settlement behind and climb one last time up to a scree-covered ridge offering front-row views of Huayna Potosi in one direction and Bolivia's vast altiplano (a huge plateau, literally the 'high plain') in the other. I strain my eyes in search of a glimpse of Lake Titicaca and can just about make out its glimmering water in the distance.
We leave the ridge behind and descend towards the end point of our trek - the brilliant blue waters of Laguna Milluni, which sits next to a deserted town sharing the same name and a road leading to Huayna Potosi base camp. Part of me wants to hitch a ride and try for the summit, but I've run out of time and there's no need anyway. The Cordillera Real has already given me five of my most memorable days in the mountains and convinced me that Bolivia is one of the finest trekking destinations in the world.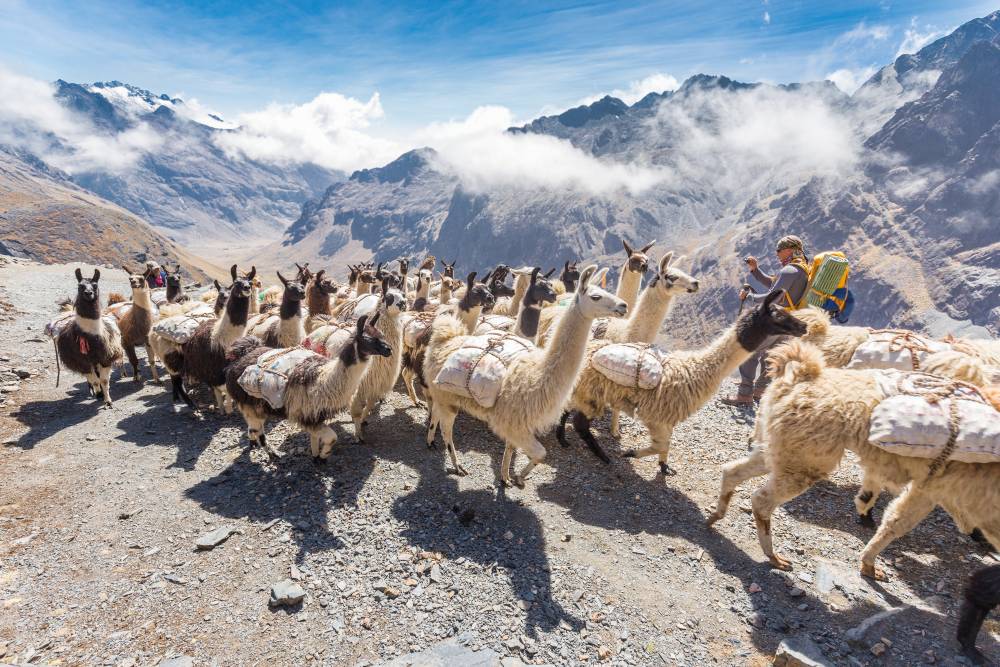 Five other Bolivian adventures
Climb Huayna Potosi
Although there are technical  sections, this 6,088m mountain is essentially a trekking peak suiitable for beginners. Most treks end close to Huayna Potosi base camp, so the climb can be added to active itineraries.
Cross the Salar de Ayuni
This huge salt flat, located in the  south-west of Bolivia, is one of the most spectacular natural sights anywhere in the world. Trips by jeep from nearby Sucre and Potosi take three days, or longer trips run from La Paz.
Visit Sucre
Bolivia's capital is a colonial delight, full of restaurants, bars and quaint churches. Much more tranquil than bustling La Paz, it makes a lovely place to relax.
Cycle the Death Road
This precariously high and narrow 38 mile mountain route used to be used by freight, but the building of a new road means it is now all but traffic-free and has consequently become popular for downhill mountain biking all the way down to the tropical forests around Coroico. Day tours run from La Paz.
Sail on Lake Titicaca
At 3,800m, this glassy blue lake is the world's highest navigable water body and a blissfully beautiful place to boot. The lakeside town of Copacabana is only four hours away from La Paz and from here you can explore the lake by boat. Stay the night on the peaceful Island of the Sun, home to ancient Incan ruins. 
Travel Info
Health & safety
The Cordillera Real is a remote region, so you need to take a comprehensive 
first-aid kit. Petty crime is common in La Paz.
What to pack
A full range of outdoor clothing, plus head torch, spare batteries, energy snacks and entertainment for the evenings.
Our trip
Matt hired a guide in La Paz and trekked for five days from Kotia to Milluni via Laguna Jurikhota, Condoriri and Laguna Chiarkhota. 
Getting there
La Paz is home to El Alto international airport.
British Airways fly to La Paz from London for £691 return. 
Getting around
Long-distance buses are common in Bolivia and some offer beds, but internal flights are cheaper and far more convenient.
Food and drink
Local food is meat and potato based, but delicious. Quinoa soup and traditional salteña pastries are must-tries. 
Where to stay
La Paz is the best hub for hiking in the Cordillera Real and for visiting Lake Titicaca. Sucre is the best base for exploring the south.
Take the trip
The 15-day Bolivian Highlands Trekking Holiday offered by Andean Trails is a great way to explore this breath-taking landscape on foot.