'I thought the schools were on holiday this week,' says my friend, as we drive the length of Kielder Water in north Northumberland and pass only three cars. Indeed, it was a Bank Holiday and supposed to be one of the busiest weekends of the year, but you would never have guessed.
Set around the reservoir (the largest man-made lake in the UK) is a vast forest (the largest man-made woodland in Europe). The combination of water and woodland means there are few outdoor sports you can't do at Kielder. Signposts every mile along the main road point to an activity centre: 'Water Skiing', 'Sailing Club', 'Adventure Camp', 'Waterside Park', 'Bike Hire'. You get the picture.
Despite this, there is a retreat-centre feel about Kielder. Perhaps it is the lack of visitors, the expanse of lonely forest, or the contemporary artworks that encourage less taxing activities such as star-gazing and watching water ripples. Whatever the reason, it was clear how the weekend would pan out: adrenaline activities in the morning followed by leisurely afternoons.
Saturday
It is ten o'clock and I have only just arrived, but I am already climbing into a Canadian canoe, waterproofs on, lifejacket fastened and paddle at the ready. 'We're launching Gemma,' says Mike, an instructor from the Hawkhirst Activity Centre, making me feel like a ship. Having been kayaking many times, I have always considered canoeing the less strenuous watersport. This is confirmed by Mike, who assures me: 'Canoeing is for when you don't want to work – it is the old man's paddling sport'.
A leisurely introduction to Kielder, I think. But not so easy, I later realise, when you canoe alone. With one oar, you must swap sides frequently and quickly to advance in a straight line, or master some nifty strokes that propel and steer simultaneously. Mike demonstrates 'sweep' and 'draw' strokes, 'sculling', 'levering' and the 'J' stroke. Once you get a grip of the latter, canoeing alone is a breeze. Well, sort of. 'It is three strokes in one,' says Mike, as he demonstrates pushing the paddle backwards, straightening the angle so that it becomes a rudder, then flicking the blade to align the canoe further. It doesn't sound easy, and it is not. After two hours of pushing, straightening and flicking, I begin to get the knack.
As for other watersports, Kielder seems perfect for sailing. There are some sheltered areas for beginners and, for the more advanced, strong winds as you head away from the shore. The large expanse of water means Kielder can cater for kite-surfers and water-skiers, too.
Back at base camp (aka Leaplish Waterside Park), I am greeted by chaffinches on the veranda, which hop about the door when I enter. I cook up a hearty lunch and unpack properly. The self-catering wood cabins have a Scandinavian feel and are cosy, modern and well equipped. There are plenty of facilities for families around the park, including a small swimming pool, a birds of prey centre, swings, slides and minigolf. Without any takers, the swings look rather forlorn, rocking in the wind. And then, just as I contemplate for the second time since arriving why there are so few visitors in March, it begins to rain and doesn't stop until Monday.
Waterproofs back on, I am off to explore Kielder's forest along a 2.5km uphill trail to Skyspace – one of 13 architectural artworks in the park. The views at the top are superb. I take a seat on a boulder outside Skyspace and look down on Kielder Water and across to the Cheviot Hills. Inside the sculpture, there is a seating area and a circular hole in the ceiling. When the sun briefly shines, a brilliant white ball of light appears on the wall. It is described as a contemplative space and it is certainly relaxing, listening to the rain pitter-patter through the hole. Further up the hill an observatory is being constructed and is due to open later this year.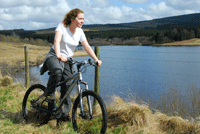 Sunday
A stroll along the new lakeshore trail eases me into the day. The path dips in and out of lagoons and provides a great view of the reservoir. Next stop, the Calvert Trust – a multi-activity centre for those with disabilities and their families, as well as able-bodied people. The range of sports, and the range of abilities catered for, is impressive.
The Trust has a new indoor climbing wall, with ten routes of varying levels. I could spend all afternoon trying to reach the top of one challenging run with an overhang, which, my instructor reassuringly tells me, she has not completed, but I am ushered outside to try the King Swing.
Harnessed into what looks like a trapeze, staff below winch me up to the height of the mature pines. 'Pull the cord,' they shout from below, and I do. The first whoosh forward is thrilling, but then comes the return, stomach-churning swing. It is strange how something very pleasurable can make you feel so ill. 'That's one of the best King Swing faces we've seen,' the staff enjoy telling me when I'm unhooked. I don't think they realise how close I came to vomiting on them.
I am keen to experience Skyspace at night after reading that Kielder has one of the clearest skies in the country. Having forgotten a torch, I am banking on that being the case. I sit in the chamber watching the sky through the ceiling turn from pale blue to indigo before the stars emerge one by one.
Monday
If there is one activity Kielder is famed for besides sailing, it is mountain biking. There are 125km of trails, from bridle paths to fell-side singletracks for experienced cyclists. I take a route along Forest Drive, which winds its way up a hill with superb views. As I pass a sign warning drivers of red squirrels, right on cue one little chap comes bounding out of the forest and crosses my path. The route passes rivers and returns to Kielder village along the shores of Bakethin Reservoir (an extension of Kielder Water). I take this off-road route, which follows a disused railway line through birch woodland and crosses an old viaduct.
Before leaving Kielder I have time for one last ramble along the shore, so I drive over the dam then walk through pine trees along the north shore to another architectural piece called Wave Chamber – a giant, pin-hole camera which you get inside. I can hear the water lapping the rocks outside and once my eyes adjust to the dark, black ripples begin appearing on a stone slab at my feet. People pay good money for therapy sessions like this.
On the return walk, I meet a walker going in the opposite direction. She is only the fourth person I've met since leaving the lodge. Kielder couldn't do more to attract outdoor enthusiasts with all its adventure centres, so it is strange there are aren't more visitors. No wonder Kielder has been ranked the most tranquil spot in England.
Umbrella days
You've been to the new indoor climbing wall at the Calvert Trust and sat out a rainstorm in the Skyspace and Belvedere architectural artworks. What next? There is a small indoor swimming pool in the reservoir-side village of Leaplish. You could go on a motor cruise – see the Osprey Ferry, below. Look out for the ospreys, if you do. Fishing enthusiasts may be interested in the Kielder Salmon Hatchery near the castle, where fish are reared for release into local rivers.
4 of the best forest walks
1 Matthew's Linn
A secluded 5km valley walk alongside a river dotted with wild flowers. The path also climbs through pine trees where red squirrels can be seen. This route can be extended to take in lookout points over Kielder.
2 Benny Shank
Explore the remote north shore on this 16km walk, experiencing two of Kielder's outdoor artworks, the Wave Chamber and the Belvedere. Set off on foot from Hawkhope car park and walk among tall conifers, following the shoreline the whole way.
3 Bull Crag
An easy 3.25km trail winds around this wooded peninsula on the south shore. Sweeping views of Kielder Water await and there are brass rubbings (an installation called Keepsake) to keep the kids occupied.
4 The Lakeside Way
A new trail is almost finished along Kielder's southern shore and, by the time you read this, will complete a 44km circuit of the reservoir (you can already walk the north shore). The wide gravel path is perfect for cyclists, horse riders and those on foot, and is a great way to see the whole of Kielder Water.
3 of the best bike routes
1 Deadwater Fell
On clear days you can see all the way to the coast from the top of Deadwater, which is just under 600 metres. It's downhill all the way back, on a thrilling singletrack. There are two routes, one graded black, the other red. Both 16km routes are challenging and aimed at experienced cyclists.
2 Castle Hill
Follow 11km of wide tracks through undulating woodland, returning via Bakethin Reservoir on tarmac or off road along an old railway line. A circular route for most levels.
3 Humble Loop
Starting out from the Calvert Trust, this 12km trail climbs through stunning woodland and follows a stream, or 'burn', for much of the route. You'll also come across ancient settlements.
Fact file
How to get there:
Kielder is poorly serviced by public transport. The only direct link is a bus that runs twice a day from Hexham train station to Kielder village at 7.35am (Mon-Sat) and 2.15pm (Mon-Fri). Call the Tourist Information Centre (details below). There are hourly trains from Newcastle to Hexham which take about 40 minutes Alternatively, take a bus from Hexham to Bellingham and taxi to Kielder.
By car, it is 48km (50 mins) from Hexham and 80km from Newcastle (80 mins). From Newcastle and Carlisle, take the A69 to Hexham then the B6320 to Bellingham. Follow the brown signs to Kielder.
Getting around:
A road links activity centres with Kielder village on the southern shore. Cycling is a great way of getting around, especially along the new Lakeside Way trail. See The Bike Place, right.
Accommodation:
Leaplish Waterside Park
Well-appointed self-catering lodges on Kielder Water. Facilities include a small shop and restaurant. There is a swimming pool and play area.
Tel: 01434 250294
Web: nwl.co.uk/kielder
Calvert Trust
Spacious self-catering cabins. Fully accessible for those less mobile.
Tel: 01434 250232
Web: calvert-trust.org.uk
Kielder Youth Hostel (4 star)
Tel: 0870 770 5898
Web: yha.org.uk
Activities:
Hawkhirst Adventure Camp
Canoeing and sailing courses available.
Tel: 01434 250217
Web: scouts.org.uk/nationalcentres
The Bike Place
Expert and comprehensive advice on routes and a range of bikes for all users, including children.
Tel: 01434 250457
Web: thebikeplace.co.uk
Osprey Ferry
A cruise around the reservoir that takes just over an hour and stops at Leaplish and Tower Knowe. It leaves five time a day, from April to October. Bikes can be carried (limited spaces).
Tel: 01434 251000
Kielder Salmon Hatchery
Tour showing the rearing and release process.
Tel: 01434 250269
Kielder Birds of Prey Centre
Eagles, hawks, owls and kites at the Leaplish Waterside Park.
Tel: 01434 250400.
Web:kielderwaterbirdsofpreycentre.com
Calvert Trust
A large range of activities including several watersports, climbing, abseiling and archery.
Adventure holiday package available when combined with accommodation booking (contact details above).
Merlin Brae Water Ski Club
Tel: 01434 250037
Web: merlinbraewaterski.co.uk