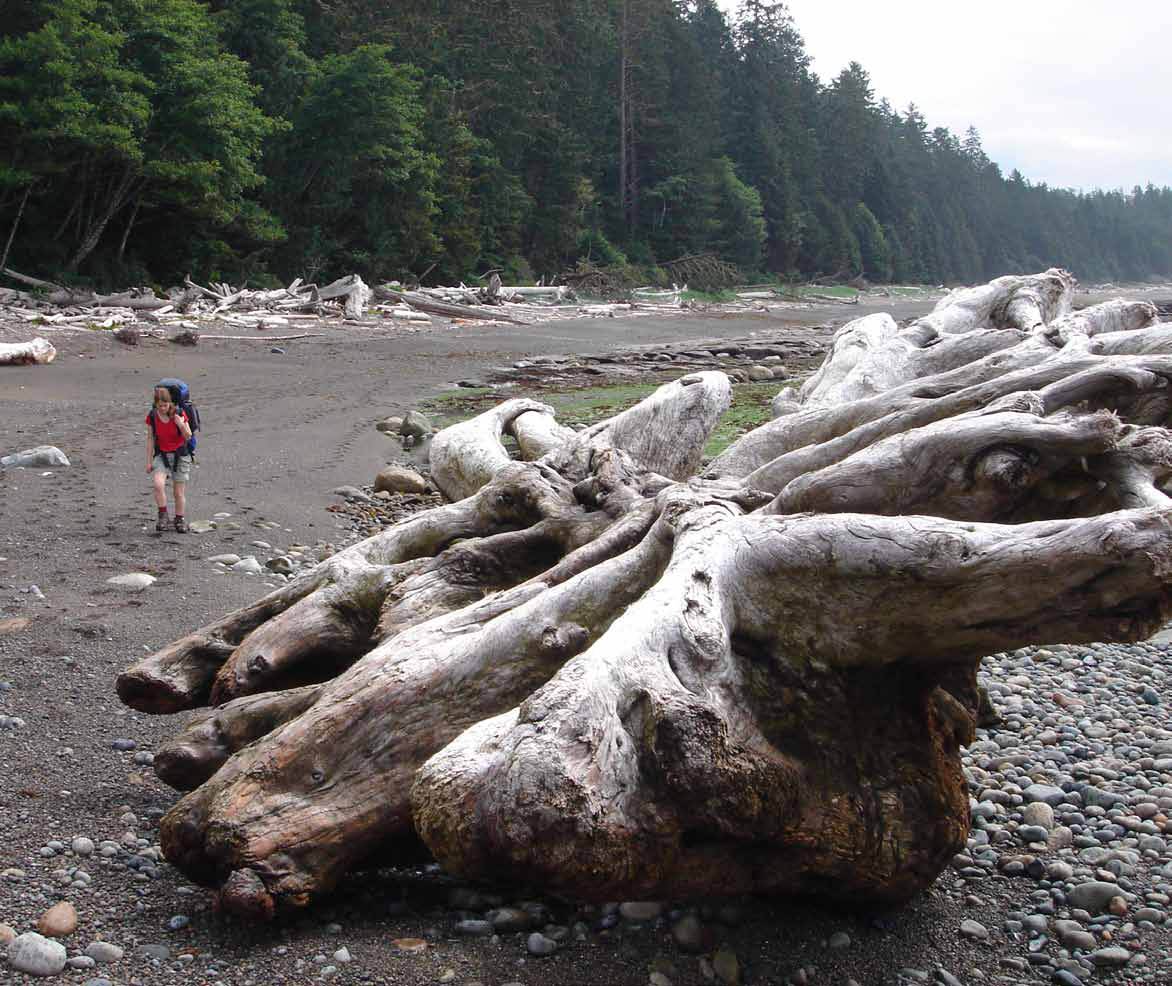 Right, ok, ummm… how am I going to do this then? I'm standing on a small, high and very slippery wooden platform, in the rain, holding a heavy metal cage that is suspended on a slack metal cable over a 30metre wide, very cold and fast-flowing river. My wife and our bags are already across; that was easy. First she put the bags in before climbing in herself, whilst I held the cage firm. I then let go and, with a shout of joy from Susie, the cage sped on its way to its gravity-pulled natural position, a few feet over the water and smack bang in the middle of the river.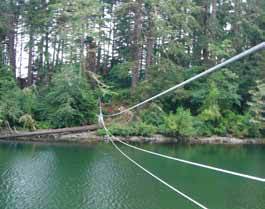 She then pulled herself across using the fixed rope and somehow tipped the bags out before jumping/falling on top of them at the same moment as the cage sped off back towards me. With a leap of faith I dive in head first, and find I can't quite stop myself from letting out a little 'woo-hooow' as I zoom over the water feeling a little (well, a lot) like Indiana Jones.
The West Coast Trail on Vancouver Island, British Columbia, was constructed in 1906 with the original name of the Dominion Life Saver Trail. The trail was built literally to help save lives, by offering an escape route for shipwrecked seamen who found themselves washed ashore on this unforgiving coastline. With the sea on one side, and an almost impenetrable temperate rainforest on the other, walking along the coast was their only way out. A total of 66 ships have sunk off this stretch of coastline, cheerfully known as the 'Graveyard of the Pacific' and if all that wasn't enough, the forest is home to bears and cougars, aka mountain lions, and yes, while unheard of on the WCT (well, not since 1985 anyway), cougar attacks do happen on Vancouver Island – but then people get hit by buses and that doesn't stop you going to the shops, now does it? Bears, on the other hand, do need to be considered, but more on that later.
After a day in Vancouver we took the BC ferry from Tsawwassen, a short bus ride from downtown Vancouver, to Duke Point on Vancouver Island. We stayed in downtown Victoria at the Strathcona Hotel, known locally as 'The Strath', which has the often lively Sticky Wicket pub downstairs and Big Bad John's hillbilly bar where they brag about the fact that you can 'throw your peanut shells on the floor!' Those crazy Canadians.

Victoria, British Columbia's provincial capital, has a relaxed feel with the harbour area full of small fishing boats and private yachts, dominated by the large lawn of the colonial-style parliament building. After a day relaxing in the sun by the harbour and buying our food supplies for the trek, we ate at the not-to-be-missed Pagliaccis Restaurant. They have live music Sunday to Wednesday, and we were treated to a spirited Jewish band whose music made you chew and drink just a little too fast.

At 6.15am, after an early night, we meet our WCT Express transfer bus, which was anything but express. This wasn't due to the bus, or the driver, but the roads, many of which are unsealed logging tracks. Six hours later we climbed off the bus at the Pachena Trail Head near the village of Bamfield, and picked up our pre-booked permits ($114 each) and paid for the two river ferry crossings ($28 for both).
At the time of writing, 52 permits were sold for each day – 26 from each trail head – 42 of which can be booked on the 1st of the month, two months prior to your intended month of travel. The other 10 are sold per day at the trail heads on a first-come first-served basis.Hikers have been known to wait three days to get a permit, so book in advance.

At 1.30 we sat through the compulsory short information film and trail brief, mostly about how to be safe hiking in bear, cougar and wolf country, before finally getting to start our hike around an hour later. The West Coast Trail is a mere 75km in length and has a trail head at each end, with only one other route out, other than by emergency boat or helicopter, so you need to be committed.
I thought 75km in six days was going to be easy, but as we trudged into our first campsite, with the summer sun low on the horizon, exhausted after our early start, I realised that we'd only covered 10 or so km in five hours and the start was meant to be one of the easiest sections of trail. There are designated campsites along the route so as to keep the human impact on the area to a minimum.

They close campsites if there are concerns a bear has become 'habituated' in the area, which was the case for one of our planned stops, making us walk an additional 10km one day to reach the next campsite. There are metal bear-proof boxes at each campsite to keep your food in, but, as I discovered on the first night, if you're one of the last into camp they fill up fast. The only other option is to bag up all your food and haul it way up into – and away from the trunk of – a suitable tree with a rope, remembering to put the clothes you cooked dinner in into the bag too. You don't want a bear unzipping your tent thinking there's a bacon sandwich inside, now do you!

As I stood trying not to look like a complete English fool out of his depth in bear country, while trying to throw my climbing cord over a high branch, an American man walked past. I smiled and he stopped with an ever so slightly patronising, 'Having a problem there?' 'Well no, not really,' I said, breezily, not wanting

to admit my ineptitude. 'Just trying to get my food up into the tree.' 'There's bear boxes, you know.' 'Full.' 'Oh.' Not put off, he added, 'That's a mighty light cord you've got there, you should try tying a stick on, to give it some weight.' We chatted a while: about the weather, the condition of the trail and the beauty of the beach we were camped on before he wandered back towards his tent. I let him get out of sight before I looked for a suitable stick.

It rained that night and it didn't stop too much for the next six days – there's a reason that it's called temperate rainforest. We had a lot of dried food so we could have sat it out for a day or two, but we had ferry tickets booked and were on a tight schedule as we planned to head up to Alaska and the Yukon after our trek, so we packed up our gear and stoically headed deeper into the trail. Much of the route leads you along the beaches and we soon worked out that walking on the very soft sand with our heavy packs was slow going, and it was much easier to walk along the rocky slabs closer to the sea's edge. This was much faster, but with every step about 20 very small sea snails lost their lives. As I crunched my way down a couple of miles of beach I felt myself lucky I wasn't a Buddhist.

As the days went on, and the rain continued to fall, it didn't detract from the beauty of the hike, even if it did make our packs even more ridiculously heavy. The beaches were amazing, we'd often see bald eagles perched on vantage spots looking for prey, and when the trail took us away from the sea and into the forest we felt like midgets walking through a giant's garden. Ferns towered over our heads, growing on and around fallen trees, and huge green and brown slugs slimed their way across the path.

The trail when inland has many sections of raised wooden decking, helpfully lifting you away from the often almost swamp like forest floor. In other parts, the path was replaced by a pond where the path once was, with the only option, (outside of wading) being to jump from one stepping stone log to another, hoping that the one you were leaping onto was grounded rather than floating. The coast here gets hit by many vicious storms in the winter, and as such the trail is often blocked by huge fallen trees. You could scramble around, or even sometimes under these fallen trunks, but the quickest way past was often to climb on top and walk along the branchless trunks. This was not as easy as it sounds, and you would quite quickly find yourself ten feet up walking along a slippery tree, unbalanced by your heavy pack, above a tight tangle of undergrowth.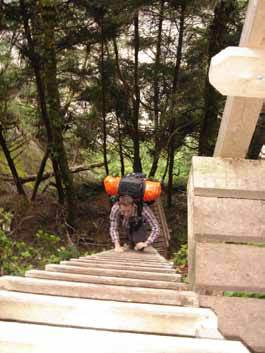 After the occasional zipline cable car, the ladders were the most exciting obstacle the trail threw up. There are many series of large wooden ladders nailed to small platforms that enable you to climb down into, and back out of, the steepest gullies, some of the worst being around Sandstone and Cullite creeks, and while tiring to climb up, are far scarier on the way down.

You have to be physically fit to attempt the WCT, mostly due to the heavy pack you need to carry, the terrain and the conditions underfoot, and we were unfortunate to tackle the trail in such bad weather - I even heard a local on the bus out from Port Renfrew say, 'I've walked the trail ten times and it's the first time I've ever wanted to go home.' But even with the rain, it was a truly beautiful wild place with breathtaking beachside campsites, and at the end of it, as we trudged sodden towards the bus to take us back to Victoria and a dry bed, we knew it had been a real and worthwhile challenge.
Pete Coombs is a freelance travel journalist
and author. He has just finished his first novel
'Island of Last Hope'. You can follow Pete's
travel adventures @pcsnowboard