You can't beat an off-road buggy ride down a bumpy track and splash through a stream to a secluded yurt as the perfect way to start an adventurous family escape in South Wales border country.
Less than half an hour the other side of the Severn Bridge, that's exactly how our long weekend based at the Wye Valley's Hidden Valley Yurts started. We spent three fantastic days there and loved every nature immersed, relaxing minute of it.
Only about half an hour from the motorway the site is easy to find and then when you get there utterly secluded and rural.
Needless to say, my 7 and 8 year olds loved it all too. From the exciting off road buggy lift from the car park to the traffic-free glen where the yurts sit, to the site's resident spaniel Tilly, the stream running through the site, the games available, and the other friendly kids to play with.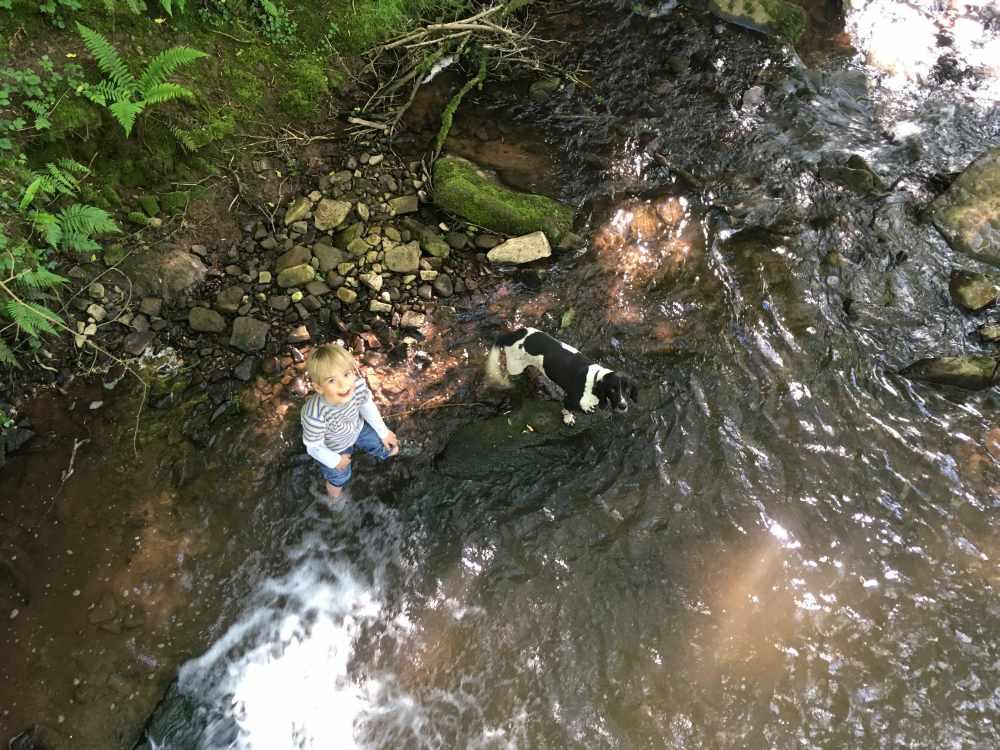 The yurt itself was big, cosy and clean with some lovely touches such as a well-put-together info book, plenty of kindling for our wood burning stove and BBQ, and some delicious local apple juice.
There was a composting toilet close to our yurt but the main kitchen and more conventional toilets including solar heated showers was all housed on a beautifully made elevated platform with a large terrace with tables in front of the open but covered kitchen that would make any cafe proud.
The kitchen has all the equipment you could want including a dishwasher and ice cream maker, there is a well-stocked toy and games cupboard and a pizza oven next to another tented eating area that would be perfect for an alfresco dinner party.
We could easily have stayed on the site all day, every day but with so much on offer in this dramatic, wooded landscape we filled our days with active stuff nearby such canoeing on the Wye, tree climbing and mountain biking in the Forest of Dean.
Wye paddle
The first first night in our Mongolian yurt was magical, sitting out on our yurt's decking warmed by our own converted gas-bottle brazier, while the children playing with their new friends around the site long into the evening.
After a fry up with eggs from the site's resident hens and a visit from its roaming spaniel Tilley, we head down to the river front in Monmouth and meet Di and her son Wayne from Way2go Adventures, whose first job was to expertly patch up our eight-year-old boy whose scrambling up the banks of the stream at the yurts had got a little overzealous.
20 minutes of safety and good-humoured advice later and we were all afloat on the wide, deep and gently moving Wye. Over the next three hours we paddled gently down the river, past crumbling bridges, friendly fly fishermen and even the odd boulder-strewn 'rapids', where we over-egged the 'danger' for the benefit of the kids.
All the way we were treated to Wayne's local knowledge and nesting birds along the river banks, with herons, cormorants, ducks and swans to share the journey with as we cruised the seven miles down to Redbrook. Once home to 40 forges and mills for both copper and iron, which turned tributary streams red and gave the town its name, this was where we ended our adventure and pulled the canoes out of the river just on the other side of Penalt viaduct - just one more of the constant reminders of this area's industrial past.
Into the Forest
After excellent fish and chips back in Monmouth, we headed across to the north side of the Wye, back into England, and deep into the Forest of Dean, where an afternoon of high-rope adventure waited for us at Forest of Dean Adventures' Bracelands Site.
Although we'd expected a circuit-based 'course' built into the trees, the format of this two-hour session in an otherwise deserted woodland of towering pine trees, was much more involving and intimate, with set-piece challenges for us to take on as a small group or individually - all under the supervision and expert guidance of Joe and his excitable collie.
This started with the Crate Stack where we each competed to build the tallest stack of milk crates possible under our feet, with the others passing up crates - and most importantly holding the other end of the safety rope. As confidence built we all - including my seven-year-old daughter - took on 30-foot high tight-rope challenges, a 50-foot high trapeze leap and an upside down zip wire.
Almost as impressive as the challenges themselves was watching my two youngsters clipping on and climbing up the huge pine trees on fixed ladders high into the canopy for the start of each one.
Forest pedalling
After a night of pizza firing in the communal pizza oven and fireside chats back at Hidden Valley Yurts, out final day was to be spent in the saddle at the Pedalbikeaway mountain bike trail centre near Coleford back in the Forest.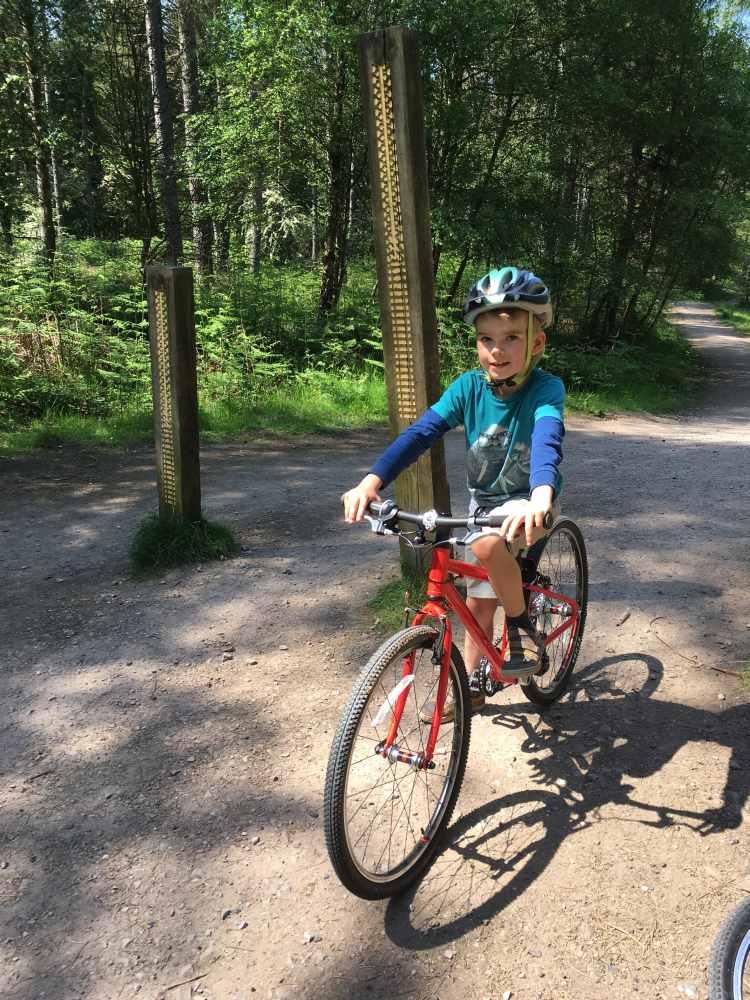 The trail centre was buzzing, with the log-built café and shop in the middle of it a hive of baggy shorted and body-armoured mountain biker activity. The beauty of the centre is that, much like a ski resort, there are marked graded trails to suit all abilities here - from the gentle off-road family ride that we were taking on, to technical cross-country routes and full-on downhill lines which the World Cup riders train on. It all adds up to an infectious biking atmosphere which it's difficult not to get caught up in.
Kitted out with helmets and bikes from the on-site hire shop, we set off into the forest on the 11-mile green graded Family Trail, which followed old mining railway tracks and forest roads through quiet woodland of alternating pines and ancient oak and beech.
Close to the end we found a perfectly placed ice-cream van in a picnic spot at the scenic Cannop Ponds, where the kids played in the stream to cool down.
Even the otherwise straight, flat and easy Family Trail has devised ways of bringing on the next generation of trail heads, with short little 'diversions' of 20 metres of so. These little loops take novices - and bored dads - off to the side of the trail over a handful of berms or bumps, and round a few trees, before rejoining the trail a little further on.
The whole ride, ice-creams, paddling and all, was a wonderful way to spend a few hours and the distance alone was enough to finish the kids off after a packed few days. After another half an hour's drive back to the yurts, there was just enough time to pick up our bags, fuss over Tilley and splash back through the stream one last time before heading home. Needless to say, the kids slept all the way back.
Canoeing the Wye with Way2Go Adventures
A half-day river trip takes approximately 3-4 hours and a full day trip takes around 6-8 hours including a stop for lunch. The timing depends on the flow of the river and the pace you paddle at – most people are comfortable paddling between 10 and 18 miles in a day.
Price: £55 per person based on 1-4 people. Discounts available for larger groups.
Bracelands Adventure Ropes, Forest of Dean
Climb, swing and jump your way through our high ropes challenges! Test your nerve on the Leap of Faith, balance on the Crate Stack, take on the High Ball challenge and fly through the forest on the zip wire! Great for adults and kids! Session time: 2 hrs Min age: 8 yrs
From £20 per person
Pedal a Bike Away, Cannop Cycle Centre, Nr Coleford, Gloucestershire
The trail centre also runs clubs, night rides, coaching and courses, such as the MTB Leadership Course, Outdoor 1st Aid, Women's Coaching, and Steep and Natural Coaching/Guiding days.
Price: The Family Trail is free to ride but parking is Pay and Display. Bike hire costs from £14.50 for half day, £19 for a full day. Children's bike hire costs £10 for a half day, £14 for a full day. Half days run from 10am-1pm or 2pm to 5pm.
Accommodation
We stayed at Hidden Valley Yurts, Lower Glyn Farm Llanishen, Chepstow, Monmouthshire, where there are five fully furnished Mongolian yurts, with beds, chairs, lights, rugs and wall-hangings, as well as a wood burning stove with kindling and wood for fuel. Set in an 80-acre farm with mapped walks the site is set in a little glen, bounded on one side with a stream where the kids can play. There are some small shops a short drive away but the site will accept supermarket home deliveries and deliver them to your yurt ahead of arrival.
Price: From £250 for 3 or 4-night breaks.
For more information on things to do and places to stay in the Forest of Dean and the Wye Valley, see wyedeantourism.co.uk