AMERICA: RENDEVOUS HUTS, WINTHROP, WASHINGTON
These chilled-out wood frame huts spread out across the Methow Valley are perfect for big gangs. Each of the five cabins sleeps 8-10 people and some are dog-friendly, too. Inside each cabin is basic but cosy, with bunks arranged around a roaring stove. In winter, locals like to go sledding and skiing right from the door but in summer the surrounding mountains are a cyclist's playground, with exciting singletrack in the mountains or more relaxed cycling on the wide forest fire trails.
Price: from £7 per person per night
SCOTLAND: KEARVAIG BOTHY, CAPE WRATH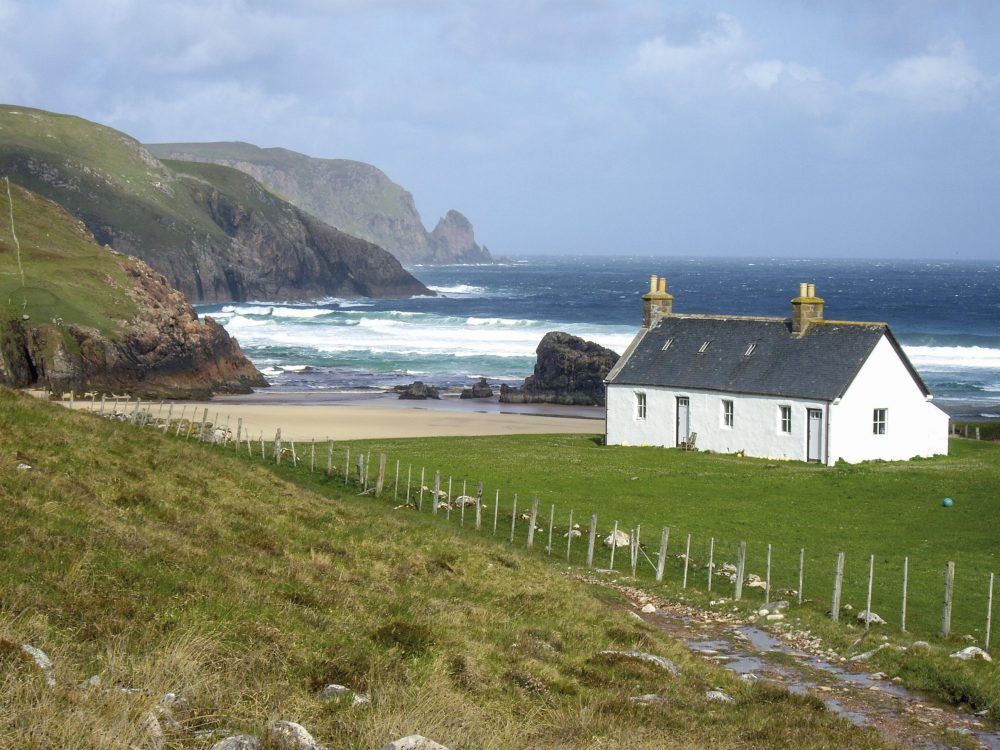 It may take a while to get here but Kearvaig bothy, at Cape Wrath in the extreme north west of Scotland, is totally worth the journey. It has its own gorgeous beach, which looks rather like a Caribbean scene until you dip a toe in the ever-chilly water. Unlike some basic bothies, this is a cosy place to spend the night, and totally free, too. The epic landscape around the bothy is a joy to cycle - to reach it you'll need to pack in your belongings along a track best suited to mountain bikes.
Price: free
NEW ZEALAND: PERRY SADDLE HUT, KAHURANGI NATIONAL PARK
New Zealand's hut system is one of the most iconic in the world, perched across the wildest corners of the island. Few of the trails (or 'tramps' as they're known locally) that connect them are bike-friendly, but one of the best is – the Heaphy Track is 50 miles of heavenly riding in Kahurangi National Park.
Five huts are dotted along the trail and our favourite is the Perry Saddle Hut, with distant views of Mount Olympus and a deep pool nearby in Gorge Creek for a swim.
Price: from £16.50 per person night
CANADA: WHISTLER LODGE, WHISTLER, BRITISH COLUMBIA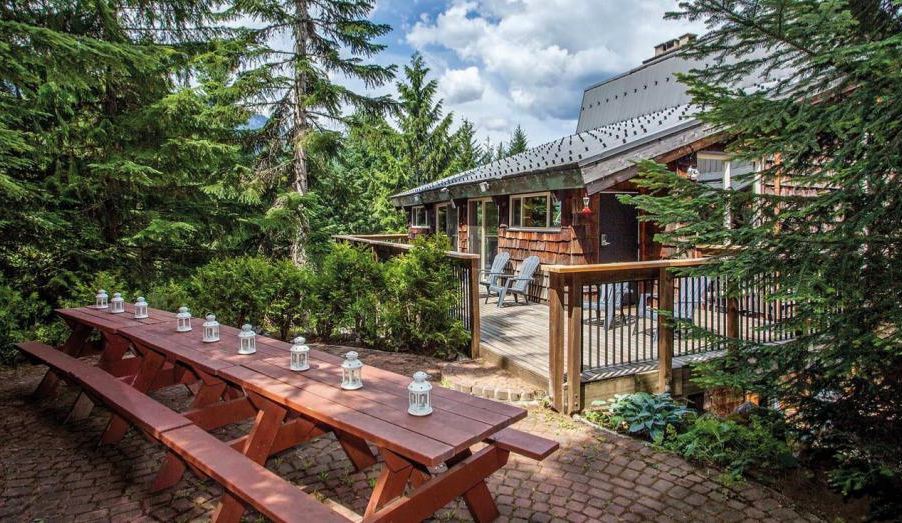 Canada's favourite ski town becomes the realm of the mountain biker once the snow melts. Stick your bike in a gondola for an easy ride into the hills, then test your skills in the massive Whistler Blackcomb mountain bike park, packed with everything from gentle green routes to jump trails, or get fighting fit on the endurance trails that snake past waterfalls and over granite rock rolls.
There's plenty here for road cyclists, too - challenge yourself on the 'mother of all climbs', the ascent on the Duffy Lake road to the Joffre col with a climb of 1,000 metres over nine miles. Then spend the night at Whistler Lodge - this smart 42-bed bunkhouse, designed and built by members of a local outdoor club, has a slick chalet feel.
In winter this lodge is a hub for snowboarders, and it feels like it - there's a huge, cosy living room with a fire, a pool table and an enormous bike shed outside for keeping your ride safe and dry. Extras include hot tub, sauna and guaranteed good vibes.
Price: From £25 per person per night
ENGLAND: WYE VALLEY CANOES BUNKHOUSE, GLASBURY-ON-WYE, HEREFORDSHIRE
Wye Valley bunkhouse has a simple and appealing mantra: 'canoes, bikes and beds'. This luxe bunkhouse perched on the River Wye is not your average hostel – inside are 14 comfy bunks, posh showers, a warming stove and a table tennis table, and if you fancy popping in to the River Café downstairs you can just hop into the enormous steel slide in the centre of the living room.
The surrounding landscape has just as big a wow-factor - on your doorstep is the Wye Valley, a fantastic place for road cycling.
Bring your own bike or hire bikes and guides (including mountain bike guides) from the bunkhouse.
Price: from £35 per person per night
ITALY: RIFUGIO SOGNO DE BERDZE, AOSTA VALLEY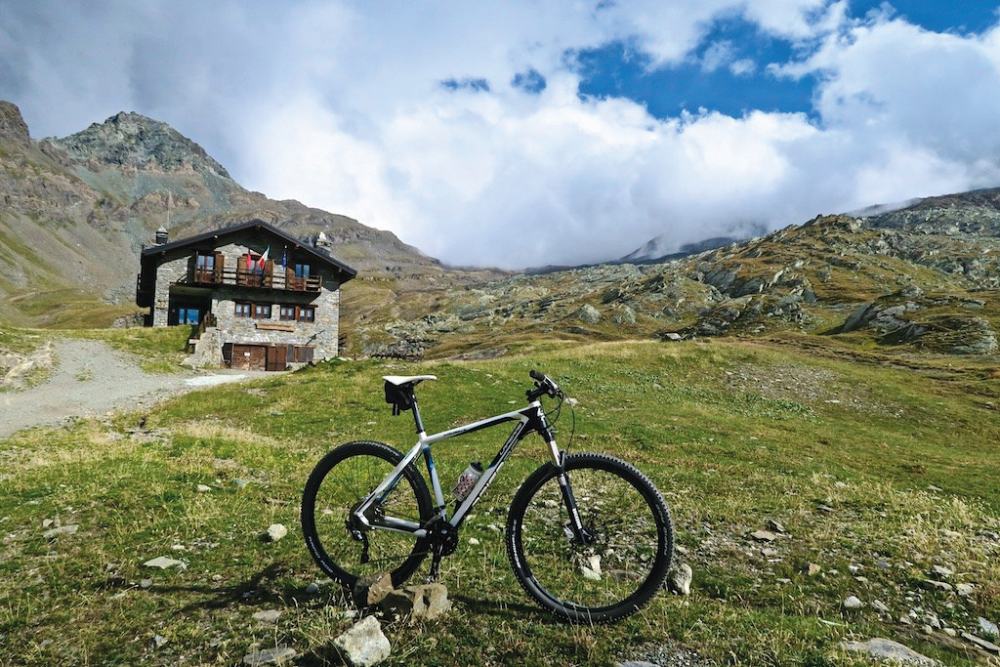 The Aosta valley is a cyclist's fantasy in summer - it's just a case of deciding what kind of riding you fancy. Racer? Winding mountain roads edged with wildflowers climb high into the mountains? Mountain biker? Pick from endless forest tracks and mule paths, or catch a cable car up to a ski station for rip-roaring downhill singletrack back into the valley.
If you're planning a bit of a tour, make sure you stop off at Sogno de Berdze, a charming, relaxed refuge nestled high in a remote, untouched mountains. You can mountain bike all the way up from Lillaz to reach it – your reward is a gorgeous wooden-clad home from which to head out on endless local trails or cycle on to the next refuge. Bunks and private rooms are both available.
Just passing through? You can just stop here for a slap-up lunch, too – the massive dining room serves up locally-sourced treats. Dogs are welcome.
Price: from £17.50 per person per night
WALES: PERTH-Y-PIA BUNKHOUSE, ABERGAVENNY, MONMOUTHSHIRE
The Beacons and the Black Mountains are a brilliant for two-wheeled touring, with miles of quiet lanes in the valleys and some fantastic mountain biking routes in the lush green hills. Stay in this cosy, cyclist-friendly bunkhouse perched in the shadow of Table Mountain and with vistas across to the Sugar Loaf – rooms are basic but the massive living room has squashy sofas and a roaring fire and is the perfect place to stretch out knackered legs.
Road cyclists can head out on our favourite route, which skirts under the Sugar Loaf and head straight up iconic Gospel Pass, a heart-pumping climb that rewards the puffing, red-faced cyclist with the glorious rolling landscape of Hay Bluff and a downhill ride into the lovely town of Hay-on-Wye for a pub lunch.
For something more off-road and adrenaline-fuelled, Cwn Carn mountain bike centre has a purpose-built mountain biking and downhill course, or take on the challenging but beautiful 22 mile Mynydd Du forest trail, starting from Crickhowell.
Price: from £16.50 per person per night
ICELAND: DALAKOFINN HUT, LAUGAVEGAR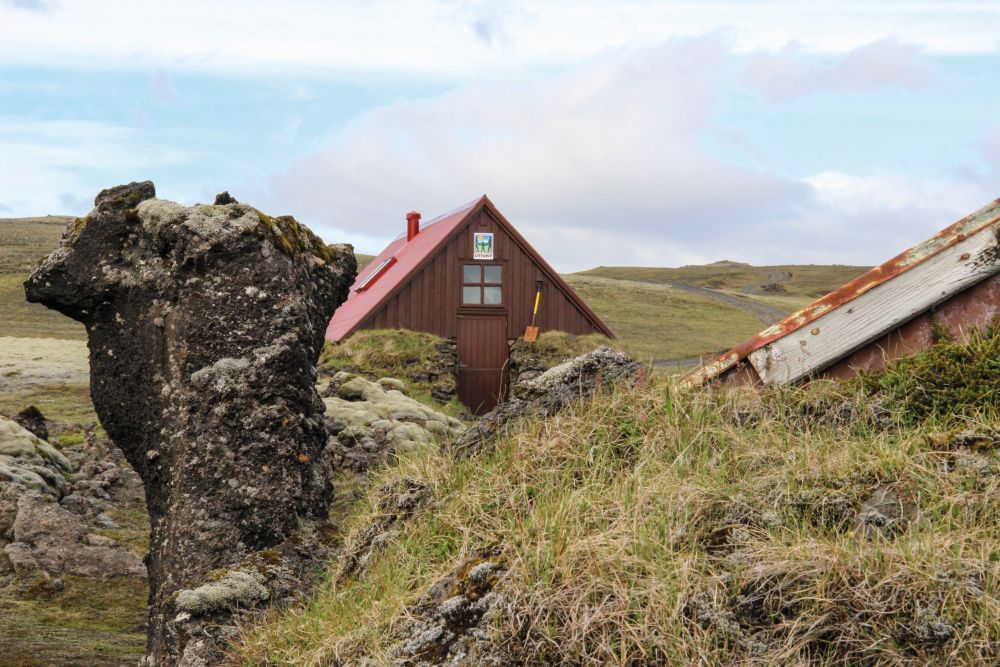 Iceland's incredibly photogenic wilderness huts are popular with northern lights hunters in the depths of winter but are just as rewarding as a base for a cycling adventures in the long days of summer, when this weird volcanic landscape becomes the perfect playground for mountain biking.
Nat.is lists all the huts on the island and you can plan routes between them – like most of Iceland, they're a little pricier than other destinations but are worth the spend, as they're an easy way to stay off the beaten track with your bike and make the most of the 21 hours of daylight available to play in during the Icelandic summer.
Our favourite hut is the pleasingly geometric A-frame Utivist hut in the Dalakofinn/ Fjallabak area. It's basic but pleasant and comfortable, and brilliantly situated for exploring the Torfajökull glacier and colourful rhyolite mountains nearby. Book huts well in advance, and use the excellent cyclingiceland.is website to find road and trail routes all over the island.
Price: From £38.60 per person per night
nat.is/dalakofinn-mountain-hut
SCOTLAND: SLEEPERZZZ HIGHLAND HOSTEL, ROGART, SUTHERLAND
Ever fancied taking your bike on a sleeper train? That's quite literally what this quirky bunkhouse in the Scottish highlands offers, even if you don't go anywhere very fast. Three vintage train carriages have been converted into comfy bunkhouses, sleeping 18 in total - you can also book out a whole carriage for your gang of riders.
The rolling roads and trails of the Highlands are right on your doorstep, and if you haven't brought a bike up north there are bunkhouse cycles available for guests to use for free (a good way to pootle to the pub down the road). Open March to September.
Price: from £19 per person per night
AUSTRIA: OLPERHUTTE, MAYRHOFEN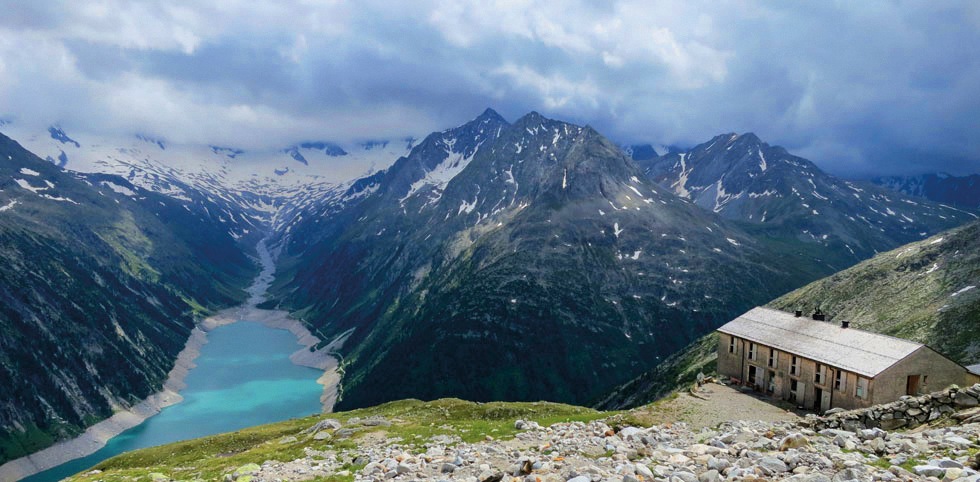 The friendly team who run this summer-only wooden chalet reckon they live '2,389 meters above the daily grind", and we'd agree. The Olperhutte is the perfect base if you're planning an epic trip, as it's as the beginning of a tour that takes in the highest peaks of the Tuxer Alps and is the starting or ending point of the Neumarkter Runde, a beautiful mountain trail.
This may be a mountain bunkhouse, but it's a pretty posh one, complete with a lovely restaurant. We defy you to find one with a better view than the panoramic vistas of mountain tops and glittering blue lakes you'll find up here.
Price: From £10.50 per person per night