Lake Garda, or lago di garda, as its known in Italian, is one of those destinations that needs little introduction. A sliver of brilliant blue sandwiched between steep-sided mountains, its one of the best-known natural wonders Italy.  
Small wonder then that its stunning villas and picturesque fishing villages attract tens, if not hundreds of thousands of tourists every year. Names like Peschiera del Garda, Riva del Garda and Sirmione are as famous as those of the villages along the Amalfi Coast. 
But while it can be hard to find anywhere on the Amalfi coast that's not overrun by the annual influx of visitors, it's entirely possible to get off the beaten track around Lake Garda. The water itself, and the best beaches around the lake, are often busy, sure. However, far fewer tourists take the time to trek up into the surrounding mountains. If you're prepared to be a bit more active than your average tourist, you'll get a lot more of a visit to this beautiful lake and see a lot than the standard attractions that draw people here.
If you visit Lake Garda in May, September, or even later in the year, outside of the summer peak season, you can even find yourself completely alone on the trails and tracks that snake up into the hills from Lonato on the Southwestern shore, Gardone Riviera on the western part of the lake, or Riva del Garda in the North. 
 Listing all the possible things to do in Lake Garda would be an impossible task, but this list of activities and attractions that are genuinely worth a visit is a good place to start.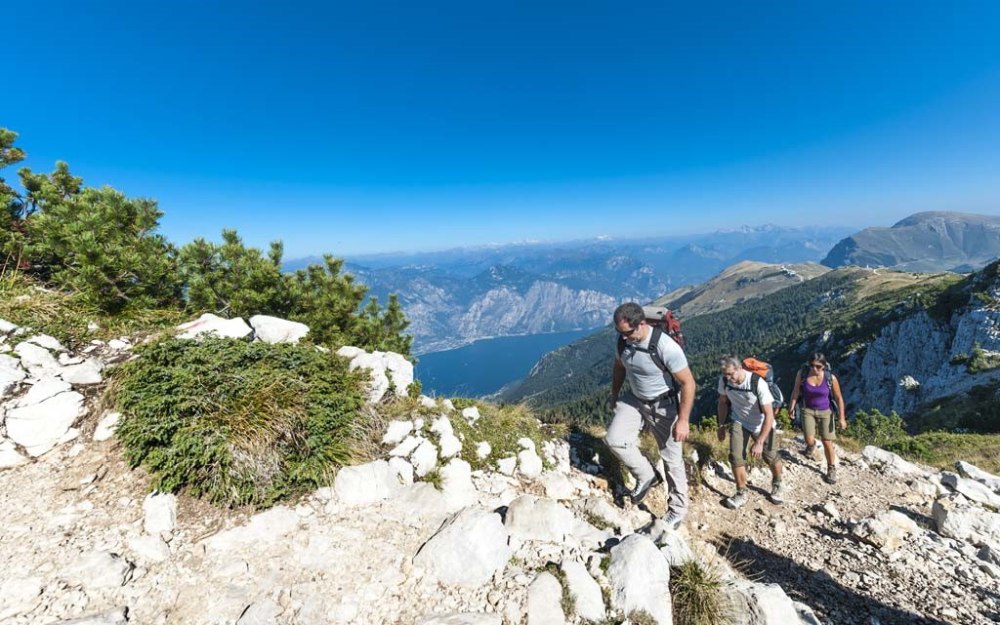 Things to do in Lake Garda: Hike Monte Baldo
You don't have to get extreme or go full mountaineer to get up into the hills around Lake Garda. A simple ride on the cable car from Malcesine takes you up to scenic mountainside with footpaths of different lengths and difficulties. Even if you are a hardcore walkers, this is one of the best ways to gain altitude quickly, and offers some of the most stunning vistas over the lake. 
For seasoned hikers, the 9km tour of the Mont Baldo peaks is a must. It leads from the cable car station, along the mountain ridge, then to the Telegrafo, Poette, Longino and Valdritta peaks – all over 2,000m high and incredible vantage points from which to admire the stunning surrounding scenery. 
Remember that these are essentially the foothills of the Alps, and just because the cable car makes them easily accessible, doesn't mean they shouldn't be treated with respect. Don't set off for a day hiking without a decent pair of walking boots, a daypack, snacks, and plenty of water.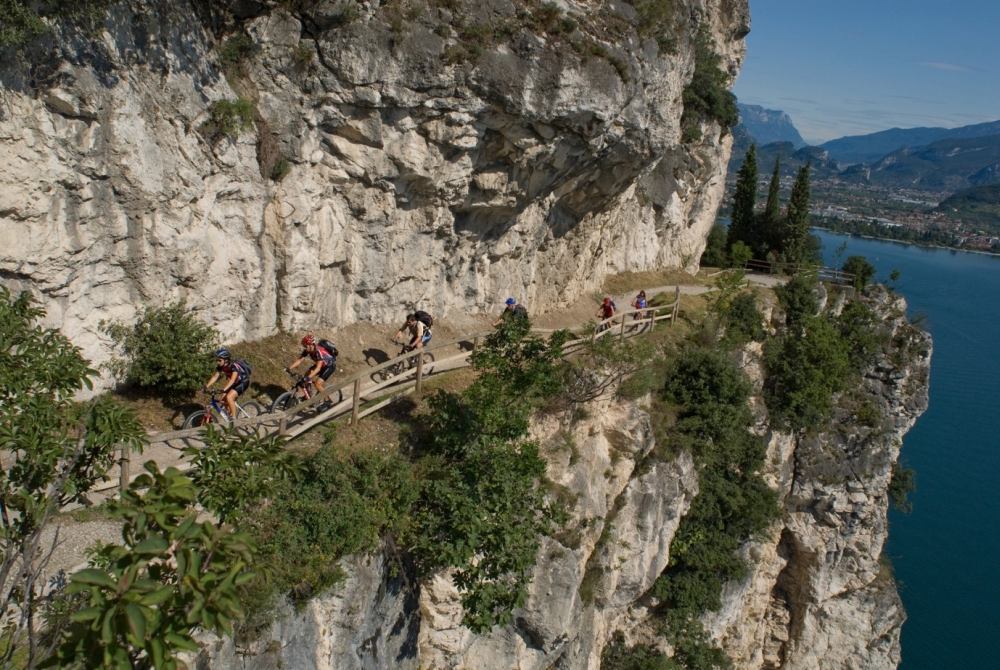 Things to do in Lake Garda: Cycle the Ponale Path
Lake Garda is Giro d'Italia country, and whether it be roads, lakesides, riversides or mountain passes, the cycling is nothing short of spectacular. Garda Trentino's Old Ponale trail is certainly one of the best itineraries anywhere in Northern Italy, and according to tour operator SNO, "quite possibly the best bike ride on earth". 
The iconic trail features bends, tunnels, heart-racing cliffside stretches and fabulous panoramic views, so get on your bike and don't miss this absolute must-ride for keen cyclists. Of course, you shouldn't stop there - these mountains are littered with classic rides, and while the main road along the lakeshore is probably best avoided, as soon as you get off it, you can easily find yourself getting lost in the pretty fishing villages - threading your way between a Roman villa on one side and a baroque church on the other. 
There are plenty of places to rent bikes around Lake Garda, with several in Riva del Garda, on the northern side of the lake, alone.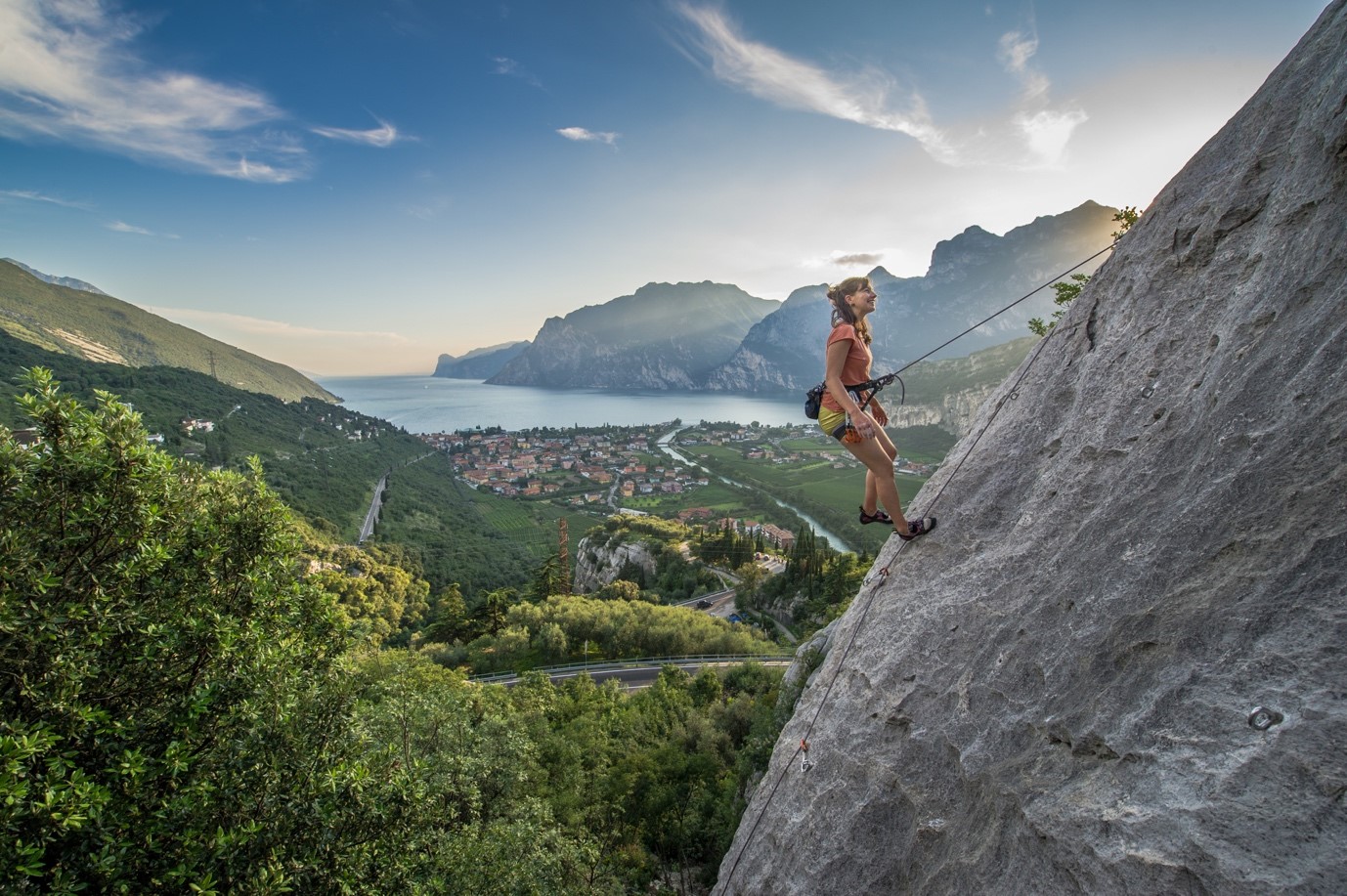 Things to do in Lake Garda: Climb the Belvedere Cliff 
Translating to 'beautiful to see', this wonderful white limestone cliff in Nago, at the northern edge of Lake Garda, features forty-eight scenic climbing routes divided into two sections. The lower crag is easier to climb, but head upwards to the next bluff to take on some more challenging verticals. 
The official Trentino Tourism website lists various shops and climbing schools from which you can rent climbing gear and guides, but it's also very possible to go it alone. The ironwork on these cliffs is good, and the 48 routes are pretty easy to follow. Just make sure you check your harnesses and ropes, and have a decent pair of climbing shoes with you - this is proper sport climbing, not scrambling. 
As with everywhere around Lake Garda, if you want to avoid the crowds, then aim to visit in the spring or autumn. You'll also doubtless appreciate the slightly cooler weather then - it can almost be too hot to climb during the height of summer!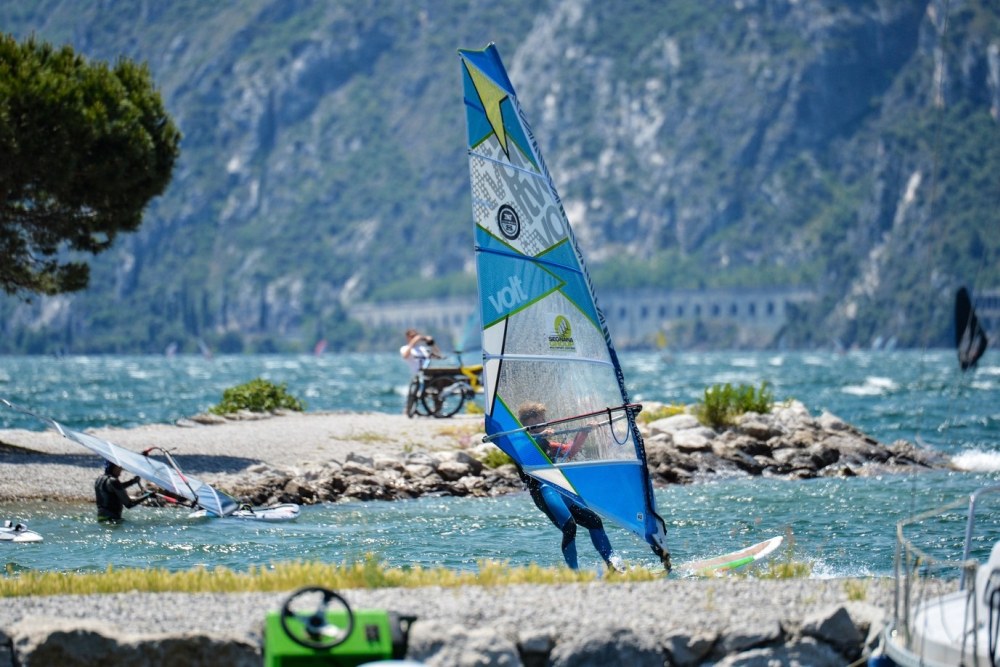 Things to do in Lake Garda: Windsurf in Torbole 
As much as we love the mountains, we couldn't very well write a list of the top things to do in Lake Garda without including some activities that take place on the Lake itself. Our favourite among these is windsurfing.
Constant, steady winds and incredible mountain landscapes make the northern part of the lake, in particular, one of the best places to windsurf inland anywhere in the continent. Don't just take our word for it either - Windsurf Magazine declared Lake Garda to be "Europe's most popular freshwater windsurfing venue".
The colourful town of Torbole hosts international regattas on a regular basis, and its shoreline is dotted with surf centres including Lido Blu, Shaka and Surf Segnana. They offer courses for kids, beginners and every other level, as well as gear hire, making it a breeze to get kitted out and head for the water.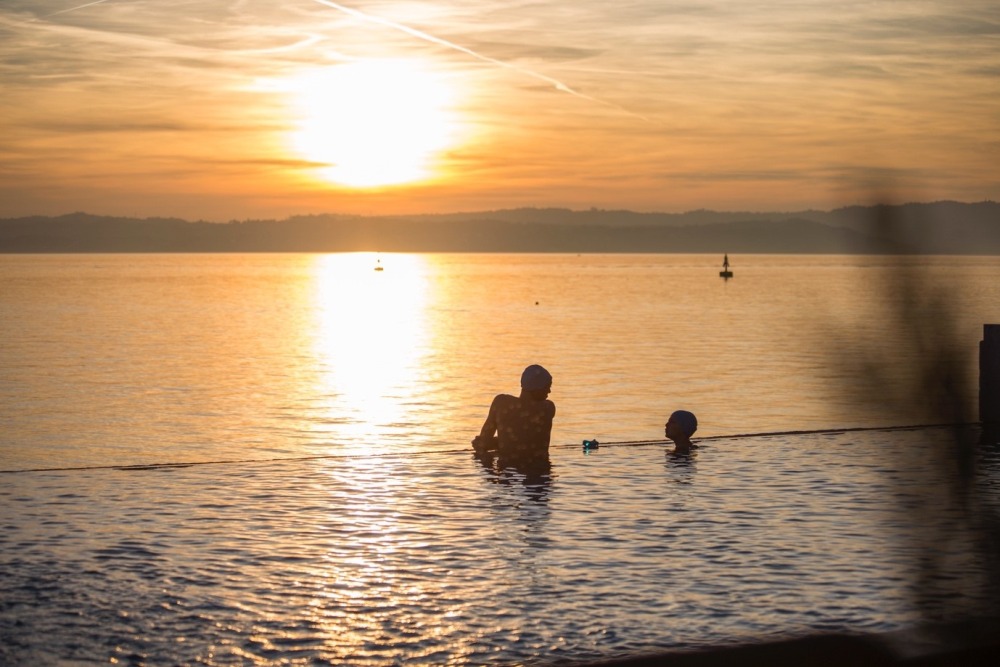 Things to do in Lake Garda: Soak in the Sirmione Spas 
At Active Traveller, we're obviously big fans of active travel. But it's not all go, go, go. Even the most action-packed days aren't perfect without a blissfully relaxing ending. Thankfully, Lake Garda provides plenty of ways to relax as well. Right at the top of that list is a sunset session in Sirmione's thermal baths.
Local hot springs pump water out of the earth at a bath-like 69 degrees here. They're full of minerals too, whose healing properties have been touted for centuries. So not only are you relaxing, you're restoring your body ready for the following day's adventures. Terme di Sirmione has excellent facilities, with everything from swimming pools and saunas, to beauty treatments and even medical consults. Some of the bigger hotels have their own baths too.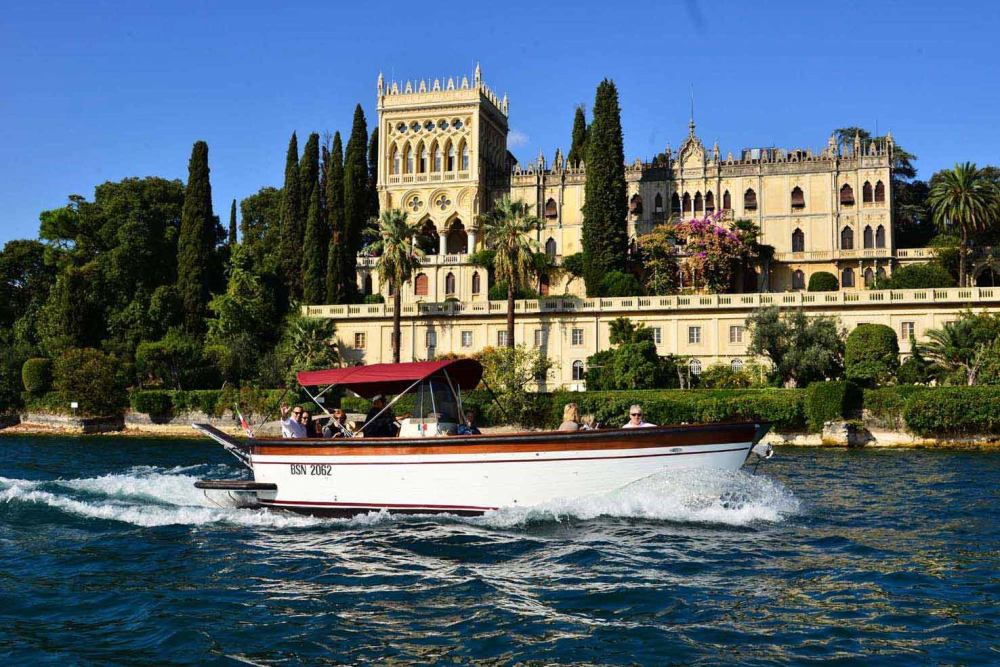 Things to do in Lake Garda: Take a Boat Trip Around the Sights 
There's not just a lot to do near Lake Garda, Italy's largest lake, there's a lot to see as well. From the villas dating back to Roman times, to the Renaissance village squares, to the grave of the politically problematic, but nevertheless incredibly talented, poet Gabriele d'Annunzio, this is an area that's rich with history. And what better way to take it all in than from the water?
Boat companies like Bee Boat Service operate out of Riva del Garda, Gardone Riviera, Peschiera del Garda and all the other main towns, offering private hire, charters and ticketed tours. Wherever you start, and whichever route you take, you're guaranteed to see castles, palazzos, vividly colourful lake villages, and of course, stunning scenery.
 The boat tour is hardly off the beaten track (in fact, it's arguably among the area's top attractions) but as long as you're not visiting in the height of summer, it shouldn't be too touristy. And anyway, your holiday can't all be serious hiking or mountain biking - you need some days to kick back and relax don't you?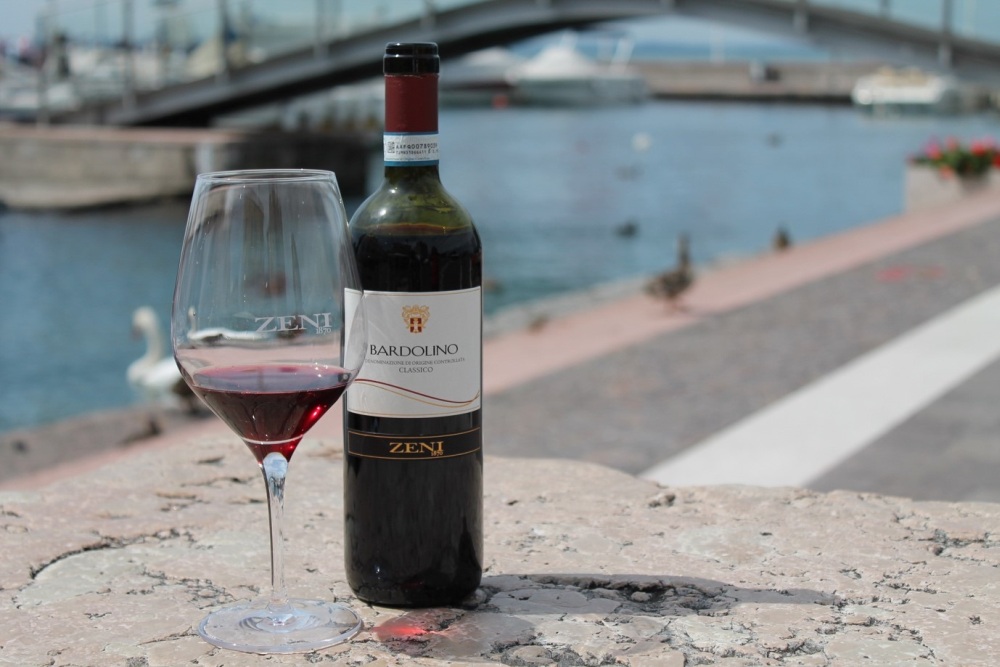 Things to do in Lake Garda: Drink Local Wine 
It wouldn't be a holiday in Italy without a healthy amount of wine, and like everywhere in Italy, Lake Garda boasts some excellent local tipples. Bardolino is the vino capital, where The Zeni Winery dates back to 1870. You'll find its Bardolino and Chiaretta served, slightly chilled, in most bars and restaurants.
The winery itself has a shop and museum, and puts on tastings where you can try their red, white and rosé creations and discover your new favourite wine. None other than wine connoisseur Jancis Robinson has praised the wines from this region as offering "delicious summer drinking," which, if we needed any encouragement to drink wine, would be all the encouragement we need.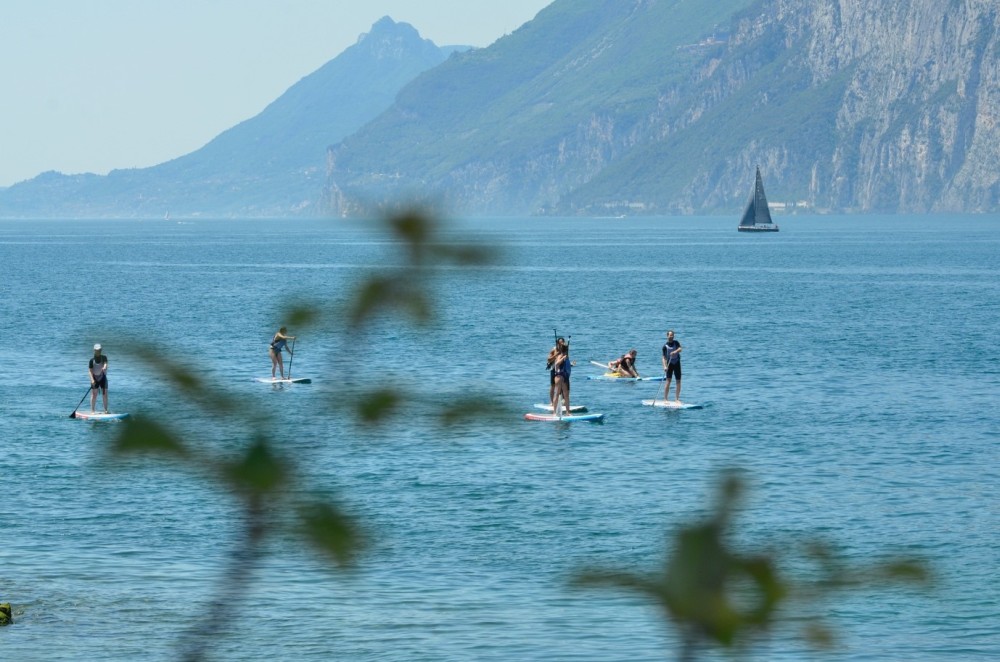 Things to do in Lake Garda: Paddleboard along the shore
One activity that's soared in popularity over recent years is paddle-boarding, which Lake Garda may as well have been made for. Companies like Wwwind in Malcesine and Garda SUP Zone in Peschiera del Garda offer rentals and tours, letting you paddle past rugged mountainsides, flowery promenades and historic buildings and bridges.
It's not just punting past and taking in the scenery either - there are plenty of places to visit on the shore, and the beauty of Stand-up Paddleboarding is, of course that you can pull up at any beach that takes your fancy.
This chilled-out way or exploring the lake is great for when you want a well-earned break from the higher octane activities on offer around Lake Garda.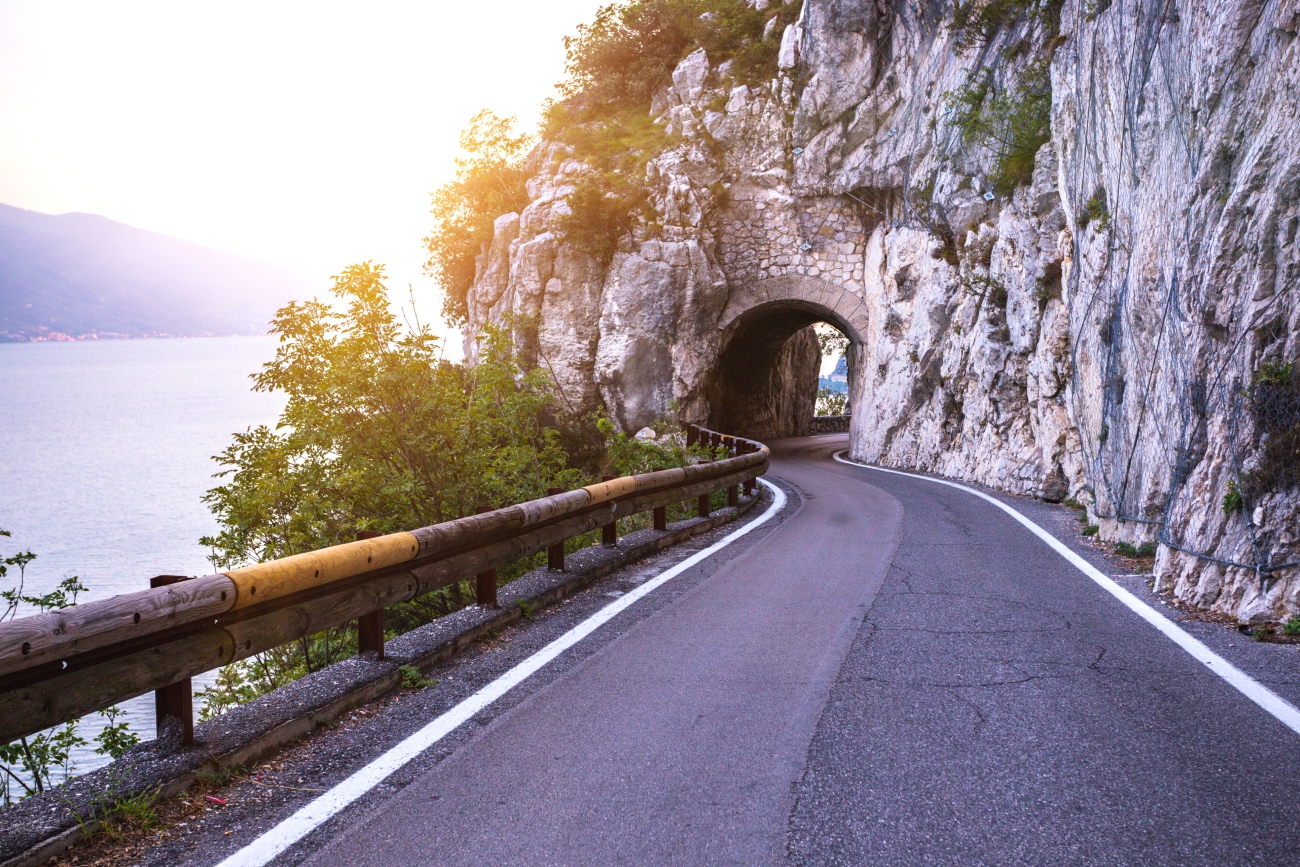 Things to do in Lake Garda: Drive the Strada della Forra 
Normally we wouldn't recommend driving itself as a holiday activity. Here at Active Traveller we're more than happy to drive to somewhere, but once we've arrived, we'll want to be ditching the motor and using our own two feet (or pedals, or paddles) to get around. Top Gear magazine this ain't.
When it comes to the Strada della Forra, or street of the gorge, however, we make an exception. Winston Churchill famously declared this "the eighth wonder of the world" - and he'd done his fair share of travelling.
It starred in the James Bond film 'Quantum of Solace' and DB5 or not, it's worth hiring some wheels just to drive it. Expect eye-wateringly sharp zig-zags, hold-your-breath-narrow tunnels and all-round astounding scenery.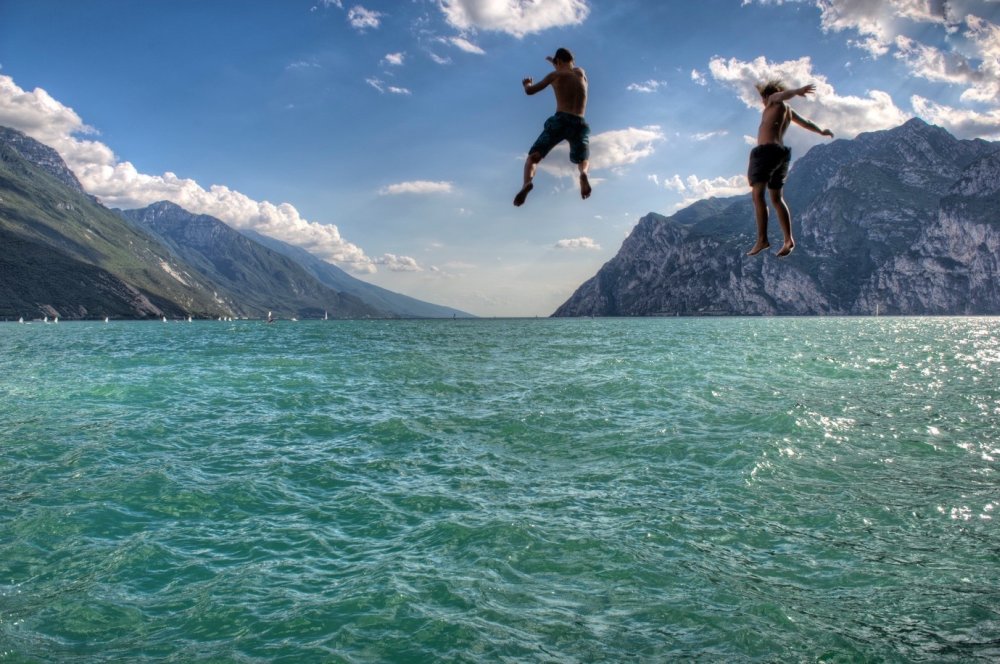 Things to do in Lake Garda: Dive into the Lake Itself
It gets hot here in the summer, and there's no better way to cool down than plunging into the crystal-clear waters of the lake itself. You're never too far from a lido, beach or jetty to dive in from around here, so take your pick!
If you're a keen wild swimmer, or a triathlete, this is one of the best places in Europe to work on your open water technique. And in fact Lake Garda hosts several major triathlons every year.
Regardless of your ability level, swimming in Lake Garda shouldn't present you with two many problems - the water is usually warm enough to swim without a wetsuit from May until September, or even October if you're particularly hardcore. The lake does get deep quickly, but the swimming areas are clearly marked, and the safety standards are impeccable.
The only thing that might throw you off is the wind - the same breezes that make Lake Garda so great for windsurfing and sailing can make it challenging for swimmers, but if you know how to handle yourself in open water, it shouldn't present you with any problems - certainly it's nothing compared to the ocean.