With the coronavirus crisis ongoing, it might be a while before we can head out on an international hiking holiday any time soon. But there's nothing wrong with getting a bit of planning done in the meantime. Here are 10 of the most stunning landscapes anywhere in the world, to get you dreaming...
Jordan | Wadi Rum desert
If you pictured the desert of adventure storybooks and Lawrence of Arabia flicks, it might look rather like , a sprawling sand-clad wilderness in southern Jordan. It's a more varied landscape than you think – here you'll find rolling dunes, sandstone mountains loved by climbers and scramblers and vertigo-inducing stone arches such as the Burdah Bridge that you can hike across. It's surprisingly easy to get lost in this arid wilderness, and a guide is essential, especially for scrambling. The Bedouin people who have lived here for centuries now act as walking guides and open their comfortable desert camps to visitors. You can also wild camp in the open, the perfect way to stargaze and to catch the fleeting hours when sunrise and sunset turn the desert a fiery red and gold.
PRICE Exodus offer an eight-day point-to-point hike in Wadi Rum from £849, including meals, accommodation in a Bedouin camp and wild camping. Not including flights.
exodus.co.uk
Australia | Bay of Fires, Tasmania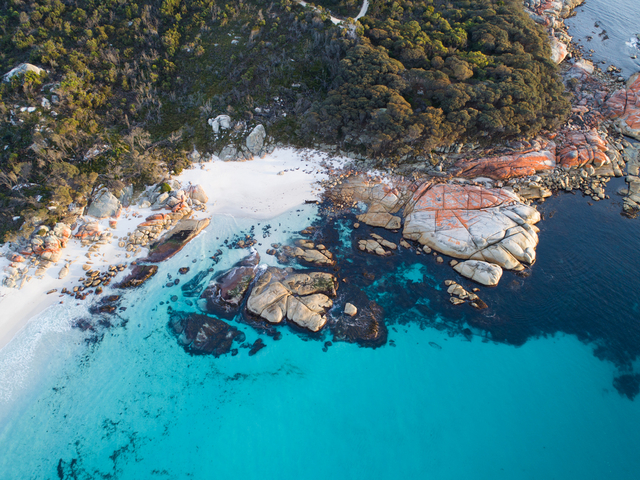 Tasmania's Bay of Fires is a more gentle landscape than its name suggests – the remote 31-mile stretch of coastline is made up of rocky headlands, lagoons and beaches of the purest white sand, and was given its title in 1773 for the Aboriginal fires that once burned along its shore. Despite being named one of the most beautiful places on Earth, you might well find yourself completely alone as you hike from Binalong Bay in the south to Eddystone Point in the north of the bay (well, apart from meeting kangaroos and wallabies). The three or four-day hike along the coast is possible to do by yourself, carrying your pack and stopping at semi-wild campsites overlooking the ocean, or you can take a guided hike between rural lodges.
PRICE A three-day guided Bay of Fires hike with Life's an Adventure costs from £692, including accommodation and food but not including flights.
lifesanadventure.com.au
India | The Great Lakes, Kashmir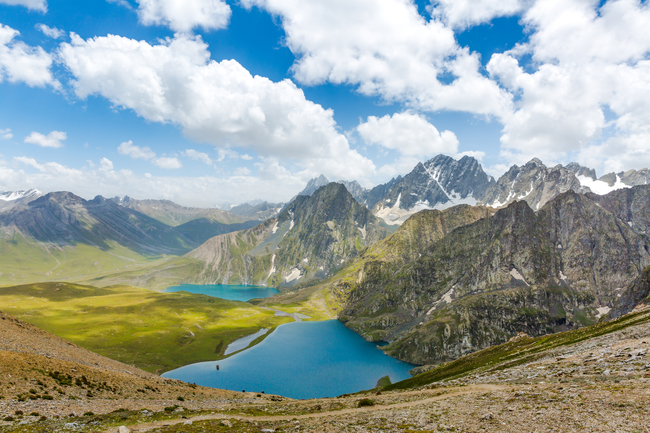 Impossibly blue lakes fed by snow fields, flower-strewn meadows, maple and pine forests – nope, this isn't the Alps in summer, it's Kashmir's lake district. And through this bucolic, Switzerland-meets-India mountain landscape runs the classic 90-mile Sonamarg-Vishansar-Naranag lakes trek. The stretch from Naranag, the town that acts as the base camp for Mount Haramukh, to Ganga Bal Lake is especially glorious, but this land isn't all milk and honey – altitude sickness is a real possibility and the British Foreign Office often advises against all travel to Kashmir – if so, trekking in neighbouring Ladakh is a good alternative.
PRICE An eight-day hike of the Kashmir lakes with India Hikes costs £155, including food and basic camping. Not including flights.
hfholidays.co.uk
Cornwall | The sea bed, Isles of Scilly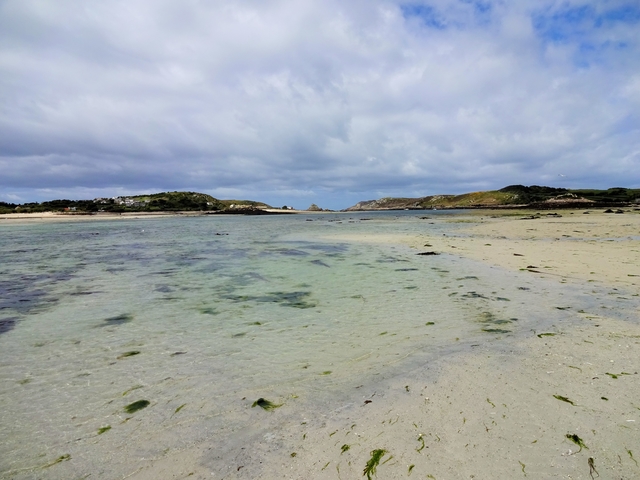 Fancy a walk on the bottom of the sea? It's easier than you think. Head to the Isles of Scilly off the coast of Cornwall, where five subtropical islands are surrounded by clear turquoise waters home to plentiful shipwrecks. At certain times of the year, when the changing tides ebb just low enough, it's possible to walk across the sea bed between the islands of Bryher and Tresco, where the two communities meet in the middle of the channel for a fleeting seafood feast. Other islets such as Gugh can be reached daily by foot, when the tides reveal sunken walkways. Four of the five islands also have lovely campsites, home to some of the best coastal camping views in Britain.
PRICE Fly from Land's End Airport to St Mary's for £125 return. The next Low Tide festival will take place on 1 September 2019.
visitislesofscilly.com
Iceland | The Landmannalaugar valley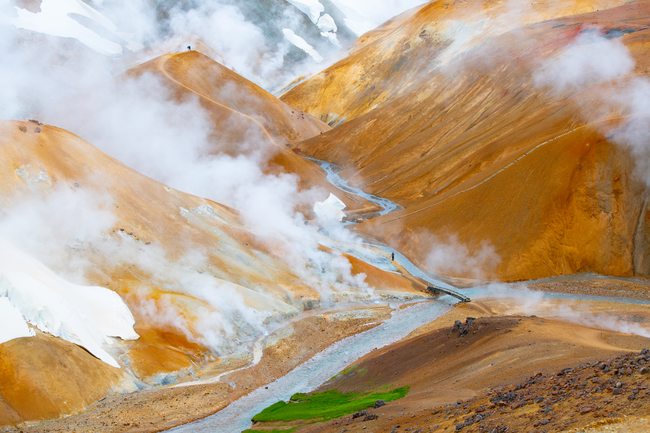 You can't create a list of otherworldly hiking landscapes without including Iceland. And on this bizarrely beautiful island, home to black sand beaches, glittering glaciers and fermented shark for tea, the Laugavegur trail stands out as a feast for the eyes. This 34 mile-long route begins in Landmannalaugar, a geothermal rainbow-coloured wonderland of a valley where the mountains are striped in obsidian and rhyolite in every hue you could imagine. Hike towards the south, staying in remote mountain cabins, and you'll end up in Thorsmork, a green valley named for the Norse god of thunder and capped by the Eyjafjallajökull glacier.
PRICE Extreme Iceland offer a six-day guided hike of the Laugavegur trail for £1,327, including food and accommodation in mountain huts but excluding flights.
extremeiceland.is
Norway | Svalbard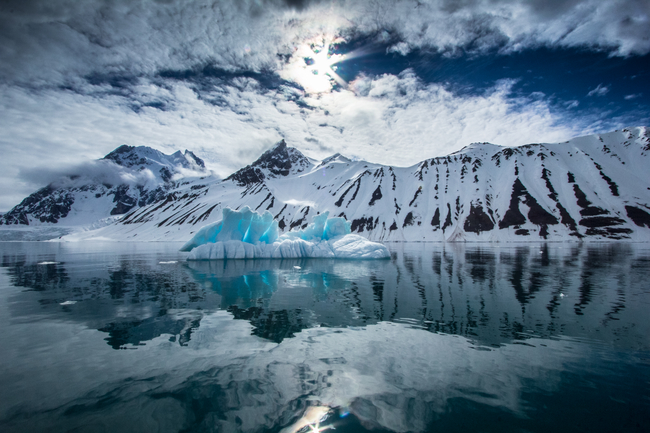 The archipelago of islands between Norway and the North Pole is a frozen tundra of glaciers and meadows of moss, roamed by polar bears and arctic foxes. Free of roads, crowds and mobile phone signal, this is a peaceful landscape of wide-open spaces and deep silence. It's blanketed by a deep layer of snow in winter and lit by up to 24 hours of sunshine in summer, making it a wilderness hiker's dream year-round. A professional guide is essential in these wild spaces, and Svalbard Trekking's experienced leaders (armed with rifles in case of polar bear encounters) will take you walking along reindeer trails and through open country to seek out glaciers and remote mountain ranges from their base in Longyearbyen, on the island of Spitsbergen.
PRICE Svalbard Trekking offer single and multi-day hikes and ski touring from £67 per day. Food, equipment and travel costs are not included.
svalbardtrekking.com
Bolivia | Salar de Ayuni salt flats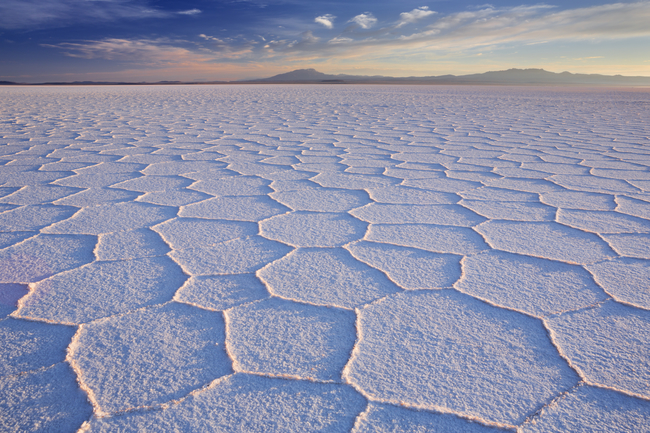 Nowhere does the word 'dreamscape' apply as well as to Bolivia's huge Salar de Ayuni. These pure white salt flats stretch for miles and miles in a valley surrounded by the Andean mountains. In the rainy season the salt reflects the sky, mirror-like; in dry weather it forms a strange expanse of hexagonal craters where you'll quickly lose your ability to judge distances. You can walk, drive or cycle across this sea of salt, and hike to little 'islands' of rocks covered in huge cacti on its edges. KE Adventure's Ayuni hiking trip also includes treks to the top of the dormant volcanoes of Tunupa (5,190 metres) and Acotango (6,052 metres) in Sajama National Park.
PRICE KE Adventure's Bolivian trekking trip costs from £2,175 including food and accommodation but excluding flights.
keadventure.com
Namibia | Skeleton Coast National Park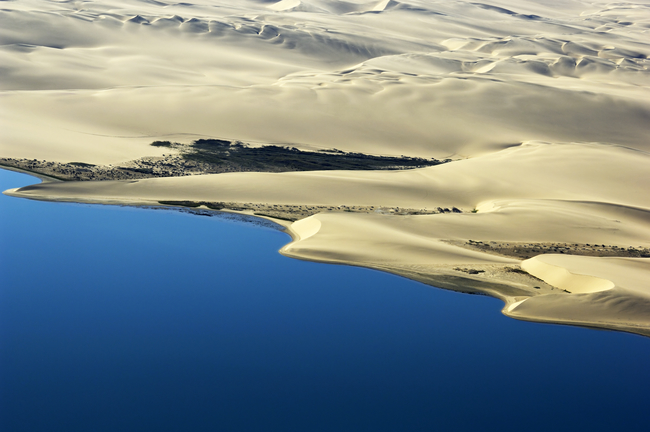 Stark. Bleak. Remote. Forbidding. The words used by travellers to describe Namibia's Skeleton Coast show that it lives up to its spine-chilling name, which comes from the whale and seal skeletons (not to mention the shipwrecks) that litter its coastline. The untouched desert wilderness between Swakopmund and the Kunene River is an austerely beautiful landscape of sand dunes and desert oases, with huge colonies of seals on the coast. It's a true trekker's pilgrimage to reach, though, and can be difficult and expensive to visit - only 800 visitor passes are issued per year for the northern wilderness, although the southern part of the National Park is more accessible, with lodges and basic camping available.
PRICE Tour Dust offer an 11-day luxury tailor-made trip to the remote north from £7,000 including accommodation, food and multiple internal flights but excluding international flights.
tourdust.com
Ethiopia | Simien Mountains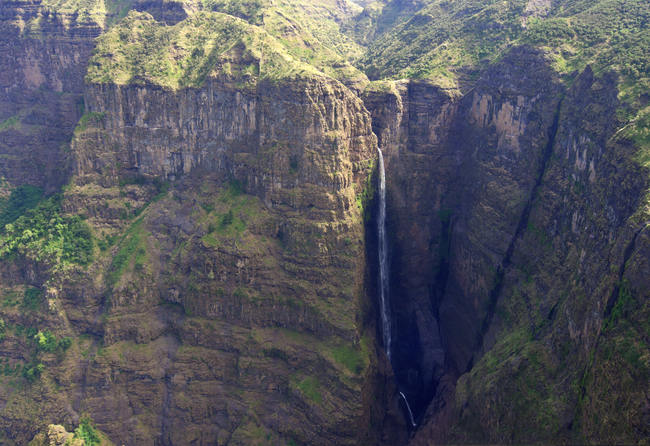 Welcome to the mighty massif known as the 'roof of Africa', and perhaps the most awe-inspiring landscape on the continent. The Simien mountain range, lying mostly above 3,000 metres and crowned by Ras Dashen at 4,543 metres, is not for the faint-hearted (or altitude sickness-prone) hiker. But anyone who treks to this UNESCO-listed corner of northern Ethiopia will be richly rewarded with a landscape of deep gorges and soaring cliffs of staggering proportions, plus lush flora and unique wildlife including Gelada baboons, Simien foxes and Walia ibex. This is what the Grand Canyon wants to be when it grows up.
PRICE Sustainable travel company Village Ways offer trips including accommodation and food but excluding flights from £50 per day.
villageways.com
Nicaragua | Active volcanoes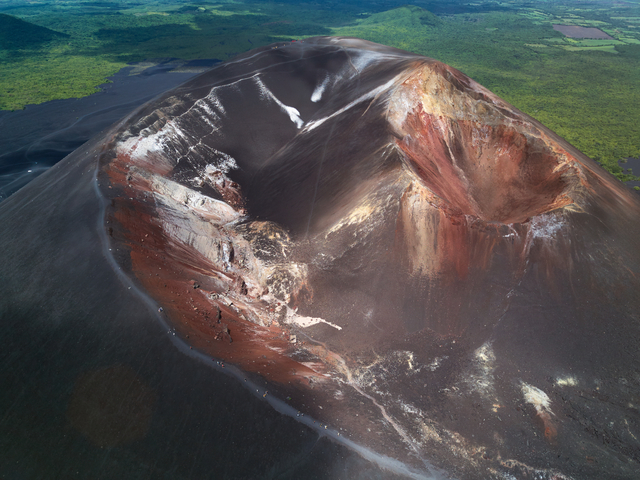 This might be the closest you'll get to trekking on the moon. Nicaragua, the 'land of lakes and volcanoes' is, perhaps unsurprisingly, home to incredible lava-filled volcanoes – there are 19 (a whopping nine are currently active) and each makes for a uniquely different hike. Take an overnight full-moon foray up El Hoyo, climb wildlife-rich but tough Concepción or tackle Masaya, an active volcano in the heart of a 930 mile-long mountain range – hike up it in the day and then return on a guided tour at night to see lava glowing red in the dark. Adrenaline lovers should trek up Cerro Negro, as you can descend again in a very exciting fashion – by volcano surfing down 1,600ft feet of black volcanic ash.
PRICE Nicaragua's volcanoes are easy to hike with an in-country guide, using the city of León as a base. Fly London to Managua from £574 return with Aeroméxico.
aeromexico.com