Snugpak Travelite Self-Inflating sleeping mat | £75
The Travelite is an open-cell foam self-inflating sleeping mat from Snugpak designed for backpacking use.
Packed size is decent for a foam mat at 26 x 15cm when packed into its stuff sack. The weight is also good at 660g making this a viable option for lightweight backpacking.
The mat inflates through the time-tested blow and lock valve system which is easy and intuitive to use. After initial inflation, it only takes a few breaths to top up to your desired firmness.
The Travelite is a particularly thin mat at 2.5cm. The less mat you have between you and the floor, the more likely it is for you to feel lumps and undulations in the ground, this isn't ideal for side sleepers, especially if, like this tester you're of a slim (bony) build, as the cushioning only just keeps you off the floor. Having said that, if you're lucky enough to find a smooth surface to pitch up on then the Travelite's soft flocked top is a very comfortable place to be.
There are two lengths available, a full length 183cm and a Midi which shaves a few hundred grams off the weight and about 60cm off the length. Personally, I prefer to take the weight penalty and have a mat that just about matches my height. The 51cm width is pretty standard and the rectangular shape gives a bit more room towards the feet than a tapered mat.
There are no quoted insulation values for the Travelite but we're guessing that with such a thin layer of foam r values can't be particularly high, we haven't yet had a chance to test the mat in spring or autumn conditions but it works fine on a typical British summers night.
In keeping with Snugpak's military background they've designed the Travelite to be robust, with what feels like a particularly thick denier material on both the top and bottom. We've used the Travelite on plenty of wild camping trips and never had a problem or indeed expected one.
Overall the Travelite is a durable piece of outdoor gear with good weight and performance if not great all-season versatility. £70 gets you this sleeping mat online which makes it great value when pitched against the other mats on test.
Sea to Summit Ultralight Insulated | £110 plus £15 for Air Stream Pump Sack
The Sea to Summit Ultralight insulated sleeping mat is tiny when packed up, the regular is only 10x23cm, making it one of the smallest pack sizes of any mat we've tested. Weight wise the Ultralight also lives up to its name with the 183cm regular tipping the scales at only 480g. It also keeps you warm with an r value of 3.3, good enough for 3 season use.
It manages to perform all these minimalist sleeping feats through a clever combination of lightweight 40d face fabric and lightweight insulation combined with a heat reflective inner fabric all put together into space and weight saving airsprung cells. The 40d fabric feels a little fragile to the touch but Sea to Summit provide the Ultralight Insulated with a repair kit as standard should the worst happen, which it did to us when we used it as a campfire sofa, unfortunate but also somewhat predictable.
The valve system has separate inflate and deflate and is easy to fine tune to your preferred firmness. Although you can inflate by blowing directly into the valve this feels cumbersome, not to mention risks blowing moisture into the insulation, so you're much better off buying the optional Air Stream Pump Sack although this will set you back an additional £15 on top of the £110 for the mat itself.
The Ultralight Insulated is really good to sleep on if you manage to find a nice level and even patch of ground, it gives plump, comfortable support for both back and side sleepers with plenty of shoulder and elbow room. It's a slightly different story on lumpy ground as the air sprung cells have a habit of forming to the lumps and bumps rather than evening them out but it's an acceptable pay-off. The insulation in the mat keeps you protected from cold air rising from the ground, it's kept us toasty warm in temperatures down to a few degrees above zero so we wouldn't hesitate to pack it for spring and autumn camping trips.
The Sea to Summit Ultralight is one of the smallest and lightest sleeping mats out there and is also well insulated and comfortable, this makes it ideal for lightweight hikers, fastpackers and mountain runners. The compromise is in the durability of materials used, but we feel that careful picking and cleaning of your chosen sleeping spot should see you through many nights on top of this great, if expensive mat.
Thermarest Trail King SV | £93
SV stands for Speed Valve, Thermarests latest innovation which aims to make inflating a mat much easier. The wide opening at the top lets the inner of the mat suck additional air in from around you as you blow into it. This takes a bit of practice and patience to get right, but once you do it pops up in no time. The air is locked in, not with a conventional valve system, but with a dry bag style roll top closure complete with buckle. This creates a slight bulge in the top of the mat that adds a touch of comfort if you don't have a conventional pillow. Deflation happens quickly, especially if you're lying on the mat at the time. Unclip the buckle and the mat collapses on the floor in a split second, ready to be rolled up and stashed away. We're assume that the Speed Valve system was developed as a result of thorough market research which presumably means that there are plenty of people out there complaining about inflating and deflating their mats, but on balance we'd rather be without it and save the extra weight and bulk.
The airframe structure is mostly borrowed from the Evolite, a supremely comfortable mat which has a skeleton structure of foam and air. We loved the Evolite and the Trail King is just as comfortable, at 6.3cm it's also sumptuously thick so any lumps and bumps in the ground are well evened out.
An r value of 1.8 restricts usage to 2 seasons, if you're keen on the speed valve system then the cult classic Neoair 4 season has recently been updated to include it.
The materials used in the construction of the Trail King are thick and robust making it potentially great for longer trips but an 830g weight and large 28 x 17 pack size make it difficult for us to recommend to the lightweight hiker. This is no doubt, in part, down to the large buckles and associated gubbins of the Speed Valve, which is a shame as the Trail Kind would otherwise be an excellent mat.
Exped Synmat UL 7 | £95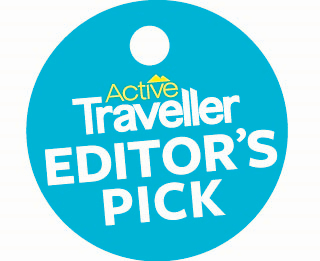 The Synmat UL is a pared down version of the regular Synmat aimed at ultralight backpackers, fastpackers and mountain runners. It has less insulation, and thinner, less durable materials than the Synmat but this results in an astonishingly small pack size of 24cmx9cm. For those that can't imagine what this looks like it's about the size of a 500ml water bottle. It's even smaller than the Sea to Summit Ultralight Insulated and it's also a shade lighter.
Despite the miniscule dimensions and weight of the Synmat UL You still get an r value of 3.3, this is thanks to 60 g/m2 of synthetic insulation. This r value makes the mat useable in British spring and summer temperatures and possibly even on milder winter nights.
The top and bottom materials are a 20d polyester, this is clearly whisper thin and therefore susceptible to punctures but the mat somehow still feels robust enough to survive life on the trail and we've had no problems with it yet.
The Shnozzel Pumpbag is much better than the foot pump supplied with other Exped mats we've tested, simply catch some air and squeeze it in to the mat which inflates in a couple of goes. It's an easy system to use and also eliminates moisture ingress into the insulation from your breath, which could reduce its effectiveness.
As well as being light and small this mat is comfy, in fact it's one of the most comfortable we've tested despite its bulky air chambers which look distinctly uncomfortable - much like a swimming pool lilo. The rectangular shape, decent 52cm shoulder width and generous 7cm thickness all help you along the way towards a satisfyingly good night's sleep.
On sloping ground, shiny synthetic sleeping mat tops and shiny synthetic sleeping bag bottom combos don't generally tend to mix too well but the Synmat UL has a Honeycomb Gripskin coating which does a fantastic job of keeping you firmly in place.
The overall balance of comfort, pack size, weight and insulation of the Synmat UL is absolutely spot on, there could be some durability concerns but if you're careful and always carry a repair kit with you, you should be fine.
Available for around £100 online the Synmat should be top of your list if you're in the market for a lightweight sleeping mat. 
Thermarest NeoAir XLite | £130
The XLite, as the name suggests, is at the lightest end of Thermarests inflatable mats range.
Packing to the size of a one litre Nalgene type bottle and weighing only 340g, the XLite is incredibly light and compact to carry, but it doesn't sacrifice anything to comfort. We have used three NeoAir models in the past and the Xlite compares favourably to all of them, giving far greater comfort than the traditional foam mats or even the self-inflating models that Thermarest themselves still make. 
It comes with a puncture repair kit, but we have had no problem in that department by keeping a close eye on where we bed down. They are fragile however, so keep your eyes peeled for potential puncture points.
A good tip is to get a hold of the NeoAir Airtap, an optional extra valve kit that converts any drybag into an efficient air pump to inflate the mattress - saving your breath when you need it the most to drink tea.  
If you want to keep your pack size and weight down this is a no-brainer, and the fact it is supremely comfortable once you have tweaked the air pressure to your taste is an added bonus that pushes it into the 'must have' category for us.