If you have experienced discovering new horizons by bike, then soon you'll be nodding your head sagely: you already know how wonderful it is to travel by bike. This being the case, by all means read on to give yourself a pat on the back, or to swat up on some conversational ammunition for when you inevitably get asked the question "Why a cycling holiday?"
Of course, if you're still on the fence, then read on...
See more on a bike...
With an easy average speed of 10 to 15 mph cycling is much quicker than walking. It's also blatantly more immersive than any motorised holiday transport, cycling is the perfect way to fully experience a landscape. Apart from putting you right in the scenery (sometimes literally if mountain biking is your thing) cycling also makes you 'earn your turns'. As that great traveller Earnest Hemingway explained: "It is by riding a bicycle that you learn the contours of a country best, since you have to sweat up the hills before you can coast down them."
Rather than cocooned in a tin box car travelling at 60 miles an hour, you'll spend your holiday with the wind in your hair, spinning through leafy lanes, carving along secluded singletrack, or pottering between waterside café terraces at between 10 and 20 miles an hour. Immersed in the smell, feel and sounds of the landscape you're travelling through, riding will enrich every day and turn any journey into an adventure.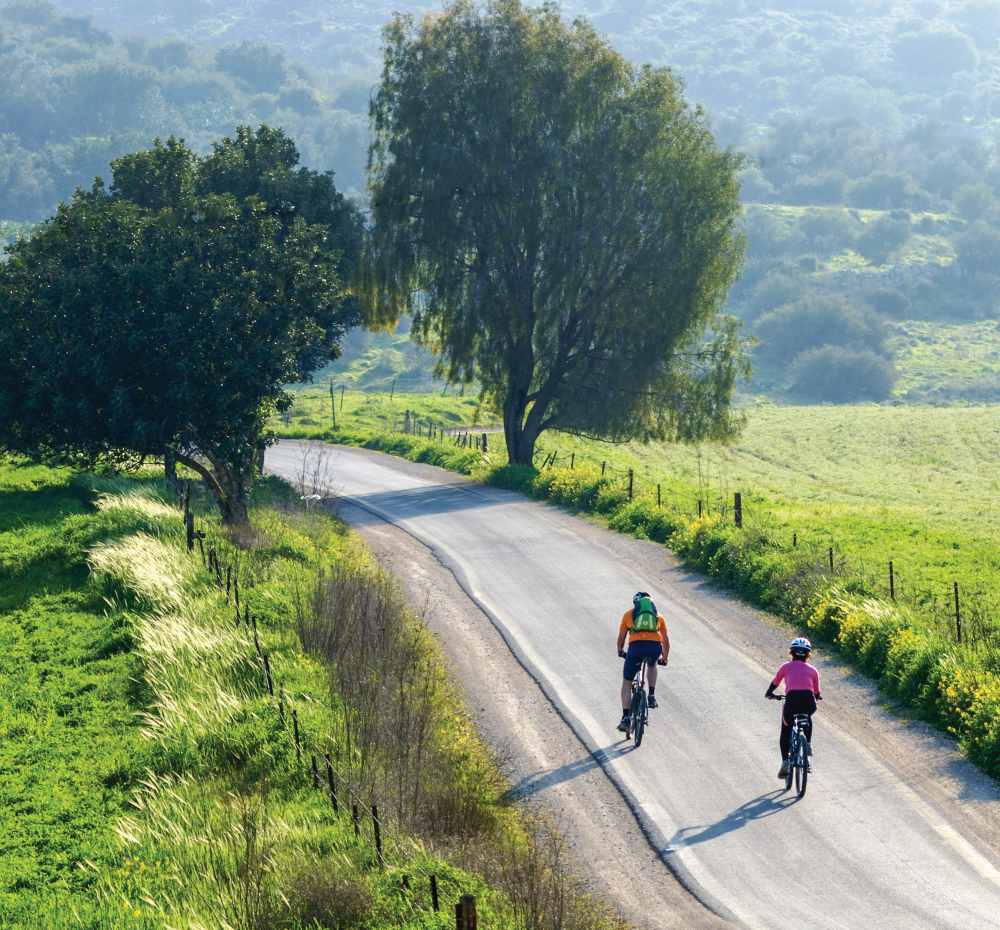 You'll experience greater independence and freedom too. Back streets, forest tracks, village greens and even traffic-free city centres are yours to freely explore, as bikes can access pretty much all areas. Even in pedestrianized zones you can simply get off and push your bike with all your baggage attached, parking it right next to your café table like some kind of VIP.
Eat more...
Speaking of cafes... Food is at the heart of every culture, and the beauty of travelling by bike is that you get guilt-free licence to 'discover' as much of that edible culture as you want without returning home the size of a house after your holiday.
You don't have to trash yourself to do it either: Even steady cycling burns about 300 calories an hour, and because exercise boosts your metabolic rate you'll still be burning extra calories as you sleep.
Feel good...
A cycling holiday is the perfect antidote to a sedentary desk job, with fresh air on tap and constant, impact-free exercise to oil your ankle, knee and hip joints, banishing the stiffness and niggling joint pains that can blight winter workdays at home.
Cycling's feel-good, pain-killing effect is due to the 'happy' hormones such as serotonin, melatonin and testosterone that are released by exercise. These join endorphins and the other lesser-know endocannabinoids - your body's naturally synthesized version of marijuana-induced THC - that your body releases thanks to the exercise - all of which adds up to a holiday on bikes being the ultimate stress buster.
Get healthy
Simply getting out in the fresh air is a no-brainer for better health and wellbeing. But another feel-good effect of day-in-day-out riding is the vitamin D boosting sunlight that you'll be dosing yourself up with despite the obligatory skin-protecting sunblock.
Increasingly linked to overall health, this 'sunshine' vitamin is vital for the use of calcium in every cell of your body - not just your bones - and low levels of vitamin D have been associated with heart disease, cancer and lack of mobility.
Of course cycling is good for your heart too: according to the British Medical Association as little as 20 miles riding a week can reduce your risk of coronary heart disease by 50 percent.
It's worth mentioning that there are even benefits in the bedroom department! Not only does the recovery hormone testosterone boost libido (for men and women) but scientists have found that men over 50 years of age are 30 percent less at risk of impotence if they cycle than those who don't cycle at all. Don't believe the stories you hear about what riding does to men's nether regions - the alternative negatives are far worse!
In other words: a cycling holiday doesn't have to be a fitness camp but after a week's riding you'll almost certainly come back in better shape.
Spend less
With fuel, insurance and parking, car hire abroad can be a costly business. So how about avoiding driving on holiday altogether? Many cycling holidays provide hire or loan bikes; or take your bike with you, choose your airport right, and you can even ride out of many minor airports into rural landscapes, starting your bike tour from the terminal building itself.
Ironically this tends to work best at the tiny provincial airports preferred by budget airlines such as Easyjet and Ryanair, which are close but cruicially outside major cities. This can mean long bus transfers for city break tourists, but for cycle tourists, this money-saving strategy happily lands them and their bike in the heart of the countryside.
Carry more
The beauty of the bike is that it can carry you and a substantial amount of baggage - within certain limitations, of course! - over many more miles than you would be able to cover on your two feet alone.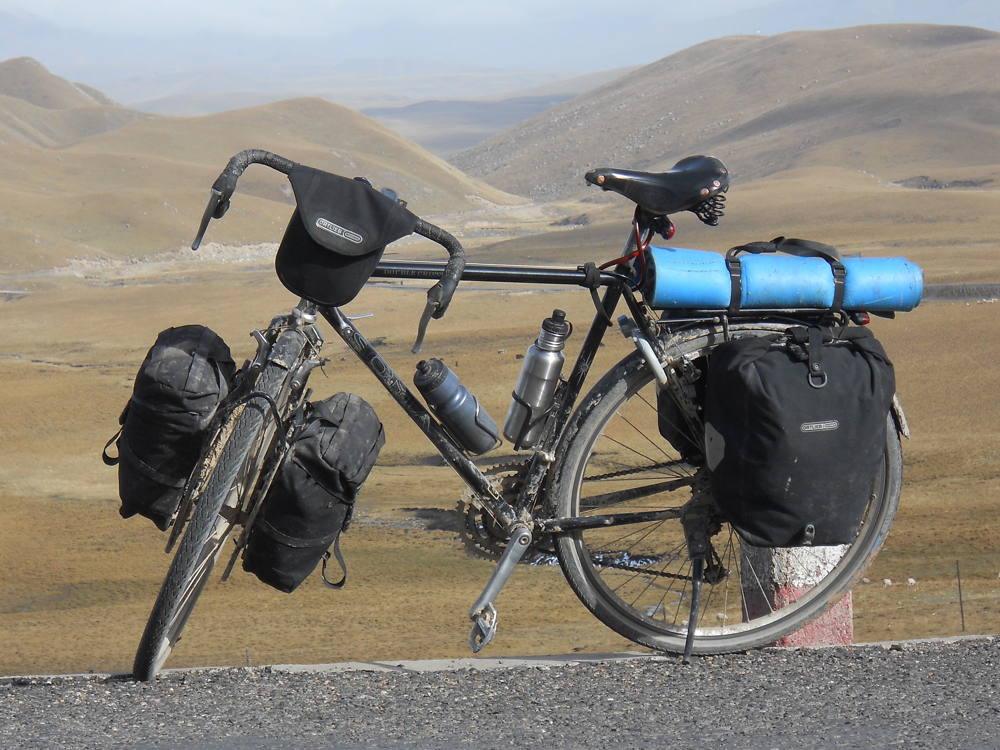 A backpacker carrying a full camping setup as well as water, food and clothes would be doing well to cover 20 miles in a day. On a bike 70-odd miles fully laden is par for the course - and that's even with a decent lunch stop.
The genius is that the bike takes your weight off your own joints, allowing your muscles and joints to concentrate on forward propulsion alone. It's this low impact that allows even complete novices and those out of shape or overweight to jump on a bike and pedal to the horizon (gently at first) without injury or excessive effort.
Make friends
Whether you're riding around the world, or to a youth hostel for a night away, arriving on your own or in a group by bike immediately piques people's interest in your adventure and puts complete strangers at ease.
According to Heinz Stücke, the 75-year-old German 'cycling vagabond' who has been pedalling round the world for the last 50 years on his own, travelling by bike is the best way to meet people and open yourself up to the generosity and hospitality of strangers. "The bike lets you approach people more easily. It's a kind of passport; a calling card," says Heinz.
If you didn't know already know why cyclists look so smug, now you do!