Any tent you buy is an investment and usually one you hope to keep for a long time, so making sure it has the right criteria for it's intended use and the quality to stand the test of time is vital.
If you're interested in camping with the family but are just starting out then it's worth taking a look at dependable budget offerings from the likes of Decathlon before splurging on a super expensive all singing, all dancing cathedral of the fields. The Arpenaz on test is remarkably cheap for the space and performance it offers, making it the perfect entry into the wonderful world of camping. At the other end of the pricing spectrum is Vango's Tahiti Air 600XL which maximises space and comfort but comes at a cost.
For an alternative camping experience you can't beat Robens' Klondike bell tent which sleeps 6 and has an amazing twist - an optional wood burning stove that you can safely fire up inside the tent - what could be better for extending your camping into the colder seasons?
Backpacking and bikepacking are undoubtedly all about weight, and when you have to carry your own kit long distances every gram counts. But you don't necessarily have to sacrifice too much comfort in the quest for weight savings, as material advancements have made it possible to get a relatively spacious 1p tent weighing around a kilogram and a 2p for around two kilograms. Check that there's somewhere to store your muddy boots and packs and consider the conditions you might be taking the tent into - some of the best backpacking trips are into wild and rugged landscapes with the weather to match.
Best large family tent
Vango Tahiti Air 600XL | £1300

With big family tents costing as much as small family cars you hope to be getting a lot for your money and the Tahiti Air 600XL doesn't disappoint. Luxuries like super king bedrooms and a built-in conservatory with large, crystal-clear windows along with a massive living area make the Tahiti extremely easy to get on with. The boring bits are second to none too, with Vango's top end Sentinel fabric material and SuperBeam airbeams ensuring the tent will last long enough to provide good value.
Verdict
An absolutely stonking tent with loads of space, making it perfect for long family holidays.
Best 2p backpacking tent
Vaude Taurus UL 2p | £465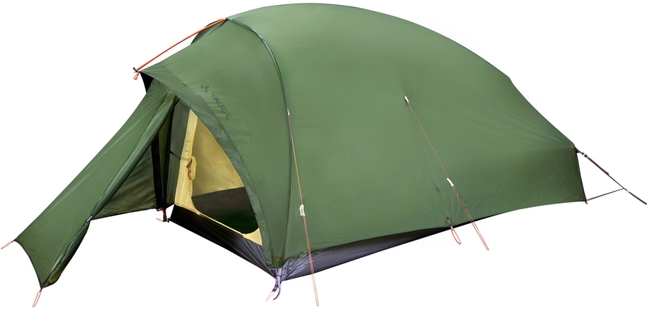 Lightweight backpackers have got scant choice when it comes to suitable tents but the Taurus UL 2p from Vaude ticks all the right boxes. Enough room to sit up, a decent sized vestibule for storing packs and boots, and strong, double siliconized construction make this a great 3-season option. The weight ain't half bad either at a shade under 2kg thanks to lightweight but durable DAC poles and clever use of fabrics. You can fit two in at a push, but we think it serves better as a spacious one person.
Verdict
A solid 3-season tent offering good durability considering the light weight.
Best tent for stargazing
Tentsile Connect Tree Tent | £438
Instagram users might be familiar with this photogenic tree dwelling from original tree tent brand Tentsile, and we absolutely love it for its adventurous appeal. Although not as simple to pitch as a conventional tent the results feel worth it as you lie suspended above the ground on a comfortable canvas platform. A rain fly is included, but to get the most out of the Connect, camp on a clear night with just the bug net between you and the starry sky.
Verdict
For wild camping on a starry night you can't get much better than this.
Best tent for glamping
Robens Klondike | £750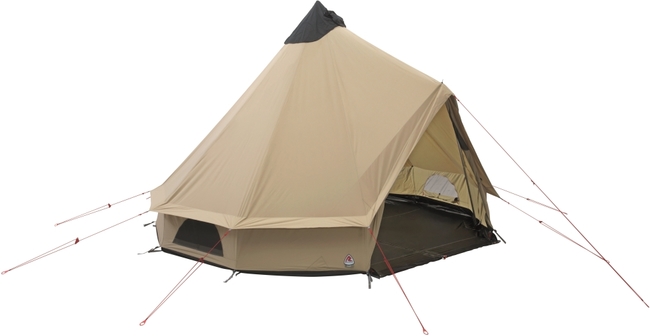 Classic bell tent design meets modern materials to form a stable and protective shelter from the elements which feels spacious, cosy, and rather special inside. Hydrotex polycotton fabric is fitting for this type of tent and is highly breathable for less condensation, additional ventilation is provided by a vent cowl at the apex. For maximum glamping points the Klondike can be paired with a woodburning stove (one specifically designed for tent use) thanks to a stovepipe exit and zipped groundsheet, which can be rolled back to protect from heat and embers.
Verdict
A great tent for adding a touch of glamp to your camp
Best festival tent
Coleman Kobuk Valley 2 | £60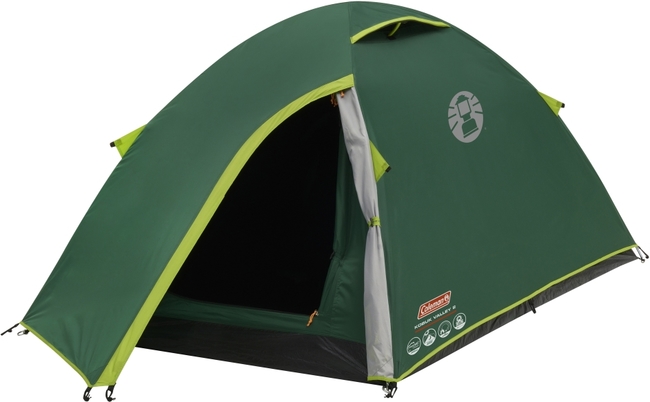 If you're heading to a festival the last thing you want is to be woken with the dawn chorus after a late night of partying. The Kobuk Valley 2 solves this problem with blackout bedrooms, which cut out nearly all-natural light so you can sleep soundly into the morning. Although very keenly priced the Kobuk Valley 2 offers 'real tent' performance from wind and rain so if the festival is a muddy wash out you'll be safe and sound inside.
Verdict
The ideal festival or partygoing tent - low cost, high sleep potential
Best medium sized budget tent
Quechua Arpenaz 4.2 | £100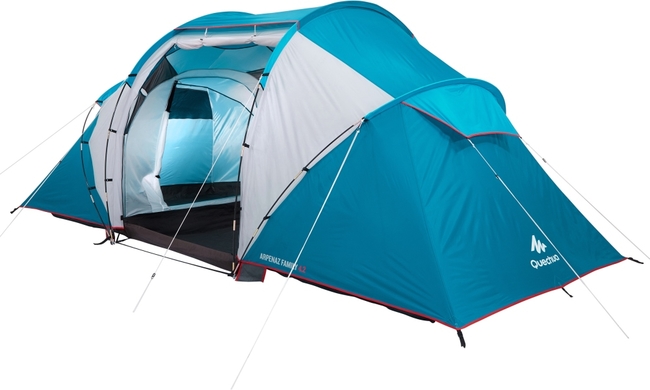 The Arpenaz offers fantastic space and versatility for a super price, making it a stand-out option for families on a budget, and couples looking for that little extra space. The classic vis a vis layout offers two distinct, separate sleeping areas and the central living room has standing height and enough room for a few chairs and a small table. Packed size is good considering the footprint, making the Arpenaz a great option for those tight on storage space.
Verdict
A versatile tent offering good protection from the elements and plenty of space, all at a great price.
Best compact family tent
Coleman Mackenzie 6 Blackout | £500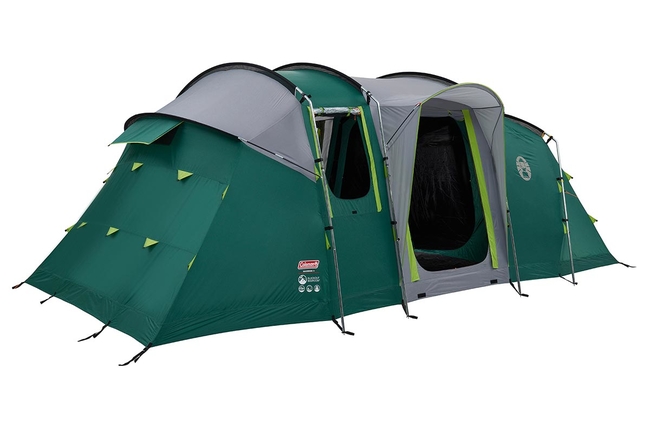 The Mackenzie 6 marries classic steel pole design with a small pack size and plenty of living space for a family of four. Pitching is achievable in around 20 minutes and there's a small financial saving over air poled equivalents. Inside you get two pre-hung bedroom areas, with the extra bedroom removed the living area is surprisingly spacious, In drizzly weather you can easily accommodate a family of four inside on a small table and chairs with room left over to breathe. All bedrooms inside the Mackenzie 6 are BlackOut which is a truly wonderful thing in the summer months when the sun peaks over the horizon in the early hours.
Verdict
If you prefer the reliability of steel poled tents and want a more compact footprint for your family holidays, then the Mackenzie 6 is a superb option.
Best 1p backpacking tent
F10 Helium UL 1 | £240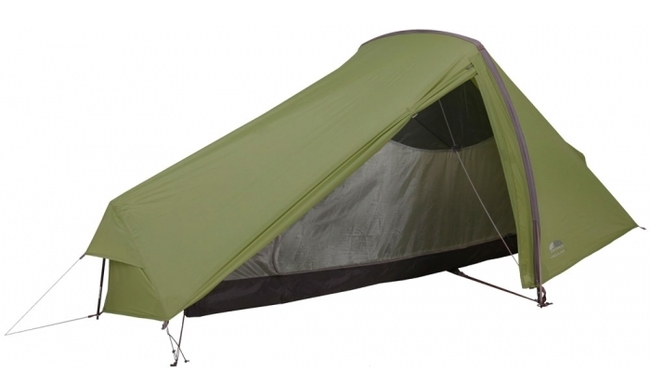 Vango's F10 brand make high performance tents and equipment for the backpacking market, and their Helium UL 1 is one of the best in the range. Despite only costing half as much as equivalent competitors performance is impressive, not least the excellent 1.2kg weight all in. Inside there's sitting height under the single hoop and enough width and length for a backpacking mat with a little space left over beside you to stash kit in. The inner is mainly solid with an area of mesh at the top of the door making for a great balance between ventilation and protection from the wind. Talking of wind, the tunnel design isn't the most stable but the pre-angled pole and inner tension band system tighten things up nicely, making this a viable lightweight three season option.
Verdict
For the paltry sum of £240 you're getting a tent with the materials, performance, weight and pack size to rival offerings twice the price.